Artspace's collector community is brimming with interesting, trend-setting professionals—and New Yorker Hilary Peltz is one of the more fashionable of the bunch. Now an executive at the cutting-edge fashion brand Alexander Wang , Peltz started her collection by buying street art in college. Read about this fashionista's taste for playful abstraction and her voyeuristic appreciation of art.
Name: Hilary Peltz
Hometown: New York, NY
Occupation: Senior Account Executive, Alexander Wang
What inspired you to start collecting art, and when?
Celebrating and collecting art has always been very important to me and my family. Whether it was hanging up our childhood artwork or visiting museums and galleries, I've grown up appreciating art for its beauty, its historical context, and as a conversation piece. I first started collecting in college from local street artists, but have since begun collecting on Artspace, and from art fairs and galleries.
What was the first work of art you ever bought?
My two favorite works that I got early into my collecting are a photograph by Mike Stimpson that's a parody of René Magritte 's Son of Man done with Legos, and Benzyl Viologen from Damien Hirst 's spot series.
Damien Hirst's Benzyl Viologen (2012)
How would you describe your collection?
Playful, humorous , colorful, with abstract collage and mixed media . I'm often attracted to artists that give new meaning to familiar objects, and who reject banality with their witty construction of seemingly mundane objects and tools.
What do you do for a living? Does art relate to your job in any way?
I work in fashion at Alexander Wang as the liaison between the brand and department stores for our women's designer and contemporary apparel. While my job doesn't directly relate to art, I love that I'm able to blend the business side of the fashion industry with a creative perspective.
What role does art play in your day-to-day life, or your life more generally? What do you get out of it?
Personally, I love creating art. I find the process stimulating and therapeutic. I also love the voyeuristic aspect of it—each work is extremely personal to the artist and gives you a glimpse into how she perceives the world.
What is the art scene like in your hometown?
Growing up in Manhattan afforded me the luxury to have the best museums and art galleries all within walking distance. I love how varying the art culture is in New York, from extremely high-brow to sidewalk graffiti artists. You're constantly surrounded by artistic expression.
Hillary Peltz in her home
What do your think your collection says about you?
I like to think that my collection shows off my light-hearted attitude, as well as my love for interior design. I think the right artwork can catapult a room into something spectacular.
What's the last work you bought? What attracted you to that piece?
I just bought Leonardo Hidalgo 's Cool Sunday . I love that he's built his world out of forms from classic Pop Art , paying homage to David Hockney and Roy Lichtenstein , while layering in new graphics that feel both modern and strikingly contemporary in relation to these two great artists. Hidalgo's work feels so familiar that it almost makes you forget that Hockney's A Bigger Splash and Lichtenstein's Brushstroke existed separately.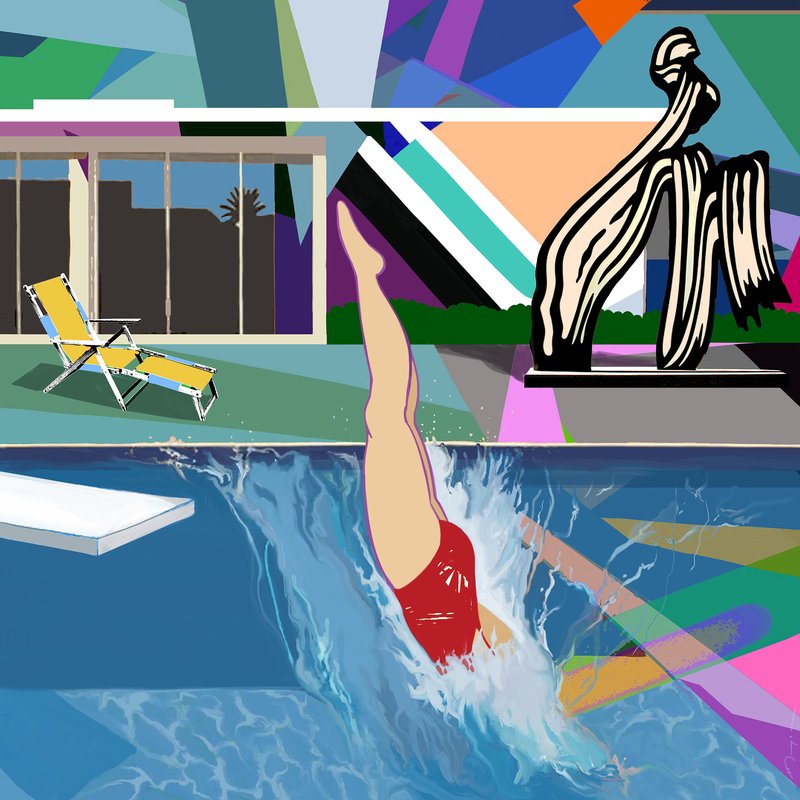 Leonardo Hidalgo's Cool Sunday (2015) is available on Artspace starting at $150
Is there anything on your wish list?
Bradley Sabin 's floral wall installation and Ruby Sky Stiler 's foam reliefs.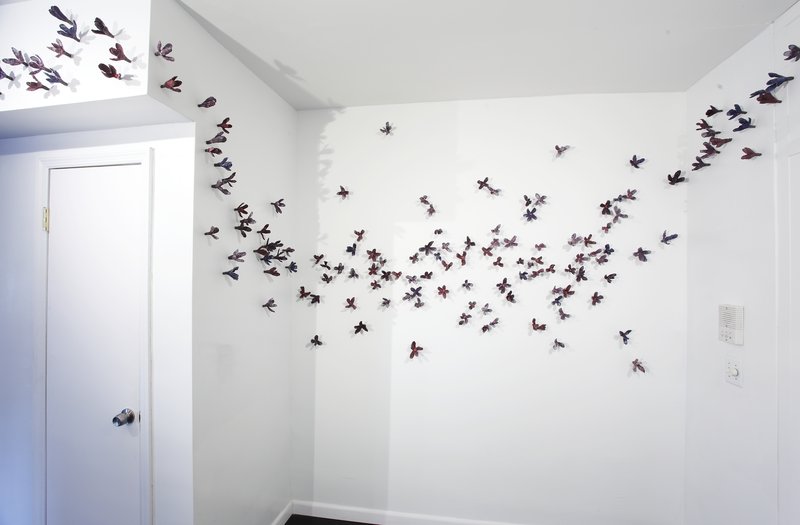 Bradley Sabin's Purple Floral Wall Installation (2012) is available on Artspace for $12,000
RELATED ARTICLES:
Google Play's Megan Green on What Galleries Can Learn from the Music Industry
Collecting With a Conscience: At Home With Tribeca's Bernard Lumpkin and Carmine Boccuzzi
Thea Westreich Wagner and Ethan Wagner on How They Built a Cutting-Edge Art Collection for the Ages
[related-works-module]