Summer is waning at long last, and along with all the other autumnal trappings we've patiently awaited (decent temperatures, hot beverages, outfits that don't require a tan), museums the world over are preparing to launch their fall programming. Here are 20 of the most anticipated museum shows happening all over the globe; be sure to visit whatever's closest to you!
September
WILLIAM BLAKE
Tate Britain, London, UK
September 11, 2019 – February 2020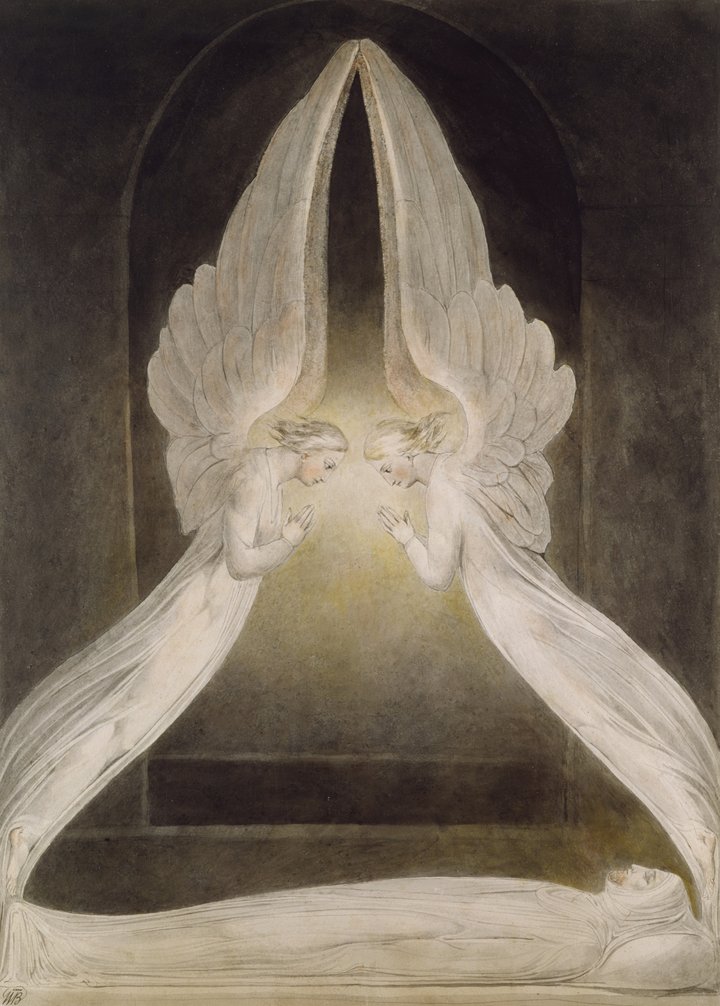 Considered insane and unimportant during his lifetime, William Blake has since garnered a cult-like reverence for his poetry and art, which has inspired countless artists, musicians, writers, and other contemporary creatives who pay homage to his work. The largest exhibition of Blake's work for almost 20 years, the Tate's exhibition will feature over 300 original works, some of which will be hung in an immersive recreation of the small domestic room wherein that the artist showed his art in 1809. Other works will be shown at an enormous scale (as Blake had hoped they one day would be) using digital technology, with the goal of showcasing Blake's art the way he wanted it to be seen.
GILBERT & GEORGE: THE GREAT EXHIBITION
Moderna Museet, Stokholm, Sweden
September 2, 2019 - December 5, 2019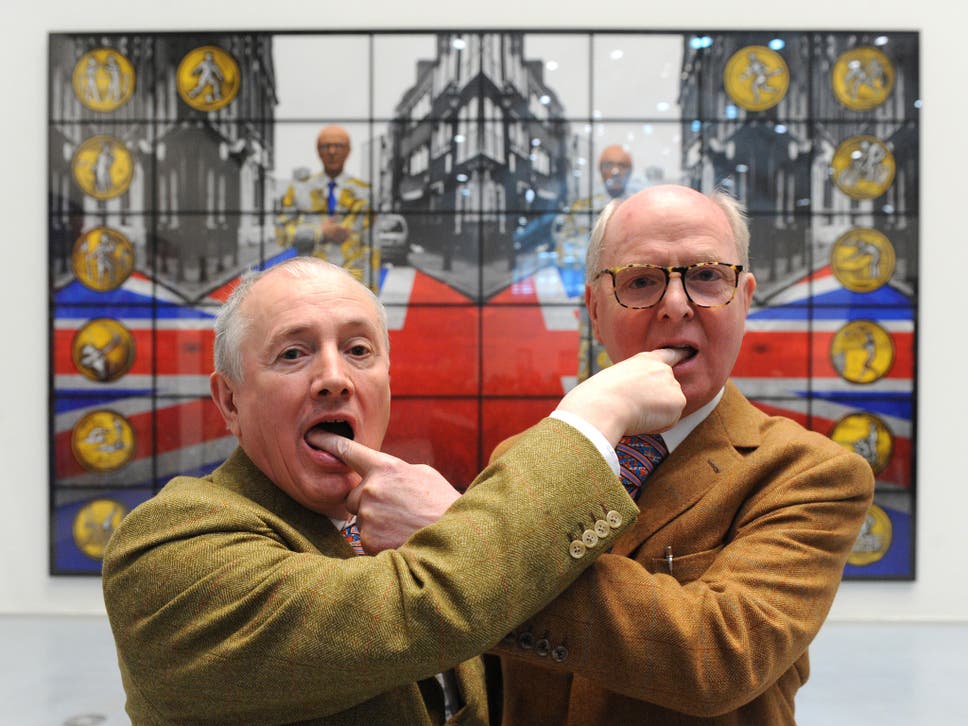 Gilbert & George via The Independent
One of the most iconic, enduring duos in the art world, Gilbert & George have been working together for nearly fifty years, solidifying their indelible influence on British visual culture with their brand of dizzingly postmodern image-making. Their gridded, kaleidoscopic ruminations on sex, money, religion, and race traffic in simultaneity, hitting notes that vaccilate between depression, fear, surreality, and confrontation social commentary. The exhibition will focus primarily on their two-dimensional pieces, spanning their shared vision's development from the '80s to today.
TIME FOR FRAGMENTS
Hamburger Bahnhof, Museum fur Gegenwart, Berlin, Germany
September 11, 2019 - Winter 2020
Andy Warhol, "Advertisement, Detail", 1960 via Museum fur Gegenwart
This group exhibition takes on the fractal, existentialist dread native to contemporary global culture through the lens of the past, presenting the notion of fragmentation not as an exercise in vestige, but a stand-alone example of self-building existence and perspective. The title is gleaned from a remark Marcel Duchamp made to Anais Nin during a studio visit in 1934 on the subject of his piece The Large Glass, which contains scraps of writing and pornography in a small green box. Featuring work by heavyweights like Anish Kapoor, William Kentridge, Sam Taylor-Johnson, and Andy Warhol, "Time For Fragments" will make a case for the excerpt as a window to the human condition.
DESIRE: A REVISION FROM THE 20TH CENTURY TO THE DIGITAL AGE
Irish Museum of Modern Art, Dublin, Ireland
September 21, 2019 - March 22, 2020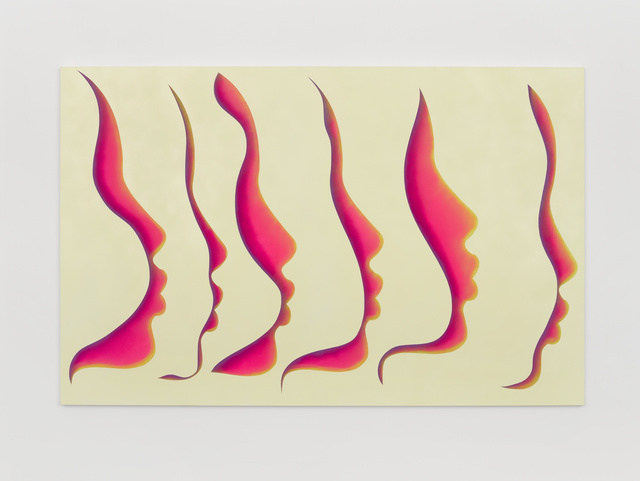 Eddie Peake, "Six Unspeakable Modes", 2018 via Artsy
This ambitious, internationally-minded exhibition will track the evolution of desire in art through a post-digital lens, interrogating the relationship between technocratic power and human affect. Co-curated by the Artistic Director of the Museum of Contemporary Art, Tokyo, Yuko Hasegawa, and Rachel Thomas, Senior Curator at IMMA, the show will feature commissioned pieces alongside a selection of modern landmarks by artists like Matthew Barney, Dorothy Cross, Rene Magritte, and Eddie Peake. Spanning a century-long period, Desire will include a wide swathe of collaborative programming across the Museum's campus, encouraging viewers to reconsider the eurocentric purview of their technological interconnectivities.
BETYE SAAR: CALL AND RESPONSE
LACMA, Los Angeles, California
September 22, 2019 – April 5, 2020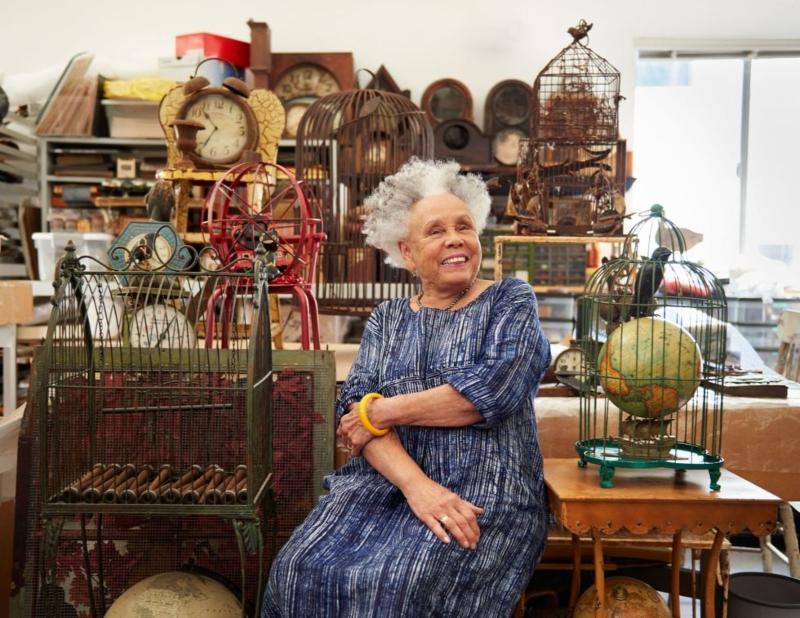 Betye Saar. Image via blackculturalevents.com.
Working in assemblage and collage, processes often associated with Joseph Cornell and Robert Rauschenberg, Betye Saar uses symbols and objects that describe the realities of African-American oppression, as well as relics from the artist's travels across Africa, Europe, Asia, Mexico, and the Caribbean. Her most well-known work, for example, The Liberation of Aunt Jemima (1972) is a wooden box holding a stereotypical "mammy" doll inside, which holds a broom in one hand and a rifle in the other. A part of the Black Arts Movement in the 1970s, Saar came up in Los Angeles during the '60s—a time when the art world was paying little attention to Black women outside of New York (or anywhere, for that matter). This September, LACMA will take part in giving the long-overdue recognition her work deserves with an exhibition covering the span of Saar's entire career, focusing particularly on the relationship between the artist's preliminary sketches in small sketchbooks and her finished works.
THE VISUAL REALM OF MAGNUS PALSSON: SOMETHING FROM NOTHING
Reykjavik Art Museum, Reykjavik, Iceland
September 28, 2019 - January 12, 2020
Palsson via Reykjavik Museum of ARt
Icelandic multi-hyphenate Palsson has had a sterling career, un-matched in influence and diversity by many of his peers. Through teaching, theater, performance, and visual art, he transformed his home country's artistic landscape in the sixties and seventies, interrogating the nature of artistic creation as a means of lampooning art history and suggesting alternative futures in the process. Back in 2013, the Reykjavik Art Museum displayed a series of the artist's 1980 performances in collaboration with the Reykjavik ARts Festival; this year, the institution will pull focus to his objects, hailing from the early '60s up until today. Culling from loans from collections and the archive operating under the Museum's auspices, the exhibition is sure to introduce a new demographic of viewers to Palsson's unique vision.
LARI PITTMAN: DECLARATION OF INDEPENDENCE
Hammer Museum, Los Angeles, California
September 29, 2019 – January 5, 2020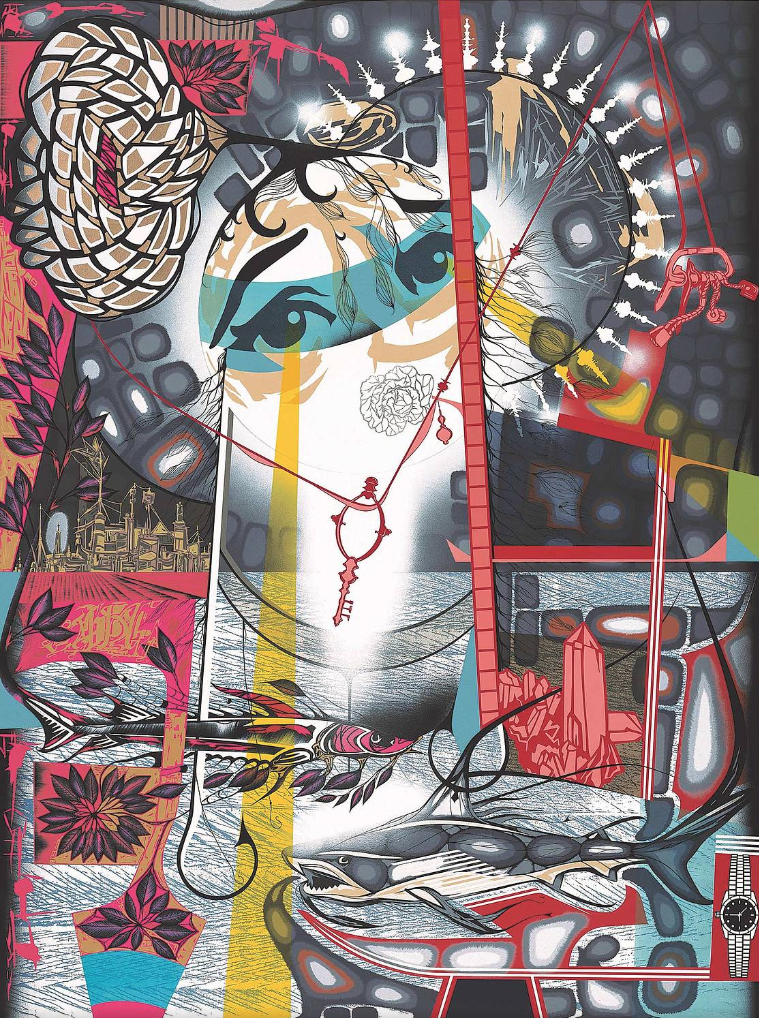 Lari Pittman, Untitled #4, 2003. Image courtesy of Regen Projects, Los Angeles. Image via Hammer Museum.
The most comprehensive retrospective of Lari Pittman's work, "Declaration of Independence" spans 20 years of work from the prolific Los Angeles painter and long-revered teacher. "From his earliest experiments with collage and decoration during his formative years at California Institute of the Arts, to the iconic paintings produced in response to the AIDS crisis and culture wars of the 1990s, to his present philosophical investigations into the history-telling of textiles, Pittman's works have remained some of the most prescient and influential of any artist since the 1980s," writes the press release. Pittman's work can be characterized by dense compositions that layer bold color and a diverse range of imagery, from pop iconography and commercial advertising to the art historical tradition of the still life.
CARSTEN HOLLER - BEHAVIOR
Kunsten Museum of Modern Art, Aaalborg, Denmark
September 26, 2019 - February 23, 2020
Still from a Holler installation via Kunsten Museum
German artist Cartsen Höller has gained mounting international recognition since the early 1990s due in no small part to his hybridized approach to art experimentation; his doctorate in biology and interest in agricultural science informs his artistic research into human perception and behavior, aiming to involve viewers mentally and physically at the intersection of science, art, and play. This upcoming exhibition will immerse the viewer in a world of light, sounds, scents and mirrors, encouraging the viewer to question their own relationship to artistic engagement.
October
POPE.L: INSTIGATION, ASPIRATION, PERSPIRATION
Whitney Museum of American Art, New York, New York
October 10, 2019 – Winter 2020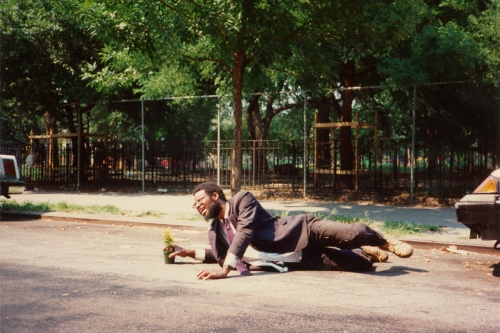 Pop.L, How Much is that Nigger in the Window a.k.a. Tompkins Square Crawl, New York, NY 1991. Image via MoMA.
"Instigation, Aspiration, Perspiration" is an expansive trio of exhibitions celebrating the work of Pope.L, who is best known for his provocative interventions in public spaces that address themes like gender, race, social struggle, community, and language. At the Whitney, Pope.L will create a new installation, Choir, inspired by water fountains, the public arena, and John Cage. The MoMA will "focus on thirteen early landmark performances from 1978-2001 that helped define Pope.L's career and are representative of the artist's core concerns." And the Public Art Fund will work with the artist to continue his decades-long crawl series, where the artist drags his own body across the urban landscape.
HANS HARTUNG: LA FABRIQUE DU GESTE
Musee D'Art Moderne, Paris, France
October 11 - March 2020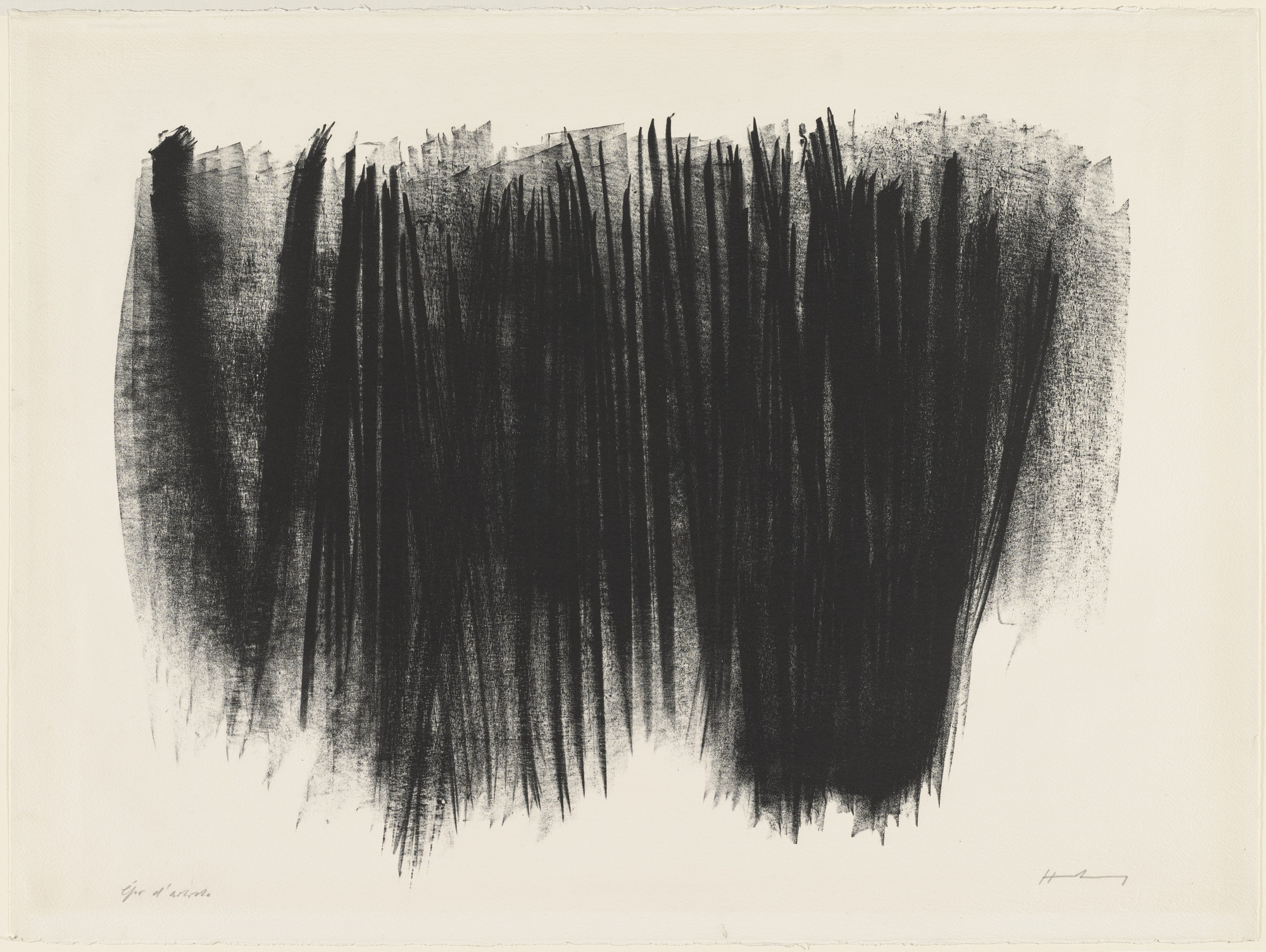 Untitled via MoMA
To celebrate the museum's re-opening after an extensive renovation, The Museum of Modern Art in Paris will present a retrospective of Hans Hartung's overall oeuvre,diving deep into his role as an innovator in the history of abstract painting. A legendary 20th century artist, Hartung's fierce, frenetic lyricism cemented his place in the Western canon, but it was his capacity for technical innovation that earned him the iconic status his legacy enjoys today, thanks to the wealth of tools and procedures he developed over the course of his lifetime. Featuring a large number of works, including oils, photographs, sculptures, ceramics, documents, and drawings, this tribute to Hartung's output reflects the Museum's recent acquisition of a large number of his works.
ALBERT OEHLEN
The Serpentine Gallery, London, UK
October 2, 2019 – January 12, 2020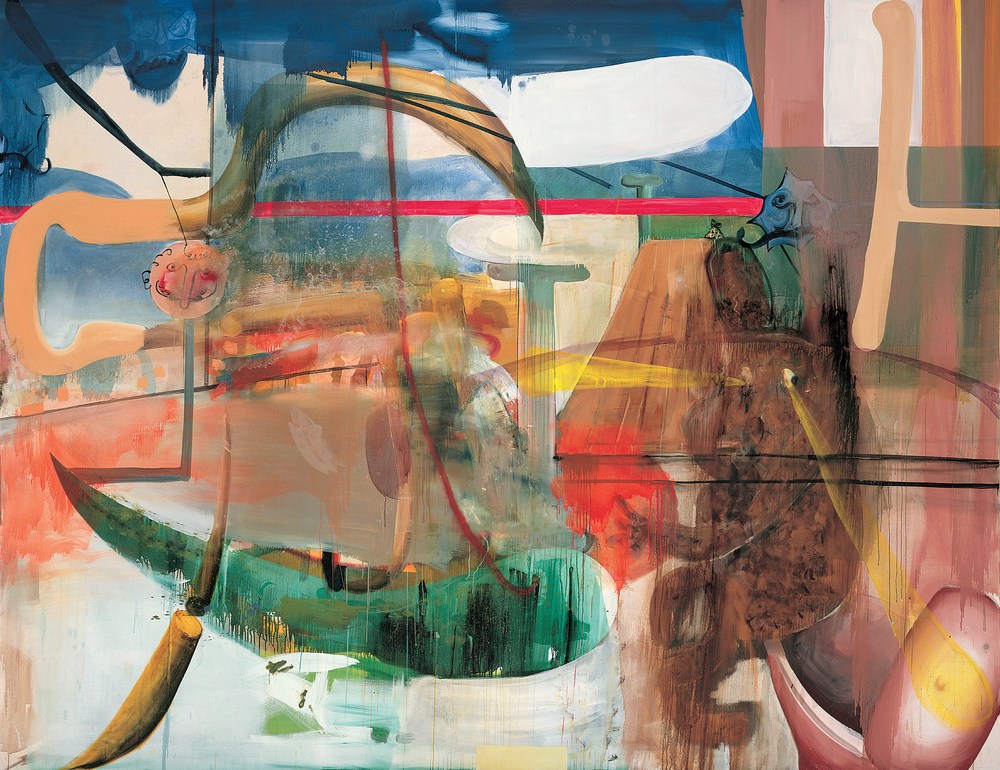 Albert Oehlen, Sohn von Hundescheisse, 1999, oil on canvas, 278 x 359cm, Private Collection, Photo: Archive Berlin | Paris | London © Albert Oehlen
German artist Albert Oehlen is known for being consistently inconsistent, straddling abstract and figurative styles and a variety of techniques, from oil painting to spray paint, digital printing and collage, without ever settling on a category to define him. The artist graduated college in 1978 in Hamburg and quickly rose to prominence alongside artists like Martin Kippenberger and Georg Herold, and still works today; the exhibition will house four new paintings, which interpret the Rothko Chapel in Houston, alongside a selection of paintings from the last two decades.
REMBRANDT-VELAZQUEZ: DUTCH AND SPANISH MASTERS
Rijksmuseum, Amsterdam, The Netherlands
October 11, 2019 - January, 2020
Francisco de Zurbaran, "Untitled", 1639, Museo Nacional del Prado, Madrid via Rijksmuseum
This start-timed exhibition in the Netherland's national museum will mark the 200 year anniversary of the Nacional del Prado Museum in Madrid. In celebration, Rijksmuseum will collaborate with the Prado to present an innovative mixture of European heavy-hitters (think Frans Hals, Bartolome Murillo, Johannes Vermeer and Francisco Zurbaran), with a special focus on pairing Dutch and Spanish masters together, stimulating fresh aesthetic dialogues that mine geopolitical history for gold. Each pair reflects on a different theme or motif, ranging from religious iconography to composition. The show will round out Rijksmuseum's Year of Rembrandt, punctuating 350 years since the great painter's death.
CHARLOTTE POSENENSKE: WORK IN PROGRESS
MAC, Barcelona, Spain
October 18, 2019 - March 8, 2020
"Work in Progress" via MACBA
This upcoming retrospective on Posenenske's short but ground-breaking career will encompass her active years between 1956 and 1968, before she forsook the studio for a career in the public sector. Her work straddles the line between social practice and institutional critique, a dichotomy that imbues her sculptural installations with both Minimalist and performative elements. The exhibition tracks the trajectory of her practice from early drawings and paintings to aluminium wall reliefs, arriving at the elegant cardboard modules for which she is best known.
HANS HAACKE: ALL CONNECTED
New Museum, New York, New York
October 24, 2019 – January 26, 2020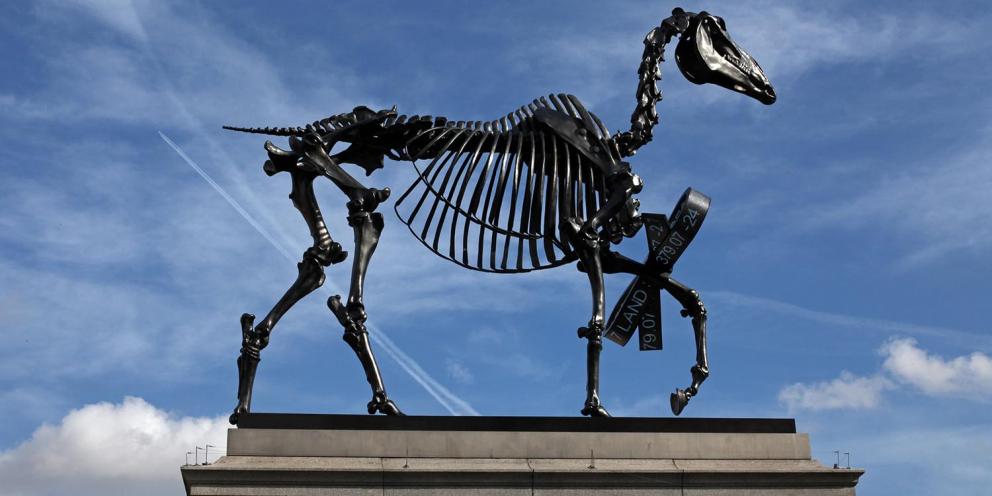 The first major American museum survey of Hans Haacke's work in over thirty years, the New Museum's retrospective will exhibit over 30 works, "focusing in particular on the way he expanded the parameters of his practice to encompass the social, political, and economic structures in which art is produced, circulated, and displayed." Haacke, who was born in Cologne, Germany in 1936, has been a pioneer in Conceptual art, institutional critique, environmental art, and kinetic art. (Keep an eye out for the artist's monograph, which Phaidon will be releasing in October.)
RUBEN ORTIZ TORRES: CUSTOMATISMO
MUAC, Mexico City, Mexico
October 26, 2019 - April 5, 2020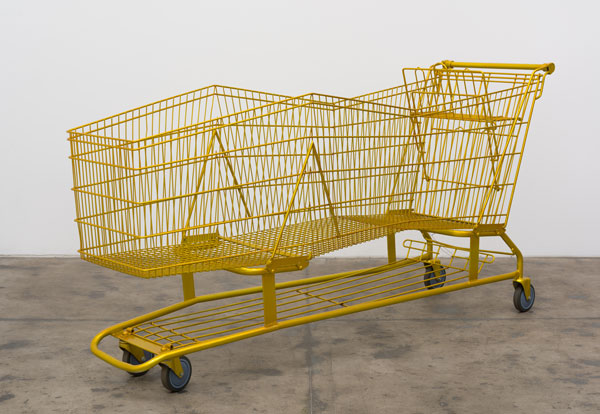 Ruben Ortiz Torres via Artillery Magazine
The first museum retrospective of Mexican native and California resident Torres, Customatismo celebrates the torque of his artistic narrative since his rise to fame in the mid-80s. Inventive, funny, and theatrically tongue-in-cheek, Torres utilizes a wide range of avant-garde techniques to question the post-conceptual underpinnings of late modern art practice, effectively helping to usher in a new era of internationalization and hybridized perspective in Mexican fine art. Never one for a Minimalist approach, Torres has long committed to deconstruction as a means of approach, imbuing the up-beat color stories of the West Coast art scene with more transnational concerns.
NAM JUNE PAIK
Tate Modern, London, UK
October 17, 2019 – February 9, 2020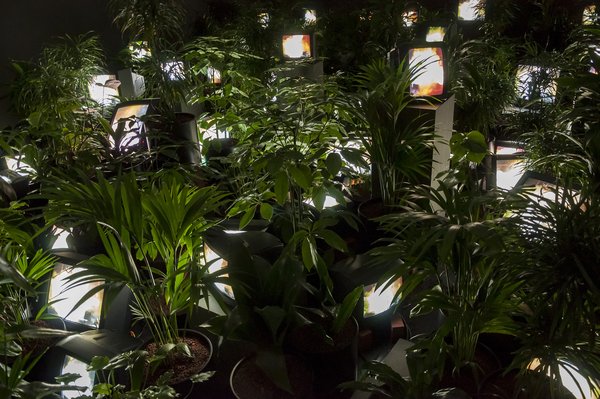 Nam June Paik TV Garden 1974-7 (2002) Kunstsammlung Nordrhein-Westfalen (Düsseldorf, Germany) © Estate of Nam June Paik Photo: Tate (Roger Sinek)
An experimental pioneer of early video art, Nam June Paik was an artist of firsts. He was the first person to exhibit a work of art containing a television set in the early 1960s, and in 1974 he coined the term "electronic superhighway" to express his vision for a future where advanced technology makes communication boundary-less. Paik predicted the information age of the 21st century, which he contributed to with his radiant, large-scale video installations that overwhelm the viewer with information. The Tate Modern's retrospective will also highlight Paik as an avant-garde composer, prolific collaborator with artists of all disciplines (including John Cage, Merce Cunningham, and Joseph Beuys), and a sci-fi enthusiast who built robots made from old TV screens and created art using satellites. Bringing together over 200 works from throughout his five-decades career, "this major exhibition will be a mesmerizing riot of sights and sounds," reads the press release, and we don't doubt it.
SHIRIN NESHAT: I WILL GREET THE SUN AGAIN
The Broad, Los Angeles, California
October 19, 2019 – February 16, 2020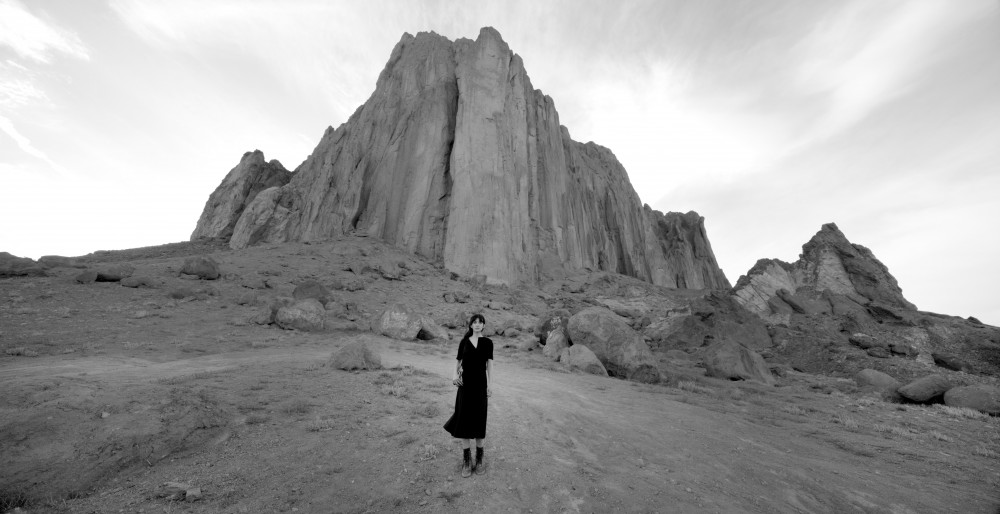 Shirin Neshat, Land of Dreams video still, 2019. Image via The Broad.
The largest exhibition of photographer and video artist Shirin Neshat's work to date, "I Will Greet the Sun Again" will span the Iranian artist's 30-year career, offering "a rare glimpse into the evolution of Neshat's artistic journey as she explores topics of exile, displacement, and identity with beauty, dynamic formal invention, and poetic grace," writes the press release. The exhibition will present some of the artist's collaborations—like her 2001 collaboration with Philip Glass, and her film Illusions and Mirrors featuring Natalie Portman. We're especially excited for a number of new works that have never been displayed in the U.S. (or in some cases, anywhere), which "reflect universally on seismic global political events such as 9/11, the Arab Spring, and the current xenophobia in the United States over immigration."
November
JULIE MEHRETU
LACMA, Los Angeles, California
November 3, 2019 – May 17, 2020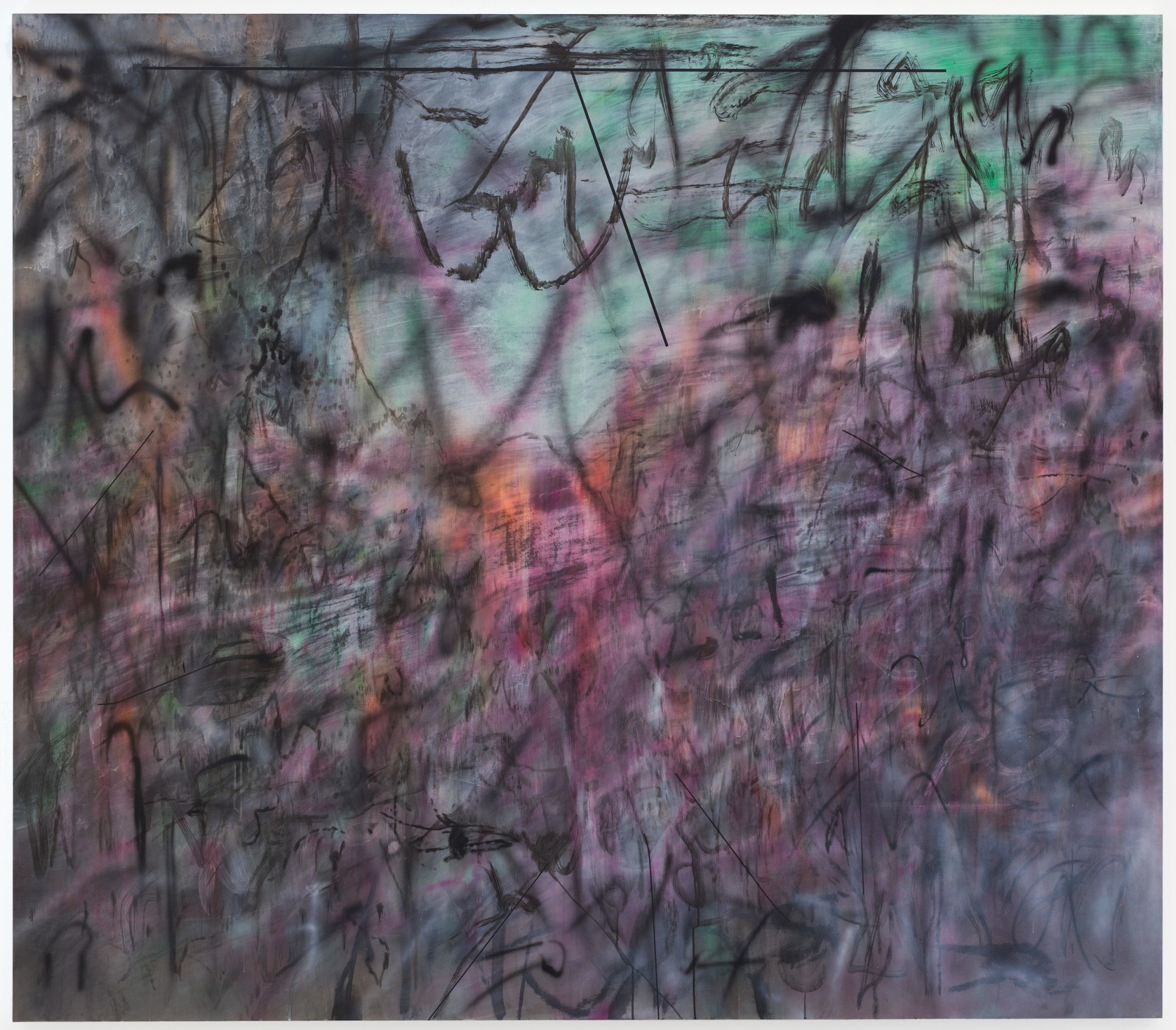 Julie Mehretu, Conjured Parts (eye). Ferguson, 2016, The Broad Art Foundation, Los Angeles, © Julie Mehretu, photo by Cathy Carver
Known for her (often enormous) abstract canvases that layer architecture drawings and more fluid mark-making, Julie Mehretu is the most expensive black female living artist in terms of the auction market. The artist will have her first-ever comprehensive retrospective, co-curated by Christine Y. Kim at LACMA and Rujeko Hockley at the Whitney. Opening at LACMA in November, it will then travel to the Whitney in June 2020, and then continue on to the High Museum of Art in Atlanta and the Walker Art Center in Minneapolis. According to the LACMA, "it covers over two decades of her examination of history, colonialism, capitalism, geopolitics, war, global uprising, diaspora, and displacement through the artistic strategies of abstraction, architecture, landscape, movement, and most recently, figuration."
DUMB TYPE: ACTIONS + REFLECTIONS
Museum of Contemporary Art, Tokyo, Japan
November 16, 2019 - February 16, 2020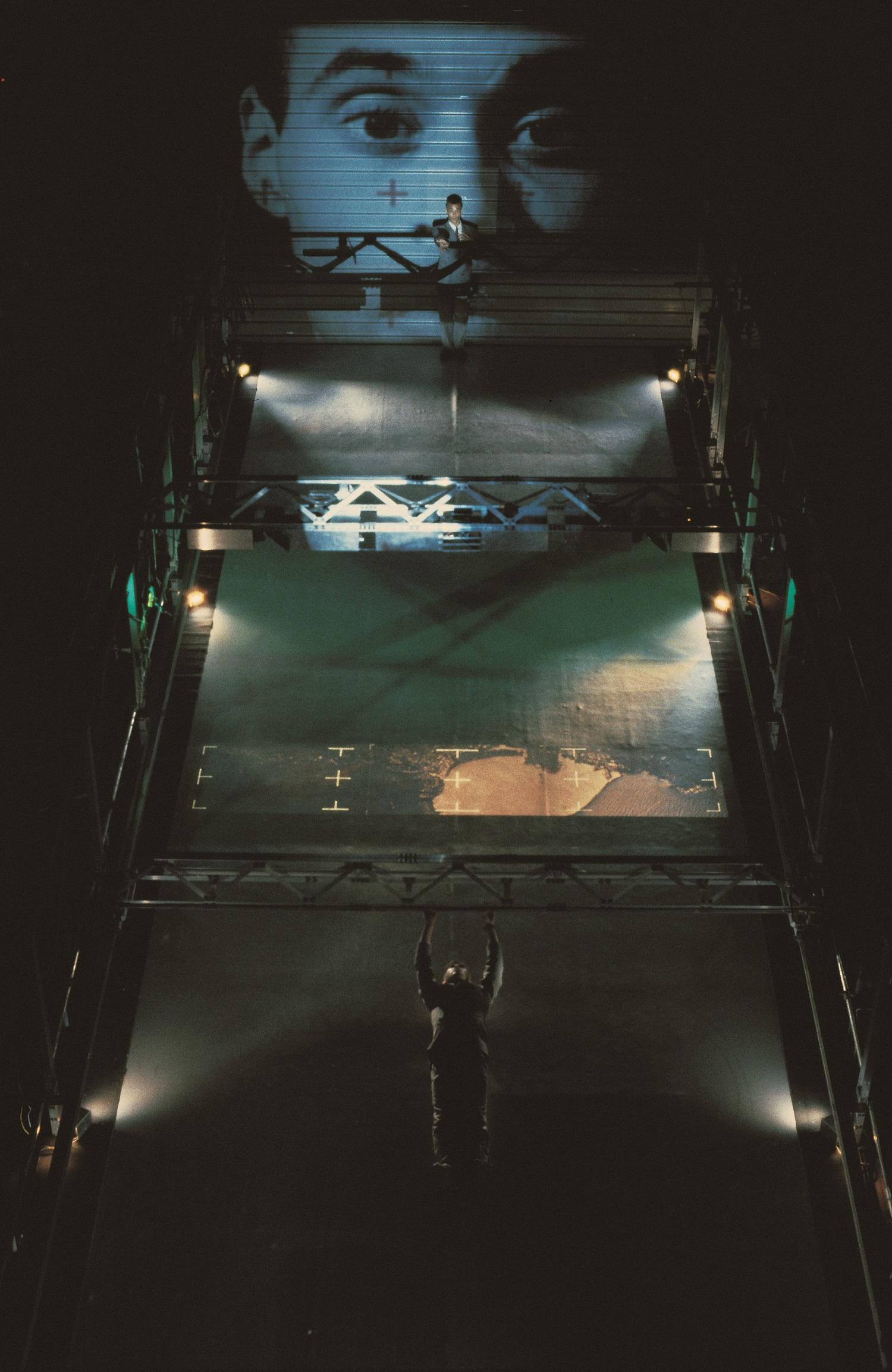 Installation shot by Shira Takatani via MOT Art Museum
To mark Kyoto-based media artist collective Dumb Type 35th anniversary, the Musuem of Contemporary Art on Tokyo is presenting a swathe of ground-breaking works from each individual member, including that of founder Teiji Furuhashi, underscoring in itemized detail the urgency of their message to this day. In addition to a suite of large-scale installations, the retrospective will include a number of archival materials provided by France's Centre Pompidou Metz.
DORA MAAR
Tate Modern, London, UK
November 20, 2019 – March 15, 2020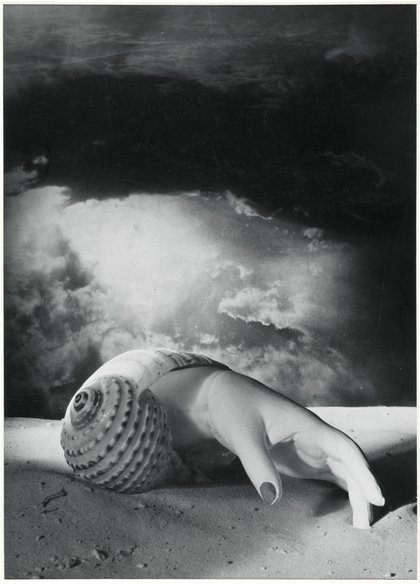 Dora Maar Untitled (Main Shell) Centre Pompidou, MNAM-CCI, Dist. RMN-Grand Palais/Jacques Faujour
Though her relationship with Pablo Picasso had overshadowed much of her own artistic output in the past, Dora Maar is being fully recognized for her provocative surrealist work at the Tate Modern, which will host the largest retrospective of the artist's work ever held in the UK. Beginning in the 1930s making surrealist photomontages, Maar also signed her name to a number of left-wing manifestos—a radical and unusual act for a woman at the time—in addition to working as a commercial photographer. This exhibition will explore the breadth of Maar's long career (she withdrew from photography in the middle of her life, only to return to it in her seventies) within the context of work by her contemporaries.
[fall-exhibitions-module]
RELATED ARTICLES:
The Other Art History: The Overlooked Women of Surrealism
Art Is A Weapon: Hans Haacke on How Art Survived the Bush Administration