We know that global warming is happening but we don't know how to feel about it: this precise, very relevant, nexus is the subject of eco-philosopher Timothy Morton's work. "What is happening on Earth right now is trauma, in every sense of the word, for all lifeforms… [But] we talk about this stuff in ways that are as traumatizing as the events themselves. That is a problem." Online global warming explainer pieces traffic in "information dumping, guilt-inducing, or preaching to the choir," to quote the blurb to Morton's book Being Ecological (2018). How might we discuss things differently? Could we defer the frantic, knowing tone with which global warming is typically discussed in favor of wonder, acceptance, and comedy?
These are inherently aesthetic questions, and so it makes sense that, in addition to writing, Morton curates and works with artists as well. He has collaborated with Olafur Elíasson, the Danish-Icelandic artist perhaps best known for Ice Watch (2015), in which he installed blocks of ice outside the Place du Panthéon during the 2015 Climate Change Conference. Excerpts from Morton's correspondence with Björk were published as part of her 2015 MoMA retrospective, while the group exhibition "Hyperobjects: An Exhibition on Today's Ecological Crisis," co-curated with Laura Copelin, ran at Ballroom Marfa this year.
If academics also have non-academic appeal, their peers treat them as pop stars––shallow but powerful. You're supposed to "queer" or "transgress" the public, not care about them. Morton's academic and artistic work show the elitism of such an approach. An edited version of our conversation, conducted via Google Docs, is below.
How did you get into ecology?
I've been into ecology since I was four years old, when my mum gave me a book that UNESCO had published called SOS Save the Earth. I still have it. What it tells you about is scarily up to date: it totally talks about global warming, for example. Later on, I fell in love with the mixture of poetry and philosophy in Romantic art, that twisty goth feeling that is weirdly the same as the feel of being a scientist. It leaves one fascinated and disgusted and melancholic at the same time, suspending one's beliefs, being open…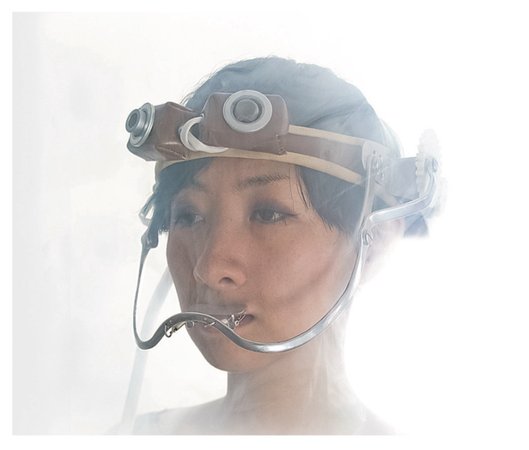 Jacobson's Fabulous Olfactometer by Susanna Hertrich (2014), excerpted in Hyperobjects for Artists.
I talk about ecological awareness. It's not what we know, but how we know it, that gets us into trouble, and out of it. I've been mostly trying to get people to realize that ecological issues are part of the intimate, deep texture of their human lives, and that these issues are deeply intertwined with issues of race, gender and class, and with how we treat entities that we consider to be very different from us, things that we call "objects."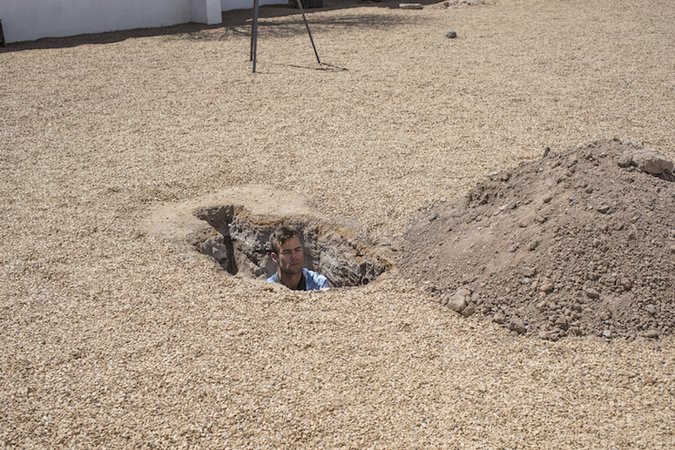 Installation view of "Hyperobjects" at Ballroom Marfa. Image via Alex Marks.
The term "hyperobject" is thrown around a lot in the art world. Could you talk about what the word means and what makes global warming a "hyperobject"?
I invented this word "hyperobject" in 2008 while I was writing the conclusion to a book called The Ecological Thought (2010). At the time I was trying to find a way to describe pollution, which implies a future, all kinds of futures in fact—futures that humans might not intend deliberately, accidental futures that involve all kinds of stuff and that go on far far beyond a human lifetime.

Stills from La Zona Interdial by Guillermo Escalón (1980), excerpted in Hyperobjects for Artists.
We use Styrofoam for coffee cups, but for most of its existence, Styrofoam will be all kinds of other things: receptacles for all kinds of toxic liquids, pellets in the stomachs of birds…So what do you call all the Styrofoam ever, throughout all of its states and all the ways different entities interact with it? Well, it's a thing, so let's call it an object. But what kind of object? This kind of object is so massively distributed in time and space that it goes beyond your ideas of what an object is. When I say "object," I bet you visualize something you can fit into your immediate field of vision, like your phone. "Beyond" in Greek is "hyper"… so this must be a hyperobject. That's it.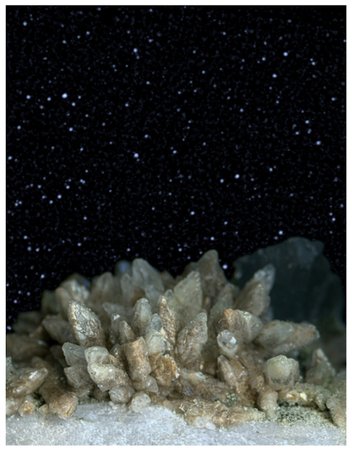 Detail of Autoeliac #5 by Charles Mary Kubricht (2018), excerpted in Hyperobjects for Artists.
Global warming inspires a lot of heavy feelings––ennui, anger, denial, grief. How can we begin to work through them?
What is happening on Earth right now is trauma, in every sense of the word, for all lifeforms. In our case, there is trauma in realizing that you are living on a planet, because that happens when your world starts to malfunction, like suddenly there's a hurricane and all the Mediterranean stuff around Earth bursts into flame. Your world wasn't solid. It was a kind of stage set, and you were treating it in all kinds of ways that led to this.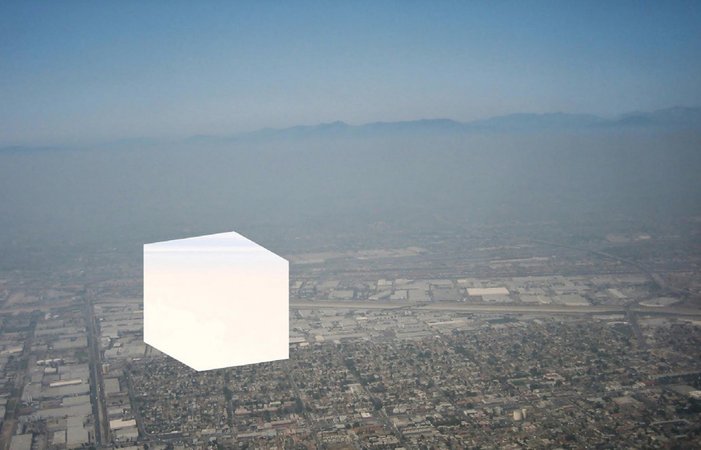 Public Smog: Earth's Atmosphere as UNESCO World Heritage Preserve, Postcard by Amy Balkin (2012), excerpted in Hyperobjects for Artists.
We talk about this stuff in ways that are as traumatizing as the events themselves. That is a problem. You don't shake someone whose parent just died and yell "Don't you realize, you idiot, your mom just died!" But that's exactly how we talk to one another about ecology.
If we're ever going to do something about it, like really really do something about it, we are going to need to be out of shock-mode. We are picturing these horrible things, and they are horrible, but how can we actually do something about them, please, because dolphins don't have fingers to operate the keyboards that turn off the oil pipes.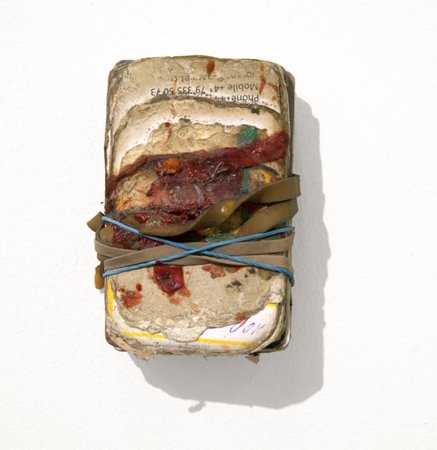 Wallet (Five Years) by Paul Johnson (2010-2015). Image via the Camden Arts Centre.
Could you talk about "Hyperobjects: An Exhibition on Today's Ecological Crisis," the show you co-curated at Ballroom Marfa? In the press text, you said that the exhibition sought "to create encounters with artworks and non-art objects that de-center and expand the scale of human perception." I'd love to hear more about that.
Laura Copelin and I curated that lovely show. I did all kinds of things for a hyperobjects show in Barcelona (After the End of the World at the Centra de Cultura Contemporània de Barcelona), too, that ran almost simultaneously with ours. We combined local biological and geological artifacts with human works of art that sought in various ways to capture the feel of hyperobjects.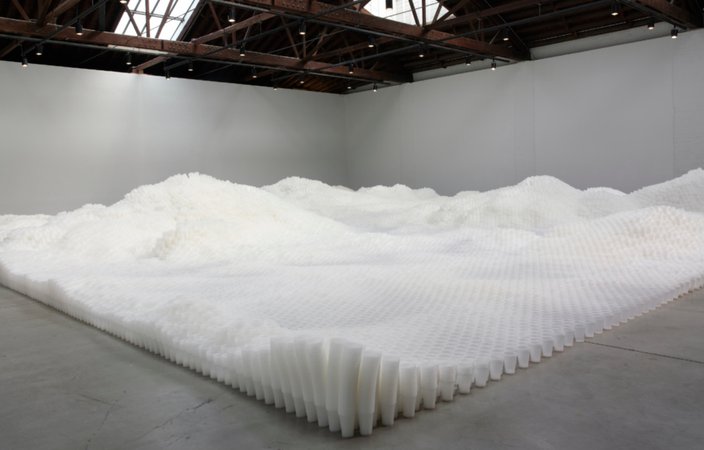 Untitled (Plastic Cups) by Tara Donovan (2006). Image via the Architect's Newspaper.
One work that I really liked was Paul Johnson's Wallet (Five Years) (2010-2015). Paul told me that he had gone around with this pair of pants in which there was buried a wallet, and when he retrieved it, it was as if he had found a sculpture made by all kinds of things that were related to him, but that weren't strictly him: his legs, his clothes, the items in the wallet… it had become this strange sandwich that he then put on the wall.
It beautifully shows how when you think of humans over time, other selves and future selves, the whole multitude of what we nervously call "us," you notice that this thing you're seeing, the human—it's a hyperobject, it's a fuzzy heap of all kinds of things that are also parts of other heaps: computers, cows, clutches...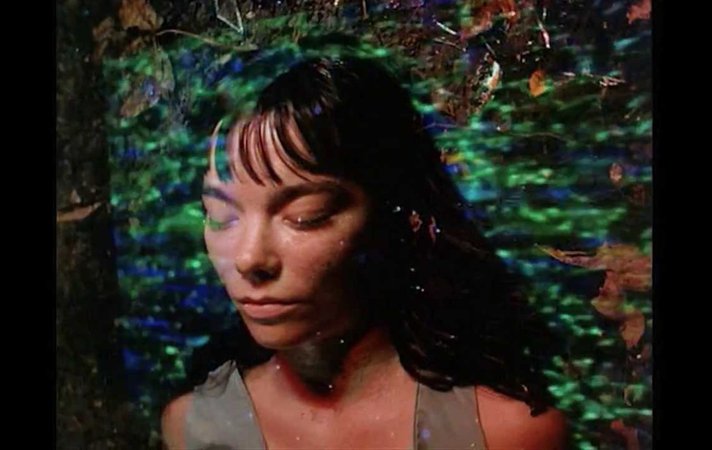 Still from Hyperballad by Björk (1996). Image via Youtube.
Could you speak a bit about your work with Olafur Elíasson and Björk, and about your upcoming collaboration with Laurie Anderson?
Laurie and I are still working on what to do! It's fantastic getting to know another mind, and I have had a lovely life in which amazing people have reached out to me, in that older and much richer sense of that phrase. Björk totally transmogrified my life in all kinds of ways that continue to reverberate and will continue to do so until I depart this Earth. I am particularly honored to work with women artists, because I strongly believe that dismantling patriarchy is a foundational part of how we achieve a society that is more attuned to nonhuman beings. And I believe that changing the aesthetic dimension is the most powerful way to do that.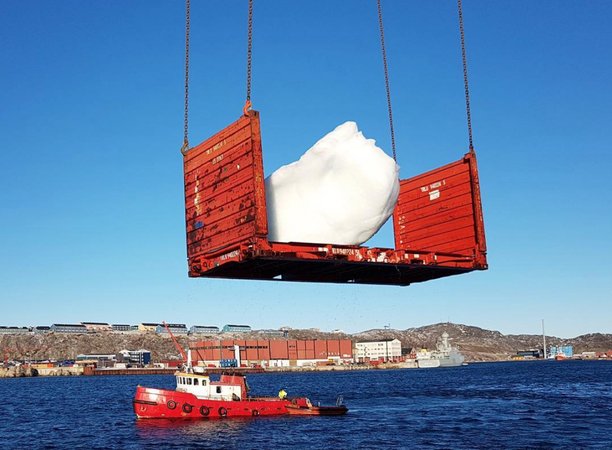 A piece of ice, to be used in Eliasson's Ice Watch (2015), is collected from the Arctic. Image via Studio Eliasson's Instagram.
Critics have argued that your work de-emphasizes the role that humans can or must have in fighting global warming. How would you respond to that?
No, that's not at all what it's about! How come it's a zero-sum game? If you let turtles do stuff in the way we do stuff (like have a history or whatever), why does that mean we have less of it? That says something about the mind of the hearer—the ways in which anthropocentrism, thinking that humans are special and different and that the only way to value them is to regard them as special and different, is deeply wired into our ways of thinking.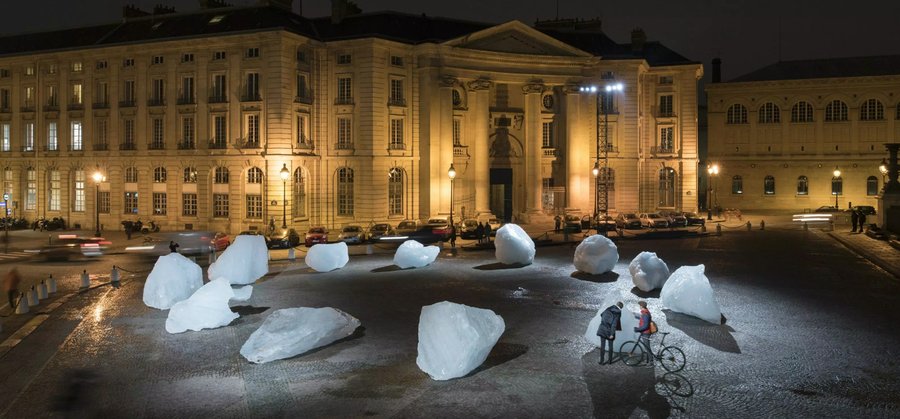 Ice Watch by Olafur Elíasson (2015). Image via the artist's website.
Another critique that people have is that your conceptions of "human" and "object" don't factor in the ways those terms have been defined by anti-Blackness and transatlantic slavery. Could you maybe speak to that a bit?
Racism deeply structures what we think about the so-called objects. To demolish racism is key to any kind of ecological project that values other beings along with humans. In fact, my whole argument is that speciesism—treating other lifeforms as really different (worse in some way, pretty much) than us—is structured deeply by racism. My own research is in conversation with African-American scholars such as Fred Moten at NYU and my French editor Néhémy Pierre-Dahomey, an African PhD student who shares what he takes to be my animism.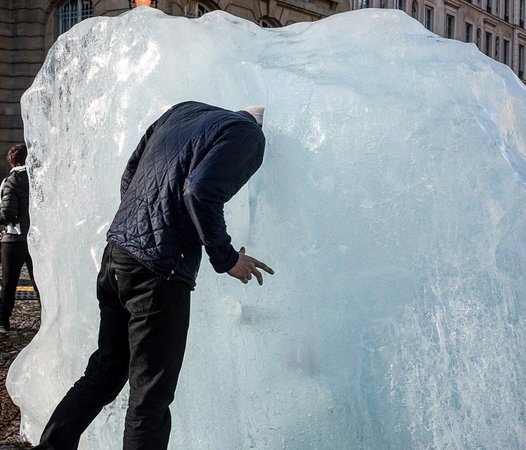 Documentary shot of Ice Watch by Olafur Elíasson (2015). Image via the Studio Elíasson Instagram account.
Since the beginning, my mission has been to show how ecological issues are structured by ones involving race, gender and class. It's just that how I've been showing that has gradually spoken to more and more people, and is not always explicit about it, because I've learned that sometimes truth needs to emerge out of what you say, that people resist it less when you don't point at it.
[related-works-module]
RELATED ARTICLES:
Who is Donna Haraway? Why the Art World Can't Get Enough of the Ecofeminist Cyborg Enthusiast
Smelling AI: Anicka Yi on the Future of Olfaction, Death, and How Science Can Benefit From Working With Artists
"Buy a Damn Boat Already!": the Naked Cowboy on Mel Chin's Times Square Installation About Climate Change