The story began—or, more accurately, the deal began—as so many do in the art world, over dinner in Venice.
Executives of the century-old Torino coffee empire Lavazza first met with the Guggenheim's director Richard Armstrong and other museum officials during the 2013 Venice Biennale . Over time, and over a subsequent series of lush meals, they all hit it off. (Armstrong recalls he had a "wonderful" time.)
Fast forward to next week, when the museum will surrender the rotunda to an retrospective of Hungarian artist " Lázló Moholy-Nagy : Future Present." Sponsored almost solely by Lavazza, it opens May 27. It's the company's third sponsorship of a Guggenheim show in less than three years, and their first of a non-Italian artist. How it all came about is an object lesson in how such deals are done today.
In the U.S. and abroad, corporate sponsorship funding has been dwindling— the Metropolitan Museum of Art is facing a budgetary shortfall, MoMA is offering buyouts, and private collectors are increasingly donating to their own private museums. A lot of money that was traditionally available is no longer there. (In the Guggenheim's case, for example, a lucrative and multi-faceted 15-year alliance with Deutsche Bank ended in 2013.) Museums have had to diversify revenue streams, and forging deeper ties with corporate sponsors has become widely seen as imperative.
Fortunately, these pressures come at a time when there is also an increased awareness of contemporary art in the culture—allowing museums to offer a certain kind of cred, or cool, even, in addition to the obvious exposure to their moneyed audiences. The Guggenheim's Frank Lloyd Wright headquarters, notes Giuseppe Lavazza , vice chairman of the coffee company that bears his family name, has proved "an incredible theater for us."
Lavazza does big business in the United States, but chiefly with restaurants; the brand wasn't a household name to U.S. consumers despite $1.7 billion in revenues globally. That stung, insiders say. In 2014, as it was launching an aggressive U.S. ad campaign and a rollout of its coffee in specialty stores, Lavazza needed a higher profile and some place to court clients—and family members felt it shared values with the Guggenheim. It wanted something classy, with international flavor, exciting.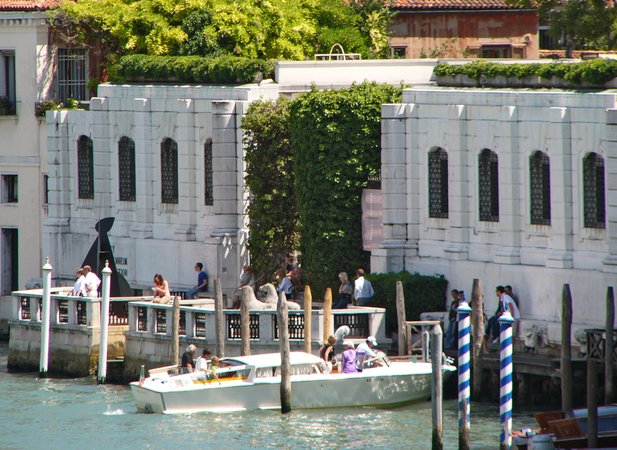 The Peggy Guggenheim Collection in Venice
This brought them to the Guggenheim (which, not incidentally, has a Venice satellite, the Peggy Guggenheim Collection). At the opening of the museum's exhibitions, says Lavazza, "all the city arrives. A lot of key individuals."
For its part, the Guggenheim has a clearly spelled out menu of "prominent branding opportunities" for sponsors. Its "Client Entertaining" package, for example, available at an undisclosed fee, offers two opportunities to use the museum for events, four private after-hours tours, 20 invitations to exclusive events, 200 guest passes, employee discounts at the store and online, and concierge services.
The sales pitch? "Delight clients and employees alike by including membership opportunities for private entertaining and exclusive tours along with a vast array of other valuable benefits."
Make no mistake, these matters can be touchy, particularly at the Guggenheim. The museum's previous director, Thomas Krens , was been widely criticized for establishing a close and cushy relationship with such major benefactors as BMW and Armani to the detriment of the institution's curatorial credibility. In 2000, for instance, the museum opened a retrospective of the fashion of Giorgio Armani , a show arguably off-message for the tony art institution. BMW motorcycles got pride of place in the institution's hugely popular motorcycle show that traveled the world.
The Lavazza arrangment was blessedly free of such direct conflicts of interest, notes one former Guggenheim museum employee—although it did initially focus on sponsoring shows featuring Italian artists. (Lavazza followed sponsorship of "Italian Futurism, 1909-1944: Reconstructing the Universe," which featured such artists as Umberto Boccioni and Giacomo Balla , with backing for "Alberto Burri: The Trauma of Painting." The Burri show, which coincided with the company's 120th anniversary, closed early this year.)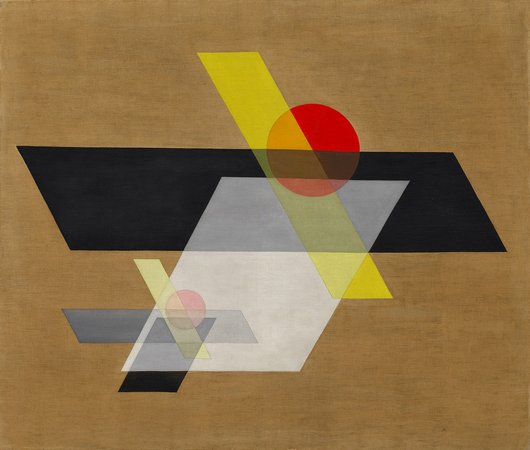 A 1924 Moholy-Nagy, A II , from the Guggenheim Collection
Moholy-Nagy, a painter, sculptor and photographer who taught at Chicago's New Bauhaus school and early on advocated the integration of science and technology into art, is a connoisseur's pick—and, not incidentally, a personal favorite of Armstrong, the director. But the artist worked primarily in Hungary and Germany before coming to the U.S.
"The common link" in all three exhibitions, according to Catherine Carver Dunn , deputy director of advancement at the institution, who works closely with Lavazza, is that they feature "work by artists who were pioneers in their time and who remain influential to this day." (The critic Ken Johnson , writing in 2000, called Moholy-Nagy "the godfather of commercial artists" because of his efforts to blur the lines between art and technology—an attitude which might be attractive to the design-focused Italian company.)
Beyond the pleasures of "giving back" to the cultural community, the business benefits are intangible, but significant, says Ennio Ranaboldo , chief executive officer of Lavazza North American Operations. "They never made us feel 'these are the corporate guys.' We had access to their top people in an atmosphere that was friendly and relaxing."
"We entertained our key relationships, we took every client," and curators sat down with clients, he notes. The Guggenheim's "commitment is never superficial," says Ranaboldo.
How much did it cost? Ah, that's the multimillion-dollar question. While the company declined to detail the spending, and Lavazza's contribution is not broken out separately in the Guggenheim's IRS filings, the museum does describe the company as a "Global Partner," along with Swiss bank UBS . The New York Times reported the multi-year UBS-partnership program with the Guggenheim totaled about $40 million. A Lavazza spokesperson declined to comment on that figure.
But vice chairman Lavazza says he knew exactly when the company's decision to sponsor a U.S. museum exhibition, its first, had been a savvy one. Traveling to New York often for work, as he oversaw the company's push into the retail market in the spring of 2014, people, learning he was Italian, would ask: "Ah, did you see 'Futurism' at the Guggenheim?" Yes, he'd volley back, smiling: "We sponsored it!"
Meanwhile, Armstrong got his Moholy-Nagy show. In an interview on the institution's website, he is asked: "If you could describe at least one exhibition to visit one of the Guggenheim museums this year, what would it be?" He picks the Moholy-Nagy.
He explained the appeal: It "should be illuminating in that you see somebody who really is addressing modernity through a period of crisis not unlike our own. And he's addressing it not only in the media that he chooses to work with, but even his imagery and his willingness to explore new technologies. In a sense, he represents a kind of fulcrum in the change from 19th to 20th Century, and by inference, 20th to 21st century."
The exhibition runs through September 7.