Every ten years or so, painting dies, or, rather, some critic insists on eulogizing the entire canon regardless, signs of life be damned. Then, in keeping with the spirit of true crime, conspiracy theories start to circulate. Who or what killed painting? Was it Instagram, this time? New media, perhaps? Is Jerry Saltz the culprit? (Answer: Yes. Absolutely yes). As such, the sirenic romance central to painting's history comes increasingly under siege, which is... a good thing, to be honest. Elaine Scarry's declaration that "beautiful things always carry greetings from other worlds within them" may have played in the '90s, but 2019 is a whole other animal. Beauty packs more than pleasure in her carry-on; she's also an experienced harbinger of exclusion, oppression, and cruel, relentless sameness. She needs a chaperone. Maybe that's why we're not just encountering lots of "painting-of" lately, but also "painting-and": painting and video, painting and sculptural elements, painting and politic. Even formalism needs to comment on formalism in order to hold court in the cube.
The most fascinating by-product of the "painting-and" trend has to be its pairing with ceramics, specifically ceramics of the dripping, corporeal variety. Many of the artists participating in this moment are women, multiple established, and all seemingly enamored of clay's ability to belie its own imprint, to evidence touch and intention simultaneously. Ceramics has been experiencing a fine arts renaissance of its own for the last decade or so, emerging from the shadow of sculpture as an option for respected three-dimensional expression—evidenced by Phaidon's 2017 compendium Vitamin C: Clay and Ceramic in Contemporary Art. The process of mainstreaming has erased some of its ancestral roots, however—shocker, but porcelain and their cohorts are not actually under patent by white guys who make big, fired phalluses, it just feels like that, sometimes. It's meaningful that two-dimensional abstraction and ceramics co-exist more and more outside of more straightforward curatorial optics. Ceramic art has the power to reify a painting's interior in haptic terms, mapping gesture through the crystallization of choices in step with their residue. These two media move to a shared downbeat, a synchronicity of surface and process that recognize one another instantly as dance partners. That relationship isn't complementary or compositional, but poetic, intuitive, even. Practices that celebrate the consonance of contact can and will finish each other's sentences, and that tender counterbalance makes a lot of visual sense, trend-tracking aside. Ceramics and painting don't provide mutual context, but instead, enoble their counterpart's discrete breed of, well, beauty.
Here are seven painters bringing their perspective to ceramics, all to unique and different ends.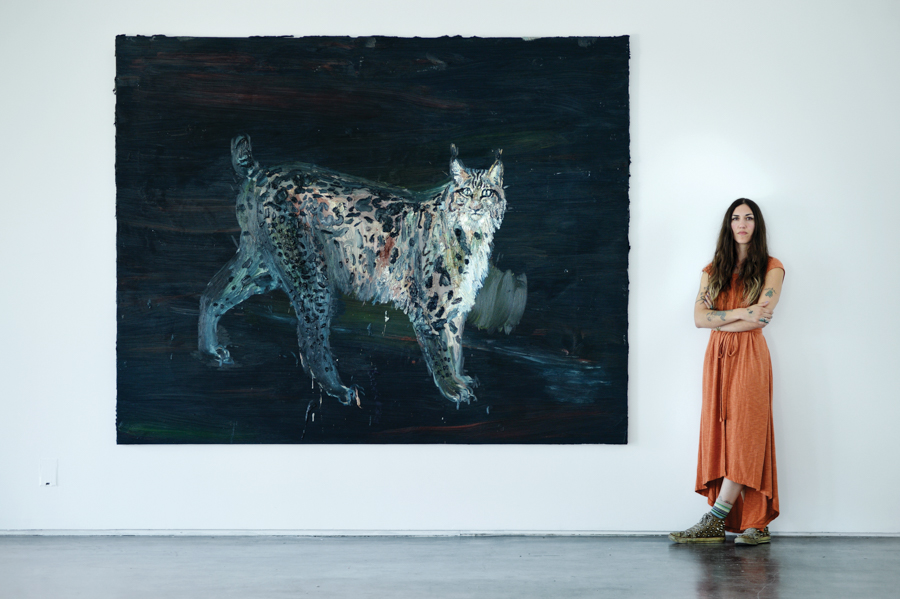 Allison Schulnik via Maake Magazine
Allison Schulnik loves lumps, or more specifically, the ways in which lumps can be choreographed into a sublimating form of theatre. The language of her paintings, ceramics, and animations isn't just consistently macabre, but consciously touch-traceable; even her two-dimensional pieces look less like figural explorations than haunted specters rising to the surface of some murky studio bog. This dimensional approach underscores a nod towards character-building, active, furious, but still somehow methodical in Schulnik's hands. Nowhere is this impulse more apparent than in her unbelievably weird, startlingly moving claymation movies, featuring fleets of awkward, eidolic figures melting, blooming, dancing, and transforming in phantasmagorical space. Schulnik's full-bodied material interventions help foster a wincing empathy for these creatures, further tethering us to the core of an inner world made legible. Based in Los Angeles, CA, Schulnik attended CalArts for her BFA and has been making moves ever since, enjoying solo turns at venues like the Wadsworth Atheneum Museum of Art in Hartford, the Laguna Art Museum in California, ZieherSmith gallery in New York, and Rokeby Gallery in London. Her films have received a "Best Experimental Animation" mention at the Ottawa International Animation Festival. Check out her work at MASS MoCA's upcoming meditation on the politics of representation, "Suffering from Realness," on view at the museum from April 13th.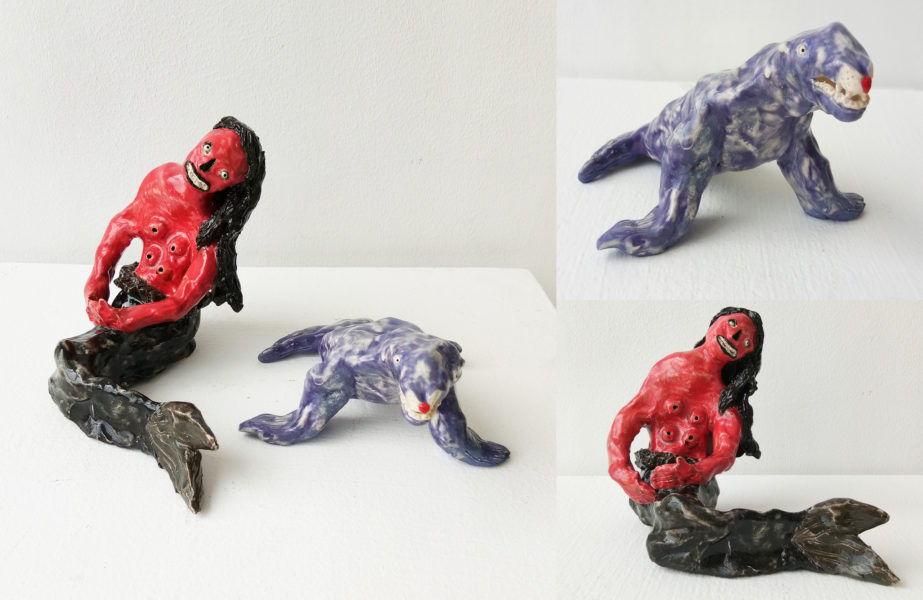 Pettyjohn's ceramics via blanc gallery website
Pettyjohn's website and Instagram are both titled Hideous Things, which is funny, but only sort of true. Her charming, twisted figures are distinctive in their economic access to affect, and while the "thing-ness" of her subjects, rendered in an illustrative, signature hand, definitely resonates far beyond their bodily limits (even the sparest of her drawings feel like soulful meat vessels, not necessarily people), it's the liminal space between her figures and their clay familiars that really makes the pieces hum. Clowns, dogs, freaks and geeks abound in her work, but there's no shortage of vibrating, anxious heart throughout. Educated at Parsons, Pettyjohn has shown her work at a variety of venues both locally and internationally; recent features include work in "Mature Themes," a seven-artist show at Chelsea's Foxy Production curated by John Garcia, and "Still Big," an exhibition at Tiger Strikes Asteroid: New York, inspired by 17th century Dutch still lives.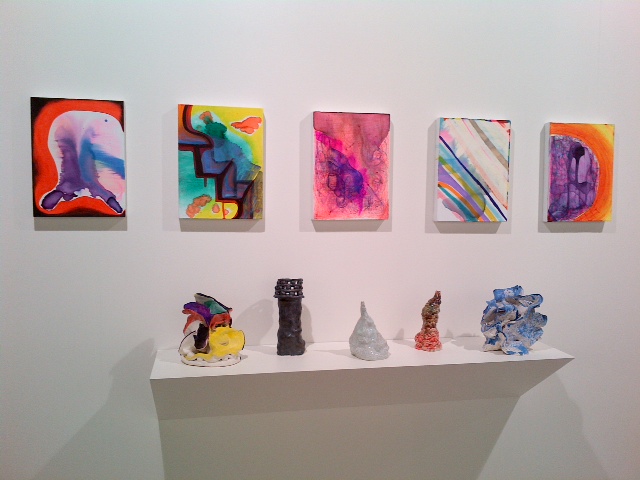 Installation shot via Hyperallergic
New York-based Greenbaum has been grinding consistently since graduating from Bard in the mid '70s, but was plagued by under-recognition until relatively recently in her career. Her vibrant, frenetic paintings beam forth from any wall they occupy, weaving frenetic ribbons of color and line together in buoyant harmony. Each mark takes on a personality of its own, and the controlled buzz she harnesses in her paintings lends itself perfectly to a punchy ceramic practice. Her work in clay has a synesthetic edge; these whimsical little instants treat color like substance, operating as auguries for energy against the backdrops of her flat, scribbly topographies. Greenbaum has exhibited widely over the past twenty years, including spotlights at the Nerman Museum of Contemporary Art in Kansas, Kustahalle Dusseldorf in German, and MoMA PS1 in New York, NY. In 2018, the Tufts University Art Galleries at the School of the Museum of Fine Arts in Boston, MA displayed "Joanne Greenbaum: Things We Said Today," a retrospective that went on to visit the Otis College of Art and Design in Los Angeles, CA. She has been the recipient of the Joan Mitchell Foundation Grant, the Pollock-Krasner Foundation Grant, and the John Simon Guggenheim Memorial Foundation Grant, among others, and her work has taken residence in a wide swathe of public and private collections.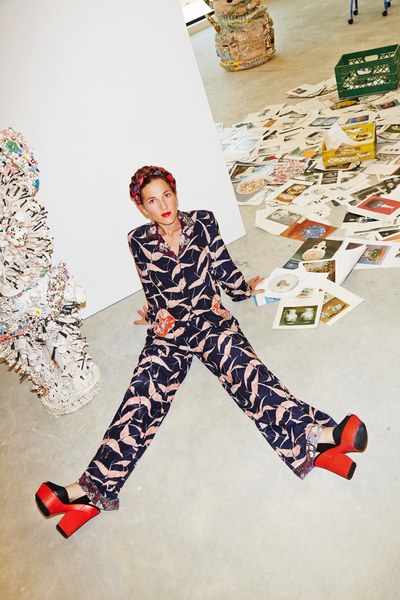 The artist and her reference materials via W Magazine
DiMattio is all about accrual; her paintings layer art historical and pop cultural references on top of each other with the studied nonchalance of a "yes" pile forming in a department store dressing room. Her large-scale, free-standing ceramic sculptures crackle and teem without surrendering to any sort of structural or conceptual precarity, a delicate tension that cannot be overstated in its expertise. These flurries of chicken wire and glaze feel assertive, odd, but never encroaching, holding the floor with an elegant self-possession usually reserved for more old-school iterations of the craft. When coupled with her paintings, the themes of no-brow, digitized perspicacity are thrown into stark relief against her trenchantly analog materials, a contrast that casts both branches of her practice as partners in conversation, chuckling alongside the viewer in sly, slow intervals. Dimattio, who splits her time between Chelsea and Hillside, NY, has shown her work all over the world, most recently at Saatchi Gallery in London and Salon 94 Bowery in New York.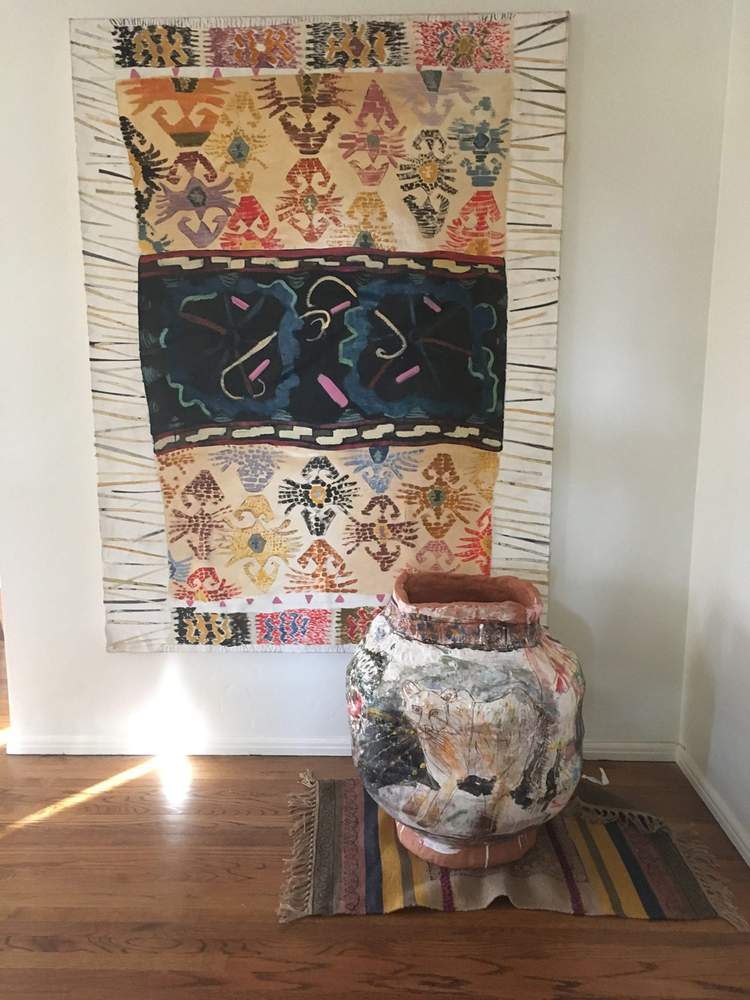 Installation shot via mansionglobal.com
Los Angeles-based artist Jennifer Rochlin explores the limits of universalized symbology through bulging terra cotta vessels and personal, patterned paintings. Originally trained as a painter at the University of Chicago, Rochlin pushed her practice into three dimensions as a means of troubling her relationship to the substrate; her vessels assume the exterior quality of cave-drawings, texturing expressive sgraffito gestures with their hand-coiled undulations. Rather than backgrounds or respondents, the paintings serve as semantic blueprints for Cochlin's tumorous pots, setting iconographic expectations for communication in the round. Rochlin's series of gentle, sensitive tile paintings forms the conduit between her two chosen media, combining tactile flux and sweet pictorial flatness. Rochlin's latest solo shows took place at The Pit in Los Angeles and Lefbrvre & Fils in Paris, but her emotive cuneiforms have also traveled to T Project in Portland, Andrew Rafacz Gallery in Chicago, and Stems Gallery in Brussels, Belgium.
ROBERTO LUGO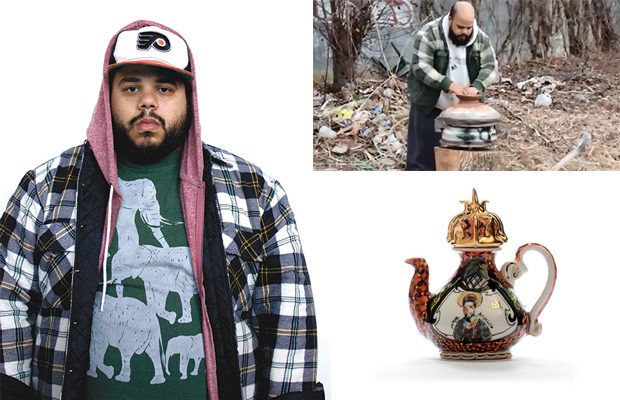 Artist spread via modernmag.com
Potter, activist, poet, and educator Roberto Lugo is currently a professor of ceramics at the Tyler School of Art in Philadelphia, but he began his creative tenure as a graffiti artist under the tag "Robske," cutting his teeth on neighborhood buildings as he educated himself on color, form, and self-expression. After enrolling in a community college ceramics course, he felt a profound call to make pieces excavating his own identity, eventually going on to pursue an MFA at Penn State. His signature technique of using china paint in a graffiti hand has made quite a stir in the world of ceramics, and it's his forthright, plaintive interrogations of structural iniquity, racism, erasure, and his own Puerto Rican heritage that set him apart in a notoriously white-washed artistic enclave. His archaeological eye towards the field informs his sculptural porcelain remixes, which blend traditional European and Asian designs with the urban sensibility of his hometown, Kensington, PA. When these figural, portrait-forward vessels split space with Lugo's prints or graphic paintings, a dialogue on the subversive power of decor floats to the forefront, challenging the viewer to box with the inherent racism and classicism of rarified domesticity. Now represented by Wexler Gallery in Philadelphia, Lugo has exhibited his work in solo exhibitions at The Walters Museum in Baltimore, MD, Taller Puertorriqueno in Philadelphia, PA, and Eutectic Gallery in Portland, Oregon.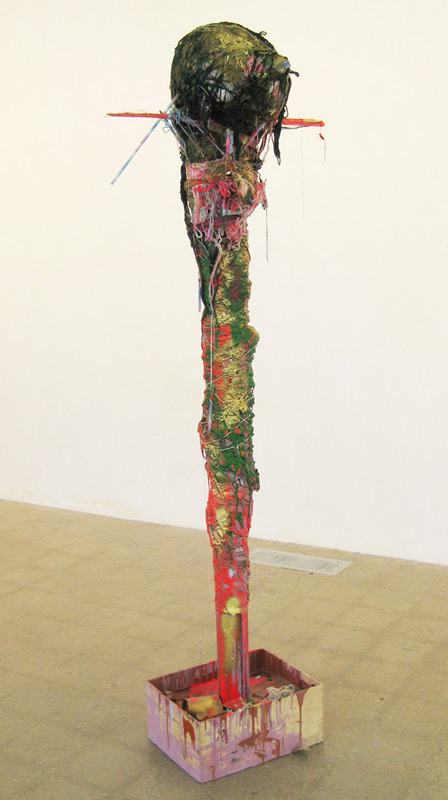 Image via the artist's website
O'Brien lives and works in Chicago, where he makes highly technical ceramic sculptures, textiles, drawings and paintings. Each piece is an anthem to labor, mark, and repetition, fetishizing prolific production as the core of artistic practice. Never overwrought, but often disquieting, O'Brien's amalgams emerge like Jungian ghosts of long-subsumed obsession, figurally inchoate but compositionally expert all at once. If his paintings represent the fraught psychic space of an impulse, O'Brien's tall, stacked sculptures are totems, or evidence, existing in the past-tense of an uncontrollable action. O'Brien has participated in a wide number of high-profile exhibitions, including features at the Museum of Contemporary Art, Chicago, the Nerman Museum of Contemporary Art, The Drawing Center in New York, and the Aspen Art Museum. He was also selected as a finalist for the Museum of Art and Design's Burke Prize in 2018, and his work is on view at MAD as part of their "The Future of Craft 2" exhibition until March 17th.
[related-works-module]
RELATED ARTICLES
Ceramic Art Has Made A Comeback—Here's How
8 Game-Changing Contemporary Ceramists to Add to Your Collection