One of the simplest yet most profound breakthroughs in contemporary art came in 1967 when Bruce Nauman realized: "If I was an artist in the studio, then whatever I was doing in the studio must be art." Nauman's focus on activity—rather than product—became the catalyst for a prolific, visceral, and sometimes disturbing oeuvre that initially wasn't perceived as art, until it came to stand as one of its pinnacles. The New Mexico-based artist, who hadn't shown a major new work since 2009 when he represented the United States in the Venice Biennale, debuted a brand new multipart video and sound piece at Sperone Westwater and the Philadelphia Museum of Art on September 18.
Here, see artists who share Nauman's desire to make work that's "like getting hit in the face with a baseball bat."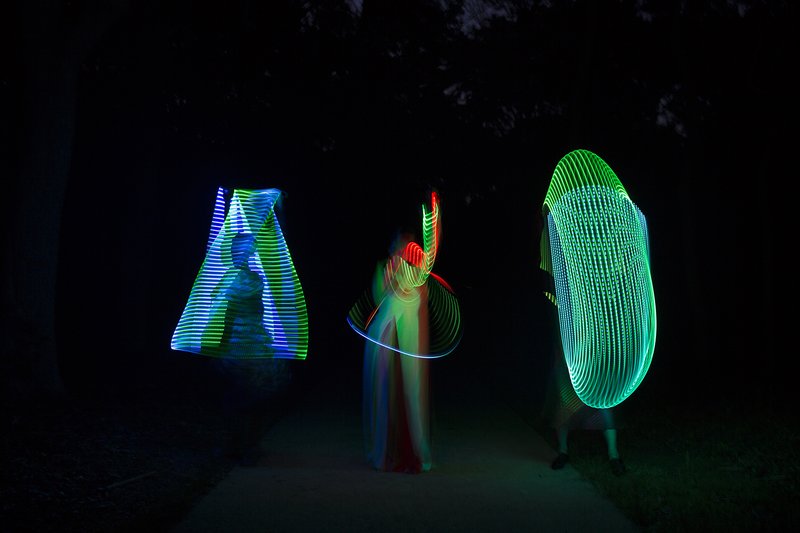 Light Body, (Live Dance Performance) 13 (2016) is available on Artspace for $2,000.
Like Nauman's documented performance pieces wherein the artist used his own body as an aesthetic gesture, Lia Chavez's Light Body series documents corporal movement using long-exposure photography. Using light cast in the same bright colors as Nauman's neon sculptures, dance becomes the impetus for stark, geometric abstraction .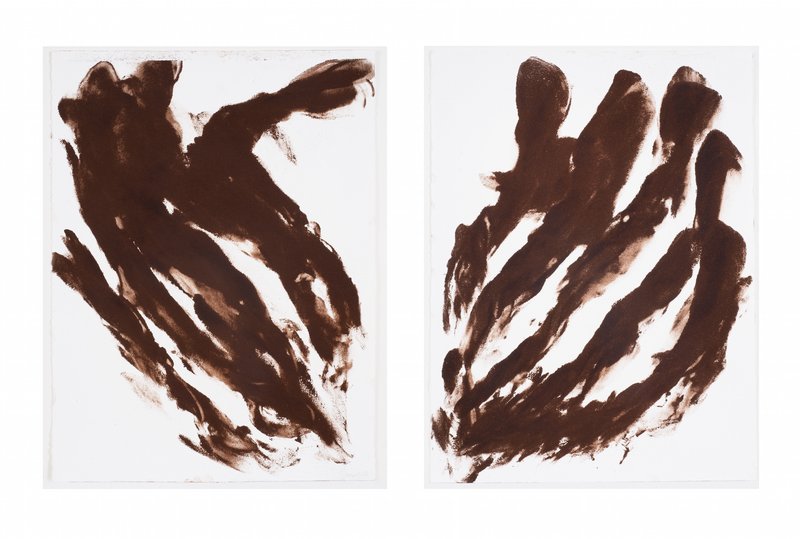 Untitled , available on Artspace for $6,000.
Untitled was created as part of a series of private performances, which resulted in what "transdisciplinary visual artist" Clifford Owens calls " figurative abstract drawings " that combine elements of performance , photography, and painting . Similarly, in Nauman's Wax Impressions of the Knees of Five Famous Artists, the gestures that created the work are inseparable form the finished product, rendering a temporal, fleeting action as a permanent, physical manifestation.
Twister , available on Artspace for $2,000
A modern cowboy, Bruce Nauman lives on a working horse farm of the kind Marianne Vitale might explore with her work, which focuses on the Old West, frontier history, and the barren landscape of the Great Planes. Twister documents a playful performance of the artist thrusting upwards, as if swept away by the tornado depicted above her.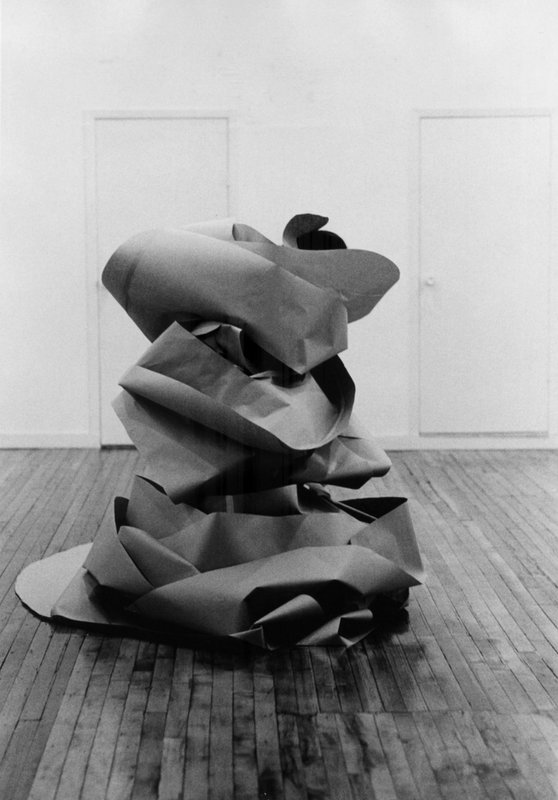 Sylvia Whiteman, "The Human Pepper Coil" is available on Artspace for $5,500
Born in France, Babette Mangolte relocated to New York in the 1970s and quickly became a mainstay of the burgeoning performance art scene, where she collaborated with and documented some of the era's most important performers and artists. Here she photographed Sylvia Whiteman rolling herself up in a large paper coil, producing body art that calls to mind many of Nauman's own performances.
The Opposite is also True, available on Artspace for $6,000
Tori Wrånes is a Norwegian performance artist interested in "investigating different ways to exist," and her existential disorientation is most visible in The Opposite is Also True , where the artist hung upside-down (the rope is visible in the upper-right corner of the photograph) while wearing right-side-up clothing. Reminiscent of Nauman's unorthodoxly oriented video works like Revolving Upside Down, and of his colorful hanging head sculptures, Wrånes' work feels like the logical (and even more cheeky) conclusion of both— the artist actually suspends herself, rather than changing the orientation of the camera.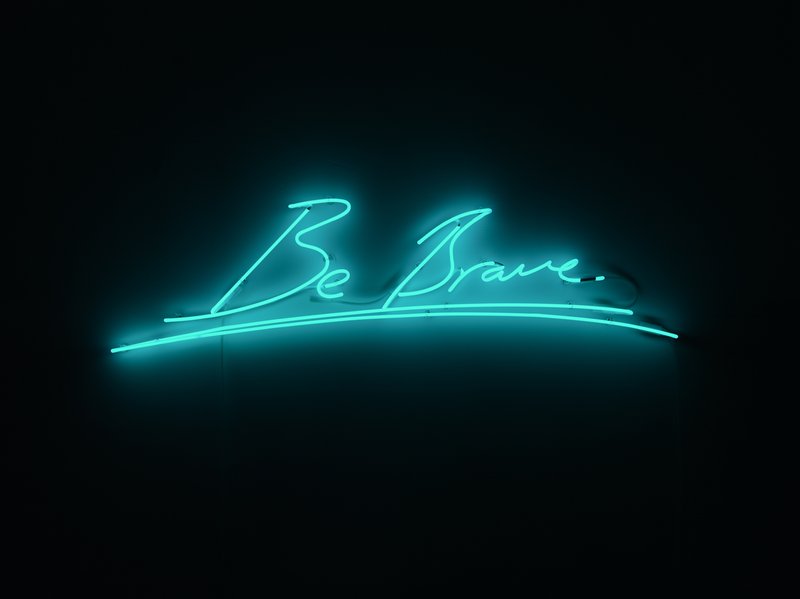 Tracey Emin's Be Brave (2015) is available on Artspace for $58,719
In Tracey Emin's personal handwriting, the titular phrase conveys a directive and deeply intimate sentiment, "Be Brave." The celebrated British artist's poignant neon works are perhaps more sincere and less ironic than Nauman's playful neon signage of the '60s which illustrate Duchampian word plays like Run from Fear/Fun from Rear (1972).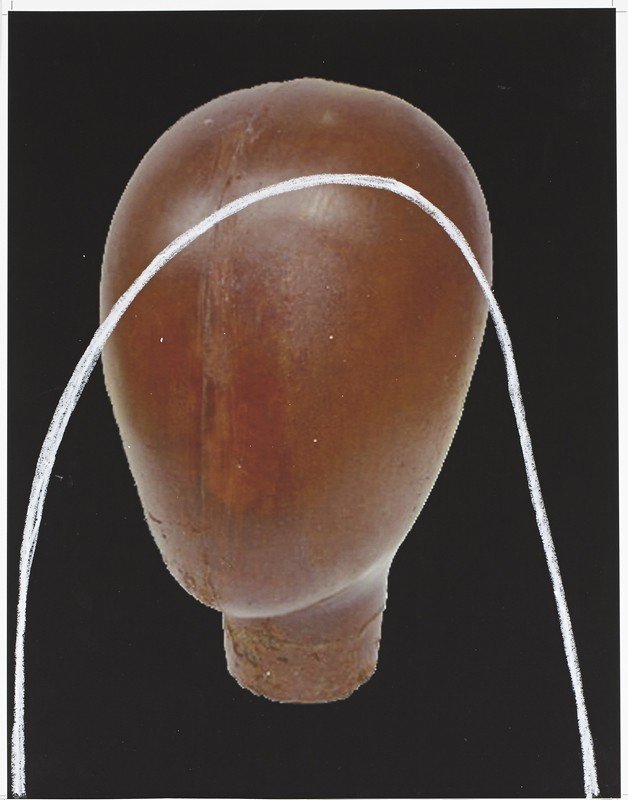 Kelly Nipper's U (2013) is available on Artspace for $2,500
Using "choreography to shape [her] ideas about space and time and weather and emotions," American artist Kelly Nipper works with video, installation, and live performance. U calls to mind Nauman's wax-cast head sculptures of the 1990s that hung clumsily in clusters to suggest a labored, communication circuit between imagined disembodied figures.
[related-works-module]
RELATED ARTICLES:
How Did New York Change Bruce Nauman? Looking Back on a Radical Period in the Artist's Career