In conjunction with the release of Great Women Artists, a comprehensive new volume featuring more than 400 groundbreaking women artists and their works from the past 500 years, Artspace and Phaidon have partnered with Kering, a global luxury group committed to empowering women, in the production of a portfolio of prints by Cecily Brown, Lubaina Himid, Bharti Kher,Dana Schutz, and Jenny Saville. Proceeds from the portfolio will benefit Promundo, a non-profit dedicated to advancing gender equality by educating men and boys. Available to purchase individually or en suite, these limited editions (only 100 exist of each) offer collectors the opportunity to acquire affordable works by the most celebrated women artists of our time, all while contributing to a worthy and important cause.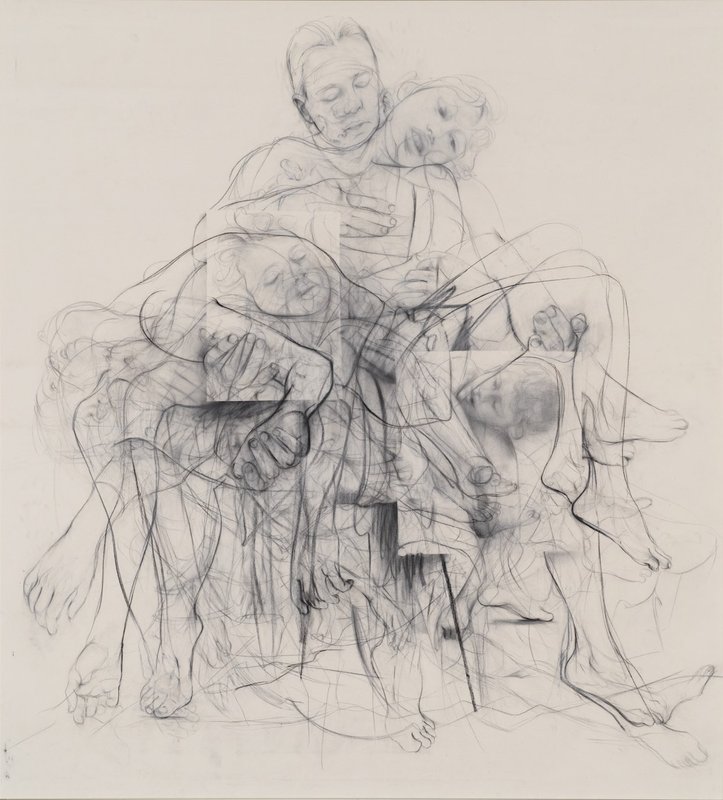 Jenny Saville, Chapter (for Linda Nochlin), 2016/2018, is currently available for $1500 on Artspace
So, who are these artists, and what makes them so legendary? In today's spotlight, let's take a closer look at painter Jenny Saville, her work, and her artistic legacy.
WHO IS SHE?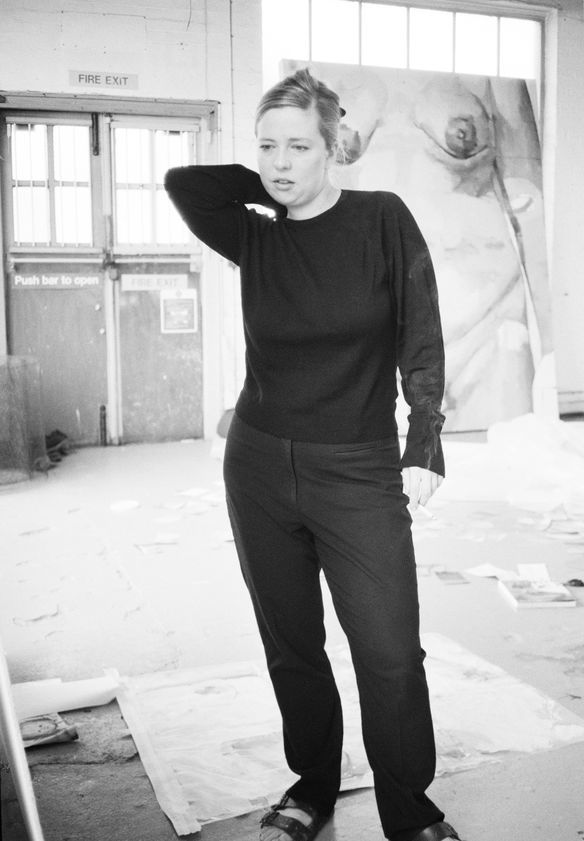 Jenny Saville, Studio, London, by Johnnie Shand Kydd, 1997 via Artimage

Jenny Saville, born on May 7, 1970 in Cambridge England, is a contemporary British painter and original member of the Young British Artists, a loose collective of market disruptors whose ranks included Damien Hirst, Tracey Emin, and Gary Hume. Championed early on by iconic English collector Charles Saatchi, Saville's postgraduate thesis show was met with immediate acclaim by the press, and she has been firmly ensconced in the canon ever since.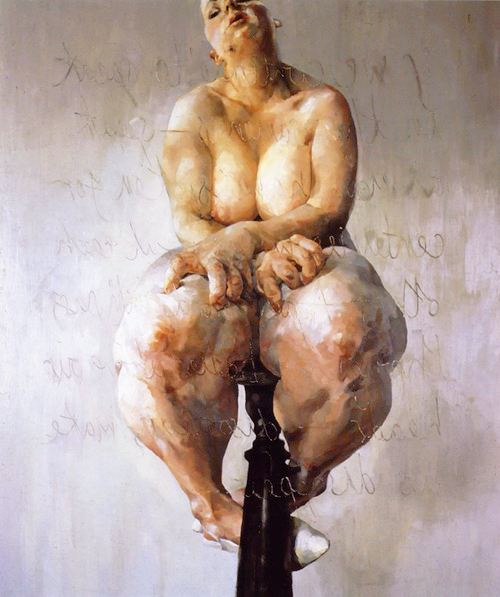 Propped, 1992 via Saatchi Gallery
In 2018, a self-portrait of the artist titled Propped went for $12.5 million at auction—$3.5 million above her previous auction record, making her the "most expensive" woman artist alive. This piece first brought the artist international acclaim back in 1997 during its appearance in Saatchi's landmark exhibition "Sensation: Young British Artists from the Saatchi Gallery" alongside heavy-hitters like Rachel Whiteread and Chris Ofili. Currently based in Oxford, England, Saville has been collected by the Broad Art Foundation in Los Angeles, the Brooklyn Museum, and the Metropolitan Museum of Art in New York, among many other prestigious institutions.
WHY IS SHE IMPORTANT?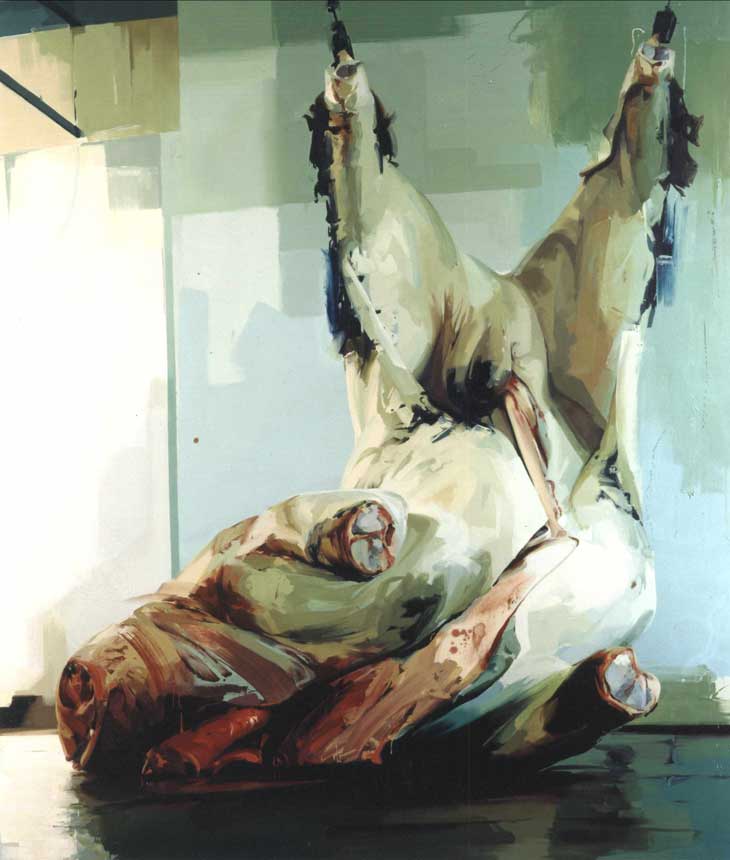 Torso 2, Jenny Saville, 2004 via Saatchi Gallery
Saville has long been preoccupied by the unruly aspects of female flesh and its material connection with oil painting; there's an undeniable monumentality to her pieces that vacillates between abject and celebratory from stroke to stroke. These paintings map a throughline between visceral sensuality and the grotesque that feels both human and distinctly political. During a school-year term at the University of Cincinnati in 1991, Saville was reportedly bowled over by the compositional potential she identified in the large women she saw stateside, chasing that obsession on canvas until this day.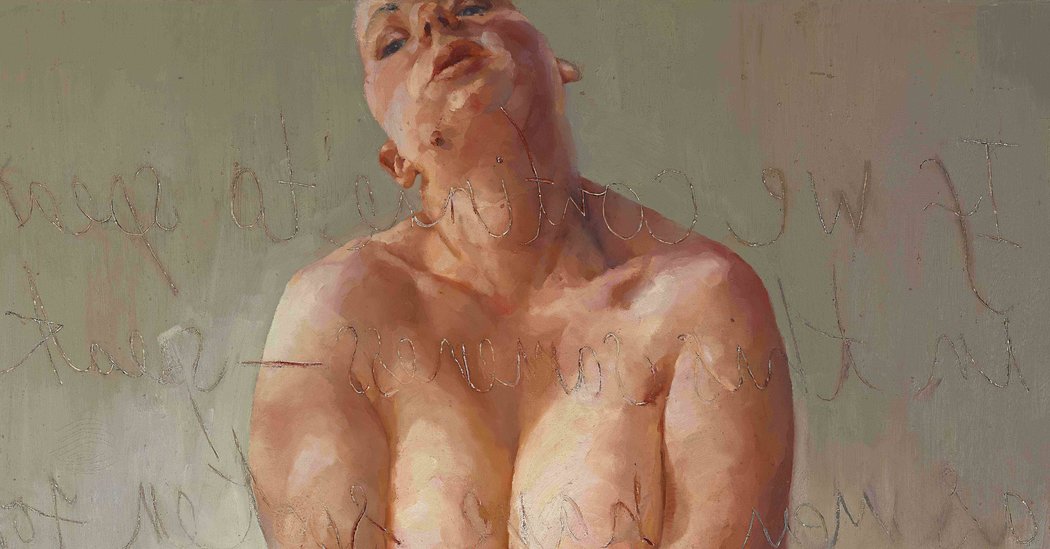 Propped, detail via the New York Times
The aforementioned painting, Propped, an undeniable early masterpiece, is a self-portrait in which Saville sits naked atop a phallic furniture post. Nails indent thick, mottled knees, hollow clavicles birth heaving, pendulous breasts. Scrawled backwards into the paint's surface are paraphrased words from Belgian-born feminist theorist Luce Irigaray ("if we continue to speak in this sameness—speak as men have spoken for centuries, we will fail each other. Again, words will pass through our bodies, above our heads—disappear, make us disappear"). Irigaray's early 20th century investment in dismantling the linguistic scaffolding of patriarchy squares with Saville's visual project, which effectively hijacks the traditions of the erotic nude for more vulnerable, tendentious ends.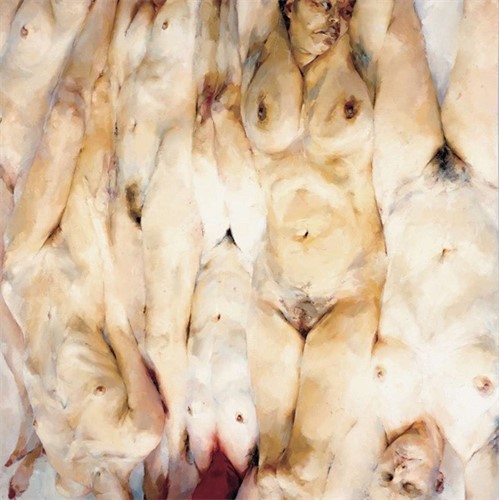 Shift, 1996 via Sotheby's
Throughout the '90s, Saville proclaimed herself "anti-beauty," focusing instead on the pitfalls of lived embodiment, as illustrated in her pieces on plastic surgery patients, many of which have drawn comparisons to the work of Lucian Freud.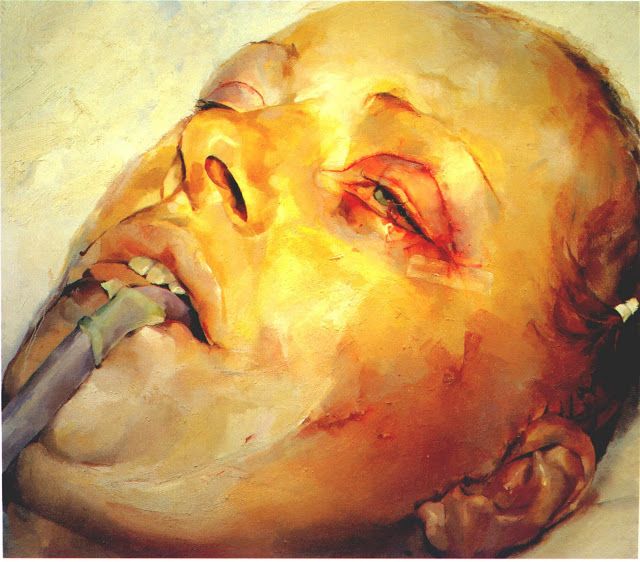 Interfacing, 1998 via Pinterest
Before having children in 2007 and 2008, Saville's work took a turn for the morbid, relishing in the physical and social traumas imprinted on imperfect flesh. In more recent work, she has portrayed mothers and children with furious, scribbling empathy before launching into paintings that box more directly with art historical precedent, taking up the mantle of renowned artists like Michelangelo and Picasso. Brimming with libido and latent violence, Saville's contribution to art history is as indelible as it is disquieting, paving the way for a generation of women artists poised to recalibrate our relationship to figuration in painting.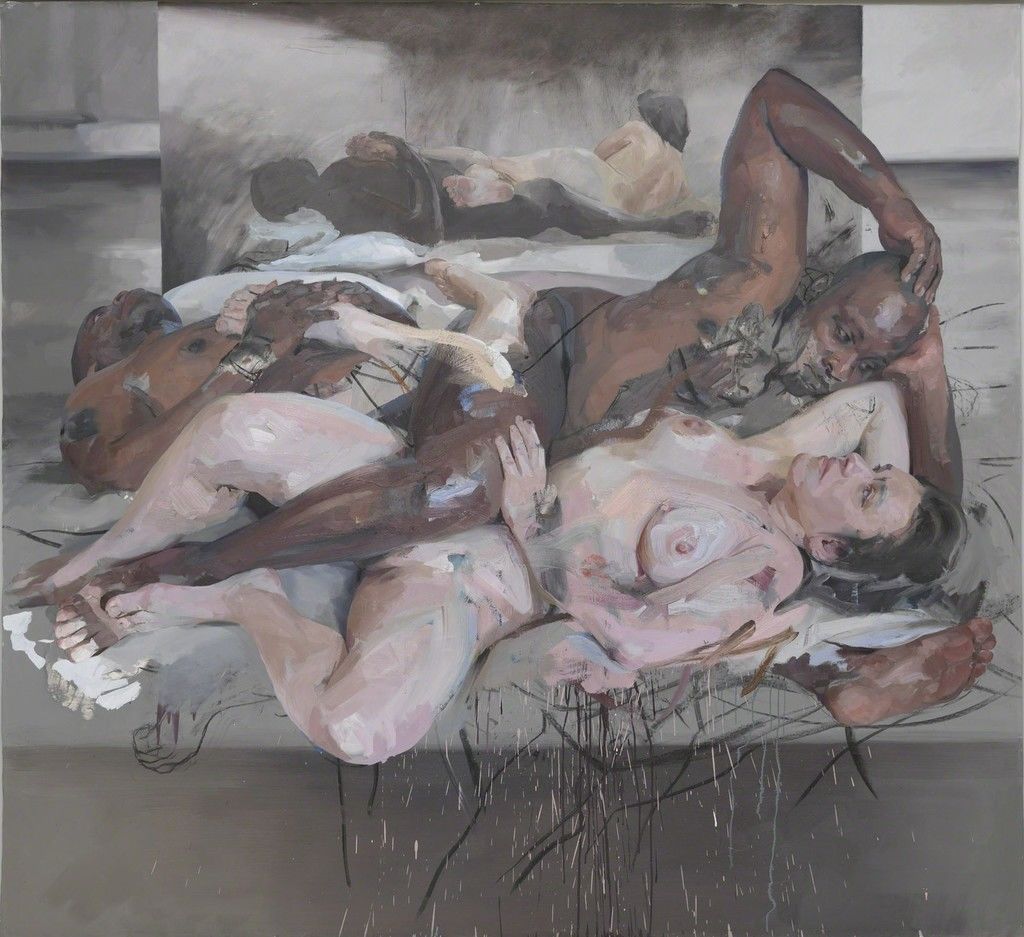 Odalisque, 2012-2014 via Gagosian

[gwa-module]
RELATED ARTICLES:
How Collecting Great Women Artists Can Support Healthier Boyhoods and Gender Equality: A Q&A with Promundo's Founder
A Q&A with Candida Höfer: A Great Woman Artist
Great Women Artists: The 400 Most Important Female Artists Over the Last 500 Years