Working with photography, video and text, Marc Ohrem-Leclef's important, yet instantly engaging work, centers on immersive portraits of communities. We first became aware of the visual arts practice of this German artist ten years ago, through his photographs of wrestlers in India and young cowboy communities in Australia.
In 2012, his performative photography and video project Olympic Favela, visualized the effects of forced removal of residents in Rio de Janeiro's favelas, implemented by the city government in preparation for the 2016 Olympic Games.
The accompanying book Olympic Favela, with featured a text by MoMA's Luis Perez-Oramas was named 'best of 2014' by AmericanPhoto Magazine, and the short film Olympic Favela premiered at the Seattle International Film Festival two years later.
His current, ongoing  project Jugaad /Of Intimacy and Love, engages in shifting modes of masculinities and homosocial intimacies in India through use of image and texts, based on interviews with collaborators from a broad range of backgrounds, classes and religions.
A MacDowell Colony Fellow, Ohrem-Leclef's work has been exhibited in Brazil, Germany, India, the UK and US and reviewed in Artnews, Artforum, the BBC, British Journal of Photography, Der Spiegel, Hyperallergic, Slate, and The New Yorker, to name just a few. His work is held in the collection of Museo de Arte do Rio, Brazil, and David Dechman, New York.  As lockdown continues, he takes us on a tour of his studio and working practice (and look out for a lovely rooftop view atop his Brooklyn studio at the end of the video).
We first became aware of your work ten years ago via your photographs of wrestlers in India and young cowboys in Australia. What attracted you to those stories? While I cannot deny a motivation to manifest some of the iconic, romantic ideas of masculinity, beauty, domination and strength associated with my subjects in Chasing Cows and Untitled, Indian Wrestling Students it was the questioning and dismantling of these stereotypical notions that made the photographic journey complete for me. Choosing environments that are characterized by some form of isolation helps me confront my own romanticized perceptions regarding my subjects. Absent outside distractions, I can deeply absorb the dynamics and forces that move them.
Aerial / Cleanskin Yard, Chasing Cows, 2010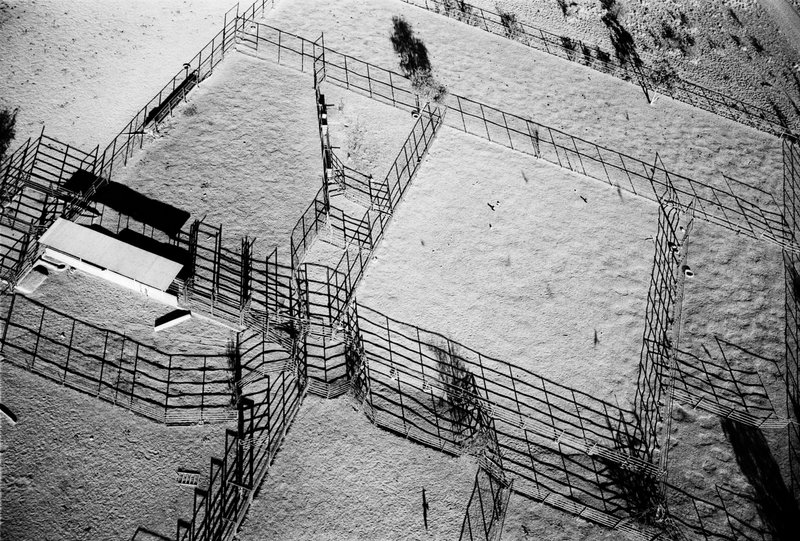 As I immerse myself in their element, I gain a deeper understanding of the choreography they move to, both emotionally and physically. I attempt to remain a respectful observer; attentive to the moments when a facade (the pressure of a certain role they play within their community), falls off my subjects and I can reveal an ambiguity, vulnerability and tenderness. It is those unexpected moments that I hope to reveal.  I believe that these fleeting moments of suspense, before a tipping point is reached, tell a more nuanced story than moments of resolution.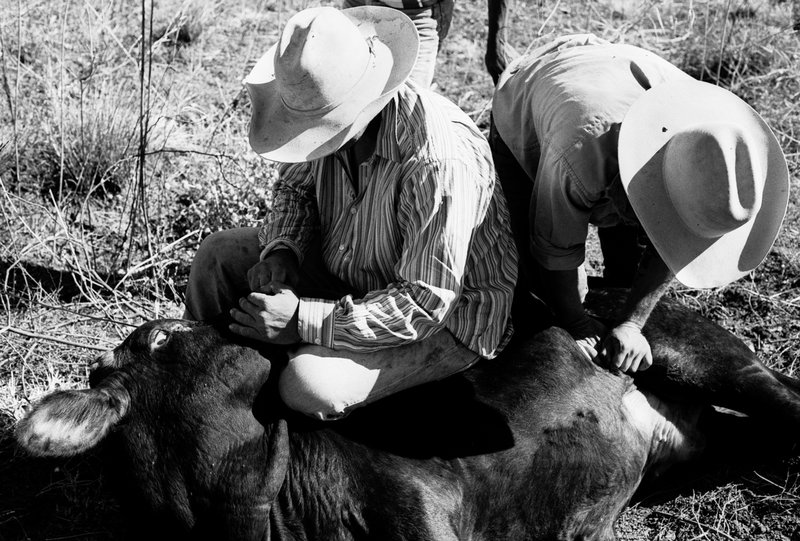 Your new project Zameen addresses the bond between men in India - both sexual and friendly. Can you tell us more? In India, public displays of affection between men is socially accepted and understood to be an expression of deep friendship and brotherhood. Documenting this culture of touch, and the politics surrounding it, my work in the project 'Zameen Asmaan Ka Farq' (As far apart as the Earth is from the Sky *) addresses the varied dimensions that 'love' can embody for men, including love existing in unspoken, fluid spaces, beyond the obviously visible and assumed. Through photographs and texts, it documents the culture of touch between Indian men who live at the intersections of homosocial culture, friendship and love.
How extensive were your travels to create the new works? My fieldwork took me to urban centers, remote villages and tribal hamlets in sixteen Indian states. I collaborated with individuals from a wide range of castes, classes and religions to make analog, medium-format portraits and record our conversations (to date over 120 recorded conversations in 12 languages).
Rajeev and Arun, with Amma looking on. Tamil Nadu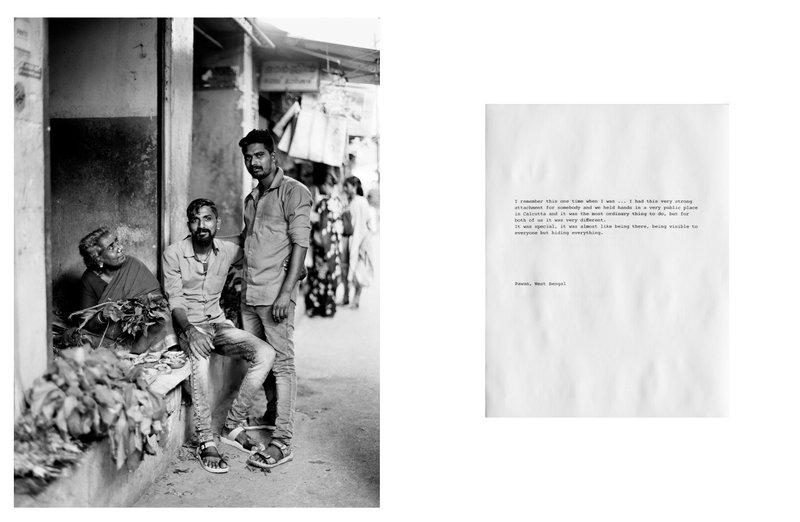 What did you set out to achieve with the project? In a culture that has traditionally allowed men to be intimate with other men without attaching considerations of identity to these intimacies, I purposefully included collaborators who may not have had to consider their identity in terms of sexuality, or who have chosen to not disclose it.
How did you approach this project? In deeply private conversations, my collaborators share untold stories that reflect the ways some benefit from the sexually ambiguous spaces that leave others feeling trapped. Some relationships I have documented shine a fresh light on non-heteronormative lifestyles and how they are being normalized in pockets of Indian societies. Sudheer, a gender-queer, gay-identifying, sex-worker in Maharashtra told me of the pressures both they and their wife Vidya feel to conform to clear-cut heteronormative and queer identities offered by mainstream, Western identity politics.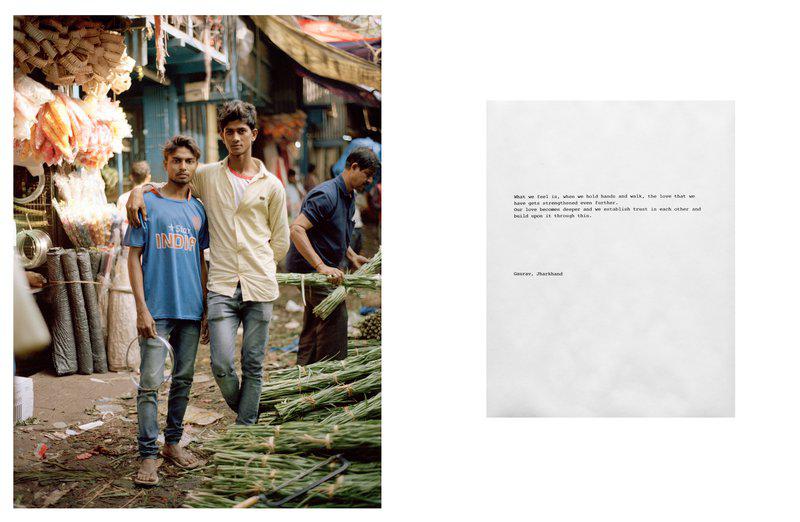 What do you hope to achieve with the work? Investigating this dilemma – a diminishing acceptance of traditional fluidity of gender and sexuality as more narrowly defined identities take a hold in Indian culture and legislation – is an urgent part of the conversation I hope to initiate with my work.
Against a backdrop of divisive nationalist politics, my collaborator's voices reveal human struggles and victories in same sex love/s across a wide range of castes, classes and religions. In light of the recent abolition of the colonial-era law 'Section 377' that criminalized homosexuality until late 2018, their first-hand accounts hold the power to recalibrate both language and models of identities employed in forthcoming legislation towards greater equality.
Ganesh asked to make a portrait, and Mr. Solomon insisted on giving a 'pose'. Tamil Nadu, 2019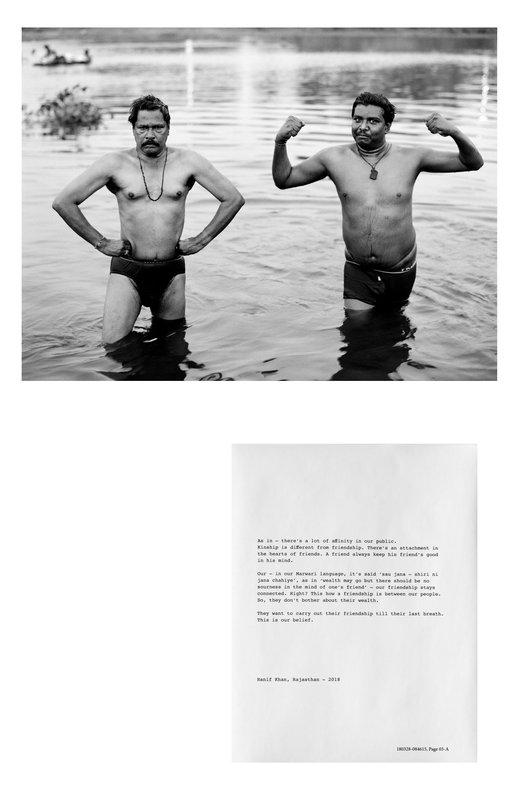 Your 2012 project Olympic Favela consisted of two types of portraiture, can you tell us why? The first type is environmental portraiture of the residents, photographed in front of their homes, which were designated for removal by with spray-painted code numbers. The second type is directed imagery of residents posing with flaming emergency torches, photographed in their communities. In these images the residents are no longer a subject that I look upon; their role in the image becomes active as they embrace the opportunity to represent their community, their struggle, and their resistance.

Seu' Barão and Tiago, Favela Vila Autódromo, Rio de Janeiro, 2013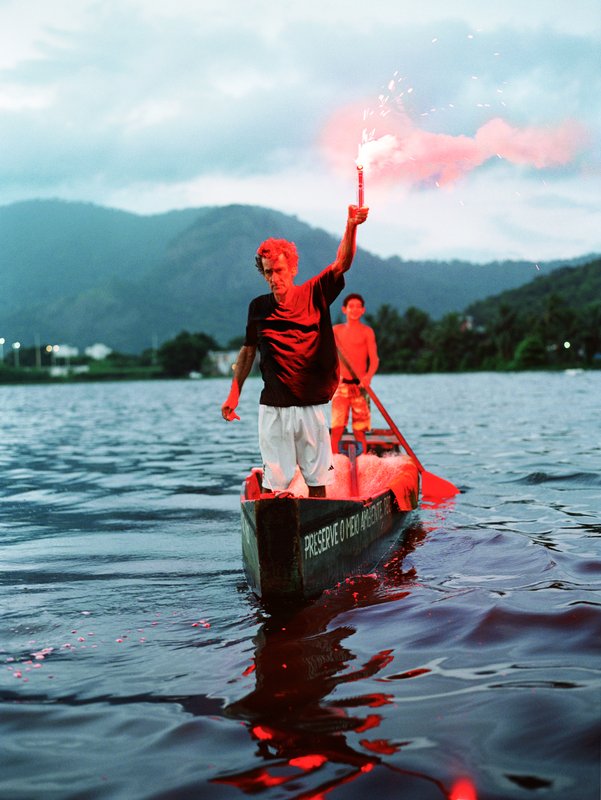 It subtly referenced some very iconic imagery too, didn't it? Yes, ranging from Delacroix's Liberty Leading the People and Bartholdi's Liberty Enlightening the World to now-iconic news imagery of the Arab Spring. The residents' gestures and use of the torch in these photographs invoke ideas of liberation, independence, resistance, protest and crisis while also making use of the core symbol of the Olympic Games - the torch.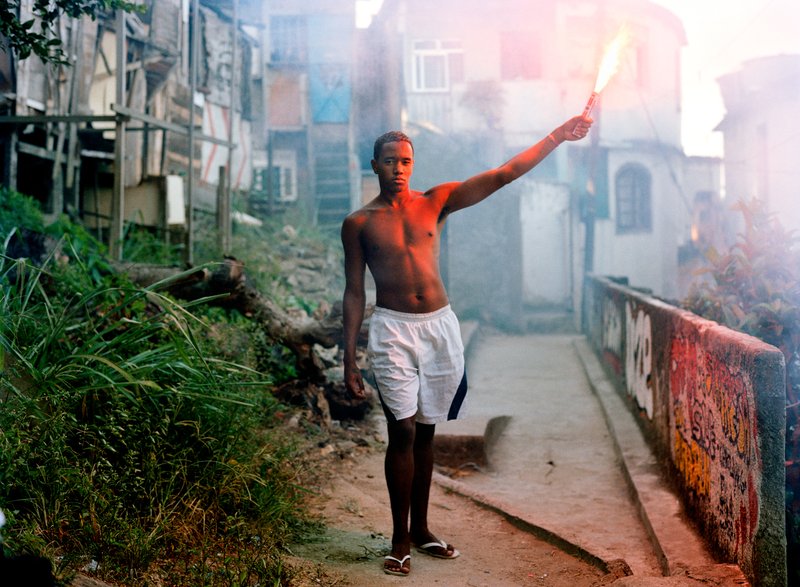 [newmarcleclef-module]
RELATED STORIES