In Phaidon's much-anticipated monograph on the work and life of Lili Reynaud-Dewar , the iconic French performance artist, readers encounter a lush survey of her challenging installations and bodily interventions, further exploring the "boundaries of biography" that her practice seeks to expand. A former law student and classical dancer, her fores into art criticism inspired a turn towards production in 2005, and by 2009, she began using film and performance as her primary media, courting controversy with her ruminations on race and sexuality. A 2013 winner of the Prix Fondaton d'entreprise Ricard, she has been commissioned by the Frieze Foundation and shown her work in solo exhibitions at the New Museum in New York and the Index Foundation for Contemporary Arts in Stockholm, Sweden. In this excerpt, French art historian and journalist Elisabeth Lebovici sits down with Reynaud-Dewar to talk about her artistic trajectory and influences. This release is available now through Phaidon .
[dewar-module]


ÉLISABETH LEBOVICI: You studied Public Law at university. Tell me how you came to make the switch to art, to an artist's life?
LILI REYNAUD-DEWAR: I didn't really think about it at the time. It's only recently that I've started thinking about it. I wasn't a practising artist when I decided to go to art school; I had no previous experience. My friends were at art school, so I copied them. Copying is an interesting idea, which crops up frequently in my work. It's only now I realize my work raises issues that could come under the heading of Public Law: what can be said in a public space, what defines the space, what one is able to do in it, what politics operate in a collective space. Is art political, is it collective?
LEBOVICI: The writer Guillaume Dustan,whom you admire, also had a legal background. Both his writing process and his media performances (appearing naked, or more often wearing a green or yellow wig) called into question the boundaries between private and public spaces that your work as an artist seems to intersect with.
REYNAUD-DEWAR: Yes, you're right. Dustan is important, first because he represents the delirious body, the body as the tool of an intellectual's public stance and as a means of criticising the State and the social structuring of individuals by the legal system. I also love the way he perceived the figure of the French intellectual, outside the spaces reserved for literature, by pushing his way into more popular contexts, such as television. He was a polymorphous individual: a judge, publisher, writer, performer. And if you think about it, because of his publishing activities with the Le Rayon series he also acted as a link with what was happening across the Channel and on the other side of the Atlantic: he published forms of discourse that went off in other directions, breaking down the barriers between different literary forms. He wasn't at all what you'd term a 'safe' figure: he didn't protect his intellectual position, nor did he protect himself. He was never part of the establishment – which I find very attractive. What I find interesting is the way in which he used his body as an instrument of literary production. The experiences that he put his body through (drugs, sex, partying, media) served as literary material.
Installation via Wall Street Journal
LEBOVICI: You also 'step outside yourself', inhabiting other bodies in your performances and your installations. This, it seems to me, is a way of putting yourself in danger, of experiencing limits, of quite literally 'exhibiting' yourself. But, for a while, it wasn't either you or your body that were the material of your performances. Tell me about that period, those early days, when you worked in conversation with others. And then tell me about what drove you to start performing as yourself.
REYNAUD-DEWAR: It was in Glasgow, where I studied between 2001 and 2003, that I met the first performer with whom I'd go on to work, Mary Knox. It wasn't just formalism and references to modernism that I discovered in Glasgow. I went out a lot in the city. I went to clubs, particularly club nights at Optimo. Mary was a friend, and we used to meet there at night. I felt quite uncomfortable at art school. After law, I'd done three years in an art school in France – the École des Beaux-Arts in Nantes – but my attendance was poor. The only teacher I really saw there was Pierre Giquel, a poet who did as much of his teaching at the parties he hosted at his home as he did at the school. I was always daydreaming. I wasn't very hardworking. I'd worked hard at my law studies, and anyway, it takes time to figure out what you want to do, how to find your 'agency', your autonomy. When I got to Glasgow, I wasn't yet a practising artist: I was on a Master's degree course, it wasn't easy. At one point, I even became completely paranoid. I stopped wanting to go to openings at Transmission, at the Modern Institute, because I thought that everybody knew I was a terrible artist, an imposter. That's why I started going out a lot more and being friends with people in the late night scene. In Glasgow, it was easy. I found Mary Knox really fascinating. We were work colleagues. We worked as barmaids at the same place. On her platforms, she had this totally burlesque look. She was two metres tall. She was wasted. Then she started to invite me to late-night parties at her place (which I took as a great compliment), and we became friends. When I returned to Nantes, I missed her. I thought I'd put her in a performance as a way of seeing her again. Mary is someone who loves dressing up, who has a completely camp way about her, who can spend an entire day getting ready to go out and barely move she's so made up and dressed up. She takes a lot of looking after. You can't make her do lots of things: her body language is extremely static, almost robotic, as if lost to herself. I find that very beautiful. In The Center and the Eyes, at the Zoo Galerie in 2006, I made her read texts by John Cage, pinched randomly from Silence. Next to her, another performer, the musician Jean-Marie Racon, read a rather conceptual text that I wrote on the maroon towns built by runaway slaves. A few months earlier, at the Maison Populaire in Montreuil, Mary stood next to one of my sculptures and, in the guise of Queen Mother Nanny, read a text that I'd written. In the Rasta world, there aren't many female icons, except for Queen Mother Nanny, this witch who was a leader of insurgents and founded a rebel town. At the time, I found it really cool that a white Glaswegian woman from the Noughties clubbing scene should come out with 'I am Queen Mother Nanny.' These were the first performances and the first inkling of what would later come to be so central to my work.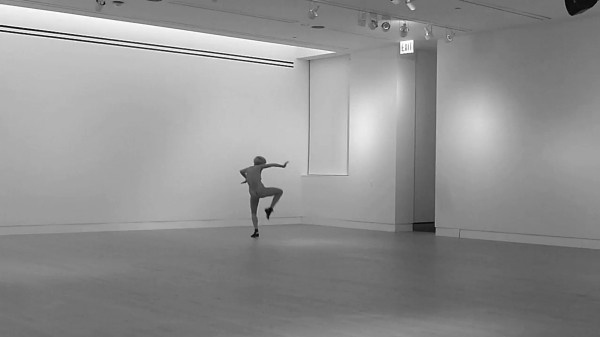 The artist at work in "Live Through That?!" via Mousse Magazine
LEBOVICI: Who else have you worked with?
REYNAUD-DEWAR: With friends and people I've met by chance, such as Jean-Marie Racon, a musician, producer and singer who translated my poems into Creole for a performance entitled The Face of the Four; Tatiana Defraine and Elisa Mistrot, my students at the École des Beaux-Arts in Bordeaux; Lionel Fernandez, a guitarist who's part of the Paris noise music scene; Hendrik Hegray, who's also part of the noise scene; my mother, my grandmother; Pierre Giquel my teacher … Why have I worked with all these people? People often say to me, 'You always pick young, beautiful, charismatic people.' But for me, it's not about physical criteria. I choose people whom I find entertaining. I want to spend time with them. They have an attitude. I have no desire at all to direct, so it suits me that they already have an attitude, a style, a 'thing'. I freely admit that I've always chosen frivolously and a little lustfully, perhaps, for my own pleasure.
LEBOVICI: Under what conditions do you make these bodies, these people visible? Do you see performance as a form of exhibition like any other? And, in this sense, are the performances always a public art form? What is your experience of this visibility?
REYNAUD-DEWAR: Initially, the performances were public. More often than not, they took place during my exhibition openings. But quite quickly – and again, it was a case of pleasing myself – I started to organize performances in places and landscapes of my choosing, and where the only spectators were those who participated in them or helped me to document them. I installed large cages with desks and typewriters near an estuary, so that my mother could give a shorthand typing lesson to Elisa and Tatiana. With them, I also filmed in my grandmother's house, in the countryside. We took furniture from the house out into a nearby forest. We also spent an entire weekend in a hotel room in Paris, gift-wrapping souvenirs that I'd brought back from Madagascar. Of course, the intention was to free ourselves from boundaries and corporate schedules, from all these constraints, to find other environments, other venues to hang out in, drink, have fun, spend time together and then, without warning, start shooting the action. For me, it's not the audience that makes the performance, not the diary date that gives it its temporality, even if I do also like that tension and continue to give public performances. I was once asked to devise a programme of performances for Le Magasin in Grenoble, and this time I avoided the direct confrontation between the performer and the audience by proposing that these performances should be streamed live on the internet. The auditorium where these performances were to be made public became a studio that viewers were excluded from, and the participants (performers, artists, directors, students responsible for filming these performances) therefore became the audience for all these performances. The project's ideal viewer is online, maybe in a café, at home or at a friend's house, behind a computer or a phone screen. We stayed together in this place for several days, working, eating, talking, drinking, and above all filming and broadcasting these performances. I called it Performance Proletarians after a text by Diedrich Diederichsen on how the value of artistic products has been transformed in the digital age. What I find interesting about this text is the way it critically considers a new kind of availability of the body in the digital era, this era of increasing proliferation of types of broadcast media. He talks about a ramping up of energies that go hand in hand with a total deregulation of the value of those energies. Diederichsen uses two examples – the music industry and the porn industry – which have both been profoundly altered by internet usage. The idea of Performance Proletarians was also to film the performance so as to make it immediately available, rather than for documentary purposes.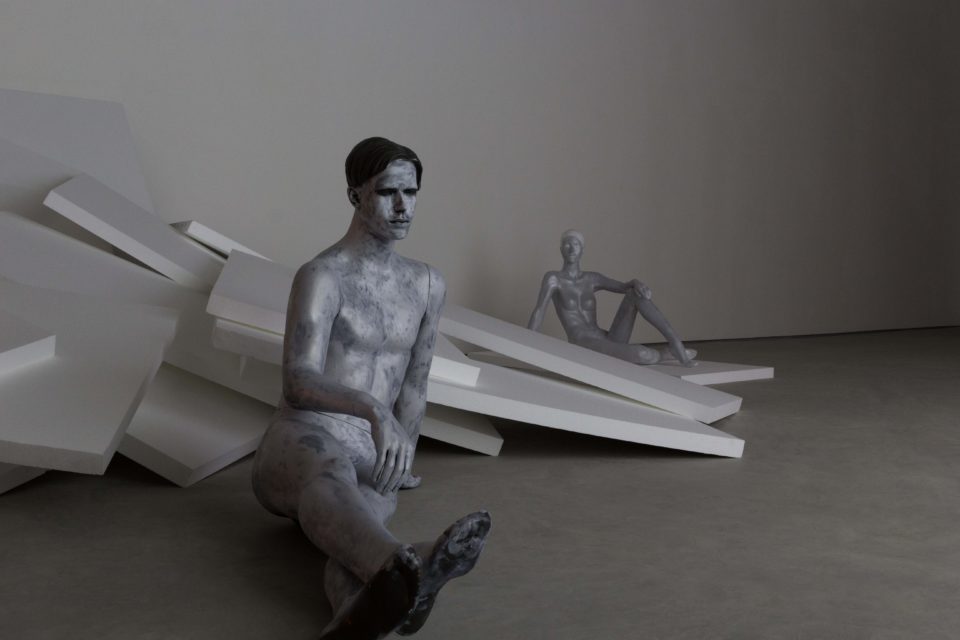 Installation via CLEARING, Brussells
LEBOVICI: In a small book entitled Nudité, the writer Colette takes pleasure in describing and comparing music-hall artists who performed naked as she sat anonymously in the audience. She even became the object of the public's gaze herself and danced naked. You also came to put your own body on display. Tell me how this first appearance of your 'naked self' came about.
REYNAUD-DEWAR: I started to think that what I was asking these performers to do, posing, camping, most often in silence, pretending to be someone else and, for the most outrageous and problematic part, putting on black make-up, for example, was not at all innocuous. This specific component of some of our performance acts was seeking to build on the performance of Bruce Nauman, who applied white, pink, green and black paint to his chest and face [Art Make Up, 1967–68] and which is foundational for my use of make-up in my work in general. I didn't at first see the racial connotations of this black 'mask'; I used it more as an abstract sign, a play on polarities that was almost mathematical. The stereotypical and caricatural form of blackface was absent from these performances, but the act of blacking oneself up was still there. Even if they didn't consist of imitations or caricatures, I still felt – maybe not as much as I should have done initially – the problematic dimension of what I was asking my friends to do. It was at this point that I told myself I couldn't always have surrogates, alter egos. It was a case of rebalancing things between me and them. I had to take action and decided to use my whole body, naked, for this task. It seems that, even today, there is something transgressive about being naked, even if, as Karl Holmqvist has stated, in a text that he wrote for me, 'Covering yourself in body paint is a strange way of both revealing and hiding yourself.' There are several things at play, as well as perhaps the idea of making an irreverent reference to a history of feminist performance.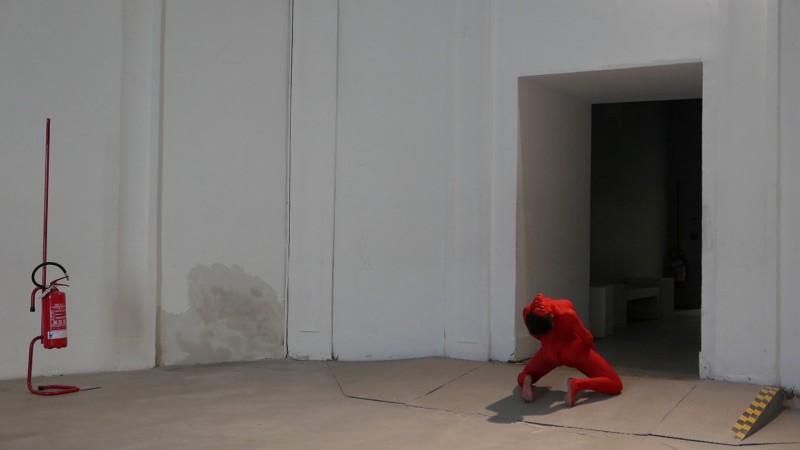 The artist at work via Contemporary Art Writing Daily
LEBOVICI: When you talk about the history of performance, who are you thinking of? Are you referring to a history of canonical, i.e. mainly white, feminist performance?
REYNAUD-DEWAR: At the time, a couple of years after my studies in Glasgow, my references were somewhat equivocal: I was familiar with Hannah Wilke but not with Ana Mendieta, for example, which is somehow revealing of a certain predominence of Western art history in my formative years. On the other hand, I got to know Cosey Fanni Tutti thanks to Mary Knox, for whom she's a model of sorts. In 2011, as it happens, Maria Fusco invited me to contribute to her book on Cosey Fanni Tutti, The Cosey Complex, which she created with Richard Birkett.7 What fascinates me about Cosey is the way she navigates between the worlds of music, art and porn. When posing for lads' mags, she has complete respect for the codes of pornography. But she also turns the art world upside down with very extreme performances, and with the industrial music of Throbbing Gristle or COUM. The first pictures of me with my naked body painted black are photographs in which I mimic postures by Cosey Fanni Tutti taken from archival photos of her performances; I sometimes replicate the poses without knowing exactly what the original performances entailed.
LEBOVICI: This reminds me of the piece by the French choreographer Boris Charmatz, Flip Book, which is based on the black-and-white photos in David Vaughan's book Merce Cunningham: Fifty Years. Charmatz and his dancers recreated all the photographs, taking a body of work that had been made into a book and turning it into – I'm quoting Charmatz here – 'a "total" choreography', since [Cunningham's work] is represented here, but 'a completely false one'. Could your method be described as akin to this?
REYNAUD-DEWAR: I hesitate to use the word 'method'. A learning method perhaps, because in my case, it's often a matter of copying, imitating, repeating gestures so as to understand what they mean. At the same time as those photos in which I imitated Cosey Fanni Tutti, and in the same place – my studio – with my body again painted black, I made short videos in which I imitated the movements of Josephine Baker, whom I'd observed in films in which she acted and in the recordings of her dance performances. Instead of repeating an entire choreographic routine, my aim was rather to select certain movements, which I then recreated awkwardly and reassembled – both at the time I was shooting and also when I was editing the video. What mattered to me about this method (so there is one indeed!) was that it really helped me to understand Baker's gestural logic, to see it as a language all of its own, extremely articulate and accurate, beyond what Baker immediately represents as a sign, an icon. The collision or convergence between the blacked-up body and nudity can connote a racist and essentialist conception of the body of the 'naked savage'. But I was keen not to avoid the racialized body of Josephine Baker, and to ackowledge her ability to turn racism on its head and use it as a tool of her own autonomy. This is also the subject of an article by Beatriz Colomina and a recent book by Anne Anlin Cheng.… Anlin Cheng narrates an anecdote on which I built these first videos in the studio. Baker and Le Corbusier had an affair, and during a party on a Transatlantic cruise ship, Le Corbusier dressed as Baker in order to seduce her. The story fascinated me because of course it also speaks about my own gaze or desire and at the same time repulses me. And it also demonstrates to which extent Baker was at the centre of the European avant-gardes, and again this is key to understanding how she is mastering, crafting and in many ways even creating the colonial gaze onto her, turning it into spectacle and cruel parody.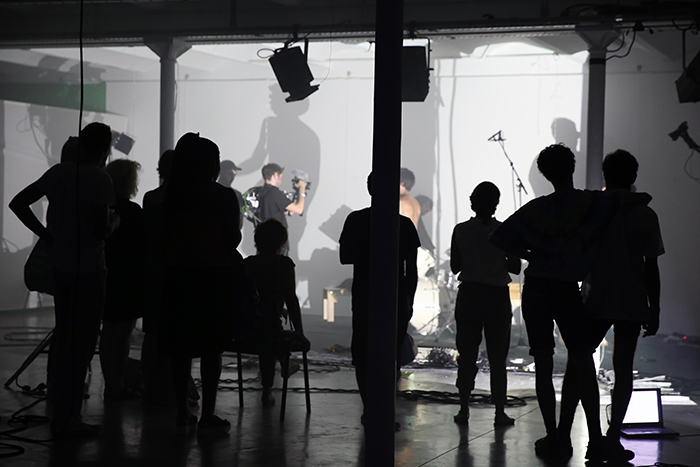 "Performance Proletarians" via Triangle France
LEBOVICI: In both of these publications, the authors explore modern domestic space, not as a place of intimacy, but as an ideal place to experience an intimate relationship between architectural modernism and the ultra-visibility of a black female body.
REYNAUD-DEWAR: The house that the Viennese modernist architect Adolf Loos conceived for Josephine Baker, but which was never built, puts the performer at the heart of a theatrical, or rather cinematic, space. Loos envisioned at its centre a swimming pool surrounded by glass partitions, with walkways that would have made it possible to see Baker swimming naked from a number of different viewpoints. Baker was thus framed by the fantasy of Loos. Baker, on the other hand, was constantly trying to avoid being subjected to the colonial gaze. She wanted to control it, not to be controlled by it, even less by architecture. This is no doubt why she didn't go ahead with building the house, which therefore remains a fantasy.
LEBOVICI: After this 'primal scene', in which you showed your naked and blackened body, you returned to the theme, producing new videos where you performed once again as Josephine Baker. At the same time, you switched from the studio space to an institutional exhibition venue: the Generali Foundation in Vienna. Why did you decide to persist with this uncomfortable stance?
REYNAUD-DEWAR: I didn't dance while the institution was open to the public. But it nonetheless marked a shift to another place that was no longer the studio, no longer my private space. At the Generali Foundation, I used the pattern that was supposed to adorn Baker's house, the black-and-white stripes – the house would have had a black-and-white marble façade. The reference to Baker and Loos was self-evident for me in Vienna, the architect having left his mark throughout the city. To produce these new videos, I didn't rewatch the films Baker acted in or the recordings of her shows. After that first time in my studio the previous summer, I never watched them again. Now it's been some time since the Generali videos, and I have danced in many different venues, with my body painted in silver, red ... and also pink, green and white as a reminder of Bruce Nauman's films. Even if these archives of Baker's choreographies and acts, that were so important to start the work, are now remnants – leftovers to me – because I moved somewhere else, fragments of Baker's dance are still with me in every film I have made to this day.
LEBOVICI: I'm going to press the point. Why did you begin again elsewhere? Why do you keep dancing at night in museums?
REYNAUD-DEWAR: I wanted to set up a kind of paradox. Those first videos, the ones in the studio, despite all the issues that they raised, were well-received by those who watched them. That surprised me a lot, but the fact that I, the author of the work, was presenting myself, my own nude body, meant that people bought into it much more immediately than when I was 'filtered' through other performers, other bodies. People want to see the body of the artist. I decided to respond to the public's need for desire. But perhaps, if I can be so bold as to compare myself to them, I took the same approach as Cosey Fanni Tutti and Josephine Baker, both of whom responded critically to the need for desire and seduction, projecting back at viewers the buried by-products of their collective fantasy, namely, in the case of Baker, exoticization.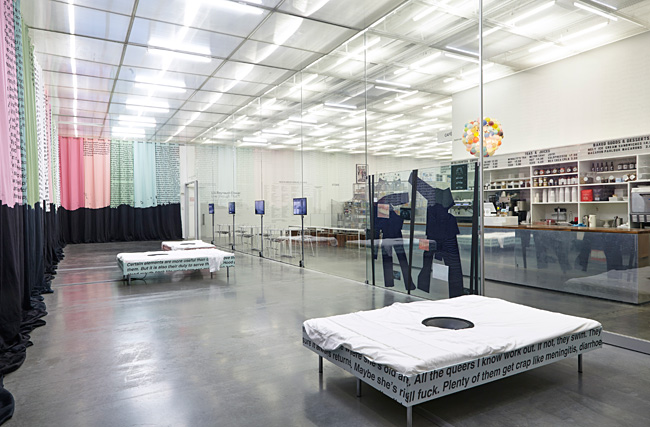 "Live Through That ?!" at New Museum, 2014 via GalleriesNow
LEBOVICI: Using museums at night – isn't that already a form of 'exoticization'? The museum in the dark, the museum as other, as it's never normally seen …
REYNAUD-DEWAR: Probably, but in that case I should be seen as an integral part of this exoticized museum thing; people should understand that I too become an object of spectacle: the artist Lili Reynaud-Dewar as a 'phenomenon'. And my dance and my body – I think, or at least I intend for them to do so – function as reminders of what the museum excludes, marginalizes: nudity, colour, movement and disruption. It's very obvious to me when I perform those dances with my camera: what the museum (until now) frames, what it selects and what it excludes. These videos are a long-term project, a series that I intend to do throughout my life, and they're dependent on or related to my shows. I don't choose a museum for its collection or its spaces. I don't want to take on a role that would entail selecting, designating, making sense through choices. I shoot in places where I've got an exhibition, in venues with which I already have a working relationship. The project involves filming every time I do a show somewhere, thus documenting a kind of artistic career or, perhaps, the exhibitions of an age, my age. When people look back at my videos, they'll doubtless see the evolution of a certain style, a certain history of exhibitions of a given period, since this is a systematic project, a life-long commitment. I try to ensure that the experience doesn't come across as being too systematic: sometimes, I film before my exhibition has been hung, or while it's under construction, once it's already been installed or is in the process of being dismantled, or else in other artists' exhibitions. When I don't have permission to film works, I shoot in exhibition spaces that are emptied out, as I did in Venice, where the only things left were wall labels, crates and picture rails from Okwui Enwezor's exhibition. Ruins.
LEBOVICI: What we see is Baker's gestural language gradually fading into the background and your inner life coming to the surface. There's a paradox here: as the dance is repeated in a new institution, the accumulation of these videos prompts us to reflect on the recorded performances as the exploration of a routine, a warm-up, as something coming from the margins of the work, which at the same time makes visible a fragment of your 'private life'. It makes me think of the work of Yvonne Rainer, from her first film, Lives of Performers (1972) – the title says it all – to one of her last performances, The Concept of Dust , or How do you look when there's nothing left to move? (2015), in which we witness all the performers warming up, Rainer being one of them.
REYNAUD-DEWAR: Yes. I bring my daily life into it, even if it may seem a little strange to talk about an 'artist's daily life' when you're completely naked in a museum, when you've had huge difficulties getting permission to film, and you come here after ten o'clock at night, thanks to the support of a curator who likes working with you. There are often strange bonds that develop. There has to be nobody else around for me to feel comfortable dancing. If you see me in the flesh, I have rather an odd silhouette. But when it appears on video, converted to black-and-white, etc., the impression is very different. There's a kind of distancing, a filtering. It's softened. The switch to black-and-white functions as a little 'safe space', although I freely admit it's a funny kind of safe space. I think in any case that, little by little, I wanted to point up the contrast between the figure of Baker, who danced exceptionally well, who was exceptionally beautiful, and this 'artist's daily life': being more natural, documenting routine activities such as smoking, using my phone, stretching. Just after the Generali Foundation, I danced in a gallery in Zurich, Karma International, and, shortly afterwards, in a studio in Vienna – a glass-enclosed studio in the middle of a public park. I danced at night in the New Museum in New York, again among the wall texts and the leftovers of the exhibition before mine. I danced one New Year's Eve in the Pierre Huyghe exhibition at the Centre Pompidou. I danced one Sunday at Index, in Stockholm. I danced in a derelict building used by the independent gallery Outpost in Norwich, etc. It was at the Lyon Biennale that I first sought permission from participating artists to show their works in my video. But what's funny is that, since I'm alone, I still have the freedom to dance in front of a work even if the artist doesn't want it to appear in my videos. As a result, there are some videos that exist but will never be shown. The curator Pierre Bal-Blanc once invited me to make a video in the art centre run by him in Brétigny sur Orge, which only he and I would know about, which we wouldn't show. We never made it, and by a strange reversal of circumstances, when Pierre was putting together his exhibition 'Soleil Politique; at Museion in Bozen in Italy, he invited me to make a video that would be projected intermittently, at night, in large scale, on the façade of the museum.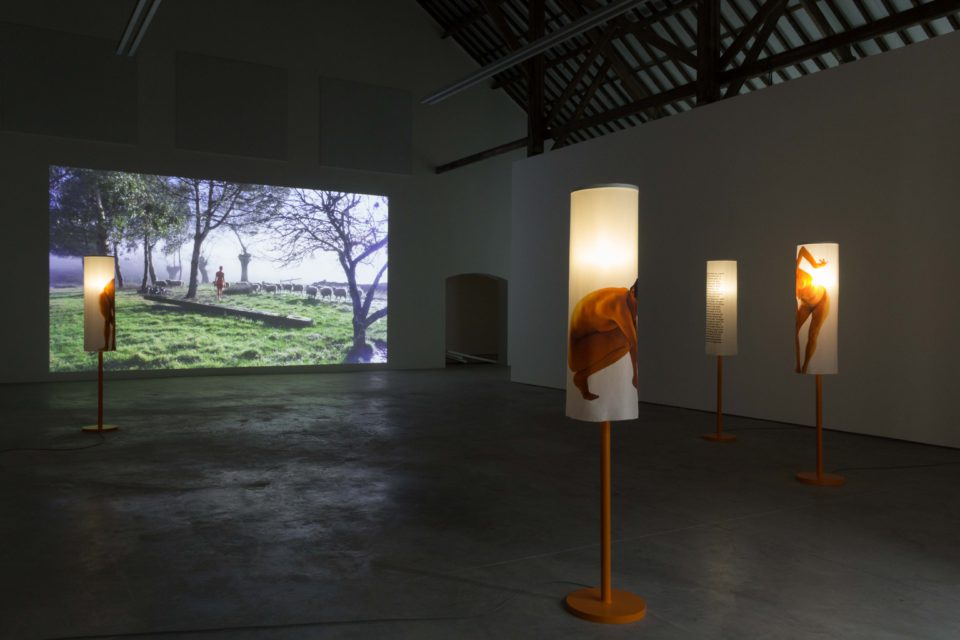 Installation via CLEARING, New York
LEBOVICI: Are museums public spaces? Nowadays, they're increasingly 'privatized', and less and less protected from people using them for their own ends.
REYNAUD-DEWAR: That's true, even though today we may feel that many more people go to museums – or at least that's the impression that the media image of museums in general conveys. To answer your question, I would use the specific case of images of exhibitions. Up until the end of the 1990s, relatively few images were produced of exhibitions, and these were very closely monitored, with long delays before they were made public, in relatively small amounts, to specific recipients like the specialized press, the main purpose of these images being the archiving of exhibitions held at this or that art institution. But since then there's been a proliferation of pictures of exhibitions and art venues, either taken by the public or the institutions or artists themselves for means of communication on a much wider scale. Visitors are often even encouraged to photograph exhibitions with their smartphones. If you ban photography, or at least regulate how they obtain and use images, you'll limit the number of visitors and that's one of the things contemporary institutions don't want because the success of an exhbition is measured pirmarily in terms of numbers of visitors. That is indeed one of the problems of this privatization you are talking about: because more visitors doesn't mean a more socially diverse audience – quite the contrary. Images of exhibitions can be used for various purposes: documentation, promotion, sharing on various types of media – blogs, social networks, magazines. This makes it increasingly complex to organize the images. Personally, I don't really like to control the circulation of images of my work, it takes too much time and attention. Occasionally, I have worked with Marina Faust for documenting my work; I'm giving her free rein to produce images not geared to a particular end, our images, her images, which I think have the ability to convey what it means to see a work of art in a particular space, to experience it physically, to feel the atmosphere of an exhibition. I like the fact that she's an artist, and I also like the work she's done with Martin Margiela, who himself has given some thought to questions of ownership, authorship, anonymity, corruption, to the contextualization of fashion and the political meaning of the clothes he's created. I have also commisionned Marie Angeletti, another artist whom I admire, to document one of my exhibitions. And the result has nothing to do with so called 'professional documentation'. It is much more interesting and more closely related to what I intend to impart with my work.
RELATED ARTICLES:
5 Things To Know About The Late Great Carolee Schneemann
An Interview with Brendan Fernandes, the Whitney Biennial Artist Who Uses Ballet to Channel BDSM and Queer Culture