Last year, the UK art world was stunned when the winner of the 2019 Turner Prize was the entire shortlist of nominees. Lawrence Abu Hamdan, Helen Cammock, Oscar Murillo, and Tai Shani petitioned the judges of the UK's most prestigious art award to award the prize to them as a collective called Abu Hamdan / Cammock / Murillo / Shani. The jury unanimously agreed, acknowledging the artists' commitment to "commonality, multiplicity and solidarity." This exceptional moment didn't just reflect the collaborative power of art, but also shows how artist collectives have had a renaissance in recent decades.
But how will the current crisis, affecting the art world as much as any other area of society and commerce impact on this desire to collaborate? As Elizabeth Dee, co-founder and CEO of Independent Art Fair, New York told Artspace this week "artists will always lead us and reimagine the future." So what will that future possibly look like?
"I think a collective reimagination during the time of coronavirus is going to be very powerful, much more so than individualizing a response during other moments in history," Dee told us. "There are so many social and political implications unique to this moment. Certainly the impact on artists will be profound and I see more collaborations to come. It might come in the form of sharing points of view in their individual practices and acting as advocates for new ways of thinking as well as representing their work from the studio."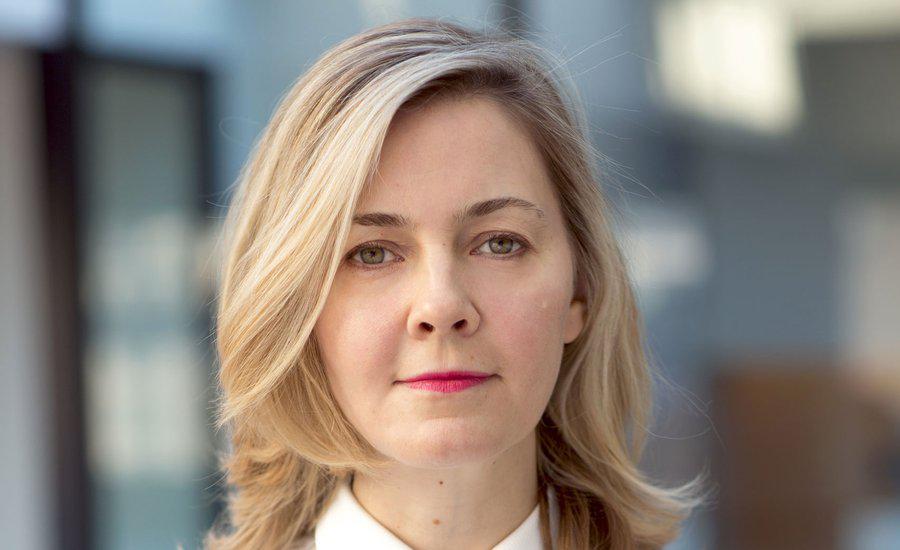 Ellen Mara De Wachter, who wrote an excellent Phaidon book called Co-Art: Artists on Creative Collaboration understands that while the current emphasis is on sheer survival, the experience of artists throughout the years could actually inspire the wider world into a more collaborative mindset and way of life.
She told Artspace this week: "It looks like a common form of collaboration at the moment is that geared to survival - whether physical, financial, or professional and there are examples of mutual aid and pandemic-related corporate sponsorship in different sectors, including the arts. What seems clear to me is that many people, including artists, are increasingly concerned about basic needs such as paying rent and affording living costs, wherever they may live.
"But for many, more time spent at home has also led to creative activities around people's living space and, if they have them, gardens, which are creative, pleasurable and healthy. Their importance and potential influence longer-term shouldn't be underestimated. A big question for me is how such modest, utilitarian and creative activities might support long-lasting creative attitudes towards how we organise ourselves into a more collaborative society."
De Wachter's view certainly fits with the art history of collaborative art. Whether out of financial necessity, mutual marginalized identity, or joint socio-political beliefs and concerns, artist collectives—or a group of artists working together, typically under their own leadership—have formed throughout history as a method of working towards common goals - whatever form those goals took.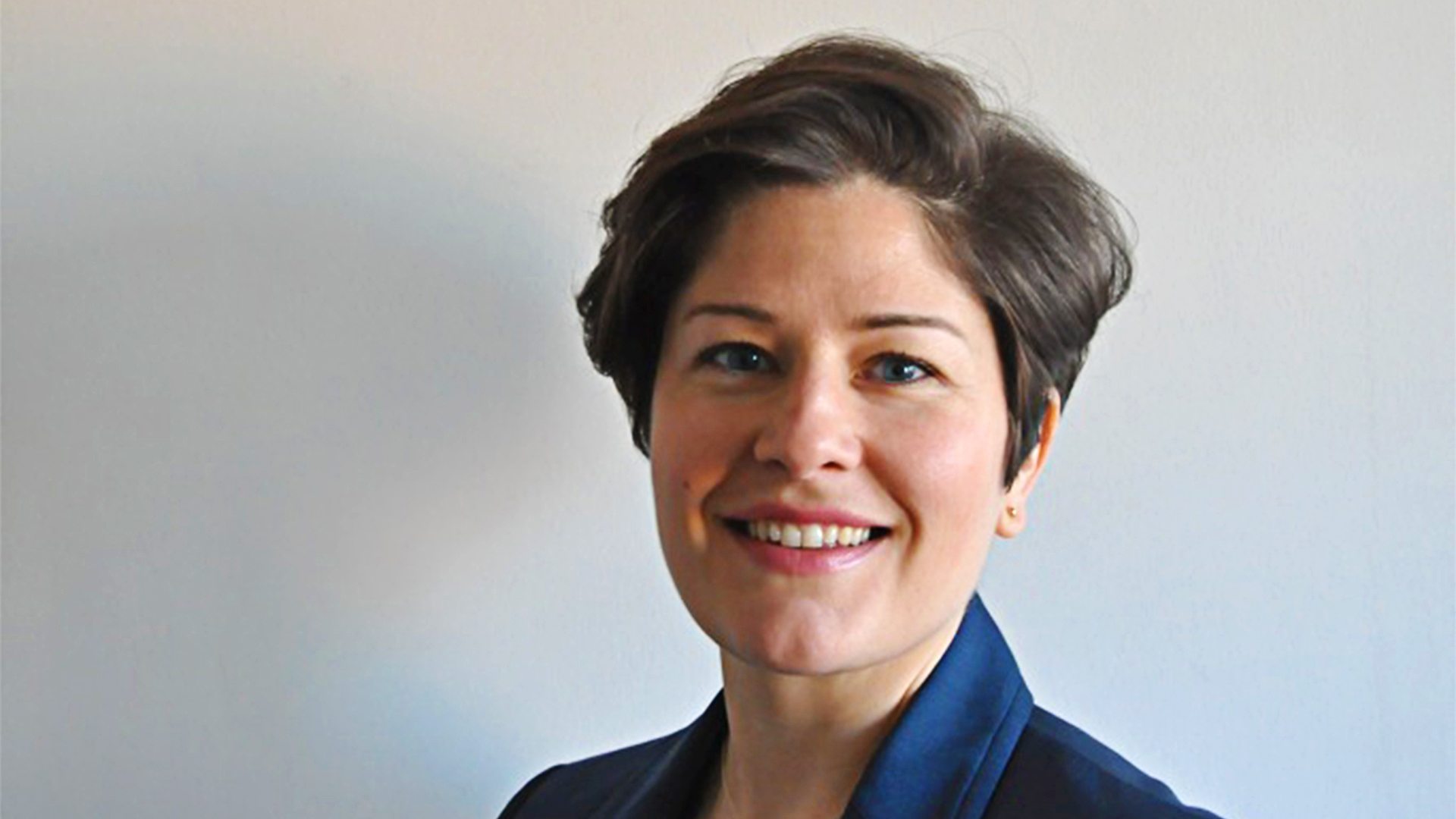 Ellen Mara De Wachter
The Fluxus group was arguably the first assembly of artists to politicize collaboration, where members such as John Cage, Yoko Ono, Nam June Paik, and more, came together during the 1960s through a series of anarchic actions that downplayed their individual authorship.
Other historically influential artist collectives have included Chicago-based AfriCOBRA (the Africana Commune of Bad Relevant Artists), who formed in 1967 to develop their own visual art aesthetic aimed at empowering black communities; Collaborative Projects Inc., NYC (aka Colab) who formed in 1977 and advocated for artist-driven cultural activism with members like Jenny Holzer, Diego Cortez, and Kiki Smith; Canadian-based General Idea, whose work from 1987 to 1994 addressed the AIDS crisis through public art projects; and the famously elusive Guerrilla Girls, a group of feminist artists who call out gender and racial bias in the art world.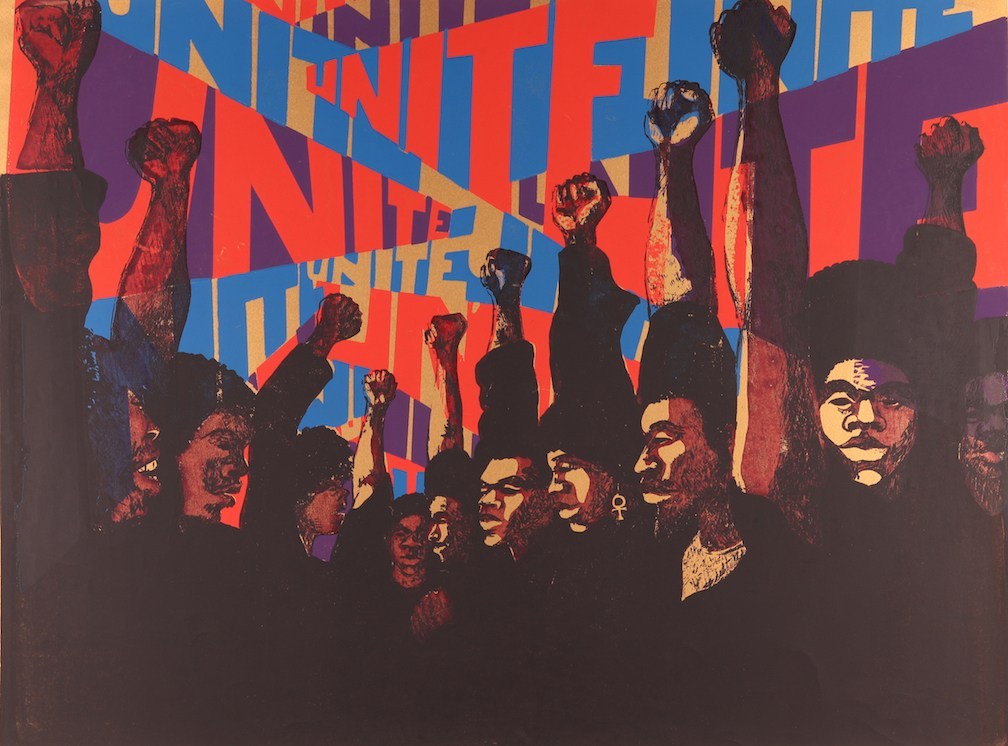 Image via culturetype.com
What all of these artist collectives had or still have in common is that they challenge the popular myth of the lone artistic genius, creating avant-garde work in isolation, but also the ruling power structures pervading the art world and society at large.
Although artist collectives have largely been ignored in the dominant art historical narrative, it's evident that they've gained serious recognition and influence over the past few decades. Collaborative art practice continues to revolutionize the way that artists make and exhibit art, while also providing an alternative platform for artists and subjects that might otherwise be overlooked.
That that platform will adapt to survive the current crisis is without question. We may not yet know how artists may be using the current moment to further rethink ways of collaborating but we can be certain that they are. With that thought in mind here are some artist collectives working well before the lockdown who demonstrate the transformative power of banding together.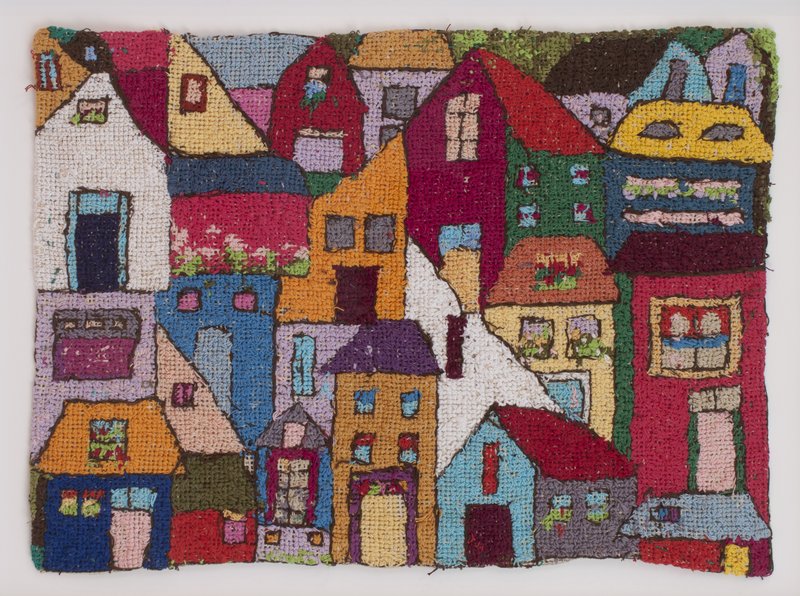 OSGEMEOS is a collaborative street art duo comprised of identical twin brothers Otavio and Gustavo Pandolfo ("Os Gemeos" is Portuguese for "the twins.") Using a range of paint materials and precise techniques, they create phantasmagorical works that typically feature their signature yellow-skinned characters, a vibrant color palette, and frequent visual references to both Brazilian folklore and the urban environment of New York. As young artists, OSGEMEOS drew much of their creative inspiration from the burgeoning Brazilian hip hop culture, discovering tagging and breakdancing in the 1980s. Often described as Brazilian magical realists, they have been a major presence in the international graffiti and street art scene since the early 1990s, rising to prominence first in Brazil and later expanding their influence to the United States and Europe. In addition to public art and murals, the twins also create sculptural works, small-scale paintings, and installations, all of which are visually threaded by their signature dynamic style.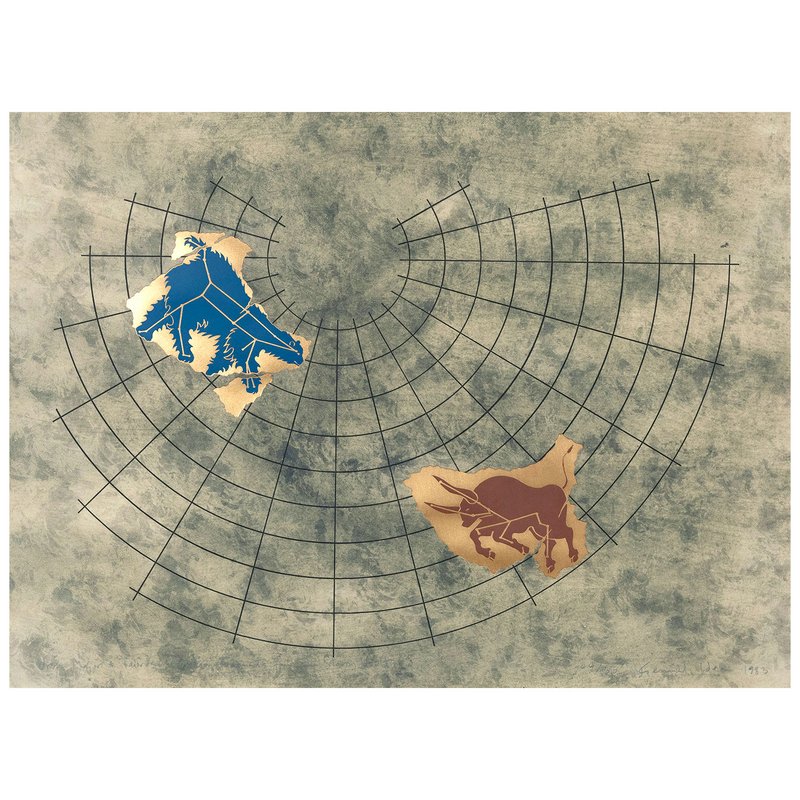 General Idea was an artist's collective made up of Felix Partz, Jorge Zontal, and AA Bronson, relentlessly striving to critique popular and media culture by way of humor, parody, and irony. The collective inhabited the media they so hoped to subvert: they organized beauty pageants as performance art starting in 1970 and broadcasted mock television talk shows to integrate the fringes of the community into mass media. They published FILE magazine from 1972 to 1989, an appropriation of LIFE used to explore brands and "interrogate the production and consumption of art as commodity." Their loyalty to printed material and selling their own work became clear when they started Art Metropole in 1974, a non-profit space dedicated to contemporary art in multiple form including books, posters, prints, video, audio, and electronic media. In the late 1980s, General Idea's focus shifted to the AIDS crisis, which garnered nearly 75 public art projects from the group. Sadly Partz and Zontal both passed away from the virus in 1994. The collective's archive resides in the National Gallery of Canada, Ottawa.
GHOST OF A DREAM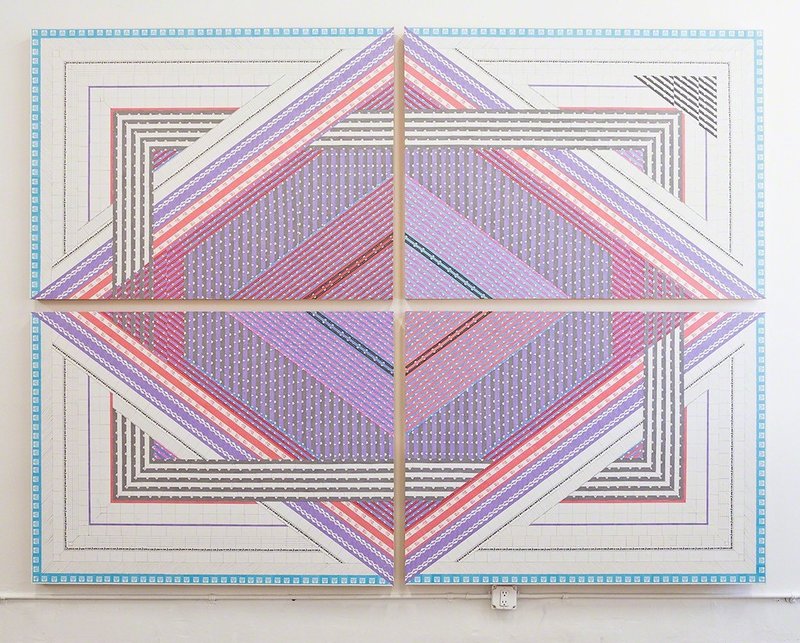 Ghost of a Dream, the collaborative team of Lauren Was and Adam Eckstrom, creates sculptures and installations that embody the essence of opulence while being constructed of materials that typically end up in the trash. The artists mine popular culture searching for discarded materials that people use trying to reach their goals. Whether it is a romance novel someone reads in order to enter a dream reality, a religious tract promising the glory of eternal life, or a lottery ticket that gives the possibility of a future full of rich decadence, they use these remnants to re-create people's dreams. "The reason we call ourselves Ghost of a Dream is that we make everything out of the ephemera created from people trying to attain their hopes and dreams—usually in a too-quick method," they say.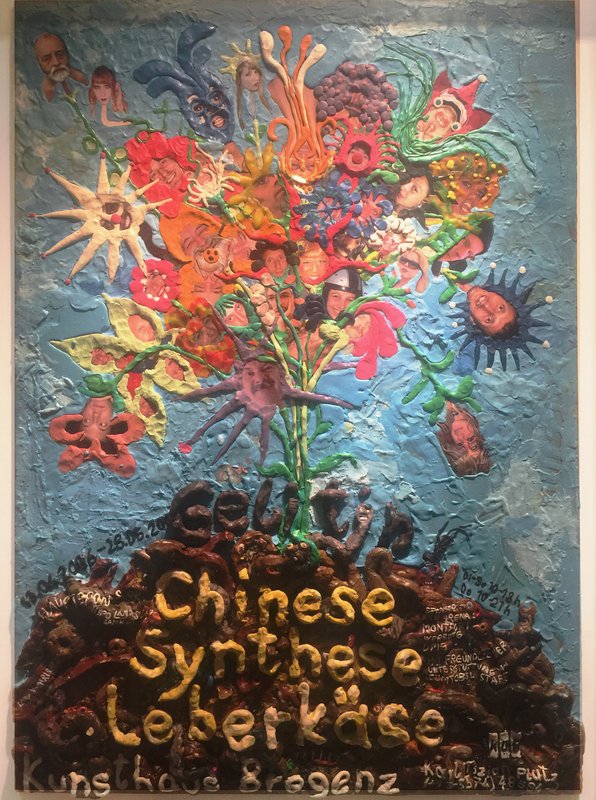 Gelitin is an artist collective based in Vienna, composed of members Tobias Urban, Wolfgang Gantner, Florian Reither, and Ali Janka. The group—whose members met at summer camp in 1978 and began exhibiting together in the early 1990s—is best known for their sensationalist artistic happenings, which often take place in public spaces. Gelitin takes human relationships and social conditions as their point of departure, creating installations and staging performances that encourage human interaction or which rely on human interaction within the confines of the art project itself.
Gelitin has had solo exhibitions at a number of notable institutions including the Schinkel Pavillon in Berlin, the Museum of Contemporary Art in Vienna, Musée d'Art moderne de la Ville de Paris, Kunstraum Innsbruck, Kunsthaus, MoMA PS1, and the Institute of Contemporary Art in Sofia, Bulgaria. Gelitin represented Austria at the 2001 Venice Biennale, and was included in the Arsenale exhibition at the 2011 Venice Biennale.
Formed in 1993, Danish trio Superflex consists of artists Jakob Fenger, Rasmus Nielsen, and Bjørnstjerne Christiansen, who describe their artworks as "tools," typically blending experimental scientific models to enact social change through forming solutions to common problems, or imagining alternative environmental or economic production methods. Their artistic practice typically critiques hyper-capitalism and consumer culture. For example, their 2009 video piece Flooded McDonald's featured a life-size model of a McDonald's restaurant slowly filling up with water to symbolize looming financial and ecological disasters.

More recently, the group created a site-specific installation One Two Three Swing! for the Turbine Hall in the Tate Modern. The interactive piece, with rows of three-seater swings, forced participants to work collaboratively in order for the motion to work, compelling people to harness a collective power. The work has evolved over time as the orange framework connecting the swings continues to grow and new swings are added around the globe, including an installation of the piece at Desert X AIUla in Saudi Arabia.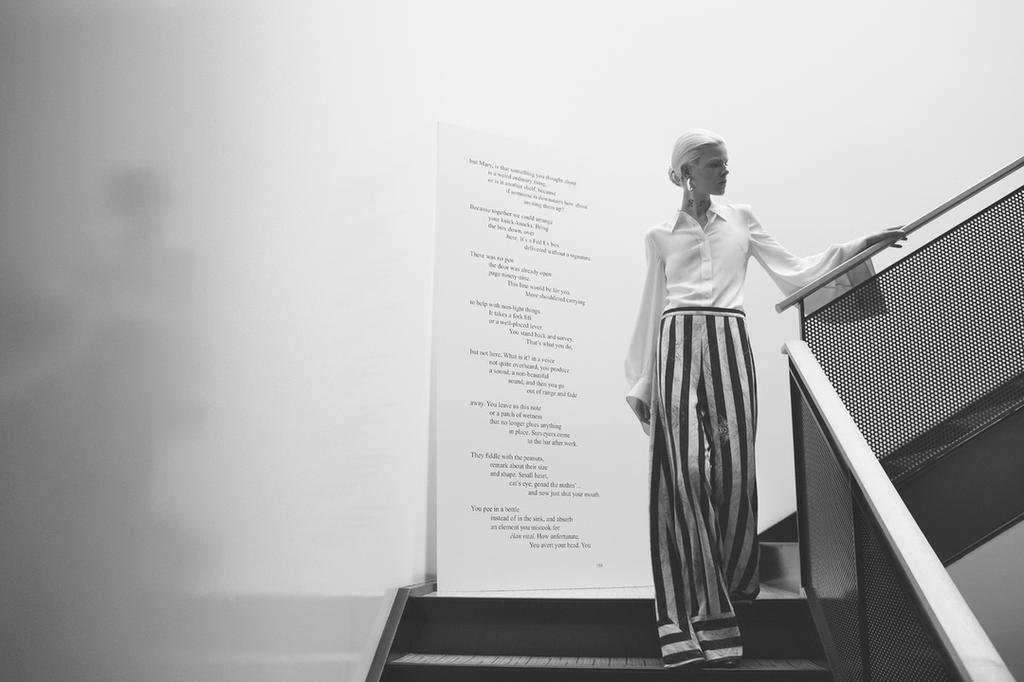 The origins of Bernadette Corporation lie in the organisation of parties in downtown New York, their mock incorporation and ambiguous branding strategies developing in the mid '90s into a women's fashion line. Their engagement in quotation, concepts, fictions, appropriation, provocation, hoaxes, and anti-artistic postures of crass commercialism have subsequently seen them move within the fields of magazine publishing, film production, political activism, literature and the market-driven art world.
Across Bernadette Corporation's twenty-year history and mutable membership there runs a thread of anonymity and opacity, the rejection of normative social forms and appellations such as being an artist, or a political activist. This 'whatever' subjectivity is as evident in the twenty-something museum guard turned model/muse anti-heroine of their 2004 novel Reena Spaulings, as it is in the radicality of Black Bloc anarchists at the heart of the 2003 film Get Rid of Yourself.
TOMORROW GIRLS TROOP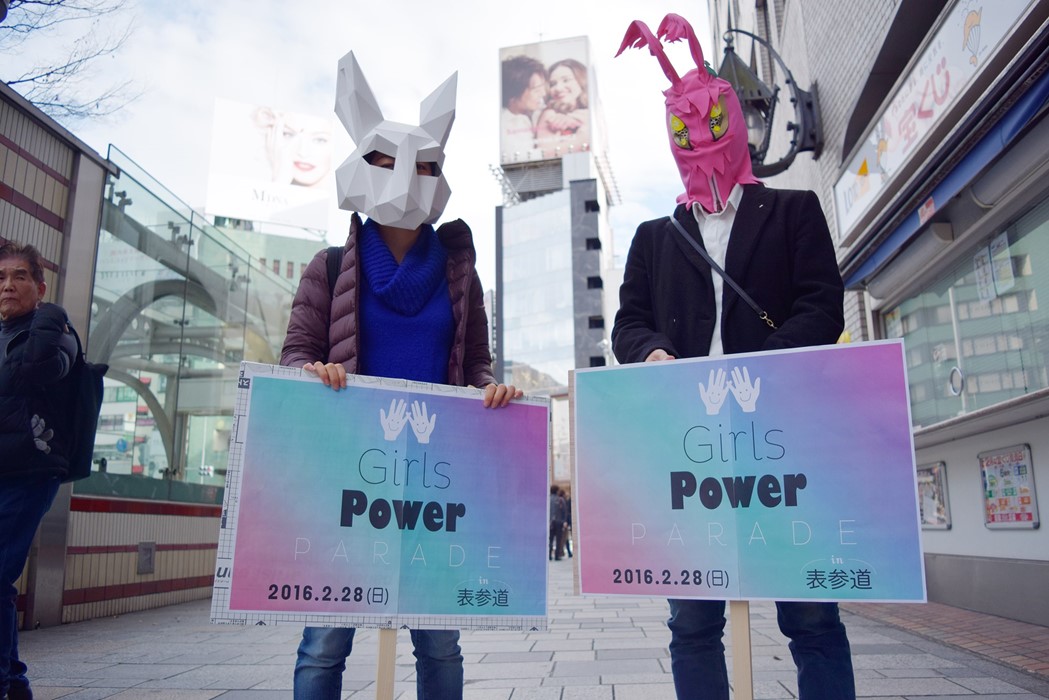 Image via dazeddigital.com
The worldwide fourth-wave feminist art collective Tomorrow Girls Troop focuses on intersectional issues of gender inequality in Japan and Korea through art and social projects. Established in 2015, the collective is non-hierarchal, participatory, and mainly Internet-based. Inspired by the anonymity of the Guerrilla Girls, whose members sport gorilla masks to hide their identity, the Tomorrow Girls Troop wear rabbit masks, stating on their site that, "Rabbits are often associated with women and are portrayed as cute, weak creatures. Urban legend says that they can die of loneliness. We wanted to change this idea and breathe a new life into the image of a rabbit—as one who is independent, and does not try to please everyone." Recent projects include "Against Forgetting, Seoul" (2019) and "Against Forgetting, Los Angeles" (2018), site-specific performance art pieces commemorating Japanese and Korean victims of Japanese sexual slavery during World War II. In a 2015 video series titled The Beautiful Single Mother, TGT critiques the portrayal of women in advertising, challenging the idea of normality within the context of Japan and Korea's strong patriarchal society through highlighting statistics like "60% of single mothers in Japan live in poverty."
0100101110101101.ORG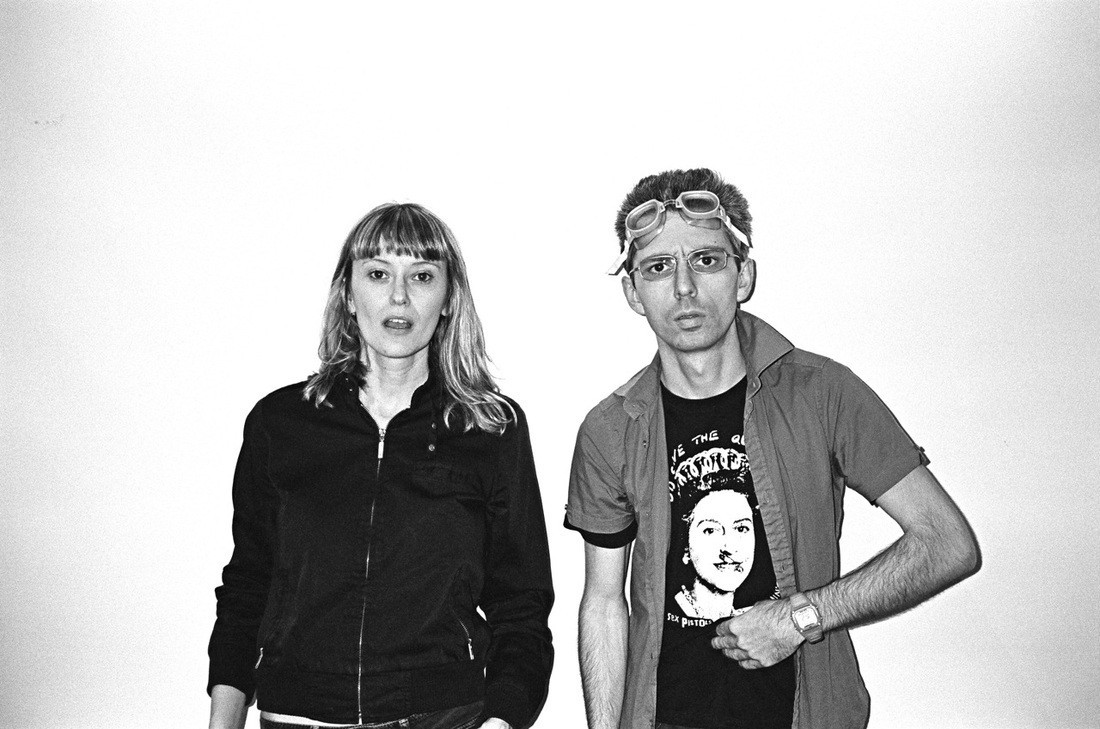 Image via medium.com
Italian-born, Brooklyn-based artist duo and married couple, Eva and Franco Mattes, are renowned for subverting public media on the Internet, earning them the unofficial title of "hacktivists." Working under the pseudonym 0100101110101101.org, the collective first gained notoriety in 1998 when they used the domain name "vaticano.org" to challenge the official website of the Catholic Church. Other pieces investigate pertinent online ethical and political issues, like content moderators who are paid by companies like YouTube and Google to remove questionable material from the Internet. Their latest and largest solo show titled "What Has Been Seen" (2019-2020), showcases works made within the past decade. Regarding the show, the duo state on their site that "In the 90s we were obsessed with visibility, traffic logs, reaching an ever larger audience, but with the passing of time, and the advent of internet 2.0, we became more and more interested in the opposite: invisibility and disappearance, erasing data, staying anonymous, 'unseeing', microwaving hard-drives…" As the web continues to evolve, so does the work of the Mattes', allowing them to keep pushing the net.art envelop.
RUANGRUPA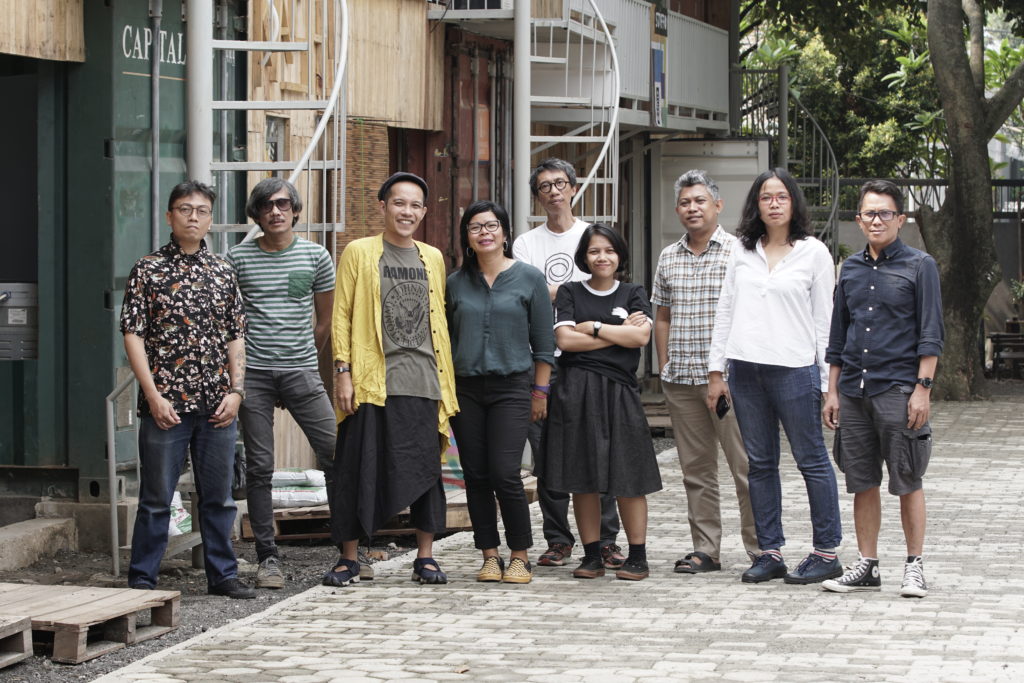 Image via artnet.com
Founded in 2000, ruangrupa is a Jakarta-based collective who takes an interdisciplinary approach to promote the idea of art within an urban and cultural context, focusing largely on critically examining Indonesian urban contemporary issues. The non-profit organization, whose name translates to "space for art," was formed during a drastically changing political landscape in Indonesia—when a 32-year dictatorship gave way to a new democracy. Where congregating in groups of more than 5 people was previously outlawed, now artists could collaborate and express themselves more freely. As a result, the group seeks to question existing art practices through their projects and to cultivate ideas in challenging contexts, like places where there is censorship, lack of government support or funding for the arts. Ruangrupa was invited to curate the forthcoming documenta 15, scheduled to run in 2022. Not only will they be the first artist collective to curate the show, but also the first curators to come from Asia, expanding the global scope of the exhibition.
TEAMLAB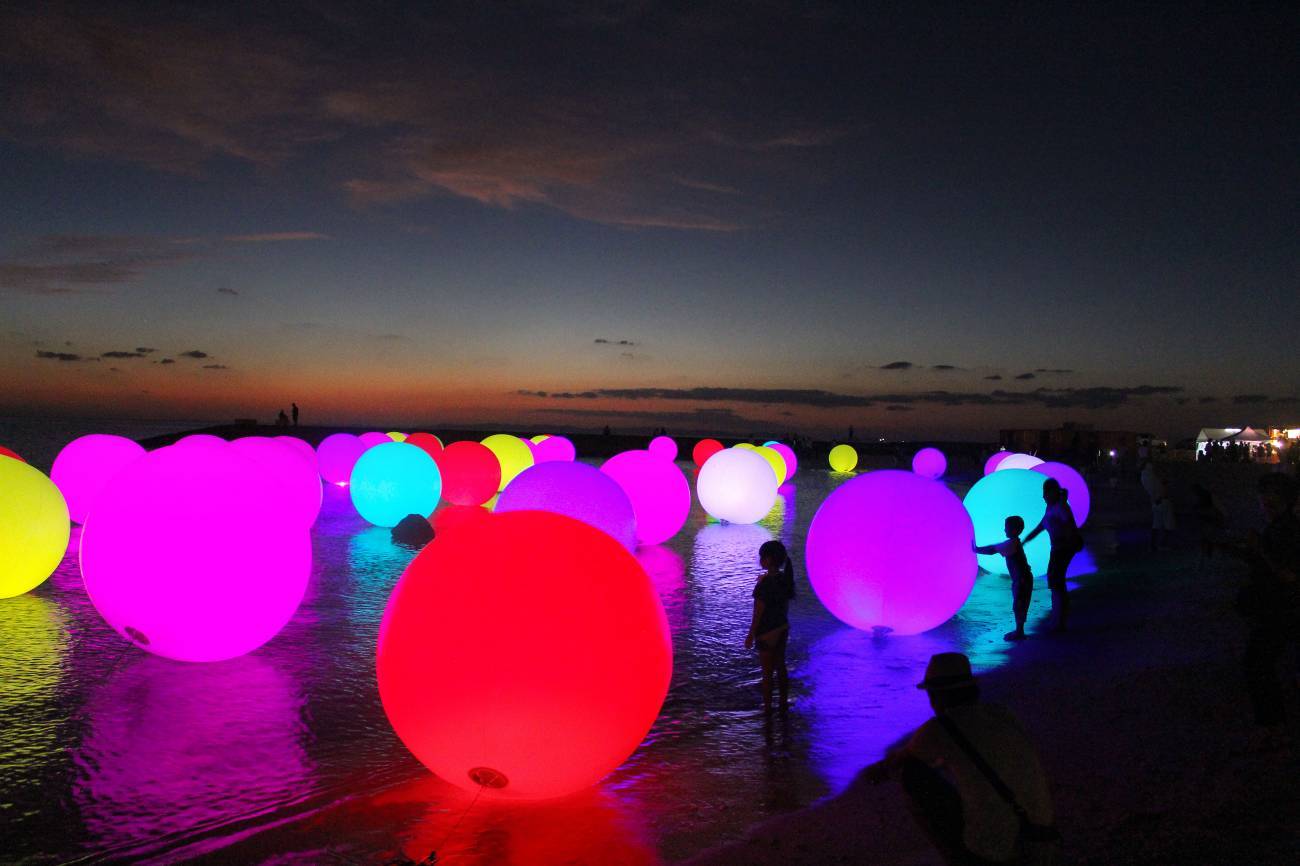 Image via teamlab.art
International art collective teamLab's members—who comprise artists, programmers, architects, mathematicians, and more—seek to navigate the convergence of art, science, technology, and the natural world through their collaborative practice. In their own words, they aim "to explore the relationship between the self and the world and new perceptions through art." Through digital immersive exhibition experiences—that feel somewhat like a James Turrell installation and Yayoi Kusama's Infinity Room had a baby—the collective shows how art can transcend the traditional gallery/museum boundaries. Between "Forest of Resonating Lamps – One Stroke, Wisteria" (2020), "Valley of Flowers and People: Lost, Immersed and Reborn" (2020), and "Microcosmoses" (2019), teamLab's unique use of light and space allow viewers to contemplate the relationship between humans, technology, and the environment.
RELATED STORIES
The Only Solace We Get Is From Each Other: Ellen Mara De Wachter on How Collaborative Artists Show the Way to a Better Society
An Interview with SUPERFLUX, the Danish Artists' Group Behind Flooded McDonald's
Wilhelm Sasnal's Lockdown Listening
INTERVIEW: Yayoi Kusama on 60s New York, Mental Illness and Feminist Art
10 Artspace Artworks We Chose For Our Zoom Backgrounds
Come On Our Virtual Studio Visit With Hormazd Narielwalla
Amazing Artists who Worked Best in Isolation
The Artspace Group Show: Contemporary Landscapes
What to Say About Your New Katherine Bernhardt Print