As a student in the 1970s, Nancy Rubins made igloo-like structures out of mud, concrete and straw, a contrast to the industrial objects she became known for appropriating into large-scale sculptures. Her practice consistently reflects a fascination with found objects, which have included mobile homes, aircraft, and boats. Rubins initially scavenged for domestic appliances at charity shops around San Francisco, collecting nearly 300 television sets for one piece.
Nancy Rubins, Airplane Parts & Hills , Österreichischer Skulpturenpark. Image via Wikicommons.
Her first public work, the controversial Big Bil-Bored , stood from 1980 in Berwyn, Illinois, but was eventually removed following a poll of local residents. A precarious tower of discarded objects bursting up from a tiny base, it exemplified not only Rubins's choice of abject materials but also her skill in balancing them. Many of her sculptures appear to defy gravity, objects blooming and spiralling outwards in feats of engineering. Her arrangements of aeroplane parts (a material she has used since the 1980s) include Airplane Parts & Hills . It conveys notions of disaster and wreckage, but also of poise and beauty, in its reorganization of disused components, which challenge the typically ordered forms of twentieth-century modernist sculpture.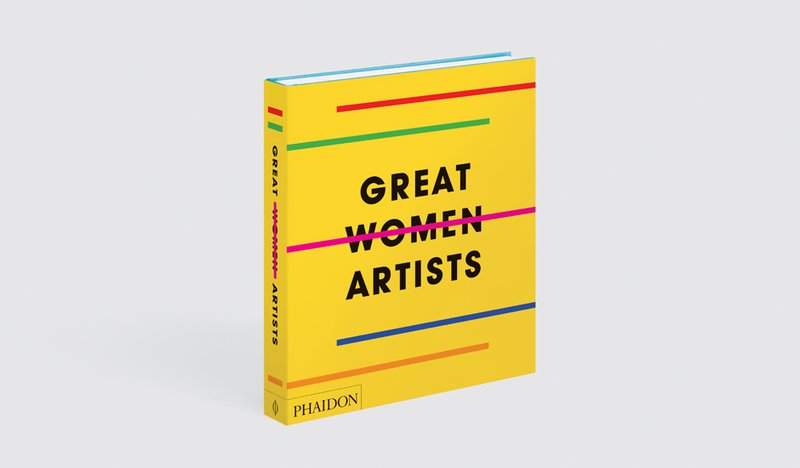 Great Women Artists is available for $59
The preceding two paragraphs are excerpted from Great Women Artists , wherein Rubins is among the 400 artists, from 54 countries, over 500 years featured. The most extensive fully illustrated book of women artists ever published, the compendium (published by Phaidon and edited by Rebecca Morrill) acknowledges the rampant exclusion and under-appreciation of women in the art world, creating an overdue paper trail that cements the contributions of a diverse selection of women into the art historical canon. Here, Rubins responds via email to questions about her work, the role that gender has played in her career, and her hopes for a more equitable future.
What does it mean to you to be featured in Great Women Artists ?
I am delighted to keep the company of artists I respect.  At a juncture where diversity is slowly but surely becoming acknowledged, it's great to see so many artists from many parts of the world being celebrated for what they do everyday—which is using creativity to contextualize the world in unique ways.
Nancy Rubins' studio in Topanga Canyon, California. Image via Gagosian.
Can you describe one artwork or series from your oeuvre that you feel was pivotal in your career?
If I had to pick one work, I think it might be Topanga Tree & Mr. Huffman's Airplane Parts (1987-89). This work was on my property, and it combined elements of sculpture and site-specificity; my experimentation with breaking spatial boundaries is something that I've tried to do throughout my practice, regardless of material.
How has being a woman affected your career?
I don't think of myself as having a feminist practice, or even a practice that otherwise prescribes meaning or messages. If anything, I hope that the world sees my work in a gender-blind way, with the proof being in the work.
What makes a great artist?
Thoughtful artists have the ability to channel all that is going on around them, and to create work that helps us to see the world in a new or different light, especially in difficult moments. Art is not critical for survival, but it has the ability to give meaning to our lives. It's what makes us human.
Nancy Rubins in her studio. Image via Gagosian.
Which other great woman artists inspire you and why?
There are so many!  I have great respect for Lee Bontecou and her commitment to a recognizable sense of formalism that bridges two-dimensionality and three-dimensionality, and Louise Bourgeois ' drawings for their intimacy and quietly powerful qualities. When I was studying at Maryland Institute College of Art, Grace Hartigan and Lois Hennessey were the only female teachers, and their very presence served as role models for me.
How has the art world's relationship to women artists changed since you began your career? How could it still improve?
As the title of the book suggests, I hope that people will eventually be recognized and evaluated for what they do—that great artists, significant writers, and change-making scientists will be celebrated regardless of their gender. Until then, I certainly hope that a re-evaluation of previously potentially overlooked female artists will be given their proper due, not just because they are females, but because they have created art of lasting importance.
What advice would you give to emerging female artists entering the art world?
I think it's important to find your voice, hone your work, and find a community that is supportive and open about giving feedback.
RELATED ARTICLES:
Cecilia Vicuña on Invisible Art, Solidarity, and "Not Belonging"