Maira Kalman has spent the last 30 years making sense of everyday life though her work as an illustrator, artist, and author—and chances are, you've seen vignettes somewhere, whether in a gallery or museum, or between the covers of a book or magazine. She designed the curtain for David Byrne's Broadway musical American Utopia (on until February 16th), an exhibition of her children's books opened at the The Eric Carle Museum of Picture Book Art in Amherst, MA on November 9, and the installation "Sara Berman's Closet," which she created in collaboration with her son Alex, just recently closed at the National Museum of Jewish History. Kalman is a regular contributor to the The New Yorker, has published many illustrated books for both children and adults, and is represented by Julie Saul Projects in New York. She's exhibited at the Jewish Museum in New York, the Institute of Contemporary Art in Philadelphia, Skirball Cultural Center in Los Angeles, and on BAM's stage.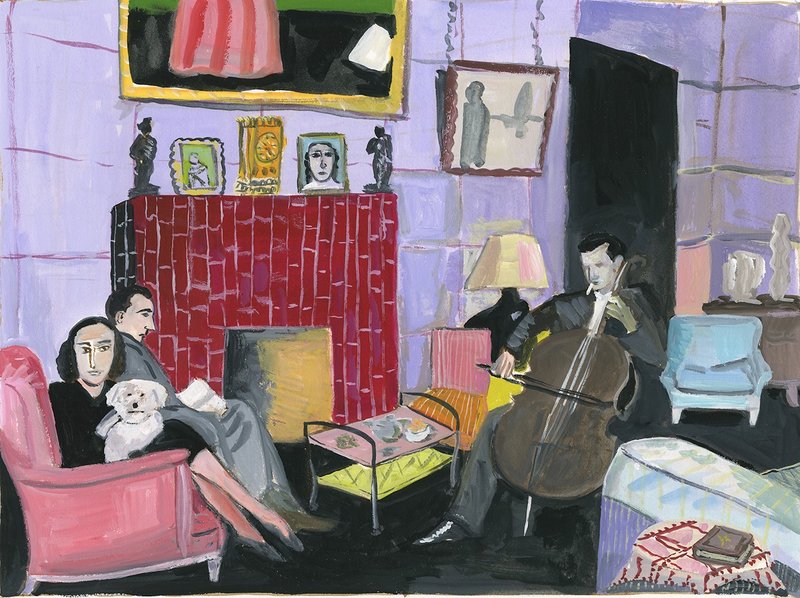 Marie-Laure de Noailles in Her Paris Salon (signed and numbered edition of 75) is available on Artspace for $950
Kalman generously partnered with Julie Saul Projects and BAM to release a new edition to benefit BAM's artistic and educational programs—and Artspace is thrilled to offer it exclusively. Signed and numbered by the artist, the print comes from a small edition size of 75. The print, Marie-Laure de Noailles in Her Paris Salon, is part from a series of 60-plus paintings Kalman completed while working on a new illustrated edition of The Autobiography of Alice B. Toklas, coming out in March 2020.
Here, we speak with Kalman in her New York studio about some of her most fascinating multi-disciplinary projects, about where she finds inspiration for her work, and about the history of Marie-Laure de Noailles in Her Paris Salon.
You installed a reproduction of your mother's closet inside the American Wing of the Metropolitan Museum of Art in New York. You also published a book, Sara Berman's Closet, which illustrated the life of your mother. What was this project all about?
My mother was a luminous presence in our lives, and we always admired her. One of the things she did, among many things, was keep a closet of all-white clothing, completely pristine. She probably started doing that when she got divorced from my father. (But we're from Israel and a lot of people there wear all white, so it's not that unusual.) Her closet was a thing of art and a thing of beauty. So, once she died and we were standing in her closet, I thought, this should be kept as a museum. That wasn't practical, so we saved everything.
Ten years later, my son, Alex Kalman, opened a museum called Mmuseumm in an abandoned freight elevator shaft on Cortlandt Alley. (Later, he obtained a little annex.) He and I installed "Sara Berman's Closet." It seemed like the right time and the right place, with the counterpoint of a pristine white thing in the middle of this grungy, derelict alley. And then it went, as all things do, to the Met after that. Amelia Peck, who is the curator of the American Wing, came to see it and thought it would make an incredible installation in juxtaposition to the most elaborate closet, from 100 years earlier, that belonged to Arabella Worsham, who was very wealthy. So it was at The Met for nine months, and now it's traveling. In the meantime, Alex and I did a collaboration on the book Sara Berman's Closet. How do you tell the story of somebody's life who's not famous, who didn't do anything exceptional, but who is an exceptional person, and influenced us greatly? This sense of beauty and order, of editing your life—what does it really mean to know what you have?
"Sara Berman's Closet" via mairakalman.com
How common is it that your illustration projects cross over into installation or three-dimensional space, and vice versa?
All the time. I think that I probably have a nice ability to think without too many constraints. So when I was working on illustrating The Elements of Style, for instance, I started singing the text: "Would Could Should". And I thought, this would make a fantastic opera. Fortunately, I knew an amazing composer, Nico Muhly, and was able to mount the opera at the New York Public Library. So to me, that's the nature of my day. Connections are made in unexpected ways. It comes very naturally, and I don't dismiss any ideas. I certainly have thought of stupid ideas! But sometimes they're not.
How did The Elements of Style project come about?
I found the book in a summer yard sale and I started reading it. I thought the book was spectacularly funny and interesting and cinematic. It's also digressive in the way that I think: I like jumping from one thing to another and I don't like plot. So, this was a perfect project for me.
Maira Kalman's studio in New York. Photo courtesy of the artist.
Do you often find inspiration at yard sales? Or where do you typically look for source material?
There isn't anything that isn't inspiring, basically, from taking a walk to traveling to exotic places, to reading, music, movies, watching people, fashion... There's no end to being curious about stuff. Estate sales are fun because you can rummage through what other people discard, and say, do I need this? At this point in my life, I'm much more selective and I'm not trying to acquire so much as I'm trying to deaccession. But that book was a good thing to get.
In 2010 you had a museum survey that traveled from the ICA Philadelphia to four other museums including The Jewish Museum in New York. The exhibition was an opportunity to see connections in your work across disciplines—from works on paper and illustrated children's books to embroidery, textiles, and photography. How do you distinguish between these different industries and disciplines? Or do you not tend to make those distinctions?
I don't make those distinctions and the good news was, I wasn't the curator. Ingrid Schaffner was the curator and she was really responsible for looking at the sweep of what she considered to be my work, and she decide what should be in there. But we divided—she did the art and the works that I had created, and I got a room to do a three-dimensional installation of buckets and ladders and linen closets and things that were part of my landscape. And, I was able to have a shop there and sell things, because I love to sell things in a shop. So for a few hours on some days, a room in the museum opened up and I just sold ephemera, like cans of peas and such.
Is that something that you had done before? Sell things in a shop?
I worked in bookstores, but I've always been interested in creating a product that hopefully is a contribution to the world, like the products we did with M&Co—watches or paperweights or clocks. There's something I like about the exchange of goods, when somebody's happy that they've got it, hopefully. Alex has a little shop in Mmuseumm, in the annex, and I have products there like bags of beaver chips from Montana, or woodpecker chips from Vermont. I package them in glassine envelopes with little texts, and you'd be surprised how many people think they need that. I've had pop up shops at the McNally Jackson bookstore every year when I have a new book out. I think, now I'm going to sell radishes. And again, you'd be surprised how many people walk into bookstore and think, oh my god, that's exactly what I'm looking for, a radish. So there's a sense of humor about it, and you can become connected to people in a way that's kind and hopefully interesting.
Image via Conde Nast.
That one-to-one interaction you're talking about is very different to your relationship with The New Yorker's audience, which is huge, but anonymous to you. You've done a lot with them over the years, but you're probably most known for the New Yorkistan cover. Can you tell me how that came about?
The collaborator on that was Rick Meyerowitz, who is also an illustrator, writer, and cartoonist. It was right after 9/11; we were talking about tribalism, and these names that I had never heard of. We started talking about the tribalism of New York… what is New York? Within an hour, we had about 100 different names of neighborhoods, and we thought, this might be a map, and this might be funny, and this might be something good for The New Yorker. So we sent something in, and it went through a lot of edits—for instance, we reduced the number of neighborhoods because it was impenetrable. It's good to poke fun in a way that makes you feel optimistic. That's probably what I would say about my kind of humor. The response to the cover was unbelievable. You need to laugh, otherwise you're finished. You're doomed in this world if you don't laugh. So maybe it was the right thing at the right time.
What can you tell me about the edition you produced to benefit BAM?
I usually make works for an assignment, which is how I like to relate to things. I like the constraint of an assignment, though some my works transcend the assignment. The BAM edition came from a painting I did for an illustration edition of the Autobiography of Alice B. Toklas by Gertrude Stein. I did about 60-plus paintings for this book, which is going to come out in March. This image just felt like the right painting, which now has a second life.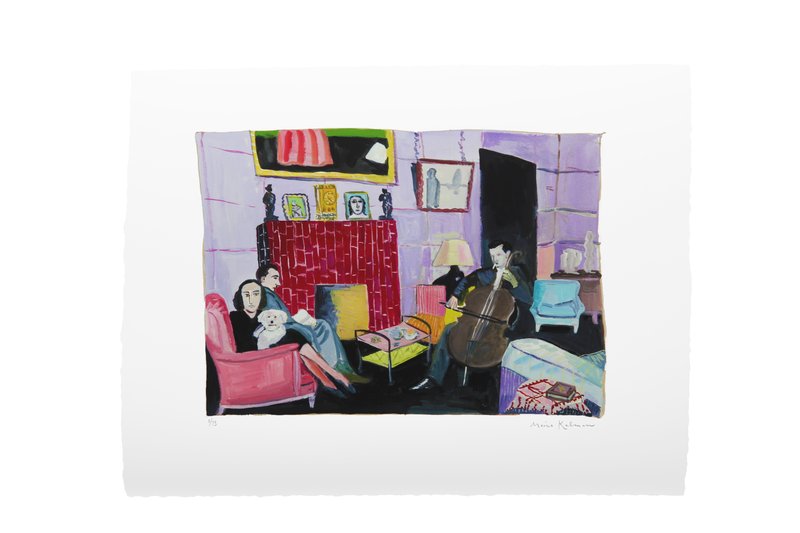 Marie-Laure de Noailles in Her Paris Salon (2019) is available on Artspace for $950
Can you talk a little bit about what's happening in that scene? How does it relate to the book?
That scene really has everything. It's of Marie-Laure de Noailles in her salon, which is how many people met one another during that time in Paris. There's somebody playing music; she's holding a dog; and there's this phenomenal amount of beauty around them—and that's part of their landscape, part of their Sunday afternoon. Salons allowed people to gather in the home to create tremendous amounts of beauty and interest and conversation. I'm drawn to that world: the chance encounters and the sense of domesticity. And Gertrude and Alice had that very much, of course. They had a salon and people would come to their house—Matisse, Stravinsky, Cocteau, Man Ray, everybody! This is where ideas cross pollinated, and it was a source of inspiration. Of course, there were also probably rivalries and love affairs and things like that.... So, I really like the salon. I like interiors. I like sofas. I like music. I like dogs.
What's striking to me about that image is that it does pull you into this inviting space, this feeling of leisurely appreciation for music and culture, and this domestic exchange of ideas that you talk about. But then, there's a dog and a woman looking directly at you, the viewer, and there's something startling about that. You're pulled into the scene, but also reminded of your relationship to it as someone on the outside looking in. And the subjects seem very self-aware, somehow.
Right. She seems to have a lot of self-confidence. This image was based on a photograph. She's looking dead straight at the photographer, and she's posing in a kind of a vogue-ish way. So there's that feeling that you're in control, but maybe you're vulnerable also, and you're willing to experiment and embark on an aesthetic experience. So, all of those things are going on in that room—which is the nature of anybody's work. You're always experimenting, and then hopefully you have a cozy bed to go to at night.
[kalman-module]