One of the funniest shows on Comedy Central, Broad City (produced by Amy Poehler) follows a pair of best friends (Abbi Jacobson and Ilana Glazer) in their 20s navigating life in New York City—but you probably already knew that. What you might not know, is that the opening title is animated by a Brooklyn-based artist named Mike Perry . Here, Loney Abrams speaks to the artist about what it's like to work with Abbi and Ilana, and about how his commercial animation translates to his canvases, which he shows at galleries like Garis & Hahn.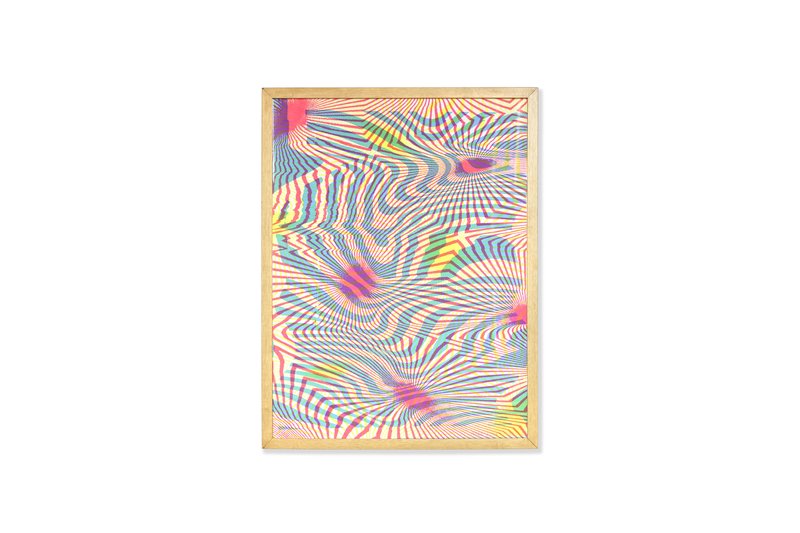 Mike Perry, Optical 208 is available on Artspace for $600
So let's start by talking about your work on Broad City . Can you tell me a bit about the work you have done/are doing for Broad City, and how this opportunity came about?
Comedy Central reached out to me while they were working on the pilot episode and getting everything together for the first season. Abbi has always been a big fan of my work, and she just really wanted me to be involved in the project. When Comedy Central first reached out, it was presented as a pretty straight-forward, branding, and TV-graphic project.
I was so inspired by everything about the show, and the freedom of the platform. Ultimately I was asked to design one logo and title piece that would be for the whole season; but I just had so many ideas for ways that I wanted to execute this idea graphically. So I pitched my ideas to everybody and they were all really excited about the whole breadth of the work. We thought that maybe we could figure out a way to expand it into a Simpsons-style, one-new-title-per-episode kind of vibe. So here we are today, four years later, and I've done forty of them. It's pretty crazy to look at all of them; they're really just forty variations of the same idea, changing a bit as the years go by.
Did you know Abbi personally before you started collaborating?
I met Abbi at Miami Art Basel years and years ago. We hung out a little bit down there, and that was my introduction to Abbi as an artist, not as a comedian. Time passed and then the phone rang. I believed in their creative vision of the show in the same way that they believed in it, and now we have this beautiful relationship where we get to enjoy the fruits of this world they've built.
We've also worked on a lot of other collaborative projects, such as the 150-page Broad City coloring book that was released last year. This past season we did a really special episode, (Episode 4), where Abbi and Ilana decide to do mushrooms. I was so honored to be granted the opportunity to figure out how to share the visual trip with the audience, so that they themselves could feel like they were on this journey.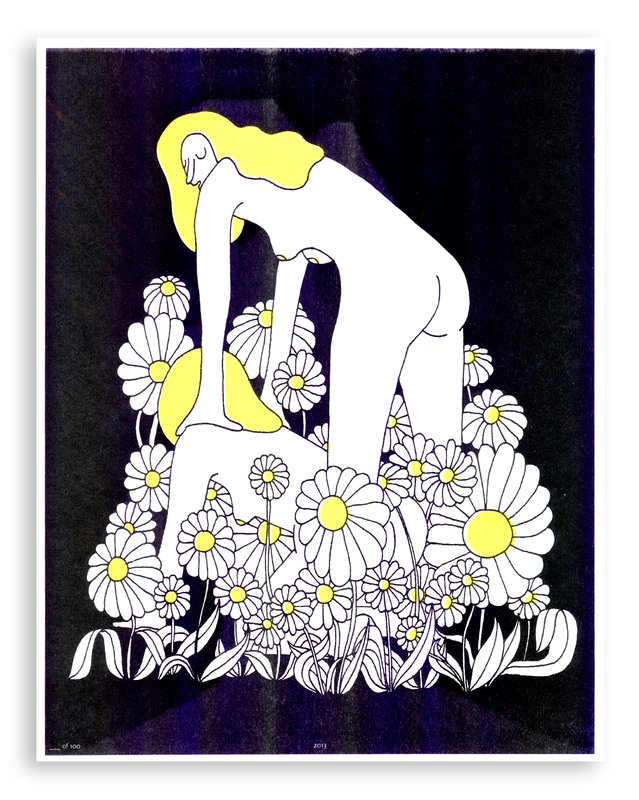 Playful is available on Artspace for $50
It must have been kind of crazy, knowing Abbi first as an artist, having her tell you about this TV show that she was working on, and now looking back four years later and it's one of the most popular television shows among your peers.
It is funny. In my own practice I'm really excited about the scale of the years as they go on, because you really start to see things as a body of work. The Broad City world is this whole magical body of work that I am fortunate to get paid to make once a year.
So you do everything at once for the whole year?
Yeah, I do all of the titles in one go. It takes about ten weeks to do them.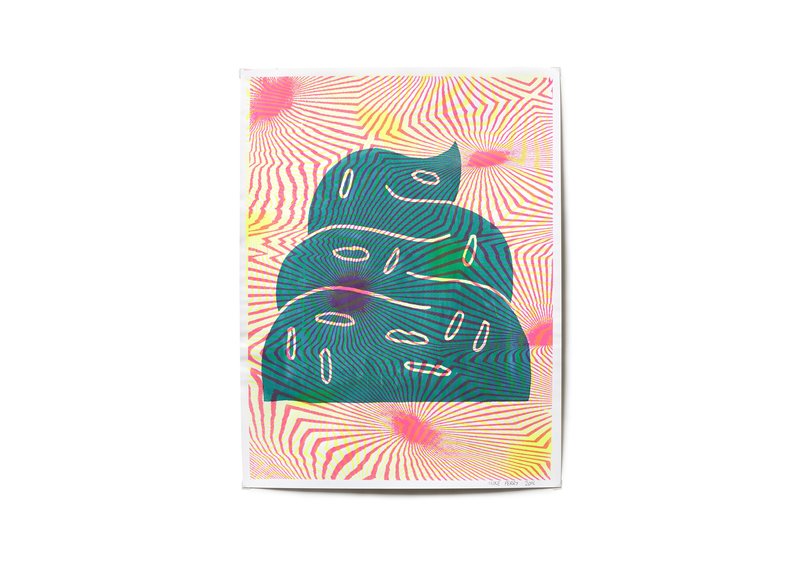 Cream is available on Artspace for $600
Had you done animations before?
No. Broad City was my first real animation project. I'd done little GIFs here and there, but when Comedy Central reached out, I really didn't have any idea what I was doing. The creative director of Comedy Central, Chris Scarlata, and Abbi and Ilana really believed in what I was doing and were willing to work with me while I built up those technical skills. One of the challenges of a client-creator relationship is that oftentimes, people won't hire you to do something unless you've already done it. Having someone, especially at such a major network as Comedy Central, look at the work and say, "Oobviously we can see that you have not done this; but we also see that you are are a strong, capable, creative person with the desire to pull this off, and we are ready to support you to make this thing as cool as possible," is amazing. That trust in creativity is really what makes the series so strong. From the beginning they have trusted that I'm going to deliver what they need.
It sounds like the complete opposite of how it usually works, where a network has a vision, and then they hire someone who has the technical capabilities to produce it. In this case you had the vision but not the technical capabilities to do it, and they were willing to work on it with you and figure it out.
Yes, exactly. The thing about animation that was so exciting for me was that when I was doing it initially, I was doing everything on paper. I thought, "Well, I can draw... why don't I just draw the next frame, and then the next frame?" It was really just going into it with that simple mindset, and realizing that it's not that big of a deal that made it possible.
That first season I was doing it all on paper; scanning all of the drawings and then going into photoshop and putting them in order and coloring them; it was bananas. But then the work came to life. I was blowing my own mind while I was doing it. I would sit at the light table for 12 hours and then the next day I would scan everything and be like, "Holy shit, thank god that worked." Eventually I trusted that I was capable of doing these animations, and it became no big deal.
When we were doing the mushroom episode, the length of the animation made a major jump from seven seconds of television to eight-and-a-half minutes. We worked on it with the animation studio for six months. The amazingly inspired crew had faith in the process, and were basically like, "Fuck it, you can do this." So we produced it in-house. There were conversations of having an outside animation production company to come in and do it, but I wanted this to be an art project, where everyone involved in the project was losing their mind and going deep into the vortex of the trip. You can't get that when you pay a random studio in Canada or China. You can't type up a document that explains how to make it weird.
You do a lot of commercial illustrative work, but you also make fine art for more of a gallery context. What is the difference in your approach to your commercial work and your fine art work?
There's really not a lot of difference between them, other than that sometimes I'll have to sneak some branding in there. But the branded element pays for my ability to make art and keep the studio running as it is. I'm stoked because for the most part, I get to make things that I really want to make, and I've positioned myself to be able to work on things that I want to be a part of. That's come from building up relationships with clients over the past ten years—and that takes a lot of scheduling and organization work, so I've built that into my art practice. The ways that I present my ideas for myself are done in the same fashion as I would organize them for a commercial project. The production quality of commercial work has been really fun to integrate into my art practice because its just a reminder that you need to map things out and make deadlines and think about how to make something economically to ship, or to install, and to make it user-friendly for the person who is buying it.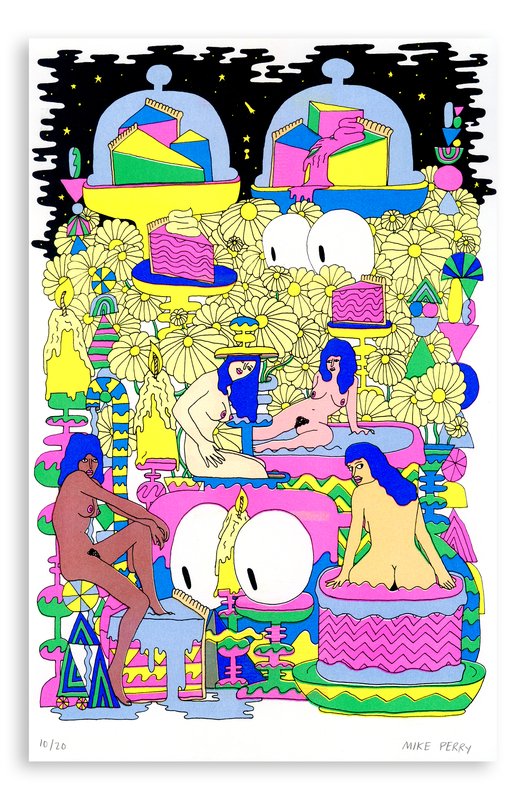 Tea Time is available on Artspace for $50
But beyond the logistics of your work, how do you think about it in terms of content or meaning?
The stuff that I've been working on over the past couple of years investigates how to translate my drawn world into my painted world, and tries to figure out what that language looks like. The messages are very simple and straight-forward. Hopefully the viewer finds some poetry in it. The work is about the creative journey and the discovery and the act of making. To me, understanding how the work translates from my sketchbook onto a canvas is about the journey of making the thing and figuring out where it lives in the world. We could write essays on what the individual things mean, but my goal is to have these things live beyond me and become things in themselves.
I noticed that there are a lot of women depicted in your work, almost always sexualized or naked. What is your thinking behind the way you render the human body?
It's a form of self-discovery. How do we all look and feel underneath our clothes? I'm trying to re-introduce the figure into my work. The naked stuff is something I've been working on for quite a few years now. I was doing this "Get Nude, Get Drawn" project, where we would get random strangers via social media to come and pose nude for 5-8 different artists. It was this community building situation, where the people who were posing were often people who had a real interest in seeing what it was like to sit and be drawn by someone. That project rekindled my interest in figure drawing, and the beauty of gesture drawings.
At the same time as I was doing the nude stuff I started doing the Broad City stuff. All of a sudden I'm working on the figure and animation and it turned into this opportunity to understand how humans work and how they're drawn or formed. As a kid I felt really embarrassed about how I drew figures and how I expressed the human form because I didn't have that capability. So it's been a big exploration for me. As far as the sexualization goes--I find them mostly innocent and reflective and about the viewer looking into them and discovering themselves.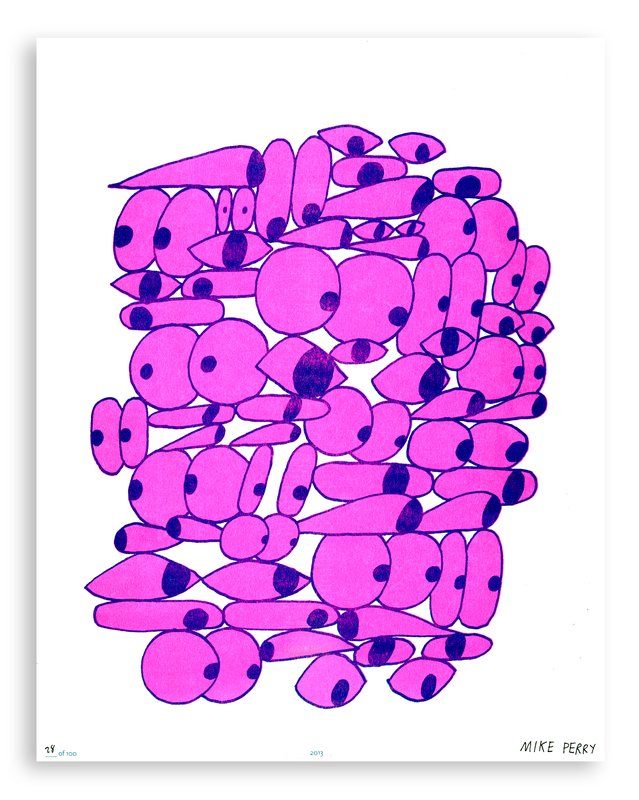 Eye See You is available on Artspace for $50
I'm thinking about your most recent gallery show, where all of the women have gigantic breasts and there's a girl going down on a dog.
Yeah, you're absolutely right. Those are just personal fantasies.
Your work is very psychedelic. Is taking drugs part of your studio process as well?
I do enjoy the benefits of drugs. To be honest, I just love life. I like to make complicated things and explore dimensional things. I'm really into space and science and nature. I also love to cook. I look at cooking like I look at painting. It's something that I have to do. When I get the opportunity, I put the ingredients together and things form, and that's what I'm really into. The psychedelia stuff is amazing and I'm so fortunate to be inspired by it but it really comes from the weirdness of the world itself. And even more than psychedelia, I think about marijuana culture, meditation, embracing silence, and calmness. In a way, making things that are really complicated functions as a form of meditation. It's a release of all of the things that we have built up inside.
Do you have anything coming up that you're really excited about?
Yeah, we're starting a gallery in my studio in Crown Heights. We expanded back in July and are hoping to launch up the gallery space in March. We're planning to do four shows over the next year. I also have a trip to Japan coming up in April.