Everyone who sees "Paintings for the Future: Hilma af Klint" adores it. The show feels resonant and fresh. On at the Guggenheim through April 23rd, the exhibit marks the first time that af Klint––who died, in Sweden, in 1944––has had a major U.S. museum retrospective. I spoke with Tracey Bashkoff, the Guggenheim's Director of Collections and Senior Curator, who organized the "Paintings for the Future," about af Klint's work and legacy.
Who is Hilma af Klint?
Hilma af Klint was working in Sweden as an artist. She's classically trained at the Royal Academy in Stockholm, where she excelled, and was awarded studio space in the central arts and business district of Stockholm. She was very much working within her time and her field and was not reclusive or an outsider as she's sometimes portrayed. In fact, she supported herself from the sales of her landscape paintings, commissions for portraits, and her work as an illustrator.
Af Klint had been religious since childhood, and as a teenager, she became interested in spiritualism, probably prompted by the death of a younger sibling. Eventually, she formed her own group, called The Five, and they met regularly to conduct seances. Her spiritualism might initially have been prompted by the idea that she could communicate with the dead, but this quickly shifted to an interest in with communicating with spirits, guides who she saw as existing on a higher plane. Another key thing was her relationship with the Theosophy, which sought ways of coming to spiritual knowledge, either through intuition or through a mediumistic practice.
The Five comes to embrace using automatic drawings. It was a means of recording images and visualizations from their communications with the spirits, and required freeing up your hand and your mind so that it's given over to and led by the spirits. So she became practiced at this, and I would speak of it as a way she freed herself up of some of the training that she had received from the Royal Academy, which was very dedicated to portraying things as they looked.
Eventually, through one of the spirit guides, she received a "commission," as she calls it, for what would become these 193 works to be made for a temple. She did these between 1906 and 1915 with a four year break in the middle there, so it's actually a very brief amount of time. We see in her notebooks these sketches for the temple, which are of a building that's layered, three or four floors high and round, and has a spiral that connects the different levels and allows people to pass through all the works inside of the building. The building, coincidentally, sounds a lot like the Guggenheim's spiral.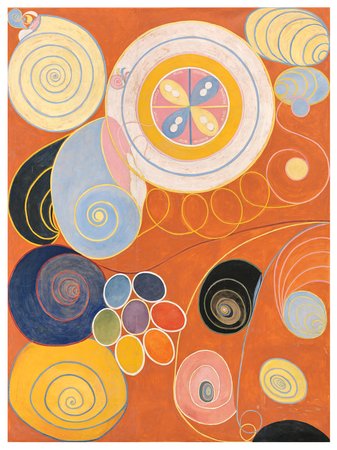 Group IV, The Ten Largest, No. 3, Youth. Image via the Guggenhiem
Af Klint wrote that all of her artworks were "one." What might that mean?
R.H. Quaytman––who organized a New York survey of af Klint's work in 1989, and whose new af Klint-inspired paintings are being simultaneously featured on the top ramp––has spoken of af Klint's work as one body of work, one kind of messaging system— and how, when af Klint died, all of the work was kept together. The only works that have ever been sold on the art market are ones that she sold within her lifetime, which were landscapes and portraits. But Hilma also had this vision, and everything was working towards it, even after she finished the paintings for a temple and went on to do other work. She spent a lot of the later parts of her life looking back at the commission and trying to make sense of the messages repeated in her works, because she had been working in a mediumistic way and allowing the spirits to guide her hands. It was only later on that she took more control over the imagery.
Could you say a bit more about that?
The way the story is usually told is that she worked on these pieces transcribing messages, which involve imagery but also dictums about process. So, for instance, that she should work for four days and then rest for four days. It's really led by the guides that she's communicating with. In 1908, her mother went blind; af Klint takes a four year break to take care of her mother. But also in 1908, Hilma also gets a studio visit from Rudolph Steiner, who at the time was still part of the Theosophical Society. His name came up with a lot of artists working at that part of the twentieth century. Wassily Kandinsky would go to Steiner lectures, I'm guessing Piet Mondrian, too. And so Steiner went to visit Hilma. He was complimentary of the work, but he encouraged her to be more directed and less of a medium, to be more in charge of herself. So she took a four year break, and when she came back, she writes slightly differently about her painting process. She talks about how the guides are no longer guiding her hand, but still provide her with images that she then interprets and paints. She becomes more in charge of the process.
There's a narrative that her work gets less good after Steiner's visit. Is that true?
No. He meets her in the middle of the commission, but the temple paintings are strong both before and after his visit. I think there's maybe a change in what they look like. Post-Steiner, the paintings feel more programmatic and diagrammatic in the way she works through an idea. That feels more deliberate and more directed than perhaps some of the earlier series. When people talk about Steiner having a bad influence on her work, they might mean the work in the thirties and forties right before she dies in 1944, where she's working in this wet-on-wet watercolor technique, very much like Steiner's own art and like work that the Theosophical society was putting forth. So I don't think his aesthetic had impact until later on.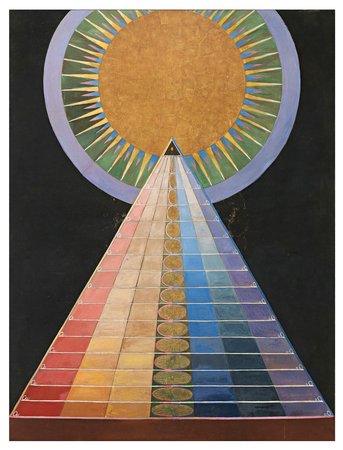 Group X, No. 1, Altarpiece. Image via the Guggenheim
Speaking of af Klint's impact, she famously asked that her works not be shown until twenty years after her death. Why was that?
Prior to our catalogue research, it was frequently said that the works were never shown during her life. But we discovered correspondence and passports, which show that she exhibited three works in 1928 in London––which was earth-shattering news for us! Basically in 1928, she traveled to London for a Theosophical Society conference on science and its practical implications. And there she showed three works, which were the altarpiece paintings for the temple––you would have been led through this inner highest chamber where these paintings would have been together. They were painted at grand scale and used gold leaf.
That brings a big question to the way we look at Hilma af Klint's work. In the past, we said she didn't show them because she knew that the world wasn't ready. I think before we could have gone, "Well, she's a woman, she was working outside of the art world and ahead of her time. She couldn't find a way to show these works and was wary of their reception." But she did show it, which put things in a different light.
We also know that she she kept notebooks. Among them are these penned books that we call the Blue Books, which includes a black and white photo of each painting on the right-hand side and a watercolor rendition to give a sense of what the painting would look like in color. And we don't know exactly how she used these books, but we're pretty sure that they were used to show people the work that she had made. The work wasn't out, it wasn't on view, it was rolled up in her studio. But this was a way she could, with like-minded friends and associates, share and discuss her art.
Why haven't we had the full picture of her life and legacy until now? Because of how she's stereotyped, a lack of information, or some combo of both?
I think it's a combo. She falls outside the story. She's not in the main art centers that we usually study, like Paris and Berlin, and that's been transformed into the idea that she never left Stockholm, never spoke anything but Swedish. But she did travel and did look at art in other places. So the facts weren't there, but that lack of knowledge also fed this more marginalizing story about af Klint––that she was reclusive, that she was untrained, outside of the art world. So this show is way to get the whole story, but it's also a way to think about how we "include" people working outside of the graphic realms that we generally study, or people with different genders who were looking for different support systems. The spiritualist groups were largely run by women, as were the Theosophical societies, and they were a place where women had a voice in a different way than in more traditional parts of the art worlds. So maybe that was a support system that she could have sought out for herself, and a way to make the kind of art that she was interested in doing.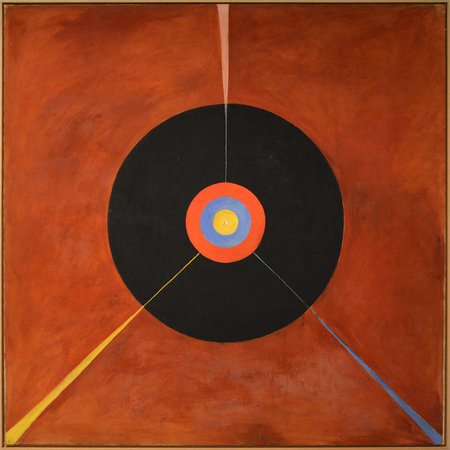 The Swan, No. 18. Image via Wikimedia Commons
You argue that af Klint preceded abstract art and that she, not Kandinsky, is the first abstract artist. How does this art historical move shift the way we think of abstract art, which (unlike Klint's work!) is typed as hyper-rational and geometric?
Af Klint was definitely making work that you could call non-objective or abstract before Kandinsky and Kazimir Malevich. The existence, scale, and seriousness of her work is part of that story about the avant-garde moving towards that precipice of abstraction. But I always feel reluctant to say, "You know, the first abstract artist was…." because there's abstraction imagery that goes back to ancient times. But there is also a record showing that she is making these amazing canvases before all the other artists even though they're all steeped in the same ideas moving around society.
The issue of influence is also very interesting. A way of keeping her out of the story is saying that she doesn't have a legacy––that other people weren't seeing her work or being influenced by it. And that may have been the case in the way that she was working, but it doesn't exclude her from having a contribution. Her work has influenced contemporary artists since it was first seen in the mid-1980s.
Why do you think this exhibit has resonated with so many people?
We certainly didn't time this exhibition to a particular moment. We started talking about the show five or six years ago. But I do think it feels fresh and resonant. People, and especially people in the U.S., have mostly only seen af Klint's work in reproductions, or have only seen a few individual pieces at exhibitions. But as a whole, the works haven't been seen in the U.S. very frequently. I think there's the scale and the seriousness of her project but also a lovely openness about the work, in that it's kind of exuberant and brings people into it, but it also has messages in there. But because we don't know what all those messages and symbols mean, it's hard to look at any one canvass and feel like you know exactly what it means. There are ways to look at her symbology or the ideas she's looking at, which might be embedded in some of the work, but the overall takeaway is that this is someone who had a vision and a bunch of ideas that she was trying to make sense of.
That seems so different than how museums usually make you feel, which is more like a pressure to see and understand everything there. You have to make your admission ticket worth it! But with af Klint, you don't feel that pressure because there's no way you can "get" all of it. It's coming from somewhere else.
Right! Especially because she didn't "get" it all either. That wonder is in the work as well. She felt that there was some world beyond the visible that she was trying to figure out, and it's that kind of searching that doesn't somehow feel frustrating in the work, instead it's just like something we all do in our own way.
RELATED ARTICLES:
"Intuitive Intelligence Is the Highest Kind": Anish Kapoor on Spirituality and Intuition in Contemporary Art
The Double-Sided Spirituality of Chris Ofili's Art
"Smelling AI: Anicka Yi on the Future of Oflaction, Death, and How Science Can Benefit From Working With Artists