In early 2009, at what seemed to be the height of his notable career, Paul Chan called it quits. Thirty-six-years old at the time, the artist had come to acclaim for his lyrical installation 7Lights, an overhead light projection of figures and objects falling as if from a great height (summoning poignant recollections of those who plummeted from the World Trade Center) that debuted at London's Serpentine Gallery in London in 2007. The same year, Chan—a conceptualist who had earned his MFA in film and new media at Bard—eulogized another tragedy with his Waiting for Godot, a re-staging of Samuel Beckett's existential masterpiece in New Orleans's Lower Ninth Ward that drew upon a cast of locals whose lives had been devastated by Hurricane Katrina. The works made Chan the darling of critics.
Why did he give up making art? "Real beginnings demand real ends," the artist said at the time. "The world is big, and I can do a lot of different things." So, while his work continued to circulate in group exhibitions, Chan started a publishing press called Badlands Unlimited in 2010—which earned some notoriety in 2012 when it published On Democracy, a collection of Saddam Hussein's fascinatingly deluded speeches on the subject—and this spring it released two books of his own writings, New New Testament and Selected Writings 2000 - 2014. But it turns out the end of Chan's art career was not so final after all—this April, he's also making a comeback with his first major show since 2008, at Basel's Schaulager art space (April 11 – October 19). 
To learn about the change of heart behind Chan's new exhibition, we spoke with the artist via email about his transition into publishing, the quiet continuation of creating "book paintings" throughout his retirement, and his hobby of inventing computer fonts. Some of his answers, as you will see, come in the form of what appear to be neo-Hieroglyphic pictograms.
Could you tell me about your upcoming show at the Schaulager?
It's an exhibition of new and never-before-seen work, together with old work from the past 15 years. It also involves my books from my press Badlands Unlimited, which were co-published by Schaulager and the Laurenz Foundation: New New Testament and Selected Writings 2000 - 2014.
Among the sculptures, drawings, light installations, and animations in the show will be Volumes, the 2012 series of more than 1,000 paintings made out of deconstructed and painted book covers. Why did you start incorporating books into your art?
There are so many reasons. The one that seems most right today is that it was something I've never done before. It evolved painting by painting, like any other work I suppose. They were done on weekends and nights, after office hours at Badlands.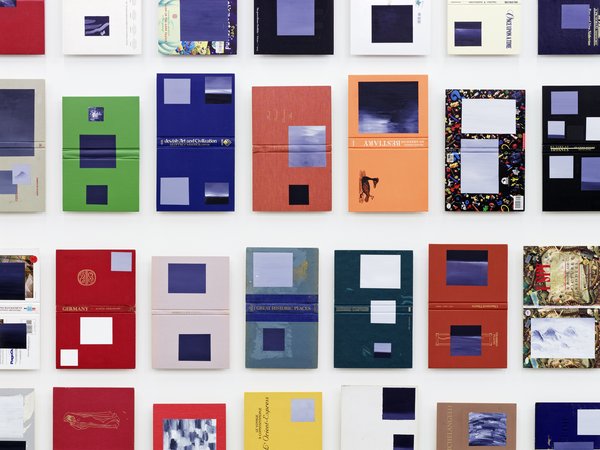 Paul Chan's Volumes (2012)
You announced your retirement in 2008. Since then, you've been writing and publishing books. Does the label "artist" matter to you today?
……………Does the interested ……………………..,-" ever obey the law? "¯""-,………………… When one is interested,…………….,~"……….Ä
…………………………,~"…………,..Ä it is because interest is useful enough to be beautiful.………………………,-"………………….|
…………….…… . . ."-~" . . ¯¯¯¯¯""~-,
……………|………Beauty is in fact what is useful enough to us to be an extension of who we
happen to be. ..| .,-"……………………/..|……….………/………… ……………|………………..Ä . . . ._ .. . . . . . . "-,"""-"……………|..…………….."-, . .(.."~,————~"
…………….|._……………….."~,.."~-'—,………………,–~~-,
………….,~" . ¯"~,……………….¯"~~-",-Ä………….,-"-,"~, . ."-,
……….,-"….,~",-~"Ä…..-'.,"""………………"-,……….|…………..'…|
…The ……………../…………………….……|
… law, ……………./…………………..,"_"…|
… written before this discovery, has power over only those who have not found anything useful enough to be beautiful, and vice versa. ……………,-,-~-,-~',
……………../……………….,-" ( . . o)_º)
……………./………………./. . . . . . . . . . . . . ,-~"~,
……………|………………..| . . . . . . . . . . . . /::::::::Ä
……………|………………..| . . . . . . . . . . . . |:::::::::l
. . "-, "-, . There is a place
where this does not apply..……………/……
………..Ä,,-",~"……/…..,-" . ."-,…………..'-,."-,……..) . . . ."-,,-
………….'-,……..(,–,.,-" . . . . |……………."-,"-,,("-~"-,""~~~"
…………….¯"""¯,-", .), . . . . ,-"………………."-,Ä,."..,-"
………………….'-, .".,"-,_""~"……………………"."-,"
………………….."~"-,.Ä,…,–~~~-,………………,~',
…………………………¯"~/ . . . . . .)……………,"-~',
………………………..…./ . . . . . . |–""""""–,~""¯ . .

In 2010, you started a publishing press, which has published Yvonne Rainer's poems and Saddam Hussein's essays. Why did you establish Badlands Unlimited? 
I need something to do. And I've wanted to run a press for some time. Also, for the last couple of years, New York has seen a kind of golden age of independent publishing, with artists, designers, even gallery directors getting in on the action. Primary Information, Dexter Sinister, Karma, I can go on. It almost reminds me of another golden age, when independent film and video came of a certain age in the late '60s and began to expand in ways there were unpredictable and full of vitality. 

Who do you publish the books for?

I don't know who the books are for. I just publish them.

Then what's the idea behind the press?
Song,                  >            teach i
                  t and teach i
                  t well,                  >            until
                                             i
                  t becomes nobody's property,                  >           or at the least something one wishes to leave on the ground,                  >            for someone
else to find,              >         and puzzle over,            >        as you had,     >     over why i                          t existed at all.
In addition to your essays, you include in Selected Writings a body of work called Alternumerics, which explores the gap between language and meaning with invented computer fonts. It is very playful and collapses language and visual communication. What do you achieve in your writing that you can't through your art, and visa versa?
I am not at all sure what I achieve in my writing. I am pretty sure nothing much is achieved in the art. So there is definitely that difference. If I were to think about this more, it would probably lead me to the idea that the act of writing creates the illusion of a peculiar kind of clarity in thinking that I'm never looking for in making work.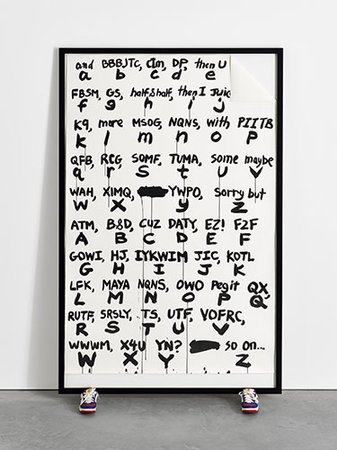 Paul Chan's The body of Oh Young Augustine (truetype font) (2009)
In an interview you did about making Alternumerics, you said you "wanted language to work only for me and no one else." Do you care if your art binds people together in meaningful associations and communities? 

No. But I'm happy if it does.
In an essay, you wrote that art is "like the perfect crime or a bad dream" in that "it is not apparent at all how the elements come together. Yet they nevertheless do, through composition, sometimes by chance, so that it appears as if it were a thing."  Your writing also contains unexpected, delightful collisions between disparate elements. You quote Britney Spears, the Bible, and Jacques Lacan over the course of a single essay. You write elsewhere: "Any system that reduces a world is tragic." Can you talk about disarray and non-order in your writing?
Well, first, the tables that I tend to write on get messier the more I write. I write longhand for the first draft of anything, so there are scrapes of paper with illegible handwriting all over. Also dirty plates, old hats, empty Fedex envelopes, pens, socks. I don't know why. It's how thinking happens I suppose—by gathering what is simply available around us at any given time.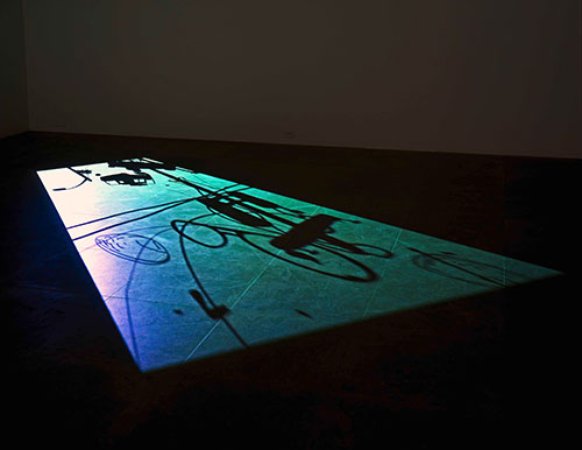 Paul Chan's 1st Light (2005), part of his 7 Lights installation
What are you currently reading ?

I just read about a young man who had sex with a Hot Pocket and then posted a Vine about it. Vine then kicked him off Vine?

What are you looking at ? 

o
\\ ooooo
~\\\ oooo oooo
~~~\\\ oooo oooo
++~~~\\\ oooo oooo
:+++~~~\\\ oooo oooo
:::+++~~~\\\ oooo ----- oooo
Brandi Glanville oooo @@@@- obviously lacks the sensibility
needed to recognize that a genuine experience of art is not possible without a memory or longing for ______
/\_\_\_\
/\/\_\_\_\
/\/\/\_\_\_\
\/\/\/_/_/_/
\/\/_/_/_/
\/_/_/_/
_natural beauty.
/|\