Chris Levine may be known for his supernaturally serene photo portraits of instantly recognizable figures like Kate Moss and the Queen of England, but don't call him a photographer—Levine works with the medium of light itself.
Born in Ontario and currently based in Northamptonshire, U.K., Levine has a knack for coaxing moments of tranquility out of his often otherwise harried subjects, infusing their familiar visages with an almost palpable sense of inner calm. (His 2012 portrait Lightness of Being showing Queen Elizabeth II in a moment of repose has since become one of her most famous representations in the 21st century.) It's an approach derived in part from his own meditation practice, which he combines with a keen interest in futuristic technology like holograms, lasers (the "purest form of light," he says), and high-tech cameras to make his singular artworks.
The light artist has managed to combine all of his interests in his latest project, Compassion. It's an official portrait of the Dalai Lama (only his second—the first was done by Annie Leibovitz in 1990), made in honor of the Tibetan leader's 80th birthday last year and currently on display at the Fine Art Society in Mayfair through July 7. This is no simple snapshot; Levine used cutting-edge 3D scanning technology to render the monk with as much visual acuity as possible, as well as allow the portrait to be rendered as a lenticular.
Artspace's Dylan Kerr spoke to Levine via email to find out more about how he captured that iconic shot of the Queen, the centrality of meditation to his work, and his plans to honor yet another otherworldly pop-culture figure: David Bowie.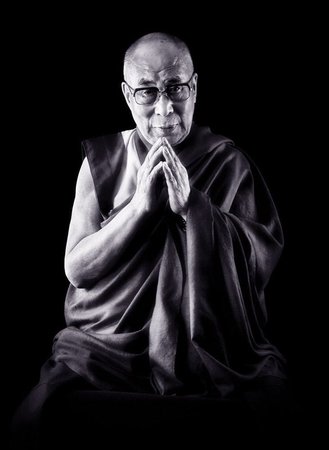 Compassion, 2016
How did you become interested in light as your medium of choice?
Light is fundamental to the mechanics of life and our perception of reality. It's the most powerful medium as an art form. I remember seeing my first laser as a kid, and it touched me—it's the purest form of light that we can observe, and to better understand it is to go deeper into the nature of how everything works.
This is the Dalai Lama's second formal portrait—how did you secure this honor? How did you approach the task?
After I photographed Her Majesty, people often asked me who I would like to shoot and my answer was always the Dalai Lama—or David Bowie. At some point, I went to meet a good friend of mine who I'd not seen a while. At the moment we met his phone rang—it was the curator appointed by Tibet House appointed to oversee the commission for His Holiness's 80th birthday portrait, asking if my friend could introduce them to me as he knew we were friends. He passed the phone right over to me. It was meant to be.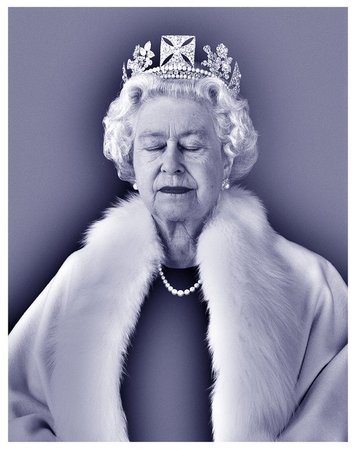 Lightness of Being (Blue), 2014
What is it like having such famous and symbolically-laden figures like the Queen or the Dalai Lama as your subjects?
Somehow it becomes a duty to create something worthy. Whether the most portrayed woman in history, or the spiritual leader of our times, the challenge was to make an iconic image that was worthy and somehow fresh or evolutionary. It all seems quite surreal. I never expected portraiture to be such a significant aspect of my work so soon, but one thing has led to another. I'm grateful.
What do lesser-used formats like lenticulars or holographic portraits allow you to do that traditional photography doesn't?
The dimensionality of mediums such as holography and lenticular imaging make a more faithful image of the subject. I like that in the case of a lenticular where I'm using a moving camera, the recording is actually a small segment of time—a few seconds of the life of the subject.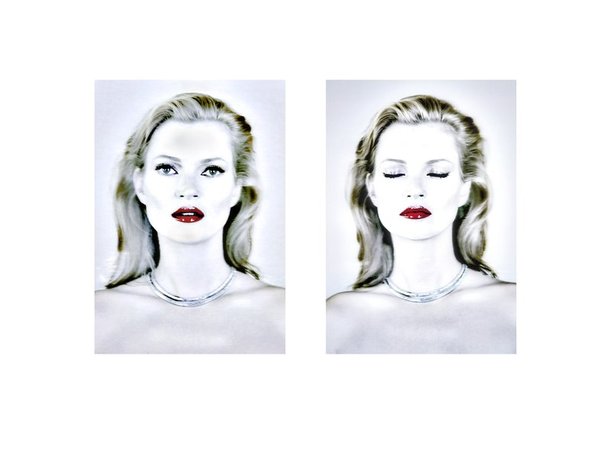 Kate Moss (She's Light), 2014
Some of your best-known works feature their subject with their eyes closed, almost as if the photo was taken before they were fully ready. Why this slightly unusual format?
It all started with Her Majesty. I shot that image when I was first getting into meditation. I was conscious of her breathing and trying to create a sense of calm and stillness in the work. Her eyes were closed while she was resting as I'd asked her to between camera passes. Whilst the formal portrait Equanimity has her eyes open, it is her eyes being shut that invites the viewer deeper in to the subject, making a more soulful connection. My humble message is that if the whole world meditated it would be a very different place—we'd evolve faster as a species.
Mediation is an important aspect of much of your work—how does your mindfulness practice inform your approach to art?
My work is increasingly informed through my meditation and I hope to share moments of a meditative state when the art is experienced—whether as an image which is transmitted through light data or an installation that immerses the viewer into pure sensory energy. I'm reaching for stillness and inviting my audience to come with me.
What kinds of projects do you have coming up?
I'm really excited by my work with the Eden Project, which is unfolding into some interesting areas.This weekend I'm creating an immersive laser piece commissioned by Glastonbury Festival to celebrate David Bowie's life. It's set to Philip Glass's HeroesSymphony [based on Bowie's 1977 album of the same name] conducted by Charles Hazlewood. It's sound and vision to the extreme—I'm using a lot of laser. I'm also shooting a new body of iconic subjects, to be revealed later in the year. Exciting times!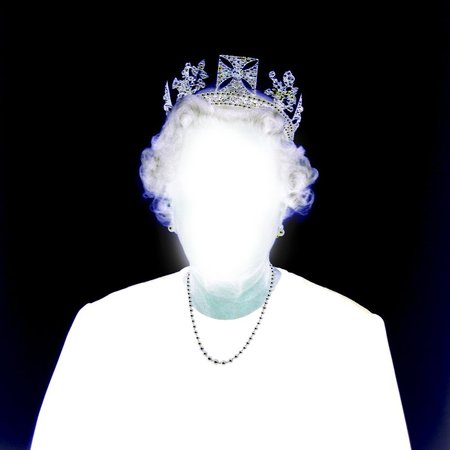 Equanimous 1, 2012