There's a kind of comfort in the dependability of a place like Times Square. Albeit, one first needs to disengage from the anxiety inducing gaggle of tourists, the innumerable show promoters asking if you like comedy, and the hypnotic flurry of advertisements for sunglasses, colognes, watches, and one inexplicably violent loop about seizing power from plants by pulverizing them into a trendy line of organic juices. Still, in a city that's seen nearly every block change from bodega to barista quicker than any New Yorker can say "gentrification," this impossibly claustrophobic strip in the middle of Manhattan is one of the few places in the city that really hasn't changed much since its mid-90s, Giuliani-led clean up.
One man in particular has made himself one of Times Squares most reliable mainstays. Busking the 7th Avenue corridor wearing nothing but a pair of boots, briefs, and a ten gallon hat, the Naked Cowboy (born Robert John Burcke) has worked through rain, snow, and shine a self-reported 361 days out of the year for the past two decades. "They're going to be putting up a life-size bronze statue of me here later this year," the Cowboy told me, in between posing for photo-ops with respectively giddy and embarrassed wives and daughters, sweating in the muggy mid-July heat. "It's a little redundant actually, since I'll still be coming out here every single day."
Under any ordinary circumstances, you couldn't catch me within a three-block radius of Times Square and I'll bet an arts-writer's paycheck that a majority of New York City's art-viewing public similarly steer themselves well clear of the claustrophobic bustle. There is, however, the exceptional circumstance of the Times Square Arts program. Like our Hanes-clad cowboy, Times Square Arts has been around since the '90s. For the past 26 years, it has worked with a diverse array of over 200 artists, musicians, and performers, commissioning and showcasing works for the iconic metropolitan square. In 2010, Liz Magic Laser hired six actors to re-enact 23 foot-chase scenes from popular films using the iconic red staircase as their stage, amidst baffled and alarmed tourists. Ryoji Ikeda's strobing black and white patterns took over the Times Square billboards in 2014, and in 2016, Laurie Anderson held a Concert for Dogs, inviting the city's canid population along with their owners to a special and rather chilly outdoor concert. And the Cowboy has, in all likelihood, seen it all.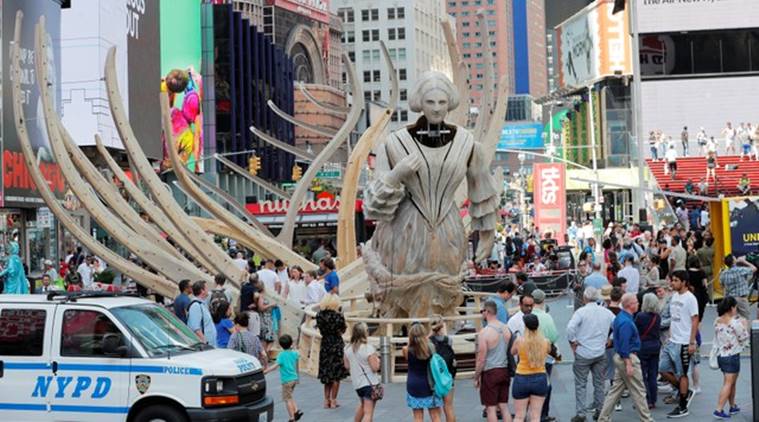 Mel Chin's Times Square installation, Wake (2018). Image via Windows Mixed Reality.
"It's Chin, right?" asks the Cowboy. For this season's commission, the multimedia artist Mel Chin debuted a two-part mixed reality installation—the first of its kind—titled Unmoored and Wake. Integrating robotic sculpture with an augmented-reality app developed with the support of Microsoft, Chin's work immerses viewers in a future post-apocalypse where Times Square is submerged underwater—researchers predict that, as global warming continues, New York City can expect to be under six feet of water by 2100. Situated on the 46th Street pedestrian walkway, the sculptural component of the installation is unmissable. Titled Wake, carved wooden beams form the ribs of either a ship's hull or a large marine mammal, with a figurehead of a woman at its prow.
The wreckage is modelled after a 19th century cargo ship called the USS Nightingale, which was used, among other things, to traffic slaves, highlighting the complicated history of New York City's rise to economic power. Using the accompanying app, titled Unmoored, we see the ship's frame come back to life and sail above our heads, between buildings and tourists who are completely unaware that, within the augmented reality of your phone, they are now completely submerged. As the experience continues, more boats float overhead, forming a fleet that eventually deteriorates into ruin. Small aquatic life forms begin to appear as the boats turn into rust-covered relics.
"It's about how New York City is going to be underwater, right? I read all about it over there" the Cowboy tells me, gesturing toward the signage kiosk. I wanted to know what the Naked Cowboy, as the time-honored veteran of the 46th Street intersection, who has seen so many artworks come and go throughout the years, thought of the installation. "Do you mind if I work along the way?" Making our way towards Wake, I follow the Cowboy through the dense weave of pedestrian traffic up 7th Avenue. He is gregarious, generous, and seemingly at ease with all the world, cracking good humored jokes in a practiced southern drawl (the Cowboy is originally from Cincinnati). At one point, he stops to admire the work of a man who makes and sells bags that are adorned with pennies and bottle tabs. "These are really neat," says the Cowboy, "I'll come back later." At another point, he stops to fish out a five dollar bill out of his guitar to give to a panhandler. "Sorry Johnny," says the Cowboy, "I forgot to get your razors! I didn't remember them because I didn't write it down but I'll write it down this time." The Cowboy takes out a Sharpie and scrawls the words "Johnny—Razors" on one of his promotional postcards.
One of the main facets of Mel Chin's diverse practice is focused on ecology—Chin started the first ecology club at his high school in Texas back in 1970. In watching the Cowboy navigate Times Square, I can't help but notice the unique urban ecology forming around him. From the constant stream of tourists to Razor Johnny, it's apparent that the Naked Cowboy is a vital part of this Times Square ecosystem. "Do you know everyone here?" I ask the Cowboy, as a man hovers behind him, holding up a sign in both English and either Cantonese or Mandarin that reads "Protect Humanity's Peace Freedom Democracy A LONG WAY TO GO." "For the most part," replies the Cowboy. "You get to know people when you've been here this long." "What do you do on the four days you take off?" "My wife and I [the Naked Cowgirl] go on vacation. Usually to Florida or Cincinnati. Last year we went to Mexico to visit my wife's mother. It was the first time she'd seen her mother in 17 years! My wife is actually an illegal immigrant—and that's why this country needs Trump!"
The Cowboy has been anything but coy about his political views. He's run for office several times, first as a Mayoral candidate against Bloomberg in 2009. By 2010, the Cowboy had fully upped the ante, announcing a run for the Presidency representing the Tea Party in the 2012 election. He even got a haircut and wore a suit during his campaign. Borrowing a catch-phrase from conservative radio pundit Michael Savage, the Cowboy ran on a platform that promised "an unapologetic commitment to our borders, our language and our culture."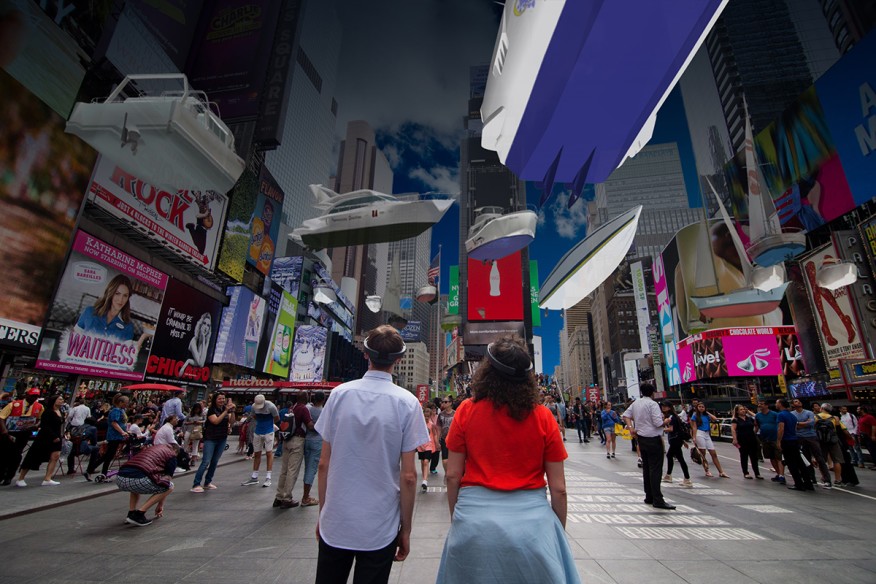 Screen cap of Mel Chin's augmented reality Unmoored (2018). Image via Architect Magazine.
"So this is a liberal thing," says the Cowboy, as I set up the Unmoored app for him and explain the meaning behind the USS Nightingale and the works overarching message regarding climate change. "Not necessarily," I reply. "Well, either way," says the Cowboy, as the augmented reality version of the Nightingale begins to rise above us with an incoming tide, "I'm going to be on top of this thing by the end of it all." Strangely enough, the Cowboy's candid reaction was the exact point of Chin's piece. "It is not about convincing you to believe in climate change or not believe in climate change," said Chin at a press conference for the installation. "It is there to provoke a question: How will you rise?"
"The climate has changed for all of eternity and always will, regardless of what we're doing," the Cowboy tells me. At this point, the microorganisms are beginning to materialize on the app. "You just have to adapt and grow with life. Don't worry about it—it's taken billions of years for the world to be where it is and it'll take billions of years to destroy it. You're not going to see the end of the world in your lifetime so just enjoy your life, do what you can to conserve, do what's ecologically sensible."
Back in April, I'd interviewed Mel Chin on his Queens Museum survey show "All Over the Place." In discussing ecology and the environment, he mentioned something that is in a peculiar way, rather reflective of the Naked Cowboy's views on environmentalism. "I love Neil de Grasse Tyson," says Chin. "He's the coolest! He says, 'It's odd' to talk about saving the Earth because it will survive but you may not —that's what the deal is. So if loss is imminent making art might be about slowing down the loss so that you can maybe, in the spare moments, observe what's left of your humanity."
In that same interview, Chin also briefly discusses his wariness of the terms "art" and "artist": "Keep the term of 'art' flexible. Practice some pilates or yoga on that term. If anything, I have a mutative process.That's something that's been isolated as my M.O. by curator Miranda Lash in my 2014 retrospective. Apparently that term is now becoming my signature so I'd better get rid of that too!" When I asked the Naked Cowboy whether or not he ever considers himself an artist, he replied "when I'm in a good mood, sure! Call it whatever you want—art is whatever you want it to be."
The entropic psychopath in me (I'm a Cancer sun, Aries rising if that means anything) is absolutely thrilled by the idea of seeing Mel Chin's mixed reality installation occupy the same exhibition space as the Naked Cowboy's life-size bronze likeness, accompanied by the actual living Naked Cowboy (arguably also a mixed reality experience). Unfortunately, Wake and Unmoored are only on view until September 5th. Still, the current reality at Times Square is as surreal and confounding as one can expect... Here's the Naked Cowboy singing a song about Mel Chin's installation:

RELATED ARTICLES:
"You Give It Legs and You Disappear": Mel Chin on Taking Over New York with Public Art and Altruism
"Like Noah Hunting the Animals He Saved On the Ark": Mark Dion on the Contradictions of Environmentalism
"You Can't Put a Lid on Creativity": Visionary Eco-Artist Agnes Denes on Her Dauntless Quest to Understand the Universe