We love our own tweets. From the stupid and silly to the pointed and profound, these 140-character nuggets of self-expression are worked over and thought out in an effort to distill our thoughts into the perfect package. Even while we struggle against Twitter's imposed limitations (why does posting a picture take up so many of my precious characters?), we celebrate our creativity and resourcefulness as we link our thoughts to one another with border-jumping hashtag trends. It's not vapid—it's self-love. We are #blessed indeed.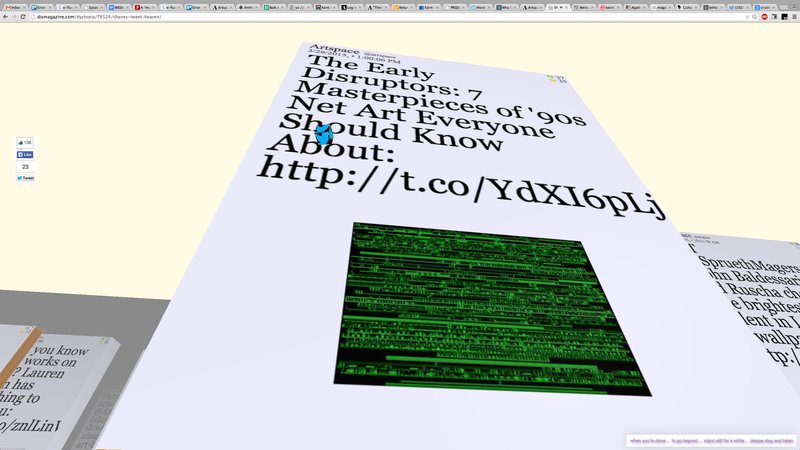 At the same time, our tweets are nothing if not ephemeral; one or two sentences in the veritable deluge of text uploaded to the Internet each day, they exist solely online and are relevant (except for a few extraordinary cases) for only slightly longer than it takes to compose them. The very structure of the Twitter timeline encourages this rapid obsolescence, with each new tweet pushing our perfected compositions further and further into insignificance. The life of a tweet is usually short and brutal, despite the much-sought and rarely achieved hope for immortality via virality.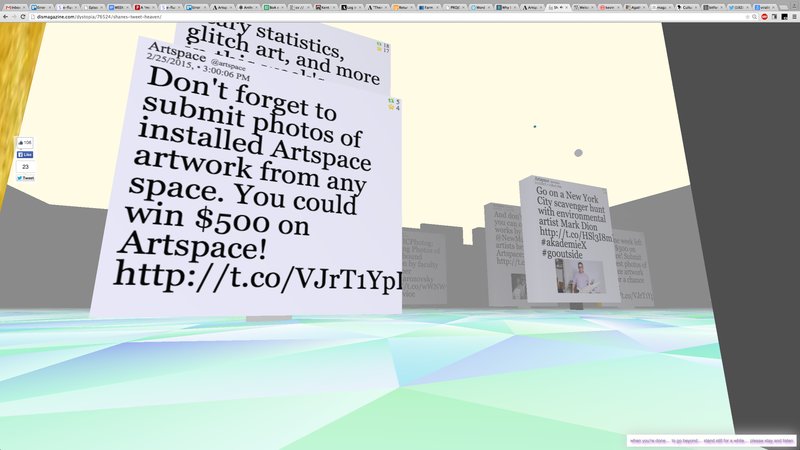 Viral or not, our tweets are still out there somewhere, usually languishing in obscurity on our feeds. Helping to resurrect them is Shane's Tweet Heaven, "an isolated and exploratory experience" created by the digital art duo Mister Shane (Kevin Roark and Sean Delanty) and presented by DIS Magazine. Simply put, Tweet Heaven is an interactive online game that lets you navigate a digital sculpture garden (or is it a cyber cemetery?) filled with monuments to your own tweets. This is self-love on a whole new level.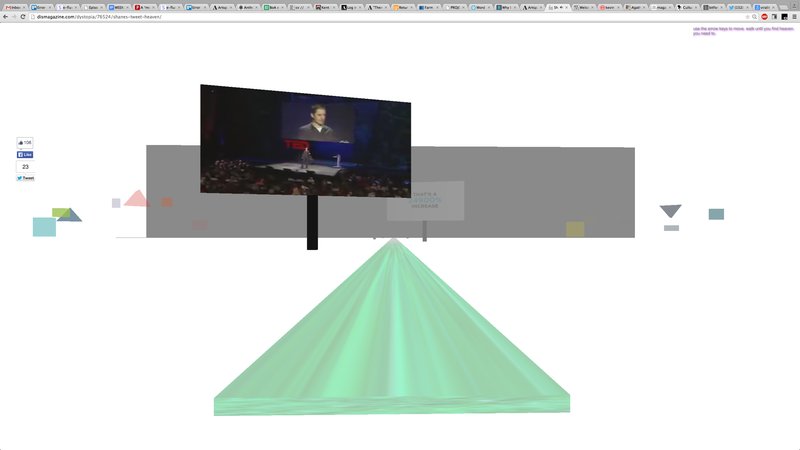 After logging in with your Twitter account, the browser-based program generates your avatar and sets you on a path towards your very own "tweet heaven." Flanked on either side by talking video-billboards (each playing Twitter-themed TED talks, YouTube how-tos, and the like), you at last break through to the other side. Tweet Heaven is a strange, expansive space, populated by monolithic renderings of your clever wordplay and cutting commentary. Released from the constraints of the path, here you are free to look, move, and jump around your newly three dimensional tweets. These are skyscraper-scale structures, proudly displaying your textual creations with a gravity and reverence they may have never received in their own time. Far from irrelevance or obscurity, your tweets have been reborn into a new, huge reality.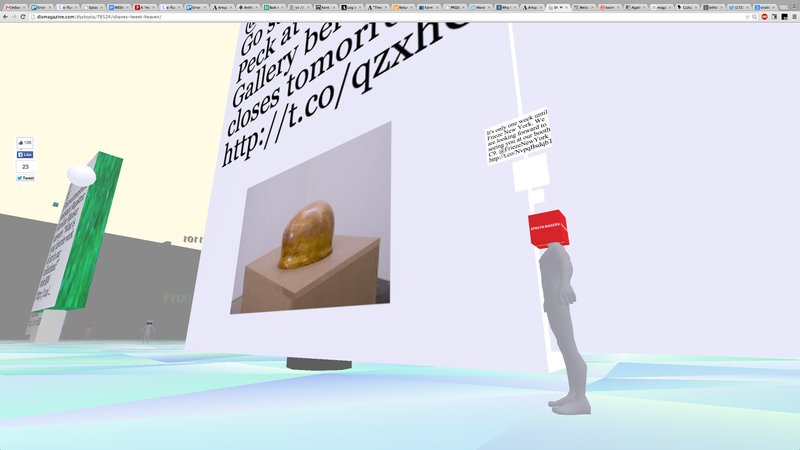 You are not alone in Tweet Heaven. A disembodied computer voice recites your tweets aloud, while favorited tweets walk the grounds in the form of block-headed avatars with small speech bubbles above their heads. But despite these interlopers and the seemingly random bits of numbers and shapes floating around (heavenly doves or graveyard crows?), walking or jumping through your Tweet Heaven can eventually become a bit lonely. Created with words and phrases long forgotten by everybody but yourself, the space can start to look a bit less like the great beyond and a bit more like the Pyramids of Giza or the Taj Mahal: a massive, beautiful mausoleum, where the greats of years (or hours) past are honored and laid to rest.