Does sprinting to make your connecting flight sometimes feel more like racing through the halls of the Met? Okay, maybe artworks in certain terminals aren't quite on par with the masterpieces in the colossal museum, but if you're an art lover you've probably noticed the dramatic increase in the quality of airport art over the past decade. These works introduce some much needed tranquility and escapism into a setting that's become extra chaotic and stressful post-9/11 (how many liquid ounces am I allowed to carry-on again?!). As The New York Times put it in a 2011 article, the consistent goal of airport exhibitions is "to provide education and entertainment in an environment typically dismissed as an anxiety-inducing no man's land."
Along with providing necessary amusement, airport art is also a great source of revenue for many nonprofit cultural institutions. For example, the Wall Street Journal reported that San Francisco International—recognized as a leader in airport art—has spent over $15 million on their collection since the 1970s.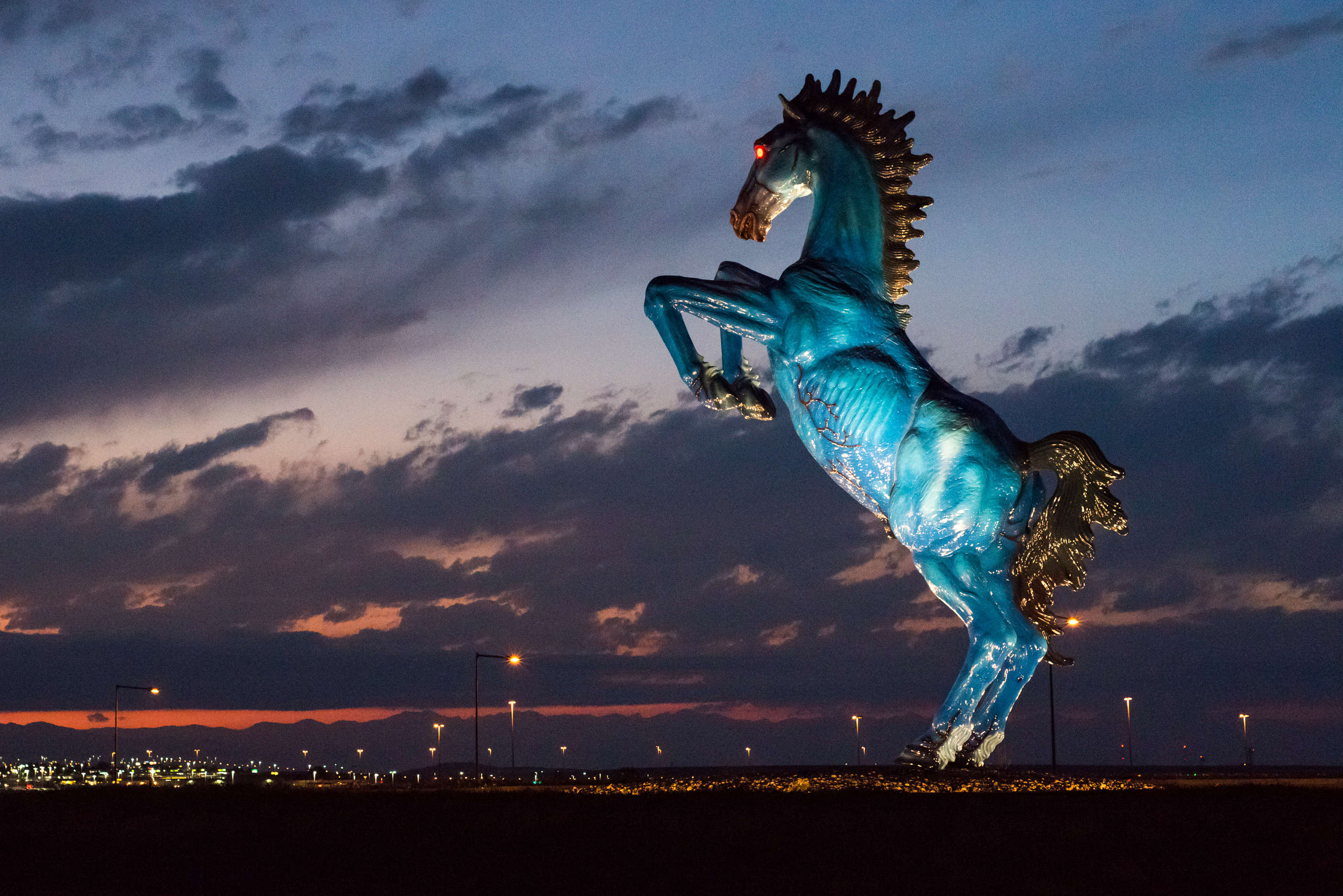 Luis Jiménez's sculpture, Blue Mustang (2008). Image via Thrillist.
While some airport art can go horribly wrong—like Blue Mustang, the colossal cast-fiberglass demonic-looking horse sculpture outside of Denver International Airport (nicknamed Blucifer), that actually killed it's creator Luis Jiménez and added to the many conspiracy theories surrounding the airport—other works truly make the dreaded transit time more enjoyable.
Here are 10 noteworthy global contemporary pieces that might propel you to actually get to the airport early:
DENNIS OPPENHEIM
Crystal Mountain (2005)
Dallas/Fort Worth International Airport, USA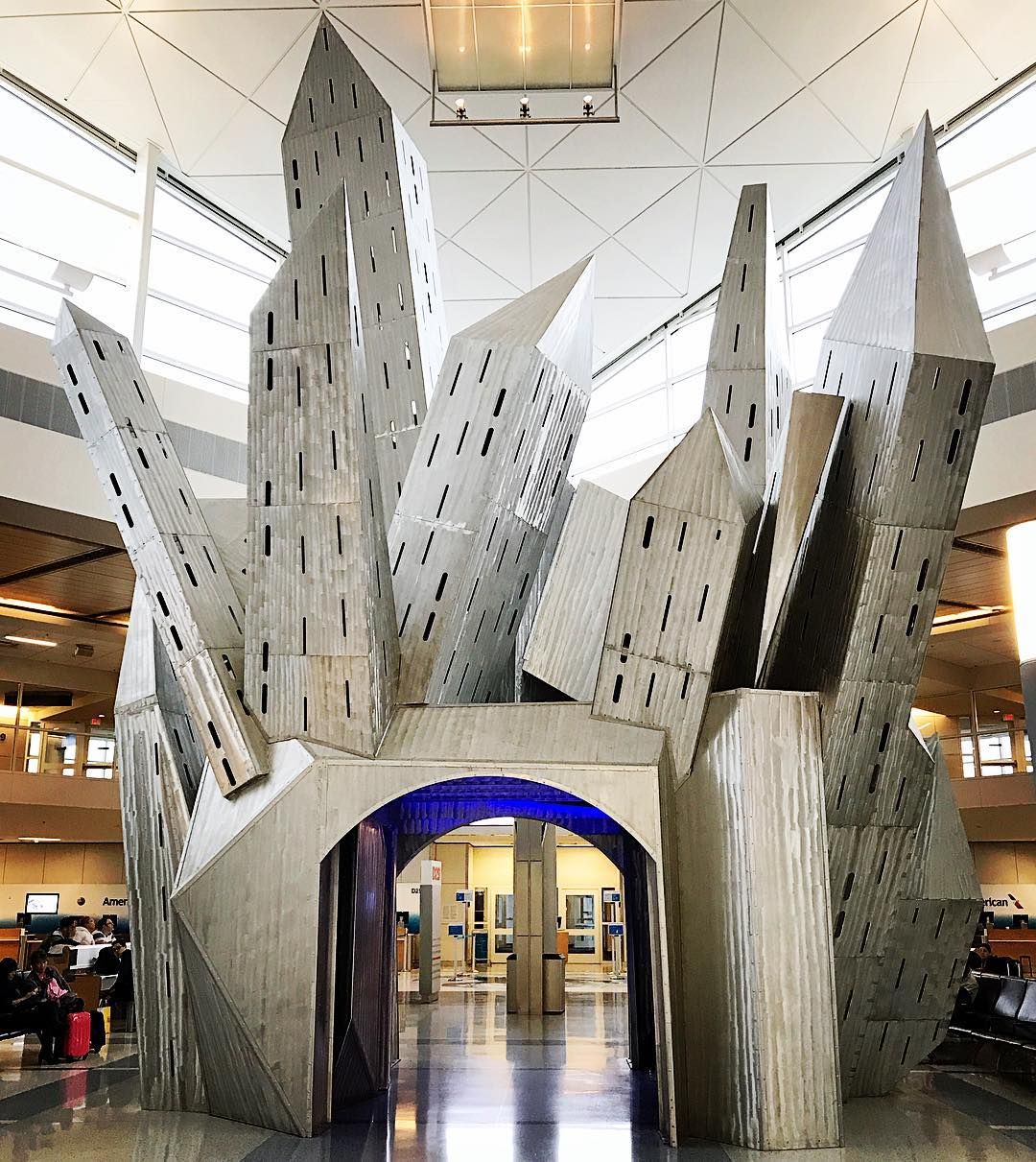 Image via dfwairport.com
Commissioned as part of DFW's Art Program, which features more than 30 artists from around the world, Crystal Mountain is by the late New York-based artist Dennis Oppenheim, who was known for his unusual public sculptures, as well as Earth works, performance, and conceptual art. The crystal-inspired aluminum-frame creation allows for travelers to move through the piece, as its center includes a two-way pedestrian tunnel. If you find yourself with time to kill in Terminal D, definitely check out this piece.
LAILA PULLINEN
Sun of the Fells (1967)
Helsinki Airport, Finland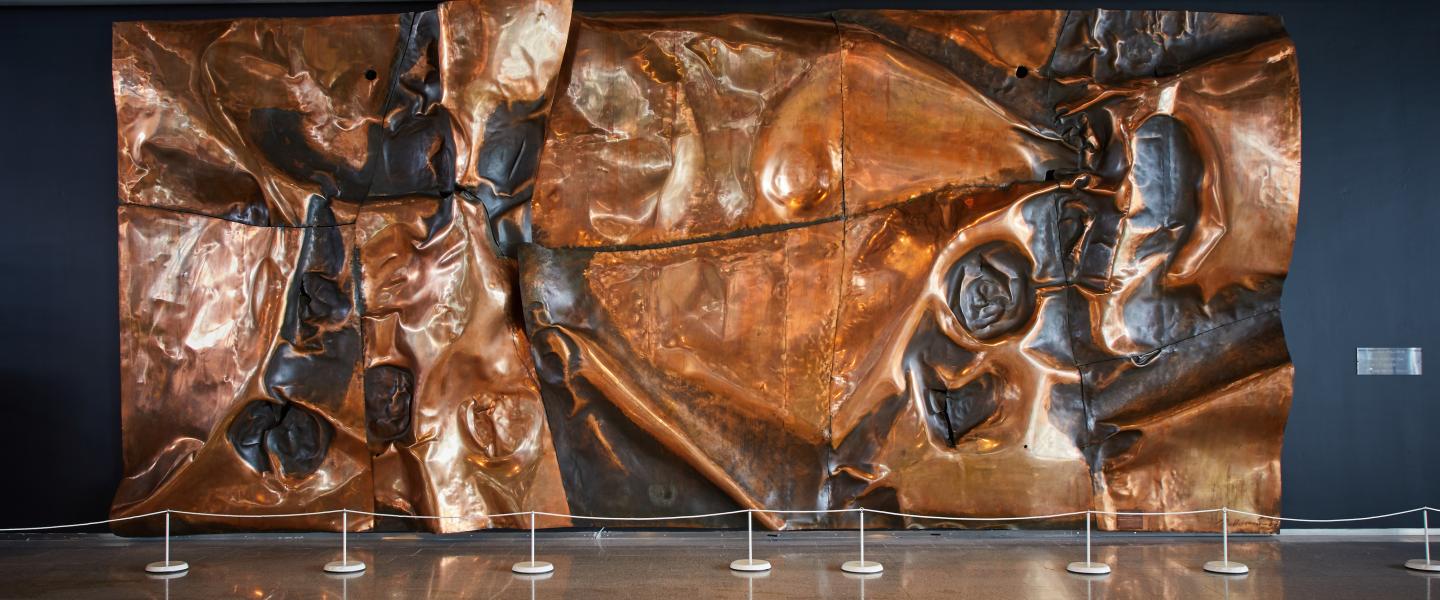 Image via Helsinki Airport
Finnish artist and sculptor Laila Pullinen was one of the few Finnish female artists to gain global recognition during her lifetime (she passed away in 2015). Made of Finnish copper, her relief Sun of the Fells depicts natural forces in motion. The piece, measuring four by nine meters (about 13 by 30 feet), was commissioned for the 1967 Montreal World Expo. You can find it in the long-haul flights section of the airport (gates 32-55).
KAWS
SMALL LIE (2018)
Hamad International Airport, Qatar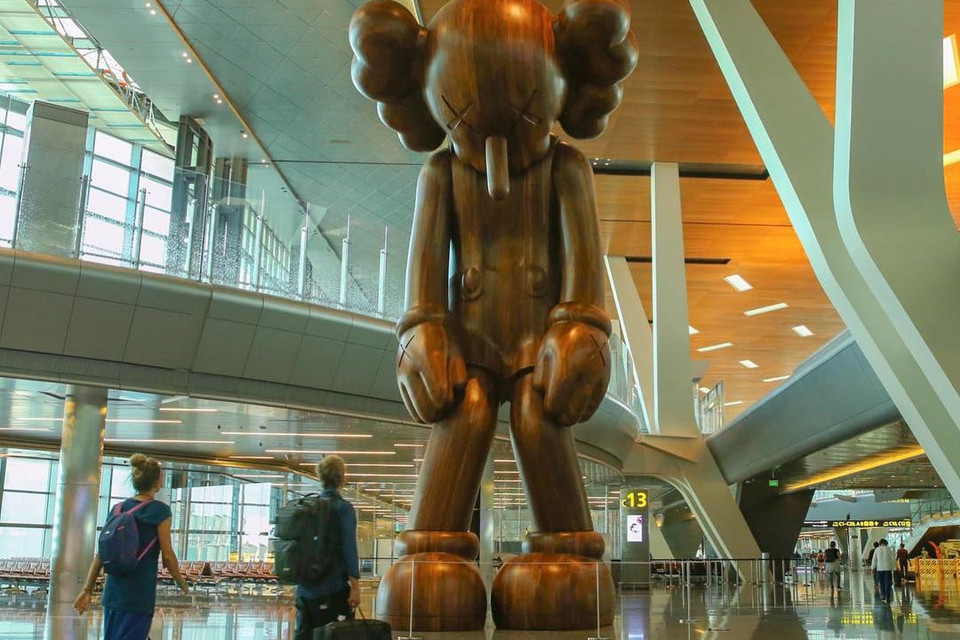 Image via Hypebeast
Last year, American artist KAWS unveiled his enormous sculpture SMALL LIE at Hamad International Airport (HIA), making him the fourth American artist to join HIA's Art Program. Made of Afrormosia wood and weighing a whopping 15 tons (or 30,000 pounds), the piece draws on KAWS' relationship to wooden toys growing up. Standing 32 feet tall, SMALL LIE is hard to miss if you're passing through Concourse E.
CHRISTOPHER JANNEY
Harmonic Convergence (2011)
Miami International Airport, USA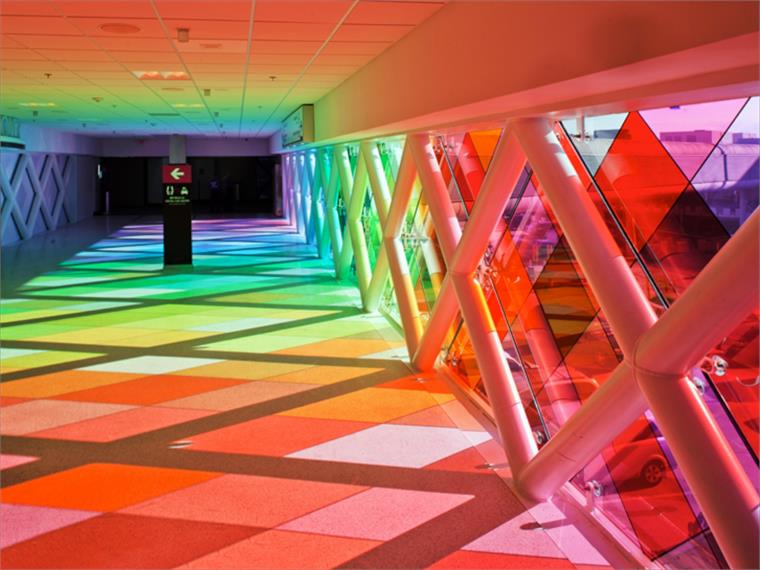 Image via stylus.com
Integrated into a pedestrian walkway in the MIA Mover Station at Miami International Airport, Harmonic Convergence is an interactive light and sound installation created by American composer, artist, and architect, Christopher Janney. As passerby's walk through the colorful hallway (which remains lit at night due to computerized LED lights), they experience sounds native to south Florida, like thunderstorms and tropical birds.
RAJEEV SETHI
Fortress of Clay (2014)
Chhatrapati Shivaji Maharaj International Airport, India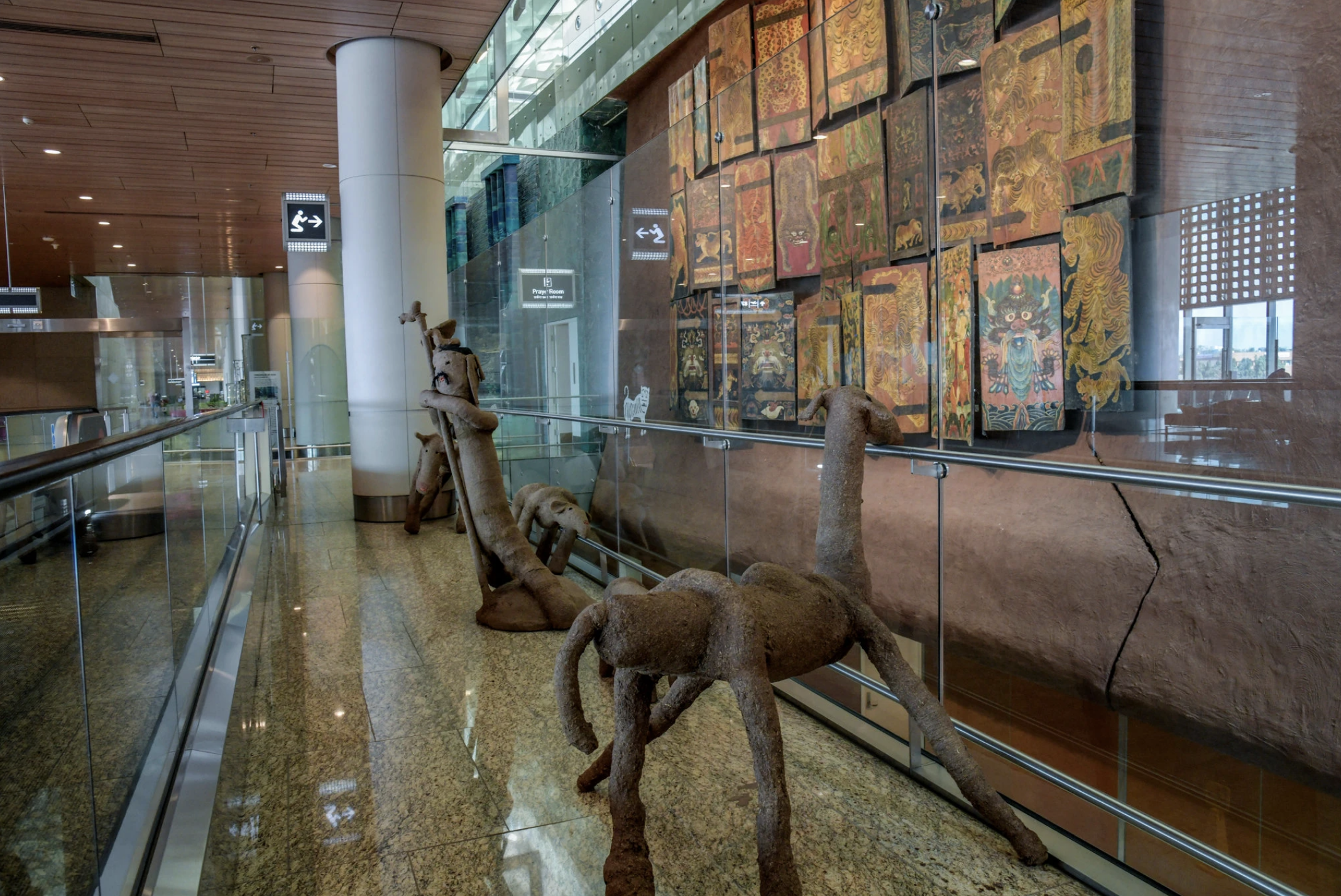 Image via The New York Times
The second largest airport in India is also home to one of the most extensive art museums in the country. Boasting more than 5,500 pieces of Indian art and handicrafts, the Jaya He, GVK New Museum takes up much of Terminal 2. Curated by Indian designer, Rajeev Sethi, the piece Fortress of Clay is his celebration of rural India. The artwork features human and animal statues made of mud and cow dung. To keep the piece from deteriorating, airport staff members regularly reapply the fecal mixture.
RICHARD WILSON
Slipstream (2014)
London Heathrow Airport, UK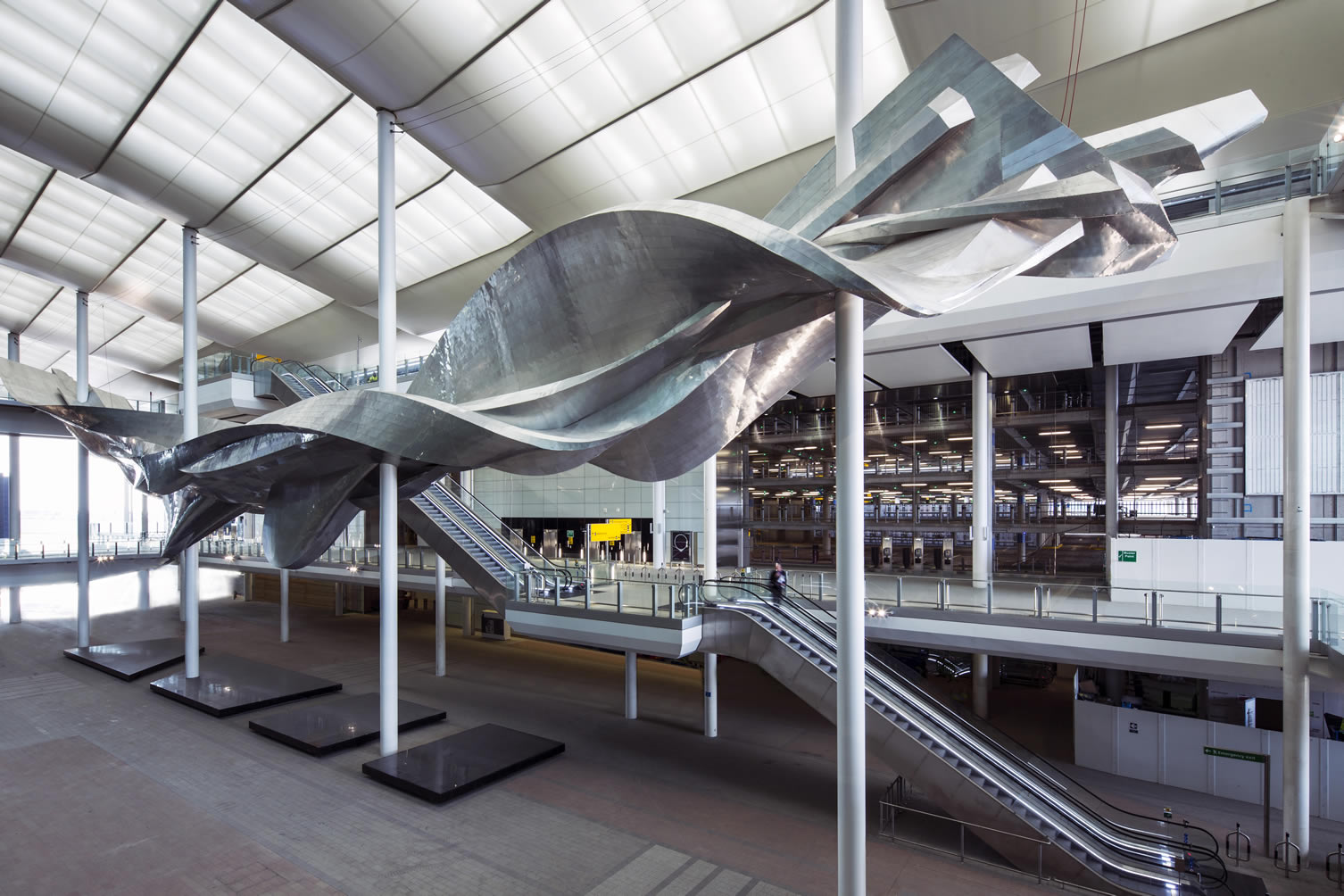 Image via we-heart.com
British sculptor Richard Wilson's immense piece Slipstream hovers over the entrance to Heathrow's Terminal 2. The metallic, twisting sculpture made of aluminum steel is set to be the longest permanent sculpture in Europe. Regarding the motivation behind the piece, Wilson told The Guardian in 2014, "Everything leaves an invisible trail and I wanted to make that tangible, expressing the velocity and acceleration of flight."
JINNIE SEO
Wings of Vision (2018)
Incheon Airport, South Korea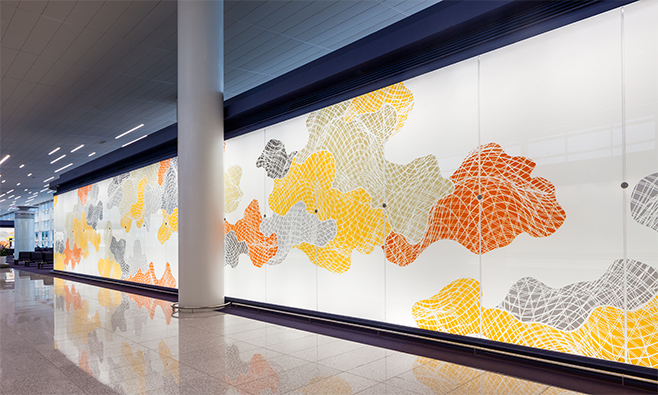 Image via Incheon Airport
Spanning over 1,500 meters, Wings of Vision is the largest facade art in Korea. Commissioned for the Departure Gate Wings in Terminal 2, the vinyl film sheet work changes color between the western and eastern airport wings to simulate sunrise and sunset patterns.
MAARTEN BAAS
The Schiphol Clock (2016)
Amsterdam Airport Schiphol, Netherlands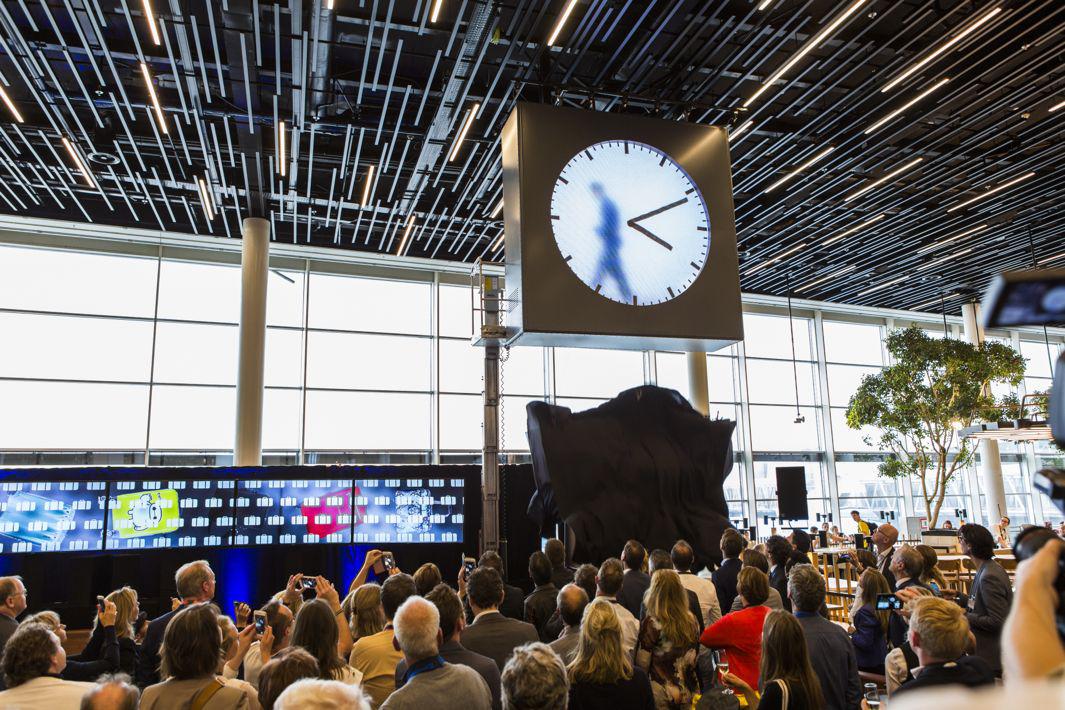 Image via slate.com
When hanging out in Terminal 2 of the Amsterdam airport you might think there's a workingman stuck in a translucent clock. But don't worry—this is just an illusion created by Dutch designer Maarten Baas. It's in fact a 12-hour-long recording of a man continuously painting and erasing the minute hand as time passes. The amusing installation certainly makes time move faster when your flight's delayed.
YAYOI KUSAMA
High Heels for Going to Heaven (2014)
San Francisco International Airport, USA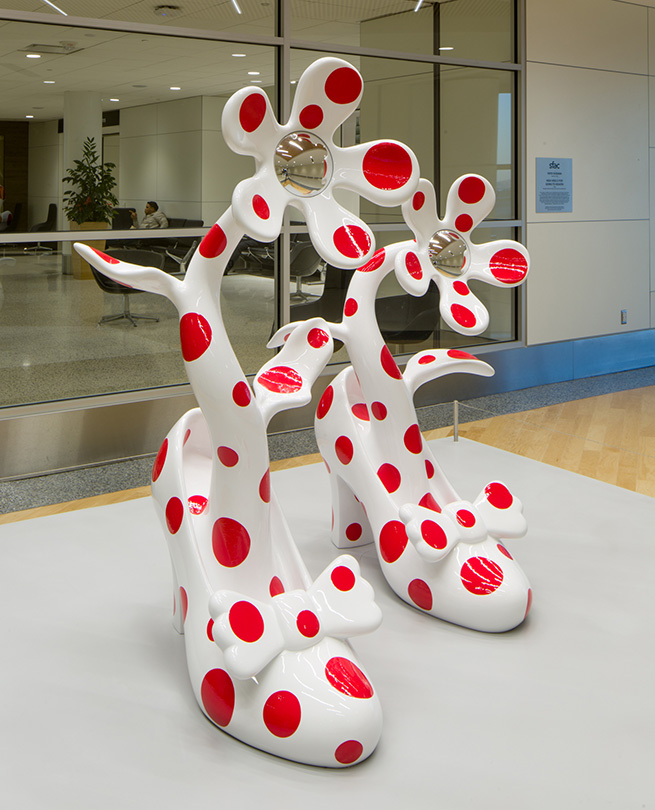 Image via flysfo.com
Hailed as one of the most influential Japanese artists of her generation, Yayoi Kusama's High Heels for Going to Heaven draws on two motifs reoccurring in much of her work—shoes and polka dots. This vivid, fun sculpture lives in Terminal 1 in the post-security, meet and greet area.
MKT, OLCHING
Kinetic Rain (2012)
Changi Airport, Singapore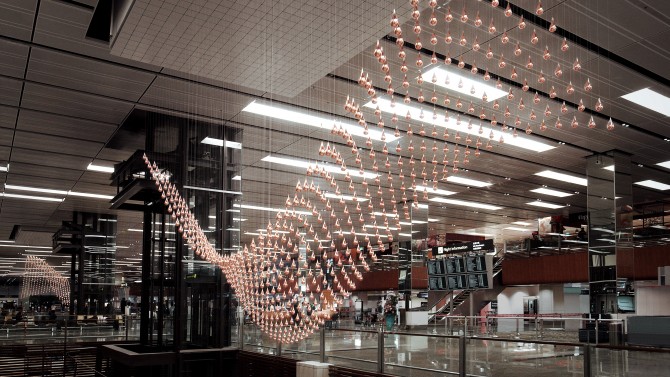 Image via artcom.de
Kinetic Rain was commissioned by Changi Airport Group Singapore, and designed specifically for Terminal 1. The installation consists of 608 copper-plated aluminum drops connected to steel wires and controlled by computerize motors that raise and lower them methodically. The result is a large-scale, enchanting sequence of dancing gilded raindrops.
RELATED ARTICLES:
Destination Art: 15 Permanent Public Artworks Worth Traveling the Globe to Experience
Summer 2018's Most Popular Vacation Spots—And What To Do There If You're an Art Lover
Art Road Trip! 10 Public Scultpures Worth Driving Cross-Country For