It's the middle of summer and the art world has slowed to a near halt. And yet, we've found a handful of artists with solo shows currently on view that are definitely worth checking out in between your summer vacations and trips to the beach. Here are seven artists keeping it cool in the summer heat.
JONNY NEGRON
Chateau Shatto, Los Angeles
July 14th-September 1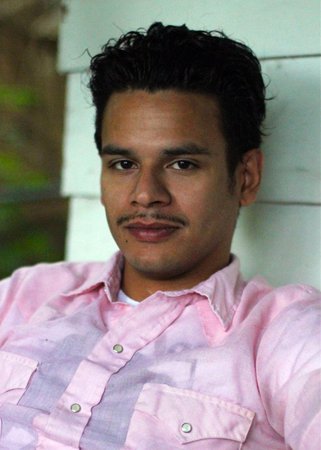 Image: Claw Claw
Puerto Rican-born artist Jonny Negron started out making comic books as a kid in the '90s and has since made a name for himself in the comic book world. His cartoons—often starring women whose voluptuous, spherical figures recall Tom of Finland and R. Crumb—depict scenes of symbolic conflict. In Batmon, a ripped Bruce Wayne, still wearing the top half of his superhero outfit, cries on the toilet while reading Maus; confronted with an empty toilet paper roll, he eventually tears out one of the comic book pages and uses it to wipe.
Now, his first significant debut in the fine art world, Negron's solo show "Small Map of Heaven" at Los Angeles' Chateau Shatto shifts away from the standard comic book format and instead exhibits stand-alone artworks on paper. (If it weren't for Negron's longstanding practice, we'd be tempted to think he jumped onto the trending bandwagon of flat, cartoonish figuration led by artists like Cheyenne Julien, Janiva Ellis, and David Rappeneau.) Stripped of dialogue and textbook commentary, these 11 pieces work with the idea that every human body represents a miniature of the universe. Whether striding through filthy sidewalks or bright, dripping foliage, his monumental hentai-inspired figures seem increasingly overwhelmed by sudden moments of intense, opaque emotion. Like Batmon, a recent work on paper shows another man crying in a bathroom. Gently fingering the edge of a leaf, he stands on the floor amidst almost solid-seeming puddles of glittery shower water, and the walls are pink, as is the sky.
CANDICE LIN
Ghebaly Gallery, Los Angeles
July 13th to August 10th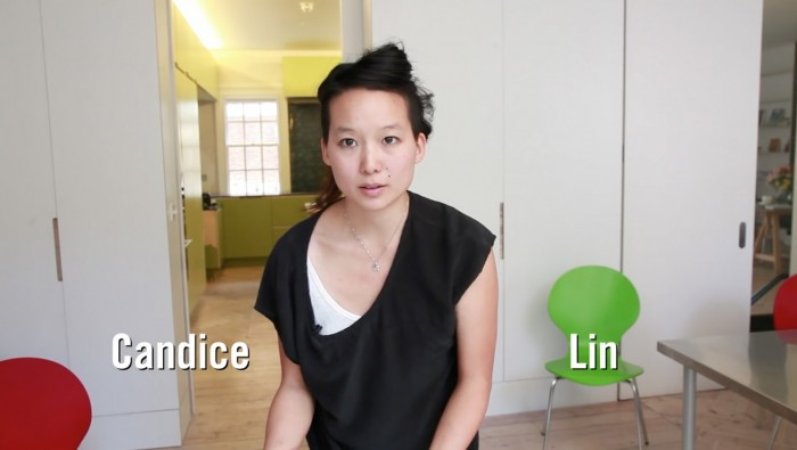 Image: Delfina Foundation
Candice Lin's work looks at how colonialism in Asia and Latin America, transatlantic slavery, and whiteness are—and continue to be—mutually formative. "A Body Reduced to Brilliant Color," her 2016 solo show at London's Gasworks gallery, worked with commodities related to colonial production. In System for a Stain (2016) a smelly red liquid made up of sugar, tea, and cochineal (a dye made of pulverized insects) pumps through an installation of tubes and vessels before pooling on the gallery floor. Reminiscent of imperialism's violently networked flows of people and bodies, the piece is also an example of what Lin has called "synthetic objects," in which "these different histories all get kind of boiled down into a form… I always say that I'm more looking at, or starting from the imperial or colonial root of the traded object and then it's something else completely, as it spreads outwards and becomes this layered, complex [thing] with all these different sets of relations going on." Lin's work will be featured in "Liquid Dreams," a group show which opens on July 13th at Ghebaly Gallery. While it's no solo show, the exhibit provides a good entry point into Lin's oeuvre and props her up with an impressive list of heavy-hitting artists like Mike Kuchar and Neil Beloufa.
PILVI TAKALA
Carlos/Ishikara, London
July 11th to August 18th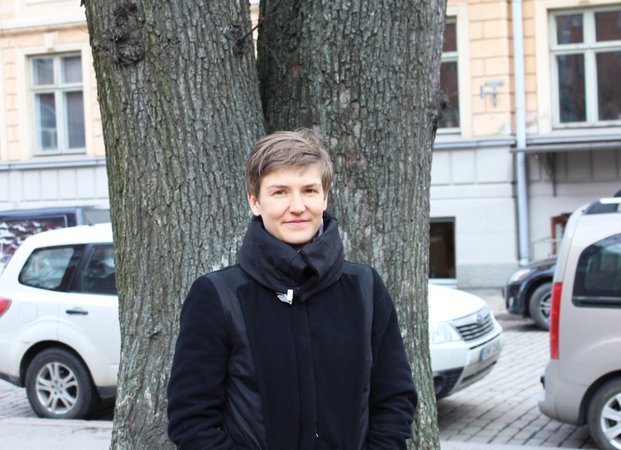 Image: Frame Finland
Pilvi Takala's videos look at unspoken social codes, and how people react when those codes are broken. Many works take place in public settings; in Bag Lady (2006), for instance, she shopped in a Berlin mall carrying a transparent bag filled with stacks of cash, something that is both "not done" and yet totally legal. Other pieces reflect an interest in collective decision making, especially within bureaucratic contexts. For Committee (2014), perhaps her most famous piece, Takala gave £7,000 of art prize money to a group of 8 to 12-year-old children at a youth center, who were free to spend the money however they chose. The kids—who make their decisions collectively and peacefully—end up building a bouncy castle.
Takala's most recent work, The Stroker (2018), will open at Carlos/Ishikara on July 11th. The video takes place in Second Home, a high-end London co-working space which actually commissioned the piece as part of their cultural programming. In The Stroker, Takala pretends to be Nina Nieminen, the founder of a wellness company allegedly hired by Second Home to provide "touching services in the workplace." While some of the co-workers respond politely to her friendly, non-sexual touch, others avoid her, as the office starts to gossip and casually bond over their shared confusion.
But the question of consent feels uncomfortably ambiguous. It's unclear whether Takala used paid actors or unwitting Second Home members who, if given the choice, may not have opted to be filmed, let alone casually touched (the credits list them as "performers.") If consent was given, then The Stroker stands as a very funny piece on post-Fordist bureaucracy, in which we are asked to constantly self-govern despite being "totally free." If consent wasn't given, then the piece feels meaner, the difference between making fun of yourself and making fun of others behind their backs.
LOUIS MORLET
Soft Opening, London
July 10-29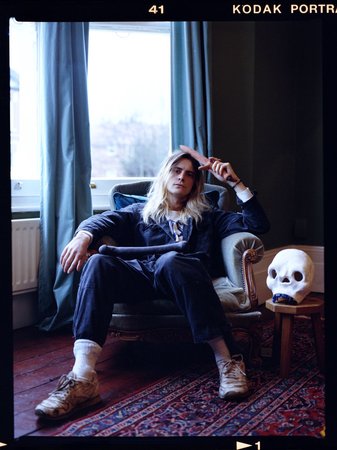 Image courtesy of the Artist
A hidden gem amidst the bustling crowds of central London's underground, curator Antonia Marsh's latest gallery Soft Opening transforms a glass-encased shop window into an exhibition space. Recognized for her use of alternative spaces and her representation of some of contemporary art's most exciting figures (recent exhibitions include Ryan McGinley, Ariana Papademetropoulos, and Grace Ahlbom, to name just a few), Marsh has made a name for herself on an international scale. This month, Soft Opening presents "Behold a figure, Serpentine," an exhibition of new works from up-and-coming London-based artist Louis Morlet.
Since receiving his BA in design at the Manchester School of Art in 2014, Morlet has exhibited in shows at a number of spaces in London, notably Asylum Studios and Cob Gallery (where the artist displayed his lauded video Soft Splashing alongside a cartoonishly large sculpted prosthetic penis and oversized condom). In addition to being the artist's first solo exhibition, "Behold a figure, Serpentine" marks an exciting new direction for the artist. Working with clay gathered from night walks through London's parks, Morlet explores the relationship between the physical human body, the psyche, and the natural world––in a practice he refers to as "instant archaeology." Featuring five new sculptural works––some light boxes made from a taut terra-cotta tinted latex that resembles skin; and some clay objects fashioned after common tools or weapons––alongside a new hallucinatory video work in which figures dressed in latex garments interact with the sculptural objects, Morlet postures an alternative reality that subverts our understanding of what makes a sacred relic or act. The sculptural works and video documentation are accompanied by an eerie soundtrack he created by playing the instruments he sculpted out of clay foraged from the Serpentine River in London's Hyde Park.


DRAKE CARR
The Hole, New York
June 28-August 12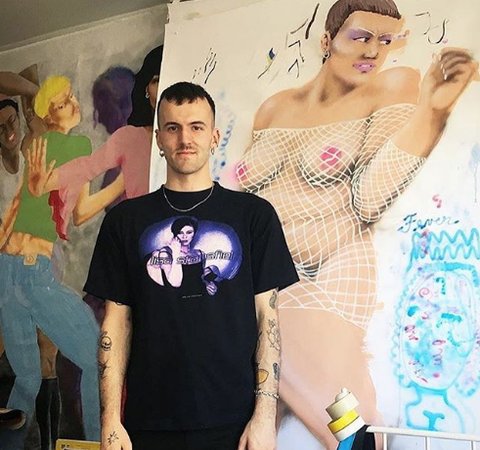 Image via the Artist's Instagram
Going to a Drake Carr show is like stepping into a freeze-framed dance party where everyone is buxom, brightly dressed, and really feeling themselves. Working in a variety of mediums and scales––from two-dimensional pen and colored pencil to neon spray paint on large-scale fabric cut-outs––the New York based artist has made a name for himself with his signature ecstatic dancing figures. The last time we saw Carr's work was at Art Basel back in June 2017, where he was represented by gallery The Hole. Now, Carr returns to the New York gallery for a solo show titled "Gulp," where he will exhibit a new series of figurative sculptural works, some of which leave the wall and take on three dimensions. By traversing irregularities in scale, dimension, and texture, Carr creates a warped perception of his aesthetically diverse subjects, which the gallery aptly describes as "shuffl[ing] and skip[ping] like a scratched CD." (You may feel like you're tripping out a little bit.) Combining a number of disparate scenes, the works in "Gulp" are part-autobiographical, part-socio-political commentary––addressing his parent's meeting in the same breath as Flint, Michigan's ongoing water crisis. The past becomes conflated with the present in this time-warped romp of color and character. It is not to be missed.
ZOË BUCKMAN
Albertz Benda, New York
June 21 - July 27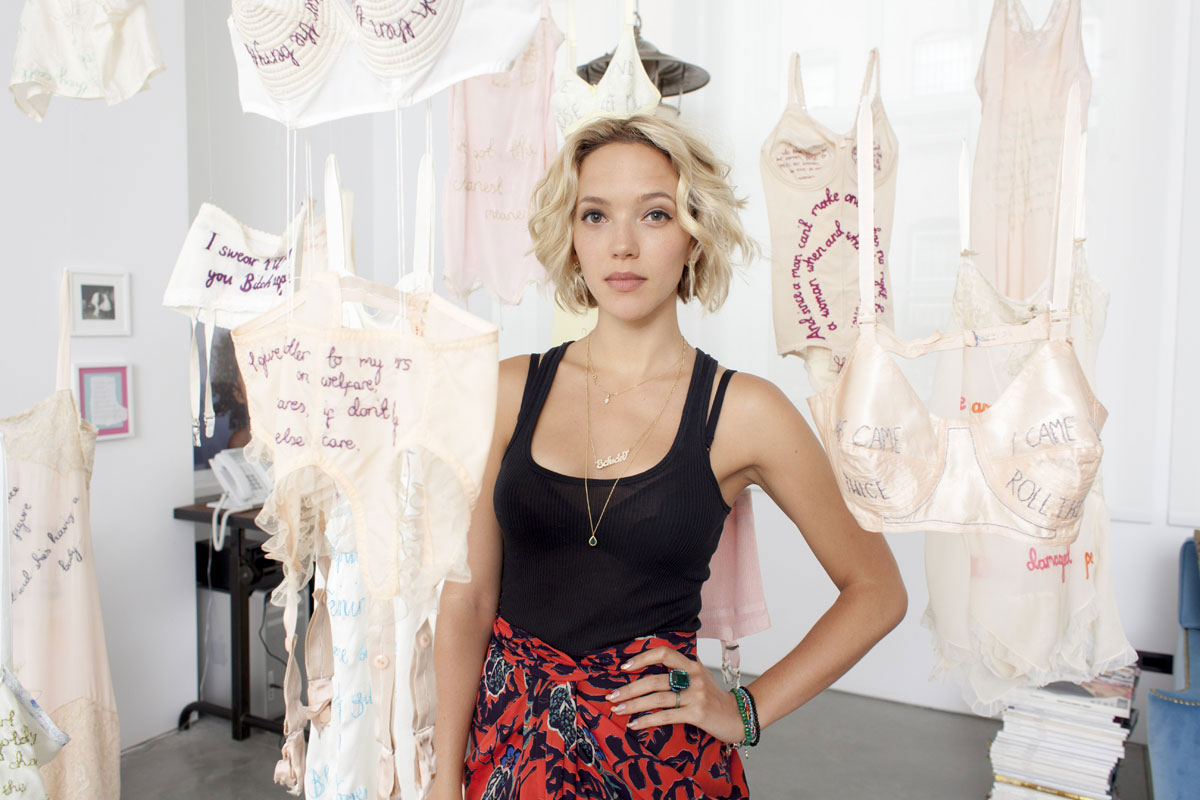 Image via the artist's website

Hovering 43 feet over Sunset Boulevard in West Hollywood is a glowing neon outline of a uterus with boxing gloves in place of ovaries. Artist Zoë Buckman installed the public art piece, produced by the Art Production Fund, this past February during Women's History Month—and amidst the dozens of allegations of sexual abuse surfacing against Hollywood producer Harvey Weinstein. The British-born artist is known to contribute to the conversations surrounding the female body, sexuality, and reproduction, and continuing in this vein, her solo exhibition on view at Albertz Benda in New York until July 27 "addresses motherhood and the domestic sphere as sources of both oppression and empowerment." The show "Heavy Rag" presents boxing gloves and punching bag (recurring subjects in the artist's work) suspended from the ceiling. But in place of traditional materials, the objects are constructed from quilted vintage, red-and-white French tea towels.
Meanwhile, two audio recordings play on loop: one of the artist training at a boxing gym; and the other of the artist giving birth to her child. (By the way, the father of said child is actor David Schwimmer; they were married for seven years.) Cries of both pain and ecstasy surround the objects, which pay homage to Louise Bourgeois—an artist Buckman has "drawn strength and inspiration" from. Albertz Benda, the three-year-old gallery that represents artists like Brie Ruais, Ed Moses, and Jen Ray, does not represent Buckman—making us wonder whether they're testing the market with this show, and considering adding her to their roster. Either way, Buckman is certainly an artist to watch—especially amidst endless headlines surrounding the next Supreme Court nominee, and the future of abortion and women's rights in the US.
KATELYN EICHWALD
Fortnight Institute, New York
June 20 - July 29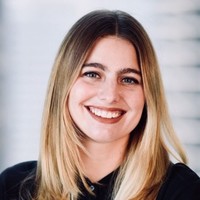 Image via LinkedIn.
At Fortnight Institute, a gallery in the East Village, the wispy, intimate paintings of emerging artist Katelyn Eichwald are on view until June 20. Her first solo show in New York, "Good Boy" presents a series of paintings depicting mostly domestic scenes. "Men, women, and jackal-like dogs wander queasy hallways, offer each other suspicious drinks, and watch each other sleep. There is blood on the floor and even the furniture looks guilty of something," describes the press release. The show will coincide with a new artist's book published by Fortnight Institute. We first came to know the Chicago-based Eichwald's work in 2016 when she had a two-person show with Peter Shear at San Francisco's Alter Space. We're excited to see where the young artist goes from here.
[related-works-module]
RELATED ARTICLES:
Artists to Watch in June 2018
8 Artists to Watch in May 2018
Collecting Strategies: Invest in These 8 Works By 'Artists To Watch' Alumni