Is 2015 the year of ceramics? Long ignored in artistic discourse, ceramic works have been increasingly featured in art fairs and museum exhibitions over the past half decade. The trend may be coming to a head at this year's edition of Frieze New York—it seems behind every corner a new batch of high-art pottery is waiting to be viewed. To help cut through this confluence of clay, we've compiled this short list of artists that push the medium to new levels, challenging our conceptions of what ceramics can be.
MILENA MUZQUIZ (with BRRCH) at Travesia Cuatro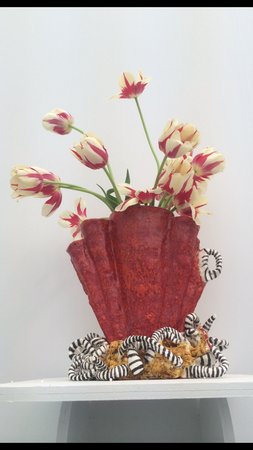 The Spanish-Mexican gallery Travesía Cuatro walks the line between functionality and abstraction in its display of Milena Muzquiz's vases, each containing a floral arrangement by Brittany Asch of the high-end New York flower shop BRRCH. The floral arrangements were created in response to the vases themselves, meaning the whorls and hues of the petals complement and extend those of the pottery, as do the floral dresses adorning each of the booth's gallerists. The set up is also notable for being one of the few (if not the only) artworks at the fair to engage on an olfactory level—always a treat in a setting that often neglects anything other than the visual.
KRIS LEMSALU at Temnikova & Kasela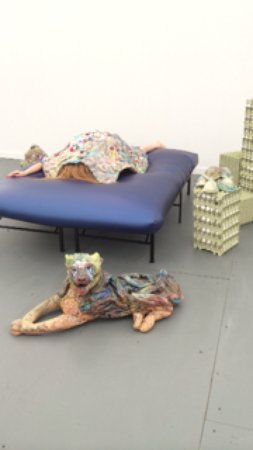 The Estonian artist Kris Lemsalu can be seen throughout the fair taking refuge under a massive ceramic turtle shell, moving slowly to the ripples in the water bed she lies on. Called Whole Alone 2, the performance installation recalls Eduardo Navarro's giant tortoise shell in the New Museum's "Surround Audience" Triennial, albeit in a far trippier (and less active) manner—Lemsalu's shell is adorned with costume jewelry, and she is surrounded by stacks of egg cartons themselves protected by miniature versions of the mother shell. Lying at the food of the bed is what looks like a porcelain lioness, completingg the image of a psychedelically warped bedroom scene.
LUCIO FONTANA, LEONARDI LEONCILLO, and FAUSTO MELOTTI at CRG Gallery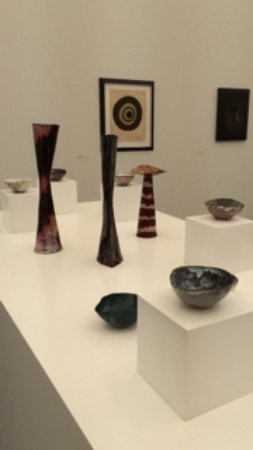 New York's CRG Gallery has turned to the past—and to Europe—for its Frieze New York booth this year, presenting a variety of ceramic works by the three Italian artists Lucio Fontana, Leonardi Leoncillo, and Fausto Melotti. Working in the 1950s and '60s, the trio's respective approaches to their craft ranged from Fontana's figurative works in porcelain to Leoncillo's warped abstractions to Melottis off-kilter but seemingly functional vases. These midcentury works look perfectly at home among their younger cousins at the fair, suggesting that the trend towards greater visibility for ceramics has been brewing for more than a few years.
ZACHARY LEENER at Tif Sigfrids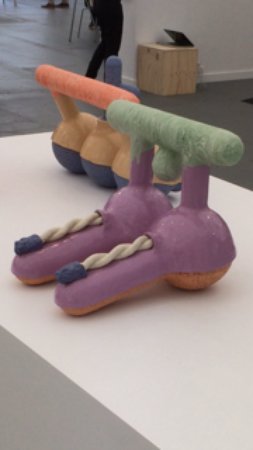 Leener's works at first appear as bits of styrofoam dipped in some kind of Day-Glo paint and left to dry—it's only through closer inspection that these works reveal themselves as ceramic sculptures, with hole-ridden legs and highly glazed shells. Leener has achieved unusual effects with his materials, making his intricate, repetitive designs and Easter candy colors stand out among similar efforts. There is a kind of playful sexuality at work here too, with jutting rods and suggestive bumps and bulges in all the right places.
PAULINA OLOWSKA at Galerie Buchholz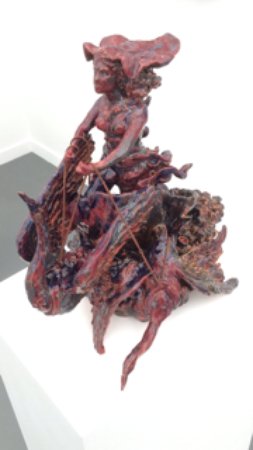 Best known for her paintings of retro-chic female figures, the Polish artist Paulina Olowska is showing off her skills in ceramics at Frieze New York. Each of her porcelain scenes is based on illustrations by Maja Berezowska, a fellow Polish painter who famously caricatured Hitler before the start of World War II. Olowska maintains her predecessor's rococo style in these large sculptures, realizing Berezowska's line drawings in three dimensions and mottled glazes.