Andy Warhol made a lot of art. So it makes sense that his current Whitney retrospective, "From A to B and Back Again," would require discourse and lengthy responses from any art publication that self-identified as "major." Since our only take was that calling Andy Warhol "Andrew Warhol" would be really funny, we decided to review the reviews instead of reviewing the show itself, taking a cue from Alec Recinos, who reviewed the reviews of the 2017 Whitney Biennial. In the end, there were many reviews to review, so we narrowed the field to five representative samples: The New York Times, Artsy, Artforum, CNN, and The New Yorker. Here's what we found:
1. The New York Times had the weirdest opener.

"Mr. Paradox, who never left, is back." Um… ok.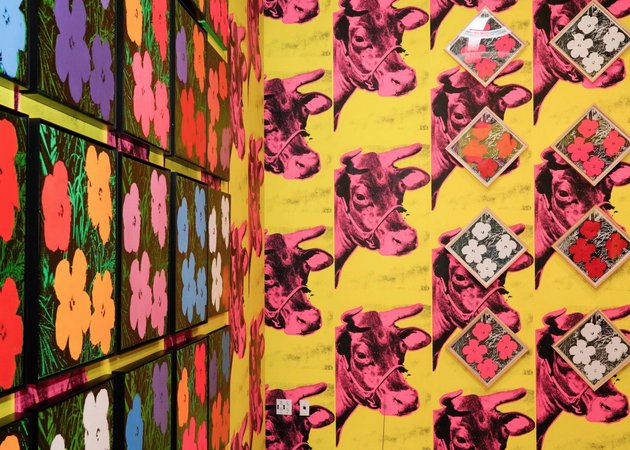 Flowers, 1964, set against Cow Wallpaper [Pink on Yellow] 1966, both by Andy Warhol. Image via the New York Times
2. One out of 5 reviews seemed visibly annoyed at having to cover the show.

Artforum called it an "inescapable" cultural event. Makes sense. The magazine has probably had to cover innumerable Warhol exhibits.
3. Five out of 5 mentioned that Warhol and his art are ubiquitous.

The Whitney show begins with a room of Warhol's greatest hits: the Brillo Boxes (1969), the soup cans (1962). The curators likely did this to remind viewers who Warhol was and encourage them to keep walking. For Artsy, this "reminder" was completely unnecessary. "It seems a dip in confidence to begin with a reminder of something that nobody has forgotten."
The New York Times expanded on Warhol's ubiquity by mentioning his omnipresence, not just in the art world, but in consumer culture. That is, "on auction blocks," but also "on Calvin Klein poplin shirts."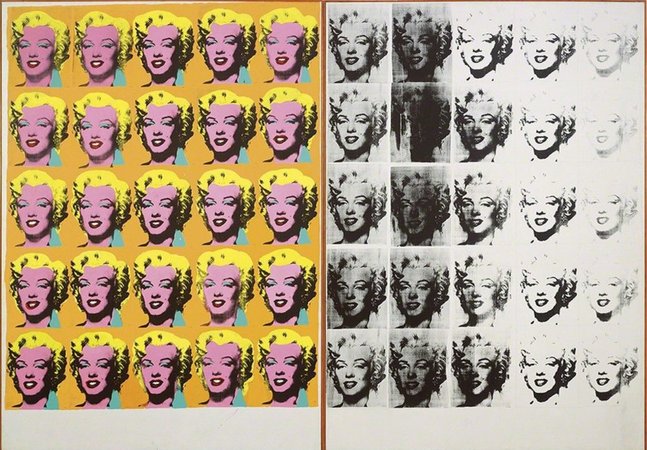 Marilyn Diptych, 1962 by Andy Warhol. Image via the Whitney Museum
4. One out of 5 reviews featured work by Warhol's mom.

Only the New York Times mentioned Warhol's mother, who was a tremendous influence on her son's life, and even featured some of her artwork, which was also included in the Whitney exhibit. Her piece is described as "a charming ink drawing of a cat lying on a bed of handwritten 'purrs.'"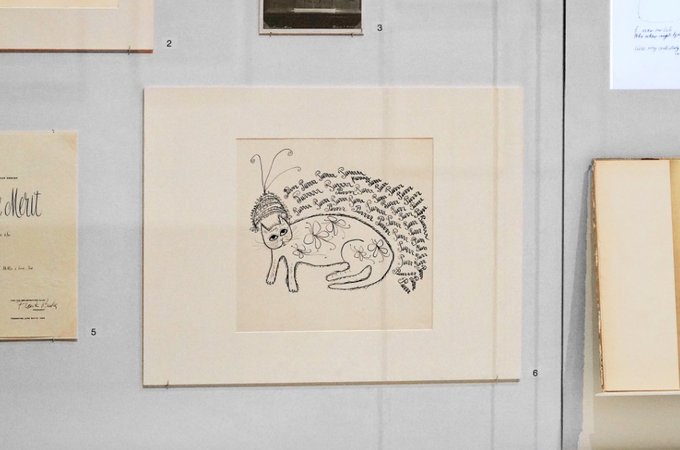 Cat with a Hat with "Purr" Inscriptions by Julia Warhola circa 1953. Image via the New York Times
5. Zero out of 5 Mentioned Valerie Solanas

Weird because she famously tried to kill him! Radical feminist and author of the SCUM Manifesto, Solanas shot Andy Warhol in the stomach in 1968. After a five-hour surgery, Warhol survived but had to wear a surgical corset for the rest of his life in order to keep his organs in place. Nineteen years later, Warhol died after a gallbladder surgery that was years overdue; the artist acquired a fear of hospitals after being treated for gunshot wounds and thus avoided seeking treatment for his gallbladder issues until after it was too late.


6. Four out of 5 mentioned how much money Warhol's paintings are worth.

CNN even included an interview with Gul Coskun, a British dealer who primarily buys and sells Warhols. Coskun says that his "earliest buyers were young professionals, mostly in their thirties." These wise yuppies would quietly snap up Warhols for "very fair" prices: "You could buy a Jackie O canvas for $80,000." Not sure if that's "fair," but it's certainly less than what they go for now. "Last year, Sixty Last Suppers sold at Christie's for more than $60 million."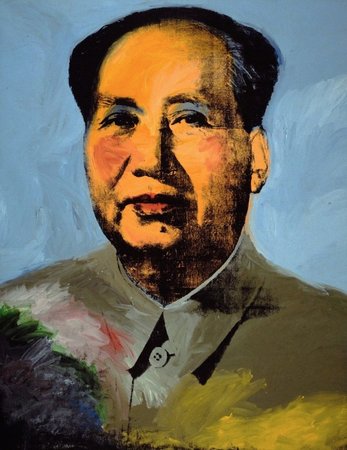 Mao by Andy Warhol, 1972. Image via the Whitney Museum
7. Five out of 5 mentioned that Warhol predicted and embodied neoliberalism before neoliberalism even happened.

CNN, quoting Whitney curator Donna De Salvo: "[Warhol] was prescient in anticipating the construction of personality and the way that brands and personalities would blur."
The Times described Warhol as the "artist-entrepreneur who is taken as a prophet (malign or otherwise) of our market-addled present: the creator and promoter of Business Art, a venture in corporate Conceptualism that, in the 1980s, brought Warhol into the orbit of Donald Trump, who delighted in quoting the B.A. credo: "Making money is art and working is art and good business is the best art."
The New Yorker mentions Warhol's obsessions with money and celebrity, of course, but also democratic consumerism (Coca-Cola, Campbell's soup), tabloid disaster (fatal car crashes, electric chairs, police attacks on black demonstrators in Birmingham)."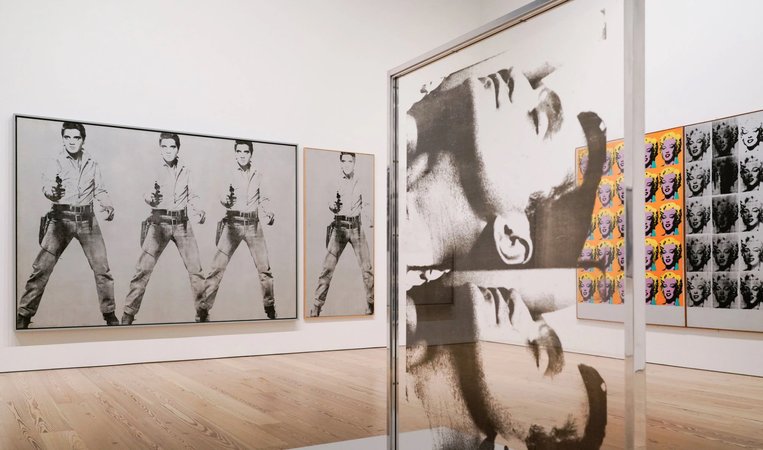 From left, Triple Elvis, (1963); Single Elvis (1963); Large Sleep (1965), Marilyn Diptych (1962), all by Andy Warhol. Image via the New York Times
8. Two out of 5 loved the show.

Whether or not a publication actually liked the show hinged on how they took Warhol's relationship to neoliberalism. The New Yorker and the New York Times both stanned. Instead of pointing to Warhol's fakeness, they pointed to his sincerity. The Times pointed to his love of color, his religious upbringing, a fear of mortality very much shaped by AIDS. The New Yorker mentions his genuine love of color and clichés. "What most abruptly stopped and then moved me, among the unfamiliar things in the show, were eight unique screen prints (of a fantastic six hundred and thirty-two) of an identical sunset that Warhol made for a hotel in Minneapolis, in 1972. Their meltingly beautiful, never-fail audacities of drenching color, lavished on a subject that is a cliché only because human eyes have never tired of it, reminded me that Warhol wasn't only a twistily clever and unsettling historical demiurge. He was wonderful, too."
Artsy, CNN, and Artforum were more ambivalent: Warhol was smart for predicting neoliberalism, and his (performative? genuine?) embrace of it was a very neoliberal move. But being right doesn't translate to being ethical.
RELATED ARTICLES:
What Was Andy Warhol Like As a Kid? The Origin Story Begins in an Immigrant House in Pittsburgh
Ten Things You Didn't Know About Andy Warhol
Salvador Dalí's Extreme FOMO Left Him Broke and Abandoned by His Surrealist Peers: an Intimate Q&A with the Icon's Former Assistant
[related-works-module]