Marc Quinn 's last London show, five years ago, featured figurative sculptures of defiantly non-Classical subjects including pregnant men, women with penises and a lady called Chelsea Charms who apparently has the dubious honor of possessing the largest breasts on planet earth (although the fickle nature of this kind of fame means she may no longer be market leader in this regard).
Its shock approach seemed very YBA, very 90s. Looking at his latest exhibition, "The Toxic Sublime" at White Cube Bermondsey in London (through September 13), you can't help wondering whether Quinn might have taken to heart the adverse criticism of his last show and had a long hard think about where he was heading—in terms of legacy, if nothing else. (The enfant terrible is now in his 50s.) "Toxic Sublime" is not remotely shocking; instead, it aims to please and finds Quinn confronting existential themes in a more thoughtful way.
You possibly know Quinn for his 1991 work Self —a cast of his own head made from his own frozen blood—or for that statue of Kate Moss in a revealing yoga pose, reportedly the largest sculpture made of gold since Egyptian times. Neither of these works will prepare you for "Toxic Sublime," which has plenty of visual drama but also suggests an artist trying to inject some noticeable gravitas into the proceedings.
The core of the show is a series of giant wall hangings, each one based on a photograph of a sunrise. The photographs are printed onto canvas and then scratched, sanded, painted, and finally glued onto misshapen aluminum sheets. These labor-intensive pieces reveal themselves more slowly than his previous works, rewarding the viewer with detail after detail—for instance, the superimposed photos of London drain covers dotted here and there on the canvases. They connect the ocean in the images to the piping under our city streets, evoking our need to tame and control nature.
This elemental theme is further examined in seven concrete and stainless steel structures 3-D printed from digital scans of sea shells. Their sides are alternately rough hewn and smooth, as if they had been eroded by the waves. Whereas Quinn's previous show encouraged gawking, the shadowy corners and labyrinthine nooks and crannies of the new sculptures draw you in close and prompt introspection.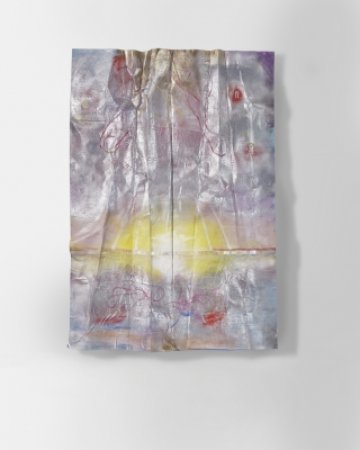 Marc Quinn, The Toxic Sublime - \%\vo}Qooy=1|{U, 2015. Spray paint, aeronautical grade aluminum tape and acrylic on canvas, bonded to torqued aluminum. 171 1/4 x 117 5/16 x 10 1/4 in. (435 x 298 x 26 cm). Photo: White Cube (Prudence Cuming Associates Ltd)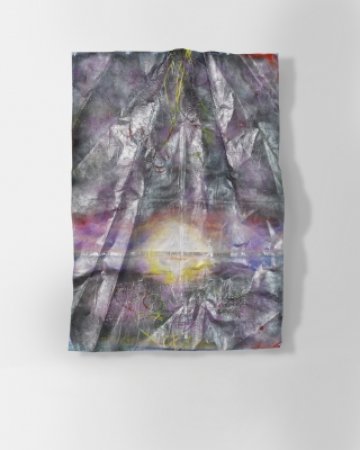 Marc Quinn, The Toxic Sublime - 9_^Wrxt&:&rJ>\Y , 2015. Spray paint, aeronautical grade aluminum tape and acrylic on canvas, bonded to torqued aluminum. 170 1/16 x 122 7/16 x 9 13/16 in. (432 x 311 x 25 cm). Photo: White Cube (Prudence Cuming Associates Ltd)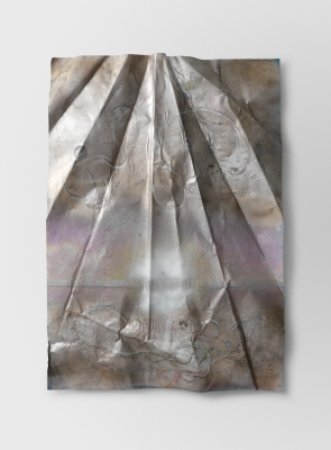 Marc Quinn, The Toxic Sublime - 16akJ3ax&"Z>84d, 2015. Spray paint, aeronautical grade aluminum tape and acrylic on canvas, bonded to torqued aluminum. 115 3/8 x 82 11/16 x 6 5/16 in. (293 x 210 x 16 cm). Photo: White Cube (Todd White Art Photography)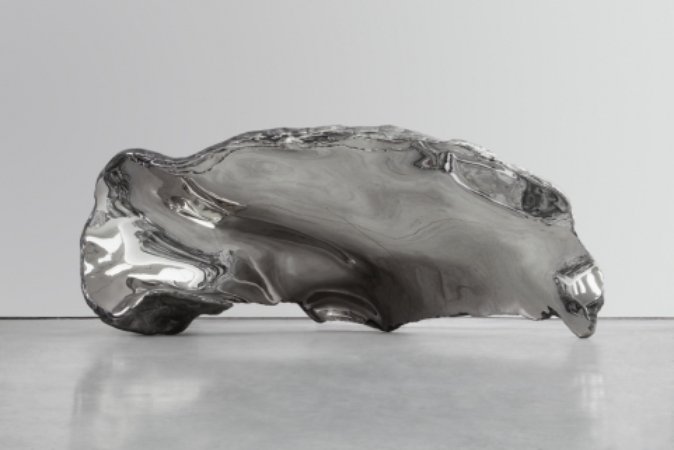 Marc Quinn, Frozen Wave (The Conservation of Energy) , 2015. Stainless Steel. 40 3/16 x 97 5/8 x 48 1/16 in. (102 x 248 x 122 cm). Photo: Marc Quinn Studio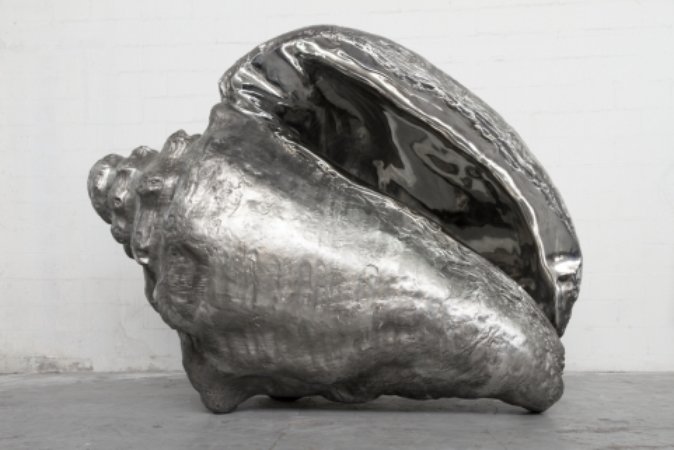 Marc Quinn, Broken Sublime (The Hunger) , 2015. Stainless steel. 88 9/16 x 118 1/8 x 66 15/16 in. (225 x 300 x 170 cm). Photo: Alicia Guirao (Factum Arte Desarollos S.L.)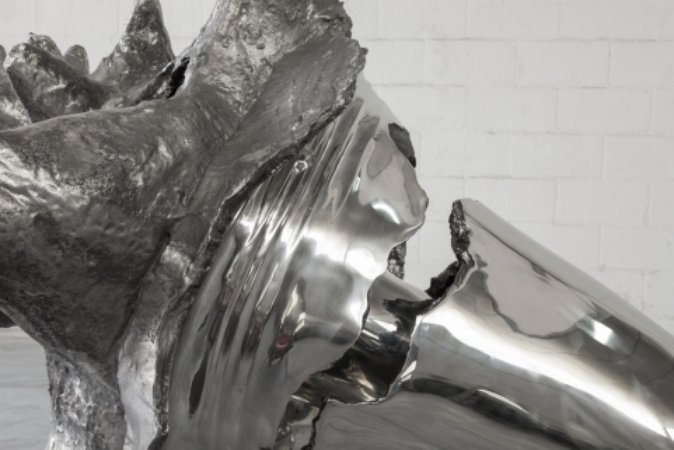 Marc Quinn, Broken Sublime (The Invention of Tools) , 2015. Stainless steel. 48 1/16 x 78 3/4 x 48 7/16 in. (122 x 200 x 123 cm)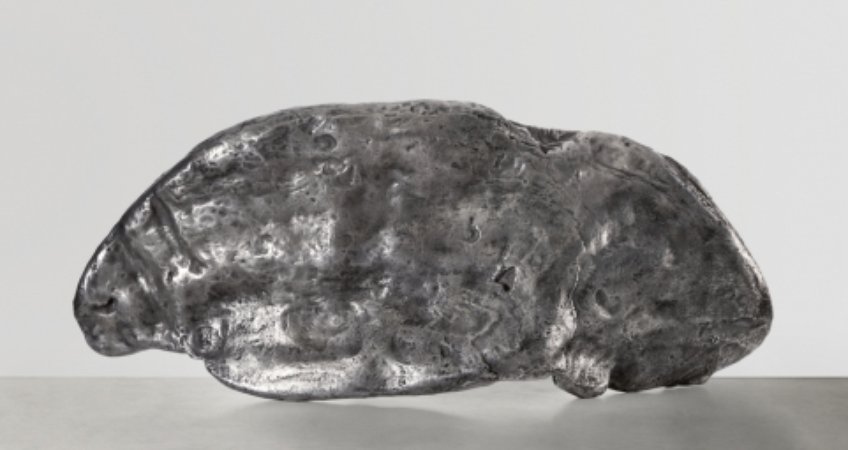 Marc Quinn, Frozen Wave (The Conservation of Turbulent Flow) , 2014. Stainless steel. 21 5/8 x 55 1/8 x 16 1/8 in. (55 x 140 x 41 cm). Photo: Marc Quinn Studio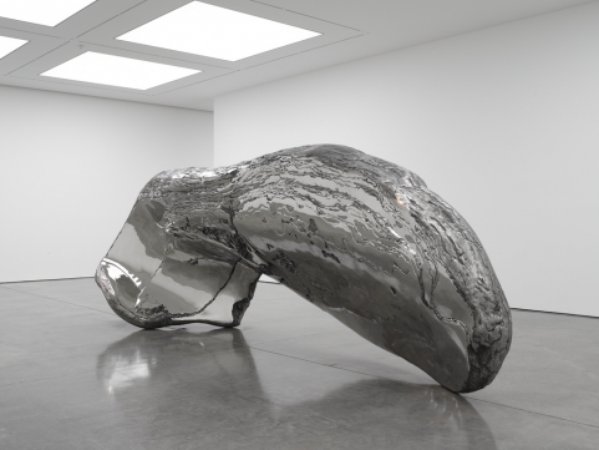 Marc Quinn, Frozen Wave (The Conservation of Mass) , 2015. Stainless steel. 103 9/16 x 295 1/4 x 75 9/16 in. (263 x 750 x 192 cm). Photo: White Cube (Ben Westoby)
(Installation photographs of "Marc Quinn: The Toxic Sublime," July 15-September 13, 2015, courtesy of White Cube, London.)