As members of the art world, we know a lot about art—and very little about sports. But that's the beauty of Thanksgiving, which beckons us out of our art-world bubble to convene with our family members (and their widly differing industries, politics, and perspectives) and to huddle around the television and watch something they call football.
Now, if there's one thing we do support, it's the appreciation of art. So we were thrilled to find out that many professional athletes live with art in their homes—the most intersting of which are often portraits... of said professional athletes. So, here are 12 professional athletes who've chosen to live with their own image, and the portraits they've chosen to represent themselves.
ALEX RODRIGUEZ
Baseball, Retired
Artist: Unkown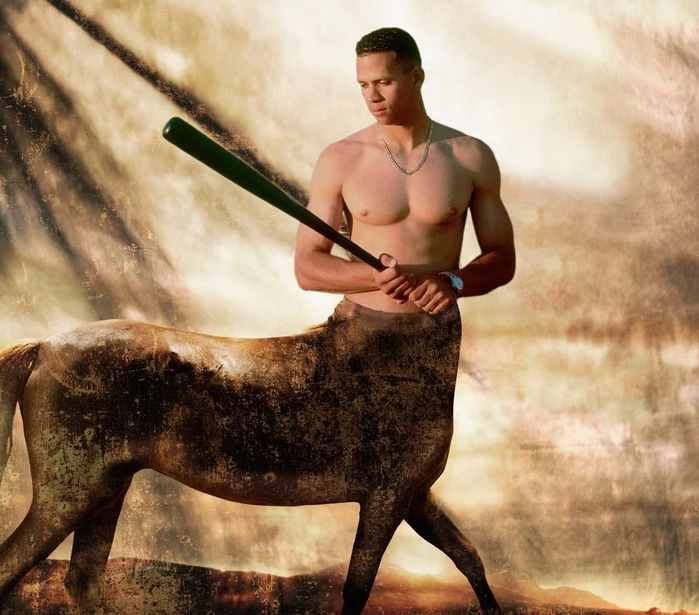 Speculative rendering. Image via Sports Illustrated.
In 2009, the US Weekly reported that a former lover of A-Rod claims the athlete had two portraits of himself depicted as a centaur. Not one portrait, two. And yes, both glorify the then-Yankees' third baseman as half horse, half man. And what's more, is one of them was allegedly hung over his bed. Boy did that golden nugget get a lot of press. Writes Mara Reinstein for The Cut:
"If the woman had revealed that humble Yankee great Derek Jeter—or even a catch-all celebrity such as Ben Affleck—had owned the centaur portrait, we never would have fast-tracked the item. But the notion of Alexander Emmanuel Rodriguez commissioning a painting of a Greek mythological figure in which his face and Adonis-like torso adorned a horse's sturdy body explained everything. He sunbathed bare-chested in Central Park fully aware the pics would be splashed across the New York Post. He glommed onto Madonna for a Kabbalah-tinged spiritual awakening in the aftermath of his divorce. He kissed himself in a full-length mirror for a Details photo shoot. Of course he needed a permanent reminder that he was a special stallion of fanciful proportions."
Okay, but is the rumor true? Hilariously, Rodriguez did in fact address the issue in 2012 with this gem of a work-around answer: "I do not have a painting of my upper body as a minotaur." The question was whether he had a painting of himself not as a minotaur, which has a head of a bull and a body of a man, but as a centaur. A centaur, A-Rod.
ELI MANNING
Football, New York Giants
Artist: William Dulap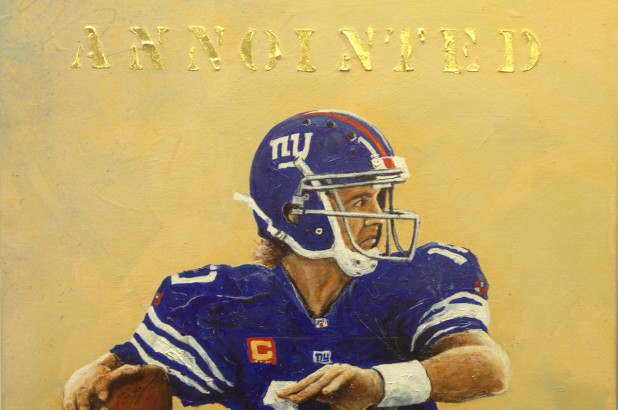 Image via New York Post.
According the the New York Post, Eli Manning commissioned Mississippi-based artist William Dunlap to paint his portrait. The artist, who often uses text in his works, wanted to write "anointed" above the football player to reference the Manning family's history of lauded football players. The word, however, was misspelled: "annointed." The creative spelling was not intentional, according to the artist.
ROY HIBBERT
Basketball; Retired
Artist: Unkown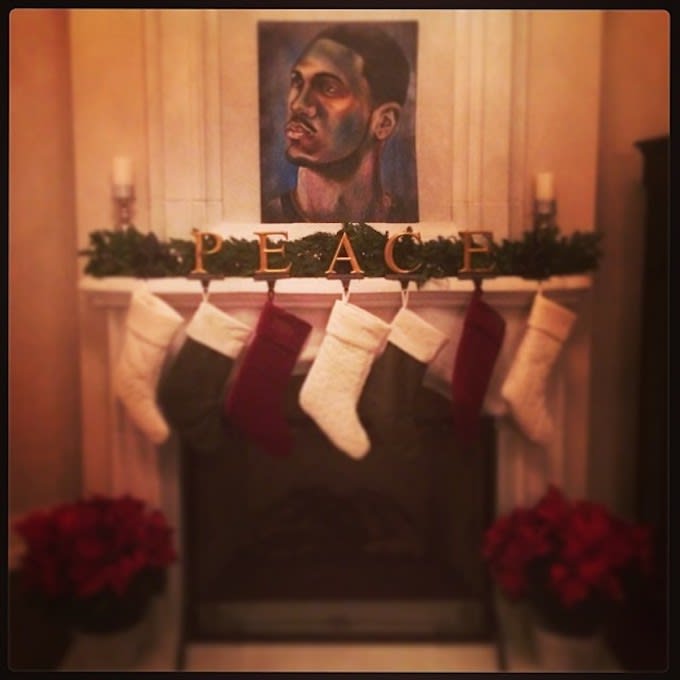 Image via Instagram
This picture was proudly posted to Instagram. No need to editorialize; here's a direct quote from Hibbert's accompanying Instagram caption: "Master 'Peace' theater going on in my crib. N yea I do have a hand painted pic of myself above my chimney. There may be more scattered around the house. I'm so not into myself."
MANNY RAMIREZ, et al.
Football, Denver Broncos etc.
Artist: Gabe Richesson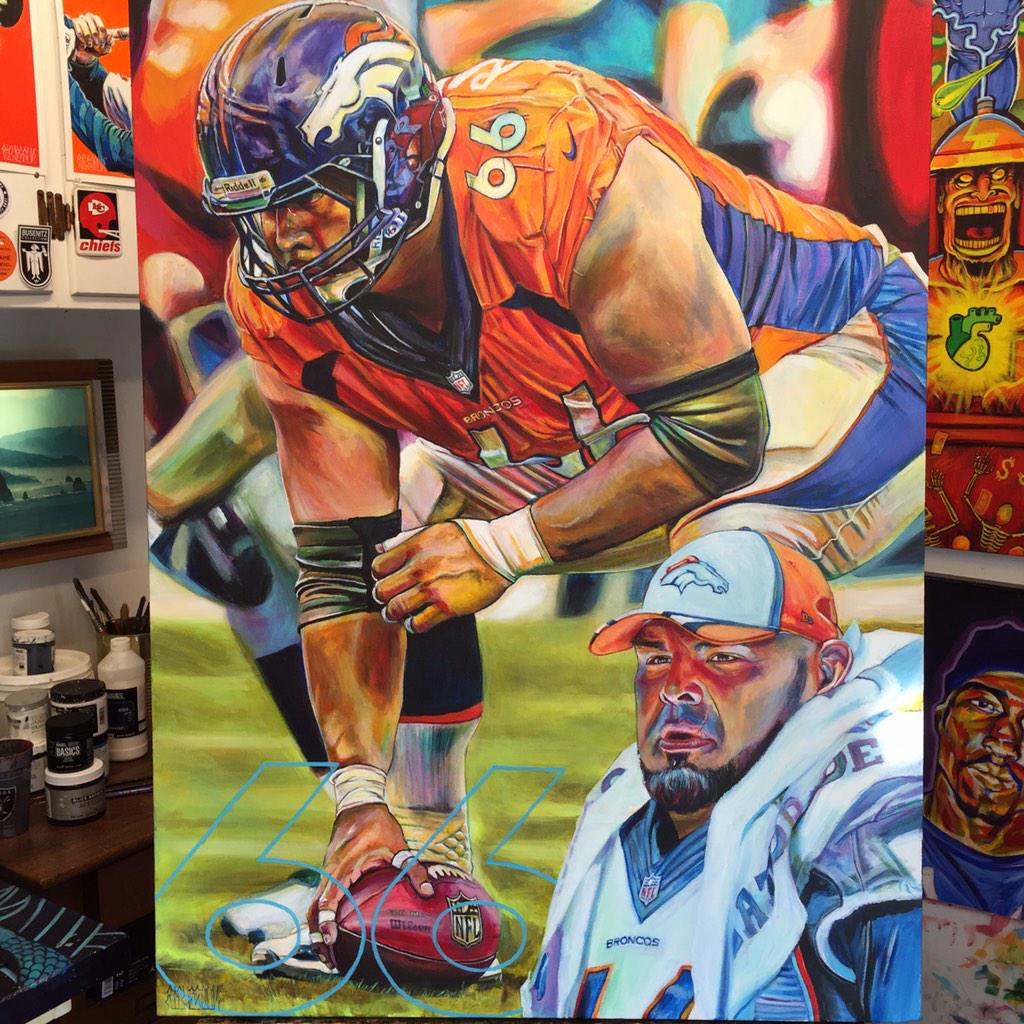 Image via Twitter.
Gable Richesson, a painter who happens to have a brother named Luke who works as the Broncos' strength and conditioning coach, has positioned himself as "Artist to the Athletes," according the Denver Post. It all started with player DeAngelo Hall, who trained with Luke. Says Gabe: "It really never even occurred to us that someone would want art or pictures of themselves, but Luke mentioned it to DeAngelo and he said, 'I'd love it.' I painted the first one for free, a small one. He saw that and then he ordered four more. After that, it was one guy after the other." Apparently, Peyton Manning later caught wind and commissioned Richesson to paint portraits of his five offensive lineman as season-ending gifts.
LEBRON JAMES
Basketball; Los Angeles Lakers
Artist: Andy Gellenberg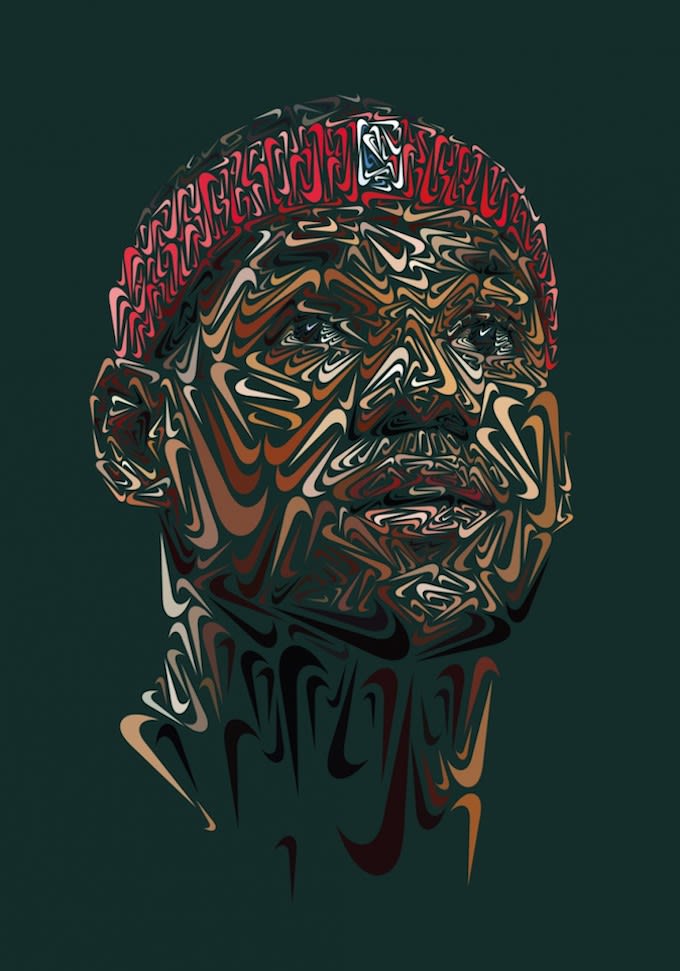 Image via Complex.
According to Complex, the German-based illustrator Andy Gellenberg grabbed the attention of Lebron James because of a "dope portrait project" circulating the internet: a series of portraits of Nike-sponsored athletes composed from Nike swooshes. No, he was not paid by Nike to do this. Though we can't confirm that James owns it, he did reportedly post a photo of Gellenberg's portrait to his Instagram, expressing interest in getting a copy for himself.
BERNARD HOPKINS
Boxing, Retired
Artist: LeRoy Neiman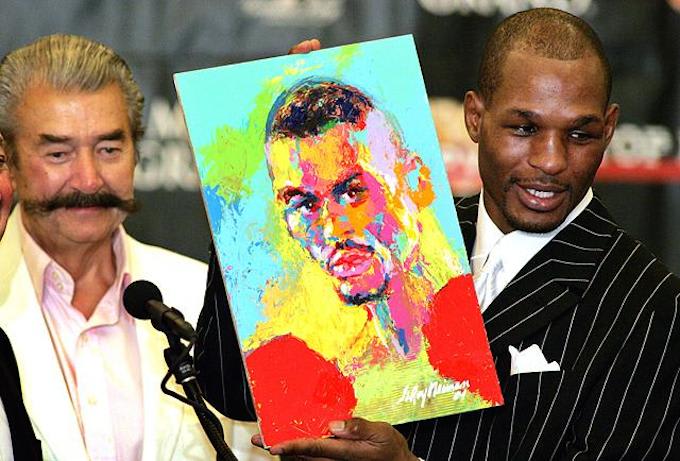 Image via The Guardian / reuters
One of the only artists on this list with institutional support, LeRoy Neiman has graced the permentant collections of museums like the Smithsonian, the Whitney, the Brooklyn Museum, the State Hermitage Museum in Russia, and the Museum of Fine Arts, Boston. The artist is in fact known for his depictions of athletes and sporting events, which he renders in brightly colored, expressionist paintings and screen prints. Here we see Neiman (left; out-of-this-world mustache) pictured with the portrait he made of B-Hop (right), who reportedly owns the work.
CARMELO ANTHONY
Basketball; Houston Rockets
Artists: Kehinde Wiley, Paul Gerben, Unknown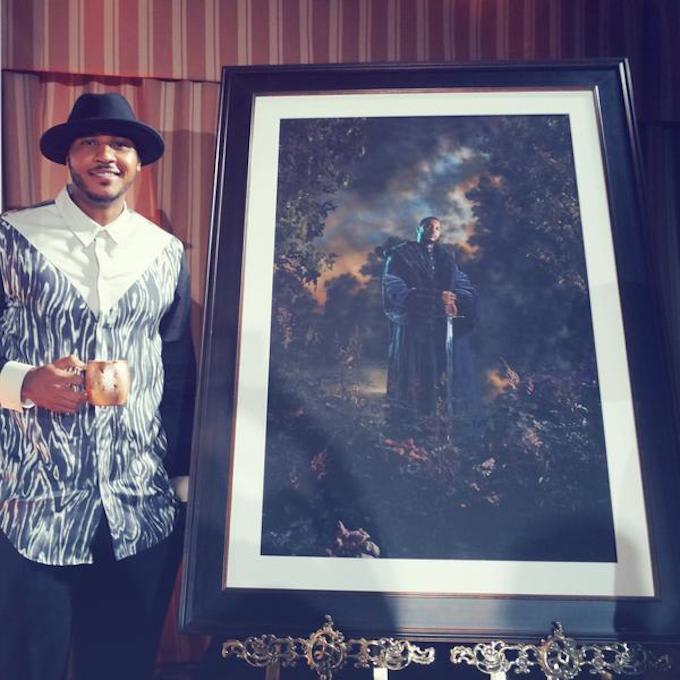 Image via Twitter.
Where to begin. First off, Kehinde Wiley—yes the Kehinde Wiley that painted Barack Obama's official White House portrait—rendered Carmelo Anthony for Grey Goose's "Le Melon" campaign. It's unclear who owns it. But this wasn't the first time the Rocketeer posed for a portrait.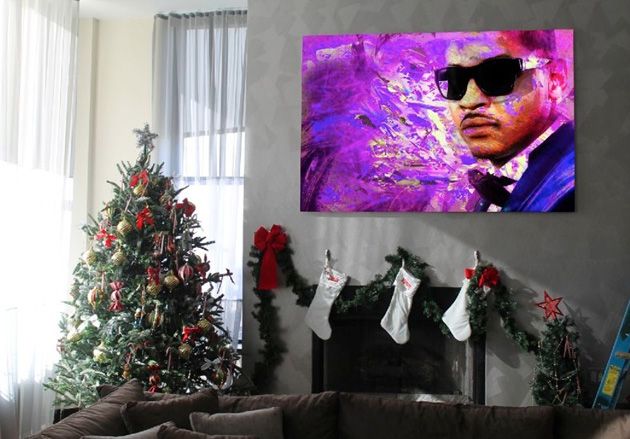 Image via Yahoo! Sports
In an interview with the Post, Carmelo's wife La La spoke about a recent acquisition for their Midtown apartment: "This past Christmas, we purchased a huge, modern picture of my husband from the artist Paul Gerben, whose studio is located in SoHo. It was great to be directly in touch with the artist himself, which enabled us to create this fantastic, very large and abstract piece that we love." (Is it just us or does this photo look 'shopped?) The not-abstract painting is of Carmelo in a tux wearing sunglasses. (Deadspin also reports that the Anthonys also commissioned the artist to paint their son Kiyan wearing his Captain America pajamas, though we haven't found the evidence.)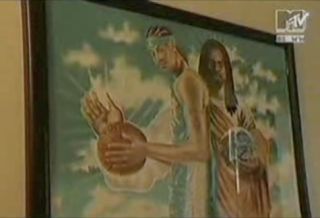 Image via Gawker.
And lastly, does anyone remember that MTV Cribs episode featuring a painting of Anthony standing back to back with Jesus? (In case you missed it, Anthony is palming a basketball; Jesus is palming the world.) Beneath it all, the artist painted the words "Blood Brothers." Will the real artist of this painting please stand up.
CHUCK LIDDELL
MMA Fighting
Artists: Unkown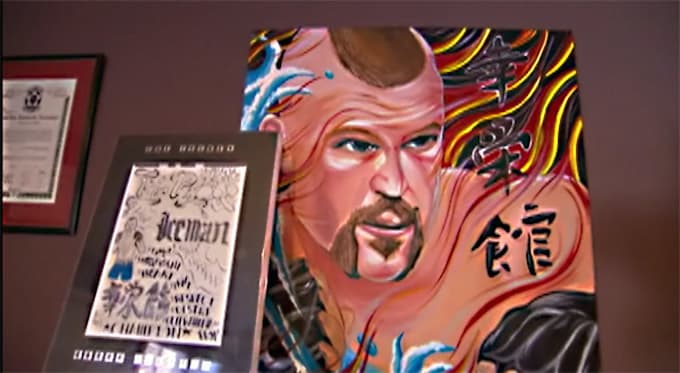 Image via Rugrag.
In another screenshot from an MTV Cribs episode we see former UFC World Champion Chuck Liddell showing off some pretty sweet works of fan art that he received from some of his biggest followers. Cu-ute.
LIONEL MESSI
Soccer; Spanish club Barcelona and the Argentina national team
Artist: Mr. Bling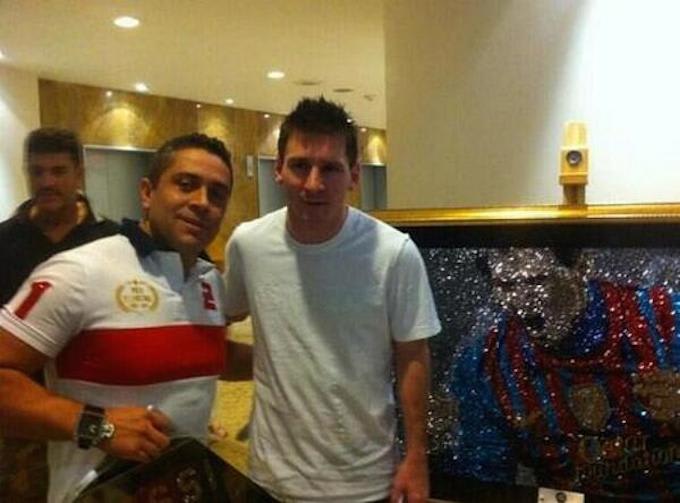 Image via Twitter.
An artist aptly called Mr. Bling gave soccer star Lionel Messi a portrait made of $50 million worth of Swarovski crystals. Why? Because a thousand words wasn't enough.
BRIAN WILSON
Baseball; Retired
Artist: Jacob Patterson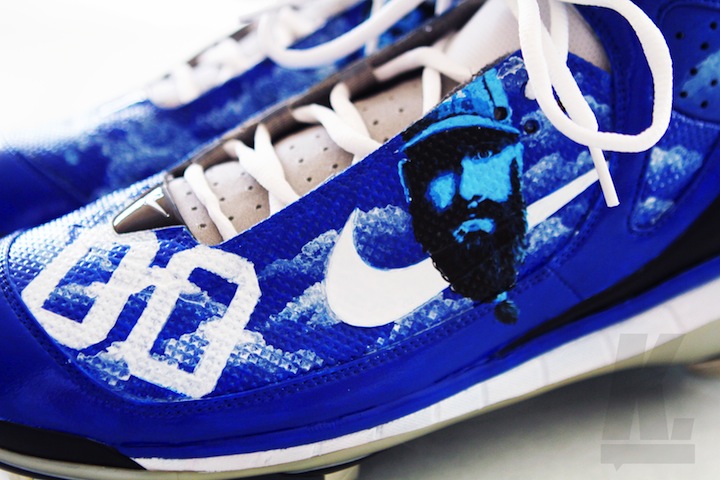 Image via Paint or Thread
Jacob Patterson's website is currently under construction, but it does say: "Jacob Patterson does hella stuff, but mainly shows off his friends' stuff which is way cooler than his." That's actually really nice of him. We can't tell whether the Los Angeles-based Patterson has made an art practice out of painting sneakers, or if it's just a thing he does for Brian Wilson, but the point is that the Dodgers pitcher owns not one, but three pairs of cleats with his face on them, hand-painted by Patterson.
RELATED ARTICLES:
"LIFE IS PAIN": Petra Cortright on Live Tweeting World Cup Soccer
The Olympics Destroyed Rio's Poor Communities—These Photos Are What's Left
Skateboard Diplomacy: How Skateistan Founder Oliver Percovich Is Using Kickflips to Build Communities