Even if you're a self-described vet, doing "the fairs" in Miami is exhausting, overwhelming, and, okay, sometimes fun. There's pressure to see all the booths of course, but the fairs also have a fairly packed line-up of events programming, from performances to panel discussions. Whether you're trying to see artist talks by some of our faves (like Judy Chicago!) or if you just need a break from booth mania, our events calendar (hopefully) has everything you need to get through Miami's fair week. Oh, we also added some food recs, including a restaurant that serves sushi with butter and cheese.
TUESDAY, 12/4
GALLERY OPENING: "Pop Minimalism/Minimalism Pop"
5pm-8pm, The Moore Building, 191 NE 40th St., Miami.
Gagosian and Deitch galleries are an art power couple! The two galleries have teamed up for "Pop Minimalism/Minimalism Pop," a group show on interconnections between the Minimalist and Pop Art movements.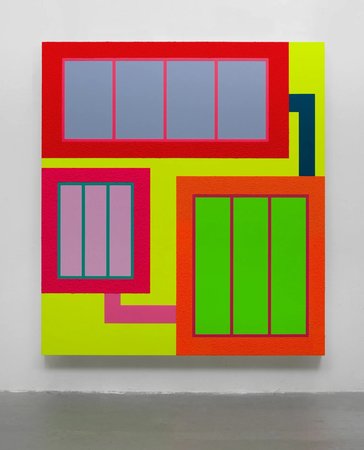 Adrift by Peter Halley (2018). Photo via Greene Naftali.
MUSEUM OPENING: "Judy Chicago, a Reckoning"
8pm-10pm, Institute of Contemporary Art Miami, 61 NE 41st St., Miami.
The ICA Miami is doing a retrospective of Judy Chicago. While the feminist artist is perhaps best known for "The Dinner Party," the ICA will highlight her honestly incredible use of pyrotechnics. Chicago began using fireworks in 1968 as part of her Atmosphere series. As she pointed out in an interview with Vulture, "The narrative of landscape and land art had been dominated by men ... [Atmospheres] came from the desire to insert a feminine perspective into the conversation and to soften and feminize the environment." The ICA show will unveil Chicago's newest work, APurple Poem for Miami, a site-specific piece which will ignite the museum's sculpture garden using colorful smoke bombs and dry ice.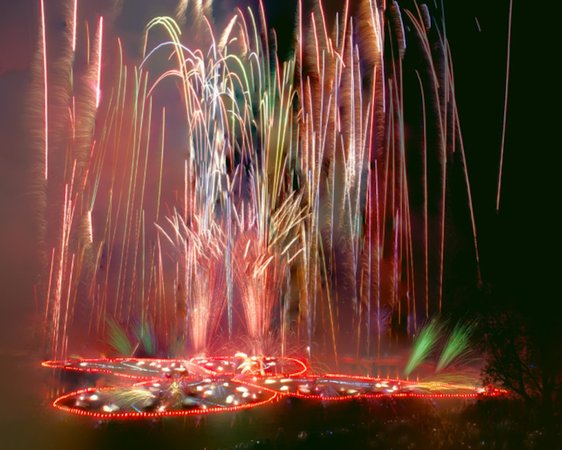 A Butterfly for Brooklyn by Judy Chicago (2014). Image via the artist's website.
GALLERY OPENING: "The Art of Banksy"
12pm-8pm, Magic City Innovation Studios, 6301 NE 4th Ave., Miami.
The 20,000-square-foot venue will house scores of Banksy artworks, and photographs taken by event organizer Steve Lazarides, the street artist's former dealer.
MUSEUM OPENING: "American Echo Chamber"
10am-6pm, Pérez Art Museum Miami, 1103 Biscayne Blvd., Miami.
José Carlos Martinot's installation reflects the way echo chambers operate online and in politics. His installation features several mechanical light scultpures, whose flashing neon lights mimic the ways echo chambers create a spectacle to both distract viewers and pleasantly reinforce their pre-existing opinions.
WEDNESDAY, 12/5
PERFORMANCE: #NeverNotWorking
11am-7pm, Untitled, 12th Street and Ocean Drive, Miami Beach.
Presented as an ongoing performance for the duration of the fair, the Miami Girls Foundation Booth has enlisted 100 members of the Miami community to to each commit 30 minutes of labor: hanging and removing white sheets at the entrance of the fair's pavilion. #NeverNotWorking not only foregrounds the private, repetitive, and undervalued aspect of feminized labor, it also highlights the hyper-exploited immigrant labor of female domestic laborers.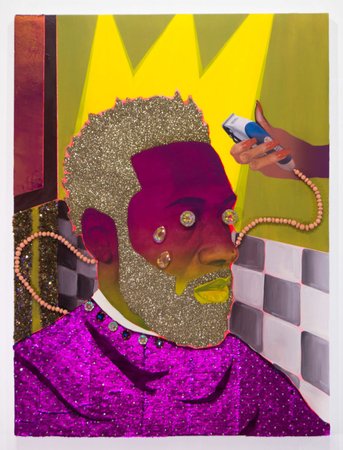 Crowned by Devan Shimoya (2018). Image via De Buck Gallery.
BOOK LAUNCH AND SIGNING: Cry, Baby
5pm-6pm, Untitled, 12th Street and Ocean Drive, Miami Beach.
Devan Shimoyama's recent barber shop paintings bring out the already-existing queer and feminine aspects of a hyper-masculine environment. The boys wearing fur capes, and their eyes are flowers. Cry, Baby is published in conjunction with the artist's first museum solo show, which will run at the Andy Warhol Museum.
MUSEUM OPENING: "afriCOBRA: Messages to the People"
8pm-11pm, Museum of Contemporary Art North Miami, 770 NE 125th St., North Miami.

afriCOBRA was founded in 1968: "afri" points to the African diaspora while "COBRA" stands for African Commune of Bad Relevant Artists. "We were aware of the negative experiences in our present and past," wrote Barbara Jones-Hogu, one of afriCOBRA's founding members, "but we wanted to accentuate the positive mode of thought and action. Therefore, our visual statements were to be Black, positive and direct with identification, purpose and direction." The group's use of bright color and text has impacted generations of artists, and their 50th anniversary show is not to be missed.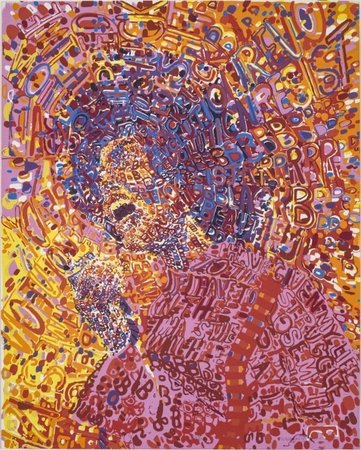 Revolutionary Suit by afriCOBRA member Jae Jarrell (1970). Image via the Tate Museum.
THURSDAY, 12/6
PERFORMANCE: Autorereconstruccion: To Insist, to Insist, to Insist…
3pm-6pm, Miami Beach Convention Center, Grand Ballroom, 1901 Convention Center Drive, Miami Beach.
In a method he calls autoconstruccion (self-construction), Abraham Cruzvillegas produces sculptures made entirely using materials found near the venue during the weeks leading up to the piece's public performance. The resulting sculpture is suspended in an open space. Building off an earlier version which was shown at The Kitchen earlier this year, Autorereconstruccion: To Insist, to Insist, to Insist… (2018) will involve performances by Cruzvillegas's collaborators, including choreographer Bárbara Foulkes.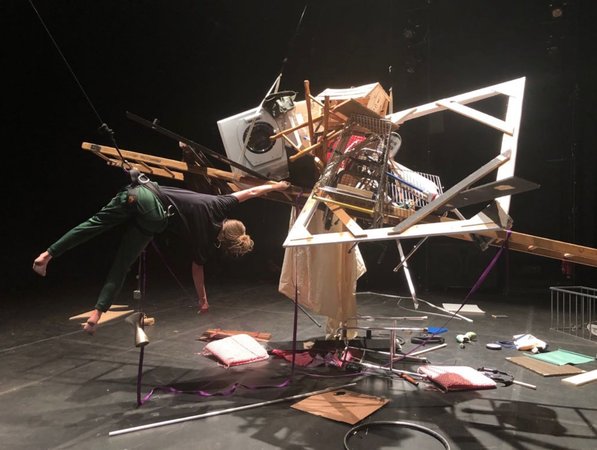 Autorereconstruccion: To Insist, to Insist, to Insist... (2018) by Abraham Cruzvillegas. Image via Art Basel.
PERFORMANCE: childhood acts of faggotry (l.a.d.c.a.f)
12pm-3pm, Untitled, 12th Street and Ocean Drive, Miami Beach.
Examining the relationships between gender conformity and value-production, lifelong affirmations during childhood acts of faggotry(l.a.d.c.a.f)––performed by Sheldon Scott––will entail spoken word, audience engagement, and choreography.
PARTY: PAMM Presents
9pm, Pérez Art Museum Miami, 1103 Biscayne Blvd., Miami.
If you're looking to go out, The Pérez Art Museum Miami presents a party to celebrate their 35th anniversary, featuring Antibalas, Kilo Kish, and, per their website, "libations." The event is a bit VIP, unfortunately, and is only open to PAMM Sustaining and above-level members and VIP Passholders to: Art Miami, Art Basel Miami Beach, NADA Miami, PINTA Miami and Untitled Miami Beach.
FRIDAY, 12/7
PERFORMANCE: "We the News"
1pm-5pm, Untitled, 12th Street and Ocean Drive, Miami Beach.
As social media and the news amplify and generalize events for views and clicks, immigrant narratives are often exploited and wiped of their specificity. Lizania Cruz's We Are the News provides a welcome counter: working with the Black Alliance of Just Immigration (BAJI), Cruz organized three story circles, each comprised of eight to ten black immigrants and first-generation black Americans. Cruz compiled their individual stories and conversations into zines displayed at a physical newsstand, which operates as a way to reclaim both narratives and physical space.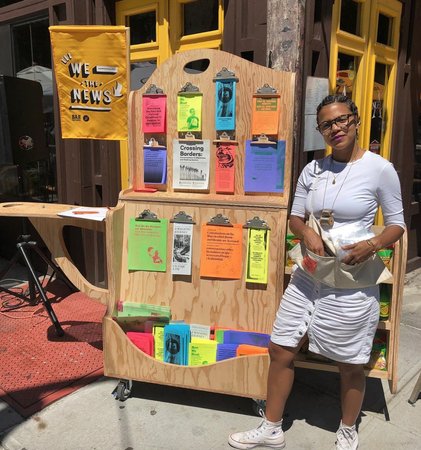 Liziana Cruz with a piece from We the News (2017). Image the artist's Instagram.
FILM SCREENING: Islands (1986)
2:00pm-4:00pm, Pérez Art Museum Miami, 1103 Biscayne Blvd., Miami.
While they're best known for Grey Gardens (1975), Albert and David Maysles also made a movie about a piece of land art called Surrounded Islands (1980-83). Created by artists Christo and Jean-Claude, Surrounded Islands involved eleven scrub-pine islands, which were briefly surrounded by 6.5 million square feet of bright pink fabric. The piece is also currently the subject of an show at the Pérez Museum of Art. In addition to archival imagery, the PAMM is also screening Islands, the Maysles Brothers documentary, featuring a Q&A with Christo.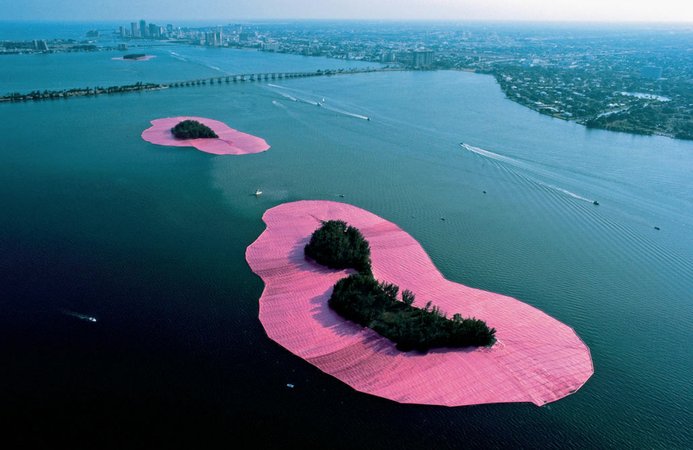 Surrounded Islands by Christo and Jean-Claude (1980-83). Image via the artists' website.
PANEL DISCUSSION: "VR, Celebrity, and Innovation"
4pm-5pm, Art Basel, Miami Beach Convention Center, Auditorium, West Lobby, 1901 Convention Center Drive, Miami Beach.
This panel discussion looks at artists using VR, how the technology is changing, and how how funding for VR art operates (hint: it's usually evil tech corporations giving money to celebrity artists!) The talk is moderated by writer Elvia Wilk and features artist Jacolby Satterwhite, among others.
PANEL DISCUSSION: "How is Private Funding Affecting Biennials?"
5:30pm-6:30pm, Art Basel, Miami Beach Convention Center, Auditorium, West Lobby, 1901 Convention Center Drive, Miami Beach.
This is about––well, what the title says. The panelists will examine the commodification of what used to, surprisingly, be publicly funded mega-shows.
Saturday, 12/8
ARTIST TALK: Judy Chicago
2:30-3:30pm, Art Basel, Miami Beach Convention Center, Auditorium, West Lobby, 1901 Convention Center Drive, Miami Beach.
Judy Chicago––whose ICA Miami retrospective we mentioned above––is doing an artist's talk at Basel to discuss her practice, her feminist activism, and where gender politics are at today. She rules, so her talk will probably rule as well.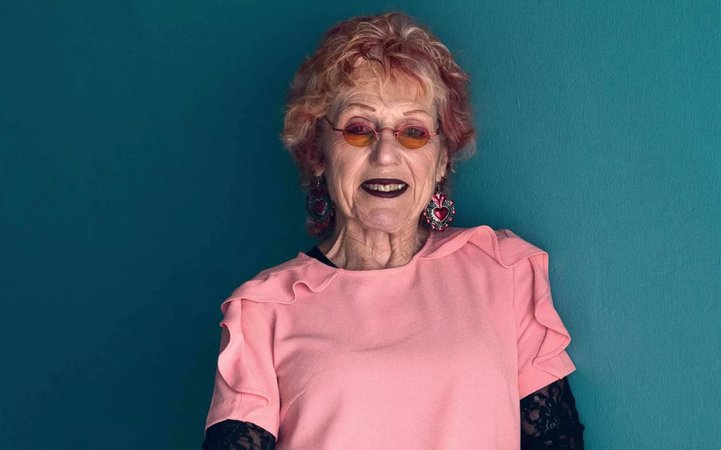 Judy Chicago. Image via Art Basel.
MUSEUM EXHIBITION: "Purvis Young and New Acquisitions"
9am-6pm, Rubell Family Collection, 95 NW 29 ST, Miami.
The Rubell Family Collection Contemporary Arts Foundation will feature over 100 paintings by Purvis Young (1943-2010), who spent the later half of his career working in Miami. New acquisitions include major works by emerging artists such as Janiva Ellis and Tschabalala Self.
MUSEUM EXHIBITION: The Permanent Collection at the ICA Miami
10am-5pm, Institute of Contemporary Art Miami, 61 NE 41st St, Miami.
The ICA's permanent collection is stellar, and includes sculptures by Louise Bourgeois, multiple Chris Ofili paintings, and our favorite Tracey Emin video, Why I Never Became a Dancer (1995).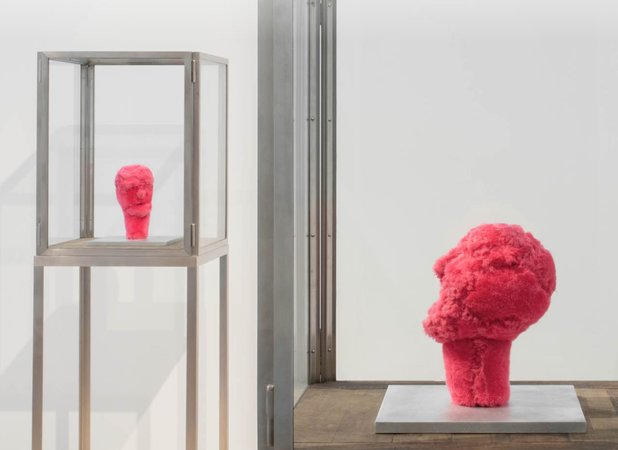 Installation view: "Louise Bourgeois at ICA Miami." Photo via the ICA Miami.
Sunday, 12/9
The fairs are closing. If you haven't seen the booths, now is the time!
If you're exhausted and over it, reward yourself with a nice meal and fancy cocktails. Our friends at Phaidon put together a good list of Miami recs as part of their Wallpaper* City Guides series, which we borrowed from.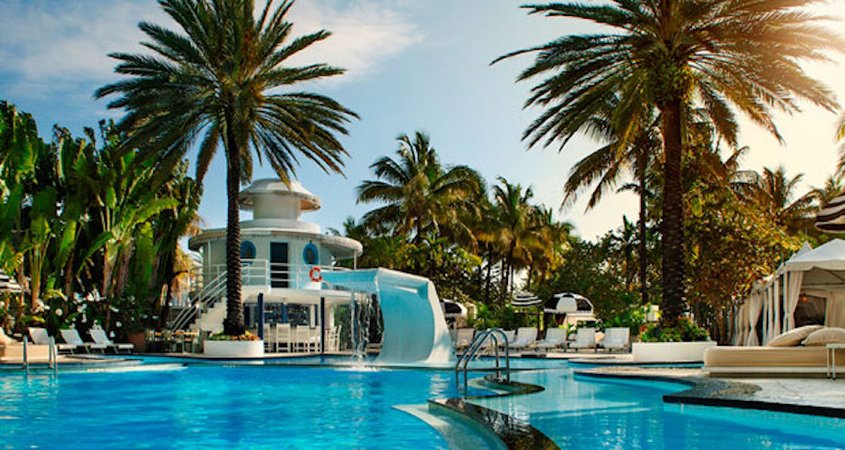 The Raleigh Hotel's pool. Image via Raleigh Hotel.com.
BAR: The Raleigh Hotel
1775 Collins Ave, Miami Beach
The retro rattan eclecticism of the Raleigh's lobby has been likened to an old folks' home, yet some so love the place, they won't stay elsewhere. There is no faulting the pocket-sized Martini Bar, the dining patio, the iconic pool, and the Pool Bar.
RESTAURANT: Pubbelly Sushi
1424 20th St, Miami Beach
In hip Sunset Harbor, the first Pubbelly opened in 2010 as a gastropub serving pig every which way, from crackling to pork belly ramen. The team launched Pubbelly Sushi, a sushi spin-off just a year later, utilizing ingredients––pork, of course, beef, butter, cheese––that would give traditionalists a coronary. Softshell crab BLT does indeed come with bacon.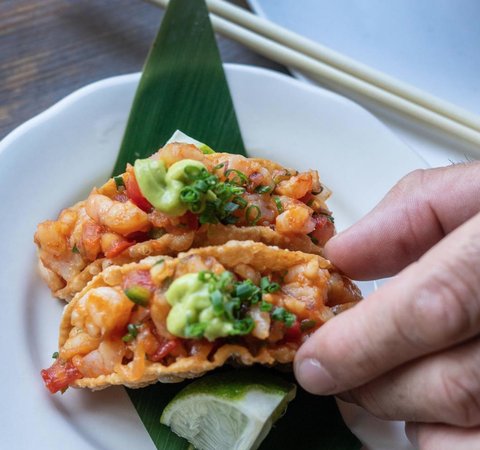 One of Pubbelly Sushi's tacos. Image via Pubbelly Sushi's Instagram.
RESTAURANT: 27 Restaurant and Bar
2727 Indian Creek Dr, Miami Beach
Set in a 1930s house decorated by Miami legend Russel Pancoast, 27 Restaurant and Bar takes farm-to-table to extremes (it stops short of telling you the chicken's name) and flavors are intense. Dinner only. The cozy Broken Shaker bar serves craft cocktails around the pool in the garden outside.
27 Restaurant. Image via Miami New Times.
RELATED ARTICLES:
NADA Miami 2018 Preview: Artist and Dealer Margaret Lee Shares Her Favorite Works
"From A to B and Back Again": A Review of the Reviews of the Whitney's Andy Warhol Retrospective
Abolish the Art Fair? Why Basel's New Tiered Pricing Structure Can't Fix a Bankrupt Model