For its first New York edition, the contemporary African art fair 1:54 is taking over Red Hook's community arts incubator Pioneer Works . So named for the 54 nations making up the continent of Africa, this new fair aims for greater visibility for the galleries and especially the artists it presents—many of whom are almost entirely unknown to American audiences. To help you find your way around the show, we've compiled this booth-by-booth breakdown of the 16 exhibitors and their most notable works.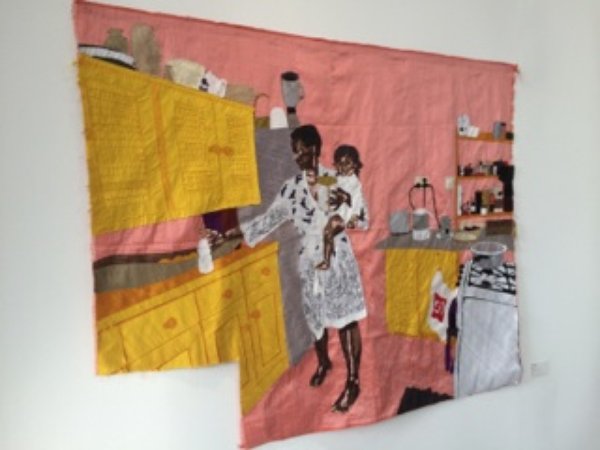 Exhibitor : Afronova
Location : Johannesburg, South Africa
Artists on view : Bille Zangewa, Lawrence Lemaoana, Lebohang Kganye
Must see : Ma vie en rose , 2015, a silk tapestry by Bille Zangewa showing a quiet domestic scene that nevertheless seems to pulsate with an inner energy, perhaps a result of the visible stitching around the delicately-wrought kitchen paraphernalia.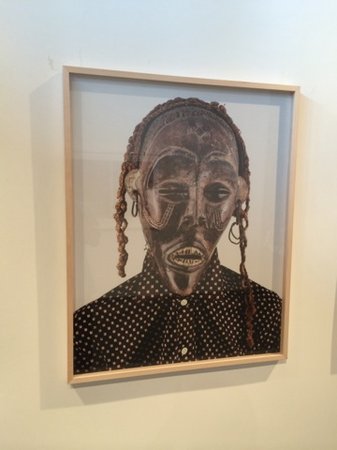 Exhibitor : APALAZZOGALLERY
Location : Brescia, Italy
Artists on view : Edson Chagas, Ibrahim Mahama
Must see : Any of the Angolan photographer Edson Chagas's arresting shots from his 2014 series Tipo Passe , each showing a model in contemporary dress wearing an absolutely stunning traditional African mask.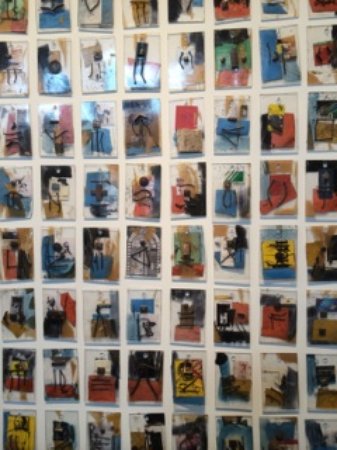 Exhibitor : Art Twenty One
Location : Lagos, Nigeria
Artists on view : Gérard Quenum, Olu Amoda
Must see : Olu Amoda's work Fossils , from 2014. Amoda is best known for his constructions of organic forms in repurposed industrial materials. This work consists of a grid of postcard-like Plexiglas tiles inlaid with bits of packaging, newspapers, and the like along with rusted nails and other scrap metal.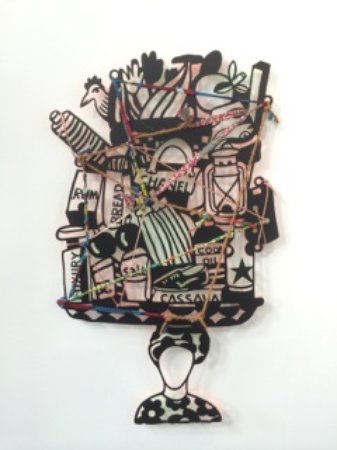 Exhibitor : ARTCO Gallery
Location : Aachen, Germany
Artists on view : Bruce Clarke, Daniel Blom, Owusu-Ankomah, Ransome Stanley, Richard Stanley, Richard Mudariki, Toyin Loye
Must see : The Nigerian artist Toyin Loye's laser-cut aluminum wall pieces, spray-painted in vivid colors on the back to give the white wall behind them a faint glow. Mobile Shop, 2015, is a particular treat, incorporating bits of rope, twine, and wires.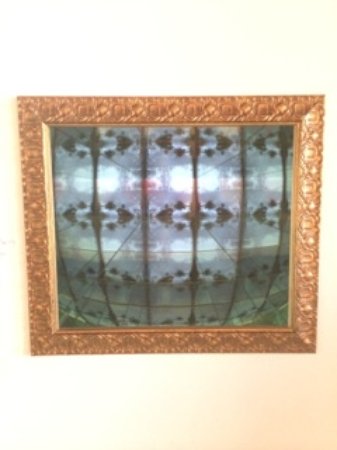 Exhibitor : Axis Gallery
Location : New York, U.S.A.
Artists on view : Bobson Sukhdeo Monanlall, Bright Ugocukwu Eke, Sammy Baloji, Theo Eshetu
Must see : One of the few examples of video art in 1:54, Theo Eshetu's mind-bending Anima Mundi , 2014. Set in a mirrored box that makes viewing the piece akin to looking down a massive kaleidoscope, the video itself cuts between pure abstraction and footage of religious rites, snakes, and wonderful performance art shenanigans.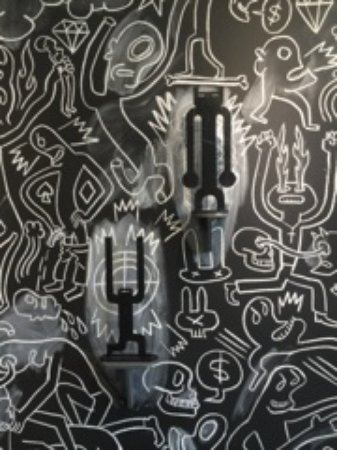 Exhibitor : Bennett Contemporary
Location : Cape Town, South Africa
Artist on view : Conrad Botes
Must see : The South African artist Conrad Botes has covered the walls of his booth with intricate chalk drawings made especially for the fair. Titled Sad Man's Tongue , the work also features small black sculptures in a similar style to the figures on the walls.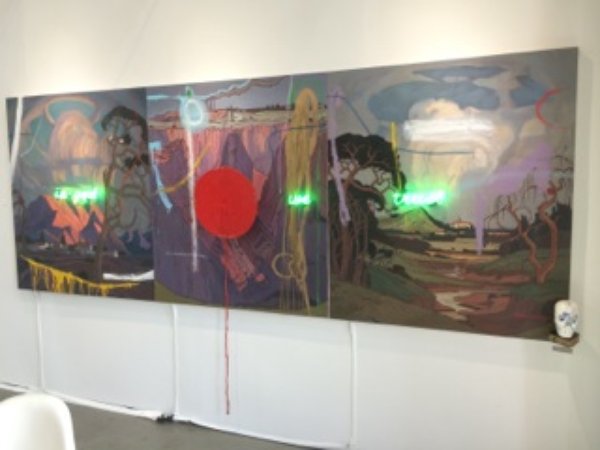 Exhibitor : CIRCA Gallery
Location : Johannesburg, South Africa
Artist on view : Wayne Barker
Must see : While all of Wayne Barker's highly variable political works are worth a hard look, In God We Trust from 2015 stole the show in this booth. The triptych of three paintings based on idealized landscapes drawn from Apartheid-era pro-white propaganda is bisected with a traditional Zulu hat and neon lettering spelling out the title; a small sculpted skull appears in the corner as a reminder of the nation's violent history.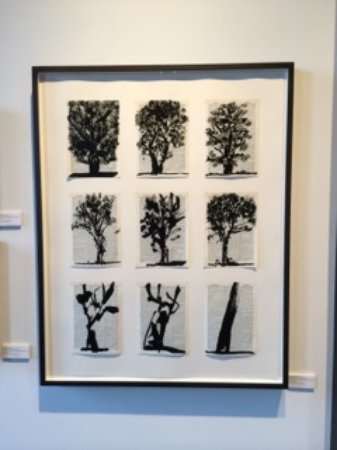 Exhibitor : David Krut Projects
Location : Johannesburg, South Africa
Artist on view : William Kentridge
Must see : Arguably the best-known artist at the fair, the Johannesburg native William Kentridge is exhibiting works from his Universal Archive series of 2012. Each work is a figurative linocut printed on pages torn from a copy of the Shorter Oxford English Dictionary.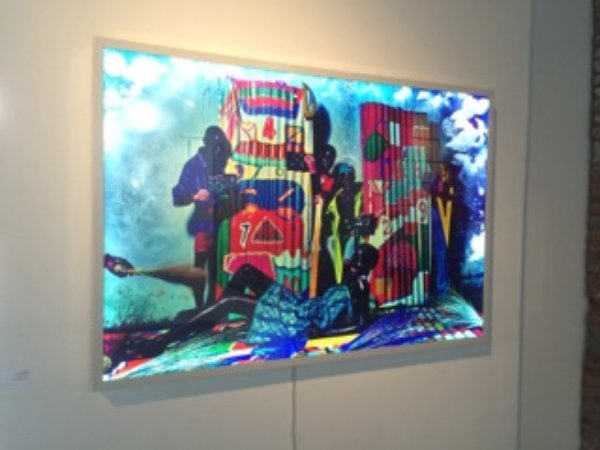 Exhibitor: Galerie Cécile Fakhoury
Location : Abidjan, Côte d'Ivoire
Artists on view : Aboudia, Cheikh Ndiaye, François-Xavier Gbré, Paul Sika, Vincent Michéa
Must see: Paul Sika's photo print and lightbox, Dandelia , 2012. The Ivorian photographer composes vibrant, dense shots of staged scenes in which every object is rendered in clear focus; he does it by stitching together multiple digital images.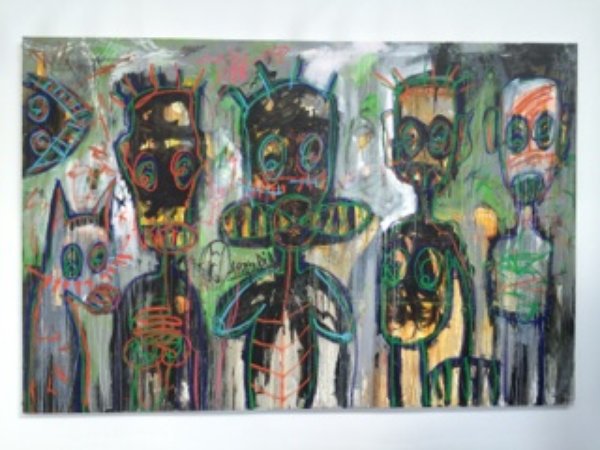 Exhibitor : Jack Bell Gallery
Location : London, United Kingdom
Artists on view : Aboudia, Armand Boua, Boris Nzebo, Leonce Raphael Agbodjelou, Steve Bandoma
Must see : Another young Ivorian artist with a entirely different disposition, Aboudia showcases his talent for Basquiat-like x-ray figuration in an untitled work from 2015 that also frames the figure with splashes of acrylic.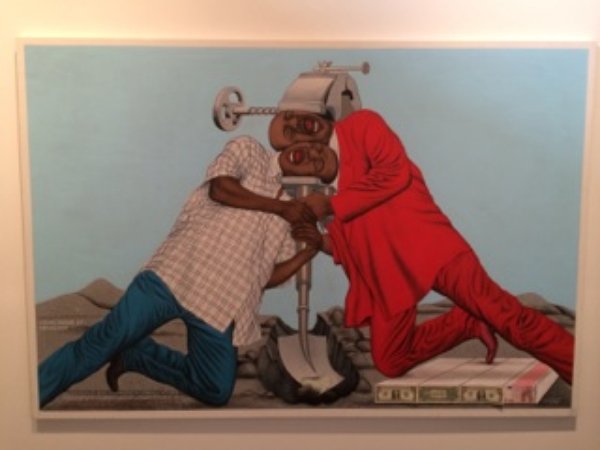 Exhibitor : Magnin–A
Location : Paris, France
Artists on view : Amadou Sanogo, Calixte Dakpogan, Chéri Samba, Frédérc Bruly Bouabré, Gonçalo Mabunda, J.D. Okhai Ojeikere, Joël Andrianomearisoa, JP Mika, Kura Shomali, Malick Sidibé, Monsengo Shula, Nathalie Boutté, Omar Victor Diop, Pathy Tshindele, Romuald Hazoumé, Seydou Keïta
Must see : Chéri Samba's L'employeur et L'employee , 2013. In a kind of Social Realism-meets-Surrealism moment, Samba's painting portrays an employer and his employee locked together in a vise; the former is standing on stacks of bills, which are highlighted by real dollar and euro bills. The text at the bottom left reads "My employer disappoints me. I ask him for money, and each time he answers the same, he too is looking for money. But in reality, who suffers the most employer or the employee?"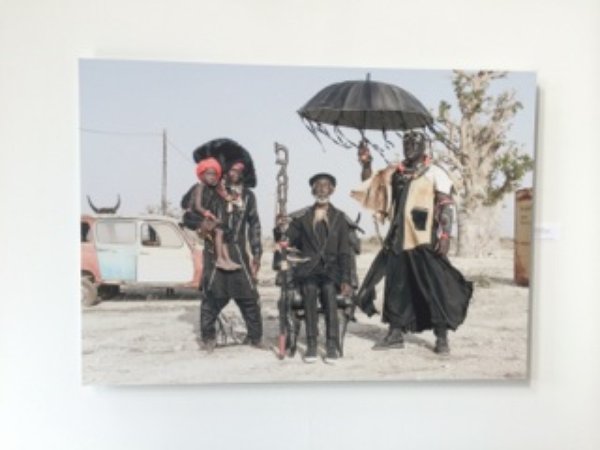 Exhibitor : Mariane Ibrahim Gallery
Location : Seattle, U.S.A.
Artists on view : Ayana V. Jackson, Fabrice Monteiro, Jean-Claude Moschetti, Jim Chuchu, Maïmouna Guerresi, ruby onyinyechi amanze, Soly Cissé
Must see : Fabrice Monteiro's The Missing Link, Joe , 2014 combines the artist's background in fashion with an almost anthropological gaze to create a stylized portrait of a group of men clad in black. The composition is notable for its subtle details, like the horns on the car or the goggles on the man holding the umbrella.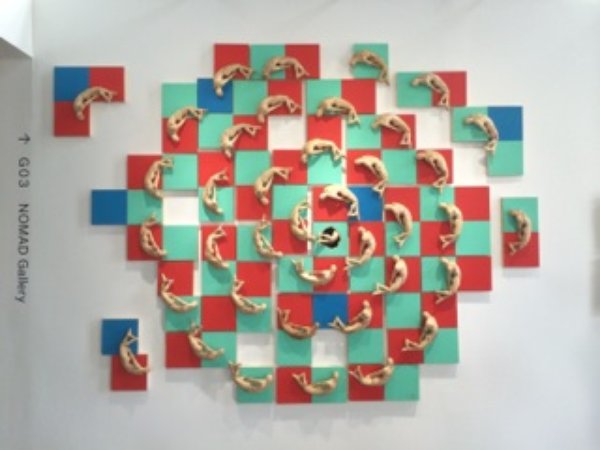 Exhibitor : NOMAD Gallery
Location : Brussels, Belgium
Artists on view : Aimé Mpane, Lavar Munroe
Must see : Aimé Mpane's new untitled wall piece, which uses carved wooden figures and a loose grid of green, blue, and red squares in what looks like a contemporary update of medieval depictions of ascents into heaven. Here, however, the central figure enters a black hole rather than the pearly gates.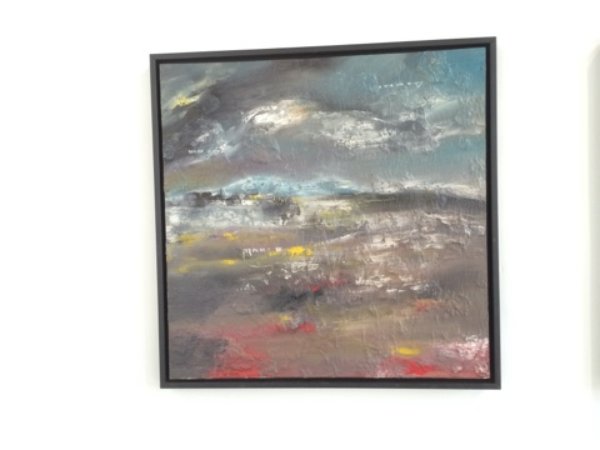 Exhibitor : Primo Marella Gallery
Location : Milan, Italy
Artists on view : Abdoulaye Konaté, Joël Andrianomearisoa, Nidhal Chamekh, Soly Cissé, Vitshois Mwilambwe Bondo
Must see : Hailing from Dakar, Senegal, Soly Cissé is best known for his surreal figurative paintings. In this untitled work from 2014, he abandons them in favor of thickly painted, almost topographical canvases with bits of illegible texts interspersed between canyons and valleys.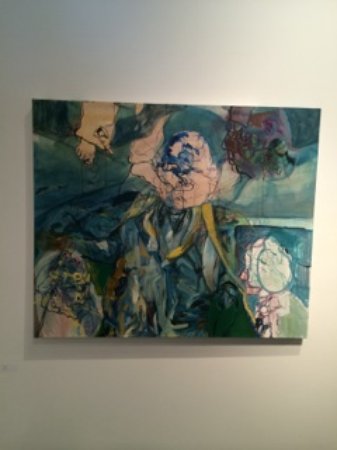 Exhibitor : SMAC Gallery
Location : Cape Town/Stellenbosch, South Africa
Artists on view : Asha Zero, Barend de Wet, Chemu Ng'ok, Peter E. Clarke,
Must see : The young Kenyan artist Chemu Ng'ok's Untitled , from 2015. The painter maintains an incredibly light touch throughout the piece, even as she alternates between thick brushstrokes and delicate thin lines in describing her figures.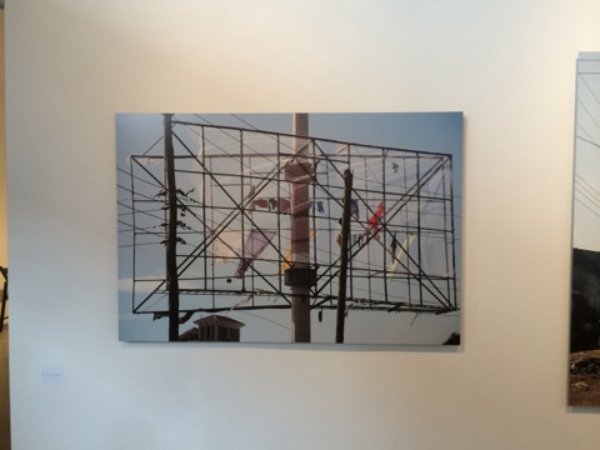 Exhibitor : VOICE gallery
Location : Marrakech, Morocco
Artists on view : Eric van Hove, Leila Alaoui, Megumi Matsubara, Rim Battal, Younés Baba-Ali
Must see : The documentations from Megumi Matsubara's community installation piece STRA (billboard, #1) , 2011. The Japanese expat now living in Morocco visited a Kenyan slum that refused to allow advertisements on the billboard in the center of their community, tearing them down each time a new company put one up. Matsubara helped local businesspeople install pieces of their own wares on the frame of the billboard to create an advertisement of their own.