Lives and Works
Colombier, Switzerland and Freiburg, Germany
Education
Academy of Fine Arts, Munich, Germany, 1979
Permanent Collection
San Francisco Museum of Modern Art, San Francisco, CA
The Guggenheim Museum, Berlin, Germany
Tate Modern, London, England
Castello di Rivoli Museum de Modern Art, Torino, Italy
Kemper Art Museum, St. Louis, MO

Representing Galleries
Patrick De Brock Gallery, Knokke, Belgium
Galerie Fetzer, Sontheim an der Brenz, Germany
Galerí­a Filomena Soares, Lisboa, Portugal
Galerie Max Hetzler, Berlin, Germany
Galerie Heinz Holtmann, Cologne, Germany
Sabine Knust Galerie Maximilian Verlag, Munich, Germany
Korff-Stiftung, Ilmmuenster, Germany
Galerie Vera Munro, Hamburg, Germany
Galerie Neher, Essen, Germany
Galleria Lia Rumma, Naples and Milan, Italy
Soura Art, Munich, Germany
Galeria Carles Taché, Barcelona, Spain
Galerie Elisabeth & Klaus Thoman, Innsbruck, Vienna, Austria





A renowned German contemporary artist, Günther Förg explores the legacy of Modernism in his paintings, sculptures, and photography. Along with his contemporaries Martin Kippenberger and Albert Oehlen, Förg came of age in the postwar era, when Modernist aesthetics had become tainted by the memory of fascism. His art, like theirs, is marked by an attempt to create a vital new iconography for the contemporary era while simultaneously reflecting on the horrors of the past.

For instance, Förg's large-format architectural photographs of new German buildings—usually taken from below—highlight the imposing austerity of their design. By photographing buildings with unsavory histories, like the IG Farben Nazi research building in Frankfurt or Marcello Piacentini's university campus commissioned by Mussolini, Förg draws an uncomfortable comparison between the avant-garde's utopian ideals and fascism's brutal ideology.

Förg's anachronistic paintings, meanwhile, are also steeped in the fraught history of Modernism. He large, commanding canvases run the gamut from the geometrical rationalism of Piet Mondrian to the spiritual color fields of Barnett Newman and Marc Rothko. Equal parts parody and homage, Förg's paintings provide a skeptical glance back at the Modern idea of the sublime. Förg has had numerous solo exhibitions including those at the Kunstmuseum Basel, the Gemeentemuseum in The Hague, the Tel Aviv Museum of Art, and Deutsche Guggenheim in Berlin.
Works Available for Purchase
Articles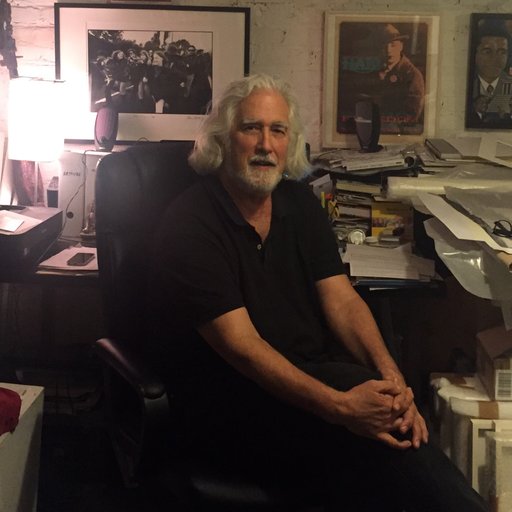 How Jack Hanley Went From Deadhead to Art Dealer