A version of this article was originally published on Phaidon.com.
Sterling Ruby can render the most genteel of subjects in the scariest of ways. His tapestries pair punky zips and bleached fabrics, his vampire-mouth soft sculptures are far from cuddly, and his wood-burning stoves look more like something out of the Unabomber's cabin (home to an anarchist who made bombs secretly in the woods), rather than the beating heart of a cosy rural retreat.
The artist first became interested in sewing and homesteading while growing up around Amish communities in rural Pennsylvania. However, a new exhibition of his work, which opened at the Gagosian's 980 Madison Avenue gallery in Manhattan earlier this month, focuses on the artist's ceramics—a medium he took interest in as an undergraduate in Chicago.
Sterling Ruby, Basket (6176) , 2016. Courtesy Gagosian Gallery
"Ruby enrolled in a clay class to test the belief that working with clay could be a therapeutic tool," explains Franklin Sirmans in Phaidon's Sterling Ruby Contemporary Artist Series book , who goes on to quote the artist: "'I was interested in the fact that my fellow classmates were not artists. I became fascinated with the fact that very different people were making the same type of biomorphic and anthropomorphic work. A lot of it was sexual, with holes, extensions and everything overly glazed. Clay does give people an innate and unfettered sensibility. I loved it.'"
That love has remained with Ruby over the decades, as he's worked pottery into his practice and associated art theory. "I have been making large ceramic basins and filling them with broken materials that look like animal remains and architectural waste," the artist explained in 2015. "I am smashing all of my previous attempts, and futile, contemporary gestures, and placing them into a mortar, and grinding them down with a blunt pestle. I am doing this as a way of releasing a certain guilt. If I put all of these remnants into a basin, and it gets taken away from me, then I am no longer responsible for all my misdirected efforts. I will no longer have to be burdened with the heaviness of this realization. This is my Basin Theology."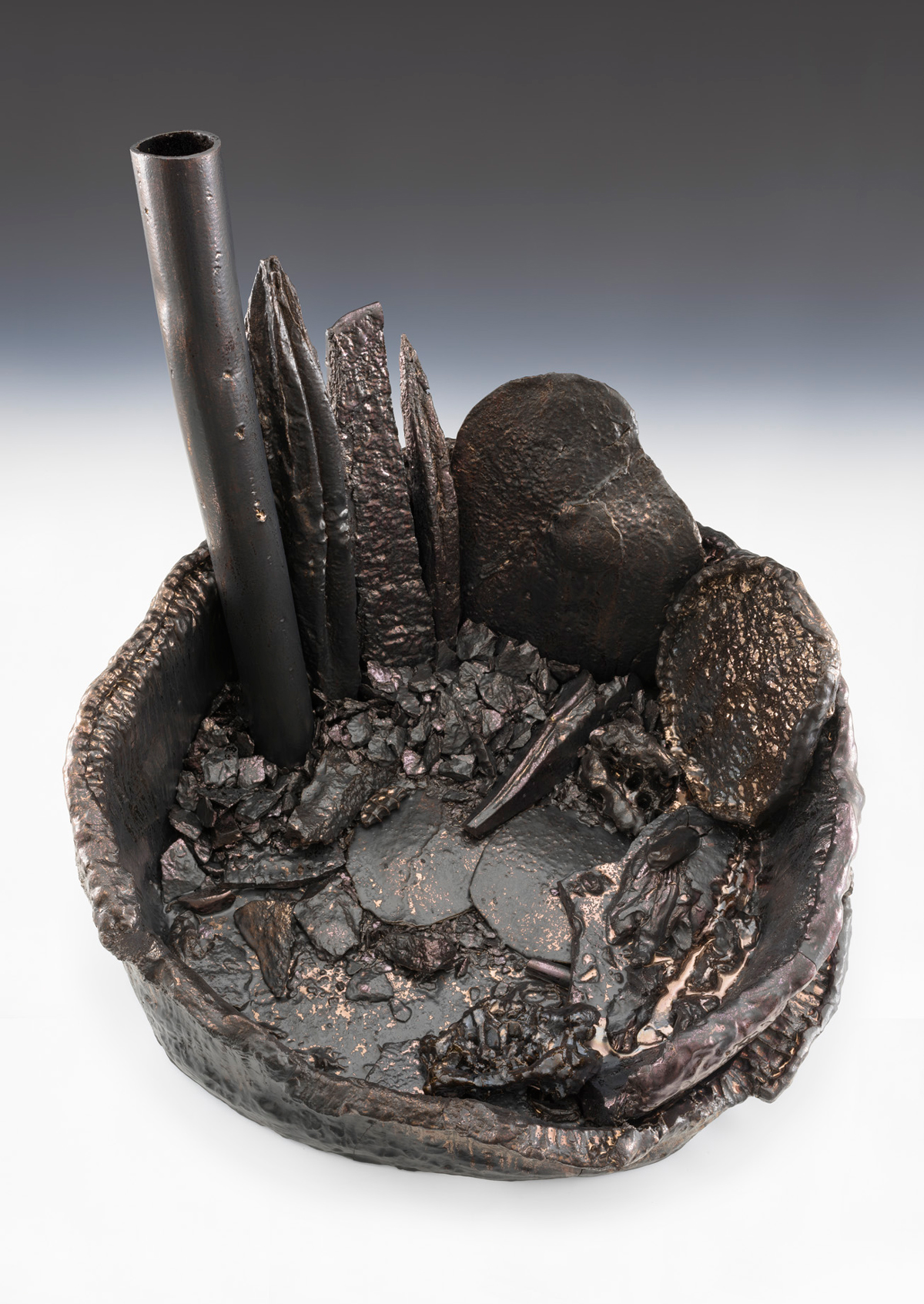 Sterling Ruby, Basin Theology/Dark Plate Helm , 2016. Courtesy Gagosian Gallery
Gagosian has put a number of these "Basin Theology" works on view alongside new paintings and other ceramic works, such as Ruby's version of a basket (see first image above). Some pieces, like Basin Theology/Dark Plate Helm , with forms reminiscent of spent bullet casings, hint at some of the grim machismo underlying Sterling's art; "Dark Plate Helm" is also the name of a helmet that can be bought in the hugely popular iOS iPhone fantasy role-playing game, "Infinity Blade II and III."
Other, archaeological-like works allude to the artist's interest in the ways in which ancient pottery and knives are exhibited in museums today. The artist argues, "from a dirty, functional past [these objects] are now being preserved in a sterilized refuge."
Sterling Ruby, Brass Ketamine User , 2010
For more on Sterling Ruby check out Phaidon's Contemporary Artist Series monograph here . Photos by Robert Wedemeyer. © Sterling Ruby Studio. Courtesy Gagosian.