Peter Saul is unlikely to get an official, presidential portrait commission any time soon. Perhaps that's a missed opportunity, as the 85-year-old Californian painter has included a wide array of US Presidents in his paintings.
The artist is known for his vivid, cartoon-like paintings that satirize American culture. Influenced by varied sources, including the Chilean surrealist painter Roberto Matta and MAD magazine, Saul developed his unique neo-surrealist style in contrast to the abstract expressionist aesthetic that prevailed during his youth. Through wide-ranging imagery, Saul's darkly humorous works trenchantly comment on contemporary politics and culture.
The New Museum's current exhibition, Peter Saul: Crime and Punishment, includes canvases featuring George Washington, George W. Bush, Ronald Reagan, and Donald Trump, among other political figures, such as Newt Gingrich and Chairman Mao. Yet none of these statesmen are likely to be flattered by Saul's depictions, as the poppy, satirical painter tends to favor politicians whose legacies are somewhat troublesome.
As Saul tells the New Museum's Massimiliano Gioni and Gary Carrion-Murayari in Peter Saul: Crime and Punishment – the book that accompanies the New Museum's show - "I wait for the presidents to be a politically important problem. I never did Obama," he goes on to explain. "People have asked me why. I can only do bad guys, pretty much."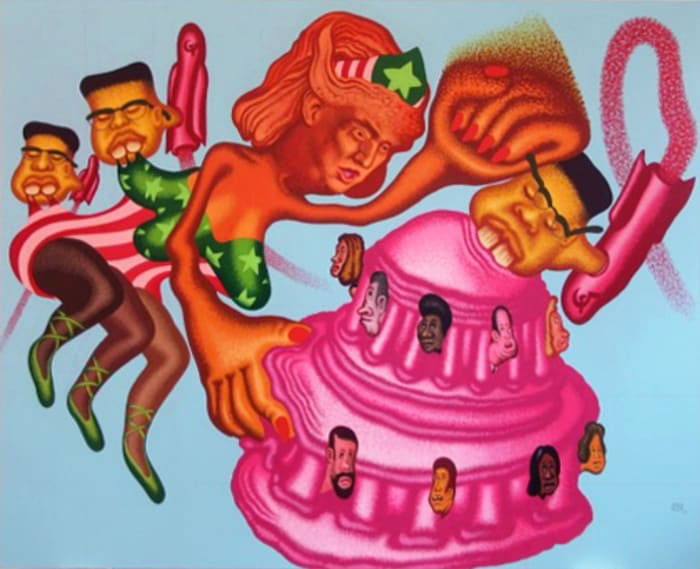 Trump Becomes a Wonder Woman, Unifies the Country and Fights Rocket Man, 2017 - Peter Saul
Saul also skipped over Gerald Ford, and only got around to Trump in 2017, by which time, "ten thousand people had been there before me," says Saul. The painter was a little late to this subject, as he didn't believe the New York real estate magnate would ever make it into high office.
"I was one of those fools who believed the New York Times," he recalls. "Trump didn't have a chance. It was going to be a landslide for Hillary. Yeah, famous last words."
"By the time I even thought about painting Trump, ten thousand people had painted him at every level," he recalls. "Everything had been insulted. They've insulted his sex life, his financial life, his hair—everything. Holy cow. I just felt like I was arriving way too late."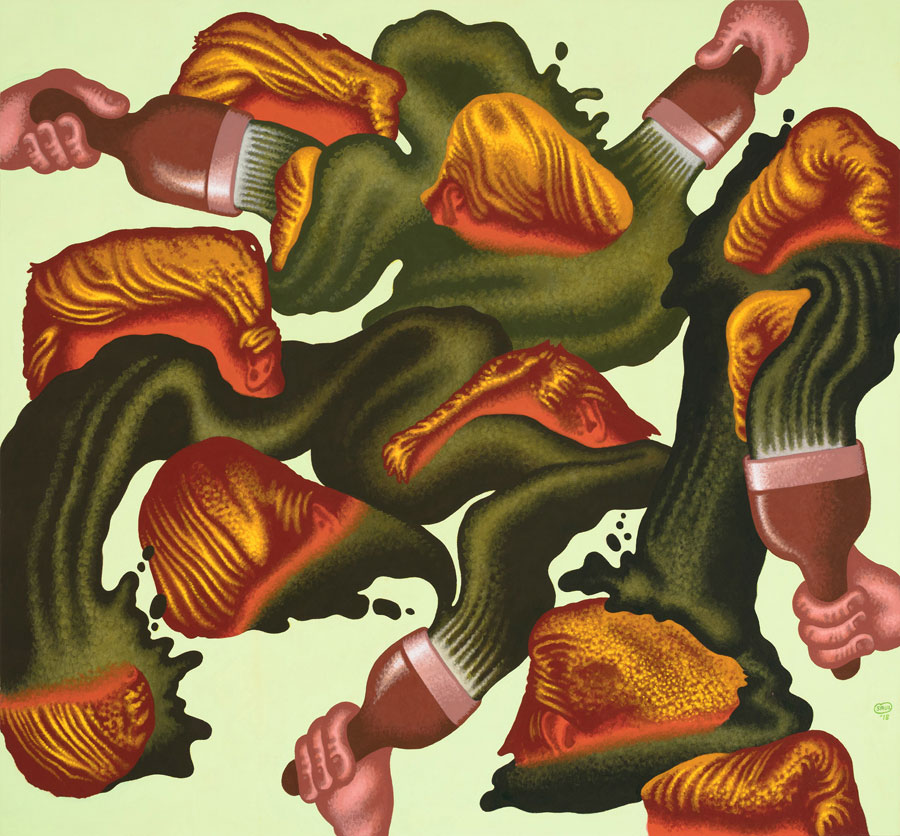 Abstract Expressionist Portrait of Donald Trump, 2018 - Peter Saul

However, Saul wasn't wholly disparaged. "Apparently I have this reputation for doing the wrong thing at the wrong time," he tells the curators, "so I might as well keep going.
"The Trump paintings, three of which feature in this new show and book, are wonderfully troubling in themselves, depicting the current incumbent of the White House as Wonder Woman, an alligator, and a series of faecal-brown paint brushes.
If you're looking for sharp, scabrous, irascible imagery, you'll probably be returning to these paintings again and again. However, if you're after some clear political truths you might be better off looking elsewhere; as Saul himself says, his canvases don't always reflect his politics.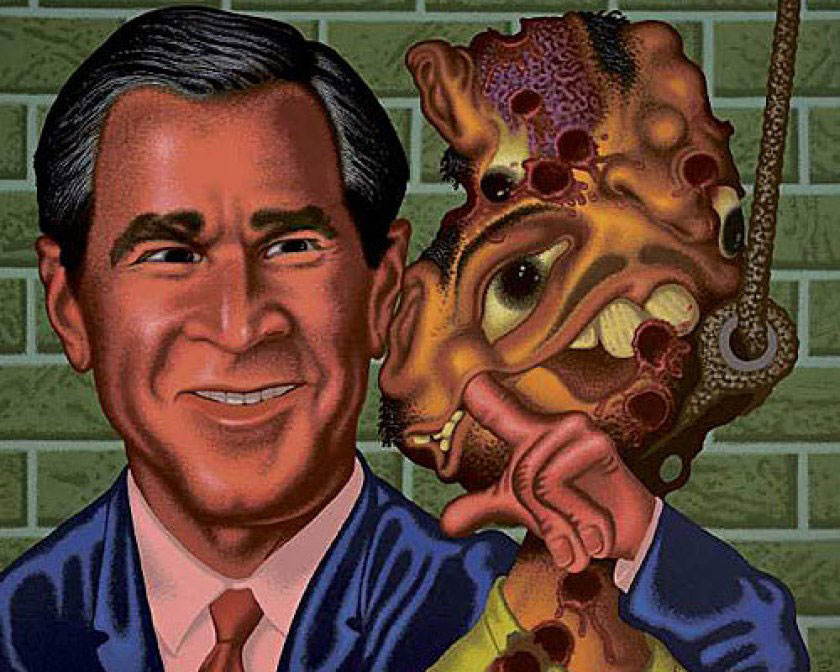 Bush at Abu Ghraib, 2006 - Peter Saul
"I never confuse my personal behavior with things I think of," the artist says. "I know what I'm doing in this world, and my imagination does anything it wants to.
I would have liked some of my paintings to be more obviously leftist, but some of them end up looking more fascist than I had wanted them to be,"  he concludes. "And I just say, 'Well, okay,' because the subject of the painting is fascism."

And that's a sentiment you're unlikely to find honestly presented on the walls of a Presidential library any time soon.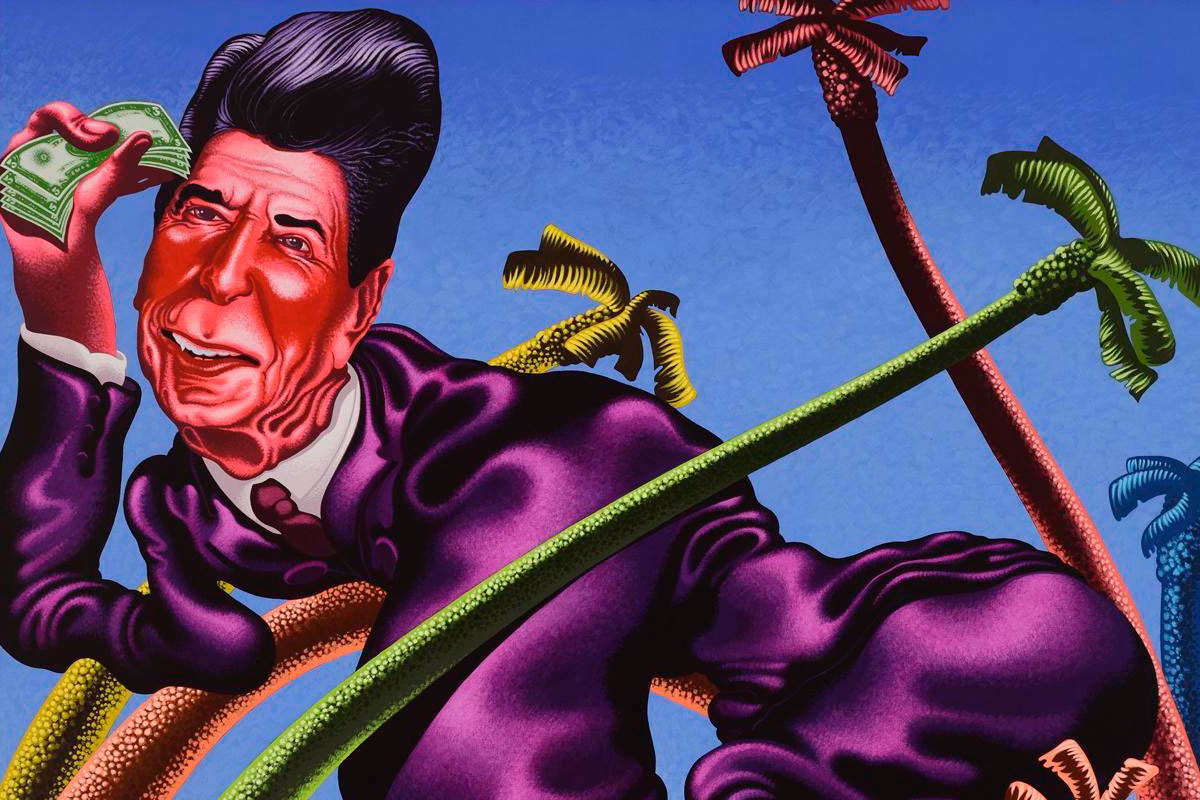 Ronald Reagan in Grenada, 1984 - Peter Saul
Take a look at Peter Saul's artist page here and buy  the new Peter Saul book, Crime and Punishment, published by Phaidon in association with The New Museum here . And flick through our module below to buy some work by Peter Saul on Artspace now.
[Petersaul-module]