What, exactly, was Fluxus? The mid-20th-century art movement has proven highly influential to generations of artists looking to bleed the lines between art and life, but its amorphous nature and sheer strangeness mean that it remains something of a mystery to younger artists and art lovers. For those still left scratching their heads, this essay excerpted from Phaidon'sArt in Time: A World History of Styles and Movements provides a quick primer on this radical group's major players and events.
Fluxus was a loose confederation of international artists in the 1960s working in performance, painting, sculpture, poetry, experimental music, and even correspondence art (art sent through the postal service). It was often, though not exclusively, political in tone. Fluxus works shared similarities with the "Happenings" of Allan Kaprow, particularly in the way they blurred distinctions between art and life. In doing so, Fluxus transformed art from an object of aesthetic contemplation to a gesture of political action. The actions of these artists laid the groundwork for Conceptual art and performance art in the decades to come, and Fluxus shared members with other movements, such as Neo-Dada and video art.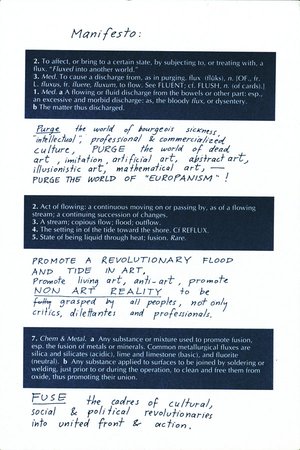 Fluxus leader George Maciunas (1931–78) summarized the themes found in much Fluxus work in his Fluxus Manifesto (above). Cut-out dictionary definitions of "flux," which emphasize its bodily character—a flow of fluids and discharge—were interrupted by his handwritten political statements calling for a fusion between art and reality.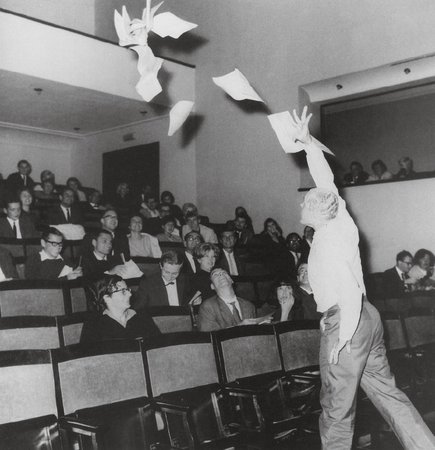 Fluxus performances often had a pithy character, especially in contrast to Kaprow's "Happenings," though both sought to blur the line between artist and audience. At a 1963 Fluxus event in Düsseldorf, for example, Maciunas threw copies of his manifesto at his audience, and Dick Higgins staged a similar performance (see above) in Wiesbaden the following year. The single stack of paper transformed into a flurry of multiple pages embodying the idea of "flux" as continual change, and recalled the early Dada movement in both its irreverent content and disregard of aesthetic norms.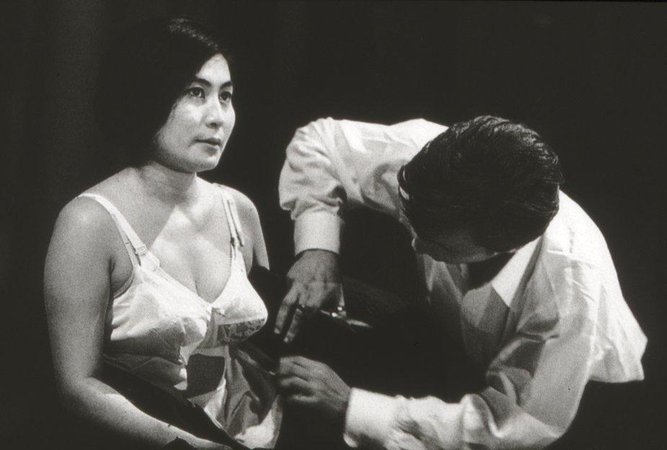 Another Fluxus artist, Yoko Ono (b. 1933), created Cut Piece in 1964 (see above), in which she kneeled on a stage and invited audience members to cut off pieces of her clothing with scissors. Ono remained motionless, and the realization of the work was dependent on its audience. The performance created a psychological tension for the viewer, who was asked to participate in an otherwise taboo act.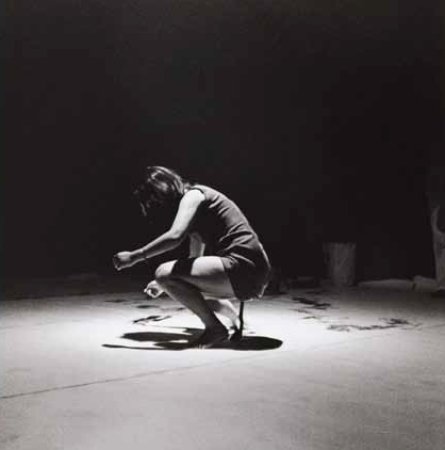 Fluxus actions implicitly and explicitly critiqued traditional art practices, as when Shigeko Kubota (b. 1937) attached a brush to her underwear and then squatted and moved to mark paper on the floor with red paint (see above). The piece challenged the male-dominated world of Abstract Expressionism—the paintbrush became phallic, and the horizontal orientation recalled Pollock's drip paintings. But more than satire, the work signified a concentrated intellectual and physical effort.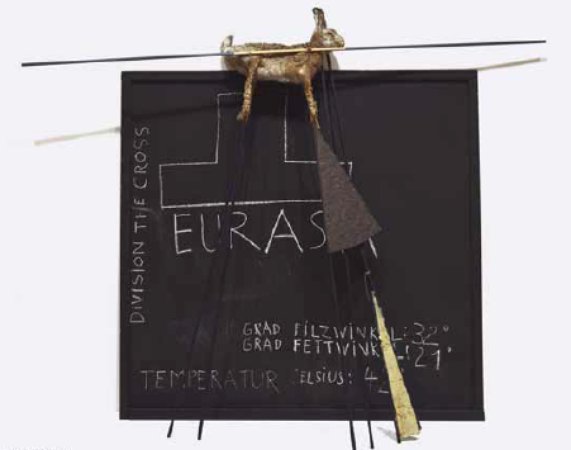 Joseph Beuys (1921–86) used Fluxus performance to emphasize art's responsibility in the political sphere. A former World War II Luftwaffe airman, Beuys used art as an attempt to atone for German guilt and responsibility and to provide a space for spiritual, transnational healing. In a shamanistic ritual Eurasia Siberian Symphony (above), he propped up a dead hare on thin poles and gently carried it on his shoulder. The fat and felt between the front poles are part of Beuys' personal symbolism representing warmth, nourishment, and healing. The word "EURASIA" written on the chalkboard suggests a desire for political and ethnic harmony. The organic materials often used by Beuys are in a state of flux and subject to processes of decay. In the artist's words: "… the nature of my sculpture is not fixed or finished … Everything is in a state of change."