The enigmatic Phoebe Washburn has experienced a meteoric rise in the art world since her first New York solo show in 2002—since then, she has been featured in the 2008 Whitney Biennial and received numerous awards, including the Louis Comfort Tiffany Foundation Grant, while exhibiting her protean artworks around the globe. Based in New York City, Washburn has earned widespread attention for her sprawling, inventive installations that use found and recycled materials. (It should come as no surprise that she studied under Sarah Sze at New York's School of Visual Arts.) Here we take a closer look at her remarkable creations.
 SUPERSIZE THAT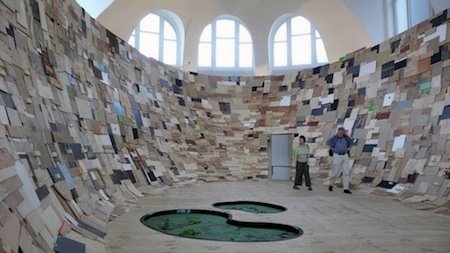 Many of Washburn's compelling installations are equally notable for their intricate, filigreed details as they are for their sheer size. Entire galleries are often devoted to these huge structures, which challenge viewers to simultaneously pay attention to large-scale effects and tiny embellishments. Her 2007 show at the ICA Philadelphia, for instance, practically re-formed the exhibition space with her organic, architectural sculpture, an enclosed barrel-vaulted walkway that contained a multitude of crevices, windows, and fake aquariums. Another well-known example is her Compeshitstem, constructed for Hannover's kestnergesellschaft space in 2009 and consisting of a bowl-like chamber resembling a life-sized skateboarding dome or empty swimming pool that the artist crafted from multicolored wooden refuse.
IT'S IN THE DETAILS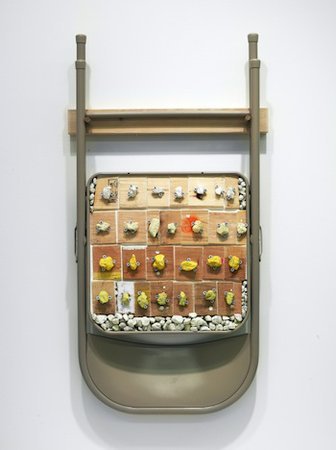 While Washburn's projects are often epically scaled, some are more modest in size, providing a manageable entry point into her museum-filling works—and providing an illuminating perspective into her thinking process. One example of these is Skills Learned From My Hippie Orthodontist, a 2011 wall piece composed of a folding chair nailed with wood decorated by multicolored rocks, slyly conflating her own magpie artistic approach with the ecologically geared pursuits of an amateur rock collector. Washburn also explores her artistic themes through photography—capturing both her existing installation pieces and compositions that she creates expressly for the camera—and drawings, which show off her playful color sensibility. The change of scale in these works reorients how we understand her larger artistic aims, and force the viewer to contemplate the tiny, almost imperceptible nuances of her work that can be overlooked in the giant pieces.
IT'S ALIVE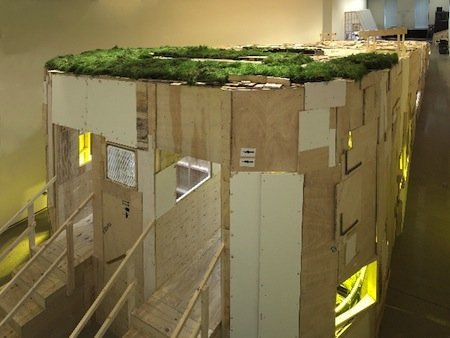 Washburn utilizes elements of performance as well as living materials in her installations, incorporating such plant matter as duckweed, lily pads, and grass to literally blend art and life. Her ICA installation included a lily pond that viewers were asked to replenish with water. Ponds, aquariums, and plants often play key role in her enormous projects, which allows for "real-life interventions." She has said before of her work that she's less interested in the illusionistic capabilities of art than its living, breathing mechanisms. Regulated Fool's Milk Meadow (2007), her giant structure at the Deutsche Guggenheim, employed a grass roof for the wooden makeshift space. Sprouting greenery on its top while cavernous on the inside, the piece put the artist's organic preoccupations on full display.
PART OF THE PROCESS

Washburn's practice is firmly situated in the tradition of Process Art, with most of her work taking place outside the studio, from her search for materials to the rituals and rules she sets for herself surrounding how those materials will be sought out, synthesized, and implemented. Putting together her installations requires Washburn to be part landscaper, part architect, part sculptor, part scavenger, and this rich myriad of personalities electrifies her work. Where does she look for the raw components of her art? Everywhere from dumpsters to bookstore loading docks to back alleys—a W magazine profile even hailed her as the "Dumpster Diva." The resulting materials run from destroyed paperback books to recycled cardboard boxes to newspaper scrap wood. She openly calls it a "crude" method, but it's a source of some seriously sophisticated work that recalls earlier assemblage artists like Kurt Schwitters.