For just one week a year, a remote desert outside of Reno, Nevada is ignited with a neon glow as people from across the globe gather for a communal celebration of impermanence, community, and radical self-reliance. Thousands of temporary living structures and monumental sculptural works are erected overnight, and as quickly as an entire city is built, it is dismantled, leaving no trace.
At this point, it's likely that you've at least heard of Burning Man, if not a whole gaggle of stories and speculations about all of the wacky things that go on out in Black Rock Desert. What began over 30 years ago as a ritual effigy-burning by a heartbroken man named Larry Harvey on a beach in San Francisco has since grown into a 7-square-mile temporary city with a population hovering somewhere around 70,000 people. In the past few years, the event has been brought to the public eye, largely attributed to documentation on social media and news outlets. However, only recently has the mirage-like spectacle of the Burn extended beyond the bounds of the Playa. This year, in an effort to bring this cultural phenomenon to the general public, the Renwick Gallery at the Smithsonian Museum is exhibiting artworks from the Burn in an exhibit titled "No Spectators: The Art of Burning Man."
Truth is Beauty (4) by Marco Cochrane
Aside from its exponential growth over the years, the festival itself has changed considerably since its earlier iterations. The core population of half-naked sage-wielding hippies on hand-made double-decker bikes now gallivants among an influx of tech moguls in garish luxury campers (plus celebs like Paris Hilton who have been spotted wearing goggles and a technicolor fur coat out on the Playa). However, one thing that has remained integral to the festival since its inception is the art.
Since the mid-90s, the Burning Man Arts organization has offered artist's grants (an estimated $1.4 million per year) to an array of designers and builders who essentially make Burning Man happen. The mission of Burning Man Arts is to "change the paradigm of art from a commodified object to an interactive, participatory, shared experience of creative expression," according the their website. They operate on the belief that "community-driven, inclusive and interactive art is vital to a thriving culture."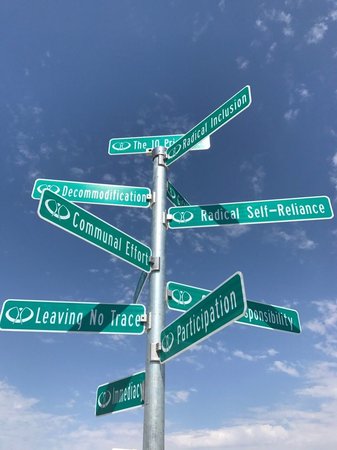 Ten Principles (detail) by Scott Froschauer
Making art with the intention of sharing it with thousands of people in the middle of the desert presents its own unique set of parameters and challenges (particularly with regard to the harsh weather conditions, not to mention hauling the thing out there), yet it also offers boundless opportunities in terms of scale and potential for human interaction. Unlike a gallery or museum space where touching an artwork is a major faux-pas, festival-goers are invited to enter into, climb all over, and sometimes even add to a work. Many of the works are activated by human interaction. (A whole bunch of it is even on wheels!) The greatest distinction of Burning Man artworks however is their impermanence. A number of sculptures that were so carefully and intricately constructed are ritually burned at the end of the week, ensuring that their value remains purely experiential and strictly non-commodifiable.
Because of these differences of intent, there exists this unspoken divide between "Burner Art" and "High Art." I mean, you wouldn't really expect to see a 26-foot tall mechanical octopus on wheels shooting fire out of its eight tentacles driving around a museum. And on the other hand, you probably wouldn't expect to go to a museum and watch a ritual burning of a Koons balloon dog sculpture. However, as Burning Man has continued to grow over the years, arts institutions have begun to take notice of the raw, innovative spirit of these artists who make works specifically intended to be experienced in a desert Utopia where monetary value temporarily ceases to exist. While many longstanding Burners still operate on the fringes of society, Burning Man is increasingly considered to be a defining facet of contemporary American art and culture.
Last year, the Nevada Museum of Art did what no arts institution had done before, hosting a show devoted to the Burn in an exhibition titled "City of Dust: The Evolution of Burning Man." With thousands of relics collected from the gathering over the years, the exhibition explored the history of the Burn and its impact on contemporary American culture. A portion of the exhibition is now traveling to the Renwick Gallery in Washington D.C. for "No Spectators."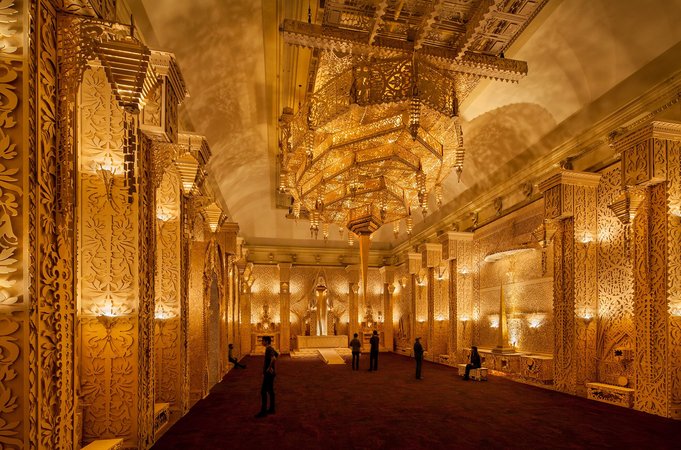 David Best, Temple, 2018, Photo courtesy of Ron Blunt
The exhibition includes large-scale installations from some of the Burns seminal artists, including Marco Cochrane, Duane Flatmo, David Best, Candy Chang, Michael Garlington and Natalia Bertotti, Android Jones, Aaron Taylor Kuffner, Christopher Schardt, Richard Wilks, Leo Villareal, and HYBYCOZO (Yelena Filipchuk and Serge Beaulieu). Each installation is room-encompassing, inviting viewers to experience rather than just look. Costumes and jewelry from the festival also take the stage, alongside archival materials and photographs. The Museum's Lloyd Herman Curator of Craft, Nora Atkinson, worked closely with nonprofit organization Burning Man Project to choose works that best represent the Burning Man experience. Says Atkinson in a press release, "'No Spectators' is a long-standing saying on Playa. You are encouraged to fully participate. It's all about being there, being fully present, and not just observing. Two of the ten principles of Burning Man are radical participation and radial inclusivity, meaning that there are no outsiders. Everyone is part of the experience."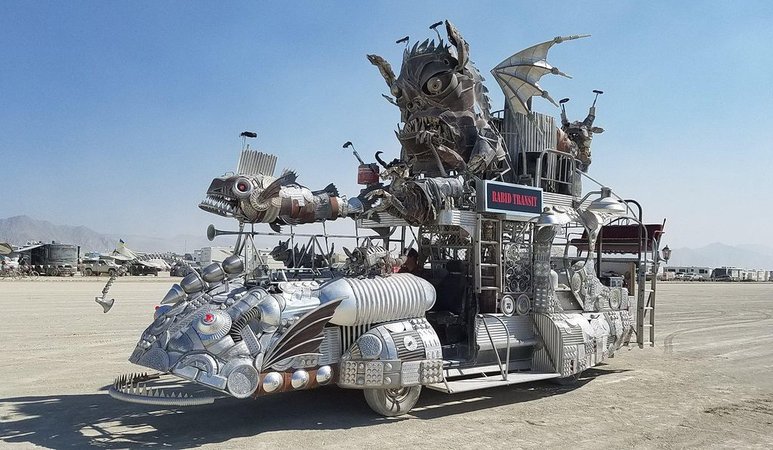 Rabid Transit by Duane Flatmo, 2017
The show highlights a cultural movement toward craft and the handmade; naturally at odds with the post-capitalist heavily commodified and deeply competitive climate of contemporary American society. Burning Man offers an alternative, where every participant is valued and included, and artworks are intended as a shared experience. In addition to the gallery show, six public art installations; including Mischell Rudy's five-ton cast cement bust of Maya Angelou and Mr. and Mrs. Ferguson's 14-foot tall bear sculpture made from 170,000 pennies; will be erected in the streets surrounding the gallery, situated in the heart of D.C.'s central business district.
Because the Burn is not accessible to everyone (tickets are harder to come by every year), the goal of showcasing these works outside of the desert is intended as an offering to the general public. But with these good intentions in mind, it is still hard to see past the obvious dissonance between the art's goal and its context in a white-walled institution just west of the White House. Is this not naturally at odds with the Burning Man Arts goal to "change the paradigm of art from a commodified object to an interactive, participatory, shared experience of creative expression"?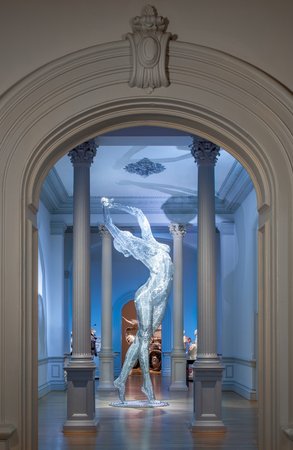 Marco Cochrane, Truth Is Beauty, 2017
Highly conscious of these disparities, the Smithsonian curators worked together with Burning Man organizers to ensure that the events core values were upheld. The show is free (the Smithsonian is always free), and Burning Man Arts was able to review all press materials to make sure that there are no indications of corporate sponsorship (though sponsors did include Lyft and Intel). Local burning man attendees were also invited to volunteer to put the exhibit together so that it presented an authentic look at this cultural movement.
The works exhibited are sure to take on a different life at the gallery than they do out in the desert. However, Burning Man is all the ability to adapt and share unconditionally, and what more apt parameters for adaptability are there than a national gallery right next to the White House? (Plus it does look pretty freaking cool).
RELATED ARTICLES:
Future Museums: 8 Groundbreaking Art Institutions Opening In the Next Three Years
Doug Aitken on Making "Underwater Pavilions" For Weightless Audiences
8 "Unbeweavable" Textile Artists Redefining the Traditional Medium