Often when we think about textiles, craftwork and utility come to mind. This connotation is largely attributed the medium's rich history across a variety of cultures, from the monumental, decorative medieval European unicorn tapestries woven from wool and silk thread; to the Kente fabrics of 17th century Ashanti weavers in present-day Ghana; to Peruvian woven rugs and tapestries of the Quechua tradition, dating back as early as 2500 B.C. An integral part of community and daily life, textile fabrication has historically provided people with shelter, costuming, decoration, protection, and comfort; and has also been used to document and express narrative.
In an age of rapid consumption, production, and isolation, a number of contemporary artists are veering towards handmade practices which take time, patience, and are often experienced communally. Whether incorporating ready-made found textiles into a work or meticulously creating their own, textile artists are particularly difficult to categorize. However, one thing that binds each of these artists together is their awareness of the historical and cultural significance of the medium. With the roots of the medium in mind, these eight artists address topics ranging from colonialism, to power dynamics, to disposal and regeneration.
SARAH ZAPATA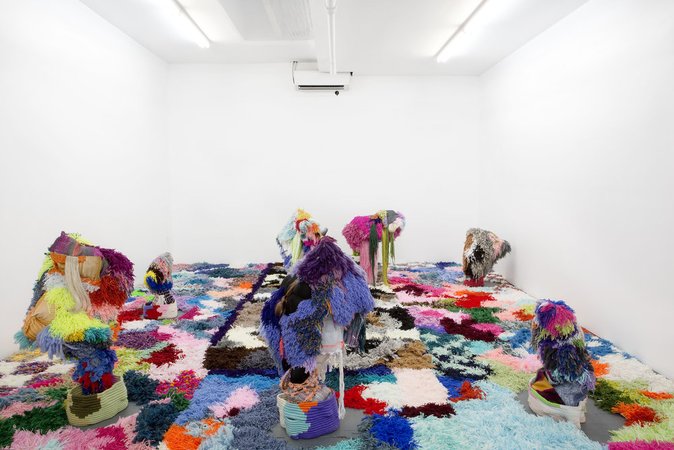 "If I Could" installation at Deli Gallery, Image courtesy of the artist
Sarah Zapata established herself as one to watch with her installation "If I Could" at Deli Gallery last March. Born in 1988 in Corpus Christi, Texas, the Brooklyn-based, Peruvian-American artist utilizes traditional Andean and Peruvian hand practices of rug making and weaving to create vibrant, abstract textile works. Zapata utilizes these labor-intensive practices in order to examine her own cultural identity, in addition to reclaiming a medium that has historically been considered "women's work." Working with wall-hanging, sculpture, and installation, Zapata makes playfully tactile works that appear boundless, exuding beyond the constraints of the frame; and in some cases, as in "If I Could," visitors are invited to interact with the works under the condition that they are barefoot. For the installation (pictured above), Zapata invited poets and performers to embody the space, including artists Kayla Guthrie, Monica Mirabile, LA Warman, and Andrea Arrubla.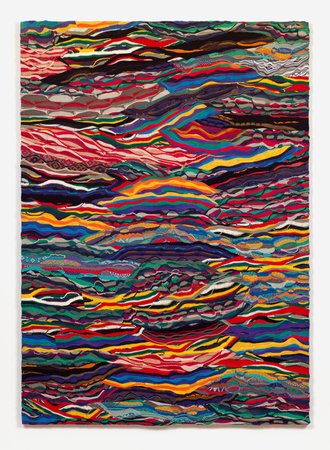 777, 2016, Image courtesy of Fleisher/Ollman
You may recognize Jayson Musson from his smart, satirical 2010 web series Art Thoughtz, in which he goes by the name Hennessy Youngman, and talks about contemporary art, race, gender, and pop culture in videos like "How to Be A Successful Artist," and subsequently "How to Be a Successful Black Artist." What you may not know, however, is that in addition to his apt cultural critiques of the contemporary art world, Musson is also a highly successful artist in his own right. This year at Armory, we were blown away by Musson's large-scale paintings composed of Coogi sweaters exhibited by Philadelphia's Fleischer/Ollman Gallery. Coogi sweaters have long considered a symbol of status in the African-American Hip-Hop community; however, Coogi has always been a white-owned company, originally founded in Australia. Musson incorporates the vibrant knit garments to examine the relationships between high-art vs. craft and intentional vs. found abstraction; but he is most interested in the notions of colonization and ownership, and the profitability of cultural communities within overarching power structures. Says Musson, "I come to the Coogi material as a junk collector of sorts. I consider the sweaters 'cultural detritus'—just another commodity on a long list of objects many people are manipulated into coveting or consuming... ultimately, this work is about a form of existential disconnection, that even as one retreats into memory in order to counteract the trauma of the present, even these memories are occupied by our enemy. Thus, the alienation of the self is continued even further."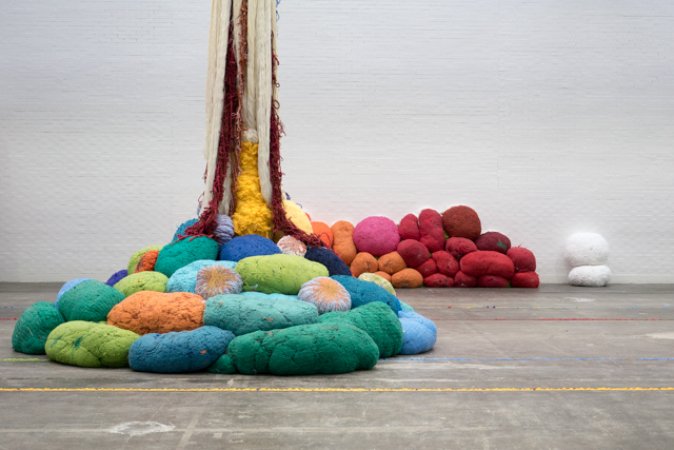 "Mighty Mathilde and her Consort" at Glasgow International 2016, Courtesy of the Artist
Considered to be a cornerstone of Fiber Art in America, Sheila Hicks (b. 1934) was one of the first artists to create large-scale textile works which challenge the distinction between sculpture and painting. To put into perspective how groundbreaking Hicks's work was at the time, you have to remember that when she began making these works, Minimalism was the pinnacle of high art. While she was studying under Josef Albers at Yale, Hicks was introduced (by Albers's wife, Anni) to the traditional woven fiber works of South America. Adopting these practices widely regarded as "domestic work," in combination with her fascination for architecture, Hicks created a radical, vibrant body of work ranging from wall hangings to floor-to-ceiling woven columns to piles of plush, abstracted forms that the artist calls "masses of color." As with Hicks's monumental work Pillar of Inquiry/Supple Column, a 17-foot conglomeration of richly pigmented threads hanging from ceiling to floor at the 2014 Whitney Biennial, the majority of Hicks's works are site-specific. Though she doesn't consider herself a master of the craft, Hicks has garnered a name for herself with her breadth of meticulously constructed and awe-inspiring sculptures.
EL ANATSUI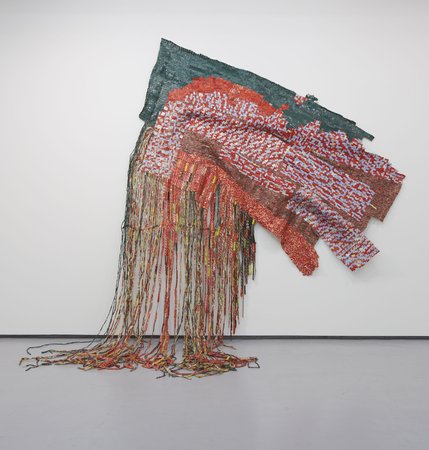 "Pot of Wisdom" Installation, 2012, Image courtesy of Jack Shainman Gallery
In 2003, Artist El Anatsui wrote "art grows out of each particular situation, and I believe that artists are better off working with whatever their environment throws up." Born in 1944 in Anyako, Ghana, the artist lives and works between Ghana and Nigeria, creating intricately woven works from discarded materials ranging from bottle caps found at alcohol recycling stations to found aluminum and copper wire. Says Jack Shainman Gallery, who represents the artist, "His use of these materials reflects his interest in reuse, transformation, and an intrinsic desire to connect to his continent while transcending the limitations of place." Addressing themes of colonialism and cultural exchange in Africa, as well as hyper-consumption and its effects on the environment, Anatsui's large-scale works appear as glimmering maps of waste, composed of strong metallic materials which drape like fabric; reminiscent of the strength and malleability of chainmail. Much like Hicks's work, Anatsui's installations are site-specific, and the assemblages evoke a renewed presence each time they are installed.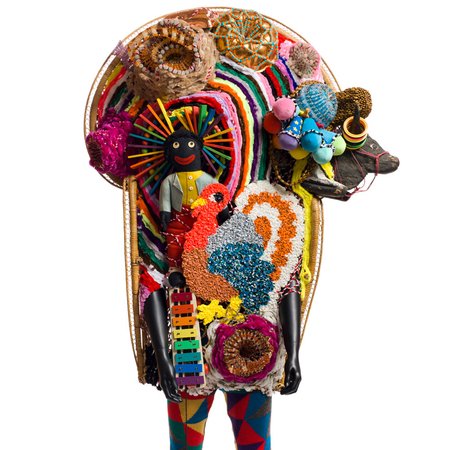 "Soundsuit," 2011, Image Courtesy of Jack Shainman Gallery
Nick Cave (b. 1959) is widely acclaimed for his works which blur the distinction between sculpture and fashion. He is most known for his Soundsuits: wearable sculptural costumes which fully conceal the body, masking racial, class, and gender-based stereotypes. Cave was inspired to make these works after the Rodney King beatings, envisioning them as a protective armor which allows bodies to exist apart from bias or judgement. Cave's multimedia costumes incorporate found materials along with traditional craftwork, such as crochet and intricate beading and sequining. The artist exhibits them both as static sculptural objects in a gallery environment, and as activated through dance. Collaborating with performers, dancers and choreographers, Cave incites an ecstatic community celebration of diversity in public spaces.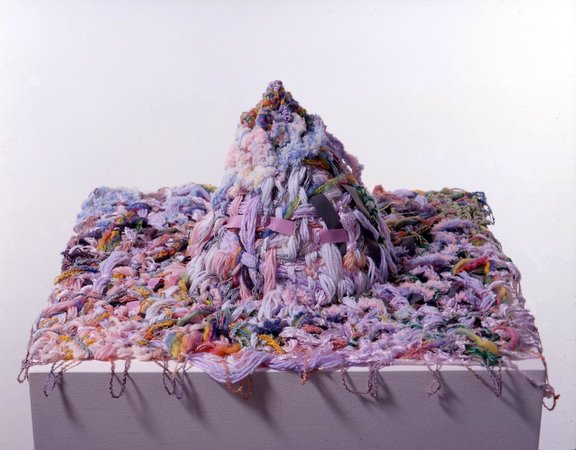 Zuckerberg, 2005, Image courtesy of Herald St. Gallery
Most known for her knitted assemblages of disparate materials including wool, tree branches, and a variety of found objects, German artist Alexandra Bircken (b. 1967) revels in the delicacy of the handmade, and the dialogue between natural and synthetic materials. Typically comprised of fabrics and woven materials stretched across structured frameworks, the artist's work appears as a large-scale, off-kilter webs. In as much as they are delicate, they also seem to wrestle with the frustrations of being bound to a medium typically associated with domesticity and womanhood, oscillating between structure and entropy, imitating the human psyche and our simultaneous desire for boundaries and boundlessness.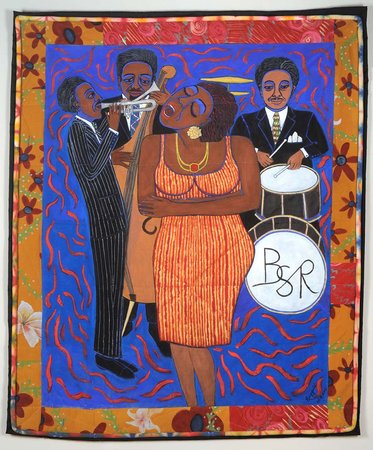 Jazz Stories : Mama Can Sing Papa Can Blow #4, 2004, Image courtesy of Bates College
Born in Harlem in 1930, Faith Ringgold began painting in the 1960s during the civil rights movement as a way of speaking out against racial violence. She was a major figure in organizing protests against museums that had historically disregarded the work of people of color, particularly women. In the 1980s, she began creating the narrative quilts that have since garnered a great deal of acclaim. Quilting is a traditional African craft, often associated with women's communal work; but it is also associated with slavery. Weaving together brightly pigmented fabrics, Ringgold depicts scenes which highlight racial and gender inequalities, and exemplify the fierce resilience and strength of Black communities. Rather than focusing on themes of violence, Ringgold took a positive stance on creating social change, undoing stereotypes of women of by instead presenting them as powerful and passionate. Ringgold's Tar Beach is an intimate birds-eye view of a summer night in Harlem. We see the scene from the perspective of a woman, flying freely in the night sky.
JUDITH SCOTT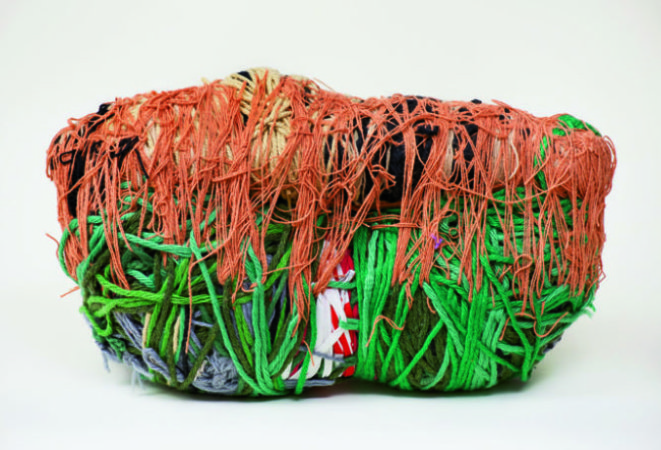 Untitled, 2000, fiber and found objects, Image courtesy of Art in America
Judith Scott (1943 - 2005) is known for her complex sculptural works which bind together a variety of disparate materials including yarn fabric and plastic found objects using intricate weaving and wrapping techniques. The internationally-recognized American fiber sculptor was born with Down syndrome and was also largely deaf, causing her not to speak. For the first 35 years of her life, Scott lived in an institution for people with disabilities. In 1987, however, she was enrolled at the Creative Growth Art Center in Oakland, California, a studio art program for artists with physical and developmental disabilities. Scott was highly self-directed and spent between weeks and months on a single piece; each object distinct and complex. The Creative Growth Art Center writes that "in the eighteen years that Judith made her work, she never repeated a form or color scheme." Using discarded materials as a base, like bamboo slats, wooden chairs, bicycle wheels, or baskets, she diligently wrapped cloth or thread around the object, creating an entirely new object, and redefining the medium of textile art.
Related Articles
Body Politic: 10 Radical Artists Who Use Dance as a Medium
8 Artists to Watch in March 2018
5 Empowering Artworks (and Exhibitions) Made During the Civil Rights Movement