Dance entered the realm of visual art in a big way in the 1950s and '60s: a response to social alienation, widespread uncertainty, and anxious feelings brought on by the Cold War and the spread of mass media and communication systems (and to think: they didn't even have the internet, smartphones, or a reality show host as the president). To reconcile these emerging anxieties, many artists embraced the body—the meeting point between the public and the personal—specifically in the form of choreographed and improvised movement. Says curator Nelly Richard: "It is at the level of what we understand as everyday life, namely the intersubjective microcircuits existing within the couple or the family, work, domestic organization, urban movements, etc., that the division between the public (the sphere of social productivity) and the private (everything outside that sphere) can be traced. The body is the stage on which this division primarily leaves its mark."
The major distinction between traditional dance (such as ballet) and the emergence of dance as an artistic medium is dance-as-art's reference to all corporeally-bound beings. Introducing dance as a facet of visual art opens up the conversation of movement: including mundane daily rituals as a deliberate, explorative act. Liberating dance from the realm of solely elite, highly-skilled and trained athletes, the medium holds the potential to act as a form of subversion against oppressive regimes and capitalistic ideals—so it's not surprising that movement became a primary facet of artistic practice at the height of counterculture in the '60s. However, after the 1960s, dance-as-art fell out of the mainstream, most likely because it couldn't sustain itself financially. How do you put a price on a fleeting performative act?
Fast-forward to now: still anxious, still at war, still confused, we are subject to a modern world that increasingly attempts to divide us whilst our physical proximity to eachother increases. With the aid of smartphones and social media, bodies that are unjustly mistreated, violated, or violently killed are not only becoming publicly available and easily seen, but also politicized. Today we constantly face the question: what does it mean to exist as a body in the modern world? Thus performative dance seems a more necessary expression than ever.
The past few years have marked a drastic turn toward re-embracing dance in the realm of art museums as opposed to a form of entertainment performed in theaters. Shifting the venue may seem insignificant, but getting rid of the stage aspect of dance breaks down the distinction between performer and audience. The experience is intimate, cathartic, ephemeral, and also simultaneously challenging and confusing to viewers. There are no seats, so viewers stand at different angles and move around to view the performance as they would a sculpture or installation. It raises a lot of questions: is this a publicity stunt, or is this a re-evaluation of the lexicon of art in the current socio-political climate?
The body exists despite the corporate, virtual world: ripe with its vulnerability; its neediness; its excretion; and desire. It can't be bought and sold so easily. Each moment, interaction, movement, or reaction is an improvisatory act, and so by extension, all experience within the body is a facet of art; a reminder that we exist beyond our Twitter handles as actual living, breathing people in the world. These ten artists, spanning from the founders of modern dance to contemporary artists, have and continue to wrestle with this notion, using dance to explore what it means to be a body in the world.
---
MODERN DANCE AS VISUAL ART
Yvonne Rainer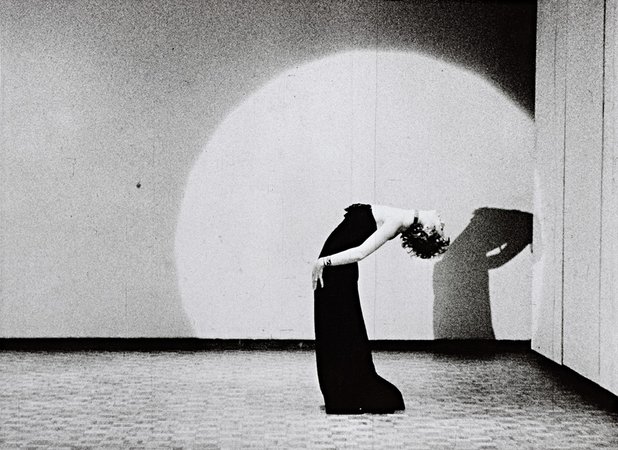 Yvonne Rainer, Image courtesy of The Getty
Yvonne Rainer (b. 1934) was one of the preliminary figures in the merging of dance and art. Her choreography, dance, film, and writing were postured in direct conversation with an array of artistic movements including minimalism, postmodernism, conceptualism, and feminism. Rainer was an integral member of the Judson Dance Theater movement, which was founded in 1962 to blur the lines between dancer and non-dancer. Her works utilized everyday, ritual movements and gestures, emphasizing the body as a living, breathing entity. In her piece Trio A: The Mind is a Muscle, the dancers perform a series of "performance demonstrations" without looking at the audience. She strayed from the theatricality and emotional narrative of traditional dance, rather engaging with theoretical ideas of power and inequality.
Merce Cunningham and John Cage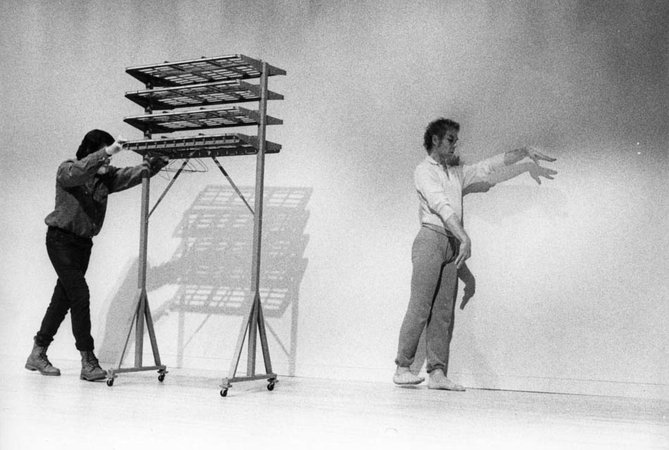 Merce Cunningham and John Cage, 1972, Image courtesy of the Walker Art Center
Artist Merce Cunningham radicalized dance, focusing primarily on the movement itself, rather than a narrative or the accompanying music. Cunningham's collaborative work with his partner, artist John Cage, was wildly innovative, disintegrating the corresponding time structures between music and dance. Often the dancers would learn the routine in silence, only hearing the music at the first performance. Narrative conventions such as climax, conflict, resolution, and cause and effect were disregarded and dismantled, reflecting the reality of the human condition and the element of chance. Cunningham additionally collaborated with artist Robert Rauschenberg, who created his signature combines using scrap materials such as wood, metal, and fabric as freestanding stage elements. Cunningham and Rauschenberg were both insterested in the relationship of art, technology, and daily life, often assembling disparate elements of found objects and improvised movement.
Trisha Brown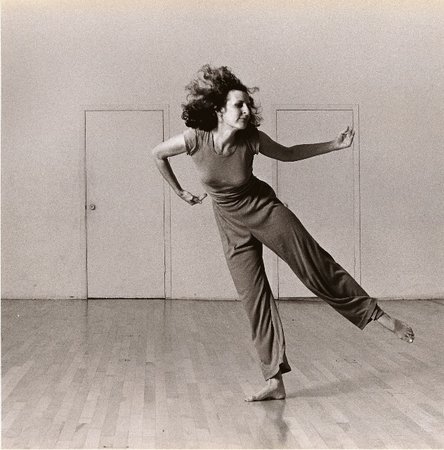 Trisha Brown, Image courtesy of Trisha Brown Dance Company
Choreographer Trisha Brown was an integral figure of the American postmodern dance movement, and the influence of her works still prevails today. She bridged the worlds of art and dance, collaborating both with renowned choreographer Mikhael Baryshnikov for the Paris Opera Ballet, as well as with visual artists Robert Rauschenberg, Donald Judd, and Nancy Graves. Brown moved to New York City in 1961, when she joined the avante-garde Judson Dance Group. She dismantled academia and musicality from her work, inspired by John Cage's radical changes to music. In 1970 she founded the Grand Union, and then the Trisha Brown Dance Company. She made radical gestures in response to the history of dance, and practiced in unconventional spaces without any music. Her style was often referred to as "release technique." Her later works, beginning in the '80s, incorporated a more aesthetic element, as in Set and Resent, Newark, and Astral Convertible. Her work continually challenged the norms of dance, and made an event out of simple, ritual actions.


CONTEMPORARY DANCE AS VISUAL ART
Ralph Lemon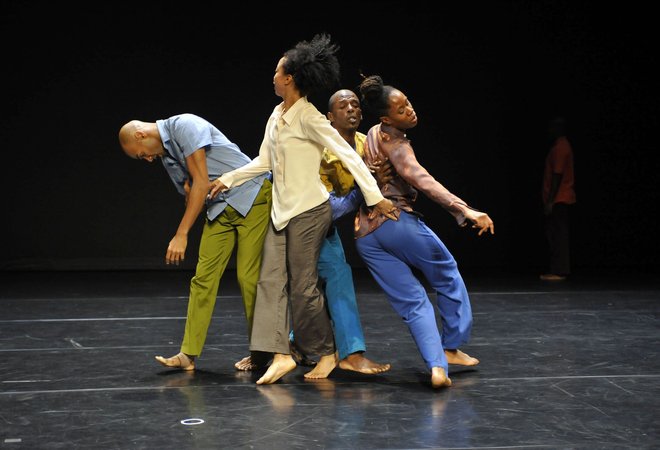 Still from "How Can You Stay in the House All Day and Not Go Anywhere," Image courtesy of Critical Trilogy
Ralph Lemon (b. 1952) is a contemporary choreographer, dancer, writer, and artist, in no particular order. Each of his practices lends to and informs the other. For him, there is no boundary between spectator and experience. Says Lemon, "I am thinking around performance, the stage, the museum or gallery, visual art, video, film, writing... active contemplation and how I would like to be able to live in and between these particular forms (perceived medium landscapes) as organically as possible, banishing any hierarchy... A principal question to this process is: how can an intensive artistic research and immediate art-making practice translate to the staged realm of the spectator? This ongoing struggle between process and production creates a tension that is a vital element in all of my artistic work." His work has been exhibited at a number of museums including the Studio Museum in Harlem, the Museum of Modern Art in New York, and the Contemporary Art Center in New Orleans.
Trajal Harrell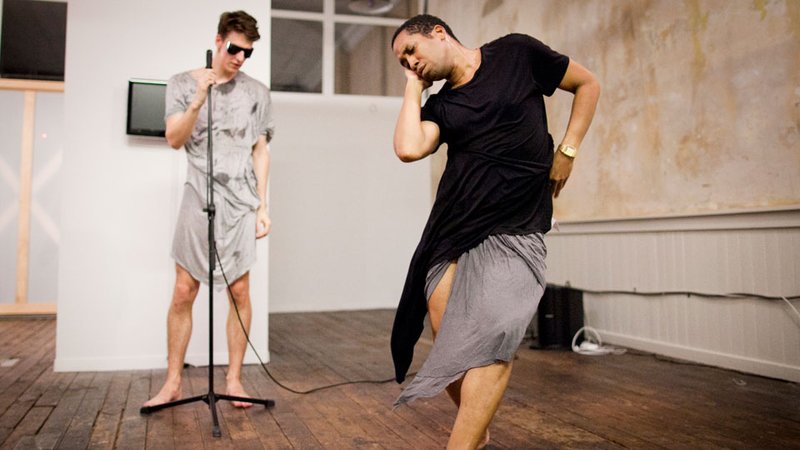 Trajal Harrell, Image courtesy of the Portland Insitute of Contemporary Art
Choreographer and dancer Trajal Harrell (b. 1973) mixes elements from historical dance with contemporary perceptions of the medium. For example, his work Twenty Looks or Paris is Burning at the Judson Church integrates post-modern dance techniques and theories with "voguing," a stylized dance emerging from Black American drag culture originating in the Harlem ballrooms of the '80s; along with the Japanese dance form "butoh," a surrealist, abject art that emerged as a refutation of conservative ideals in postwar Japan. Harrell re-investigates the influence of rhythm and blues, jazz and funk music on post-modern dance, and creates a social dialogue between contemporary dance and historical context and concept. He has collaborated with sculptor Sarah Sze in creating a dance performed in a gallery setting, in which two dancers are connected by thread. Harrell has exhibited at The Walker Art Center, the Bronx Museum of Fine Art, New Museum, MoMA, and more.
Okwui Okpokwasili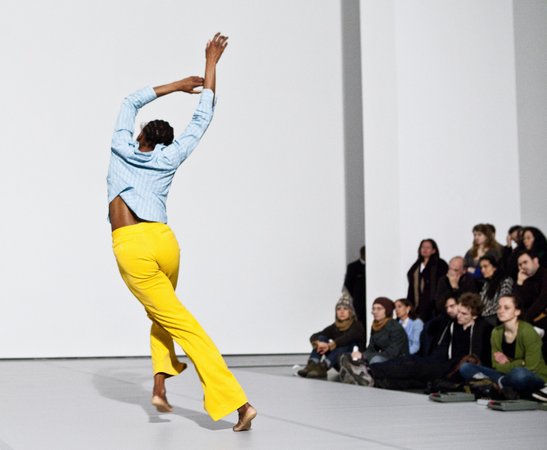 Okwui Okpokwasili, Image courtesy of MoMA
Okwui Okpokwasili (b. 1972) is a dancer of Nigerian descent, born and raised in the Bronx. Her work addresses the body's inherent political history. Her performances are highly personal and draw from her own experiences. In her piece Bronx Gothic, for example, the artist incorporated letters shared between two young girls in the Bronx, who contemplated their place in a world that systematically oppresses women of color and who cultivated strength through community and dialogue. Her work Poor People's TV Room speaks to the history of women in Nigeria, specifically the Boko Haram kidnappings and the Women's War against colonialism in 1929. She breaches the boundaries between an intimate and unsettling atmosphere. She has collaborated with dancer/choreographer Ralph Lemon on numerous works including Scaffold Room and Performance 14: On Line.
Sarah Michelson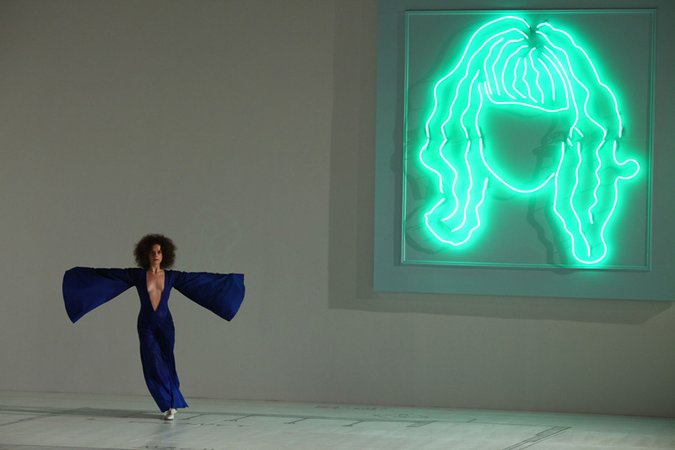 Sarah Michelson, Image courtesy of the Whitney Museum of American Art
Sarah Michelson (b. 1964) is a choreographer living and working in New York. She asks, "where does dance reside in the dancer's body?," and, "what is the dancer's relationship to performance?" For Michelson, dance is an act of devotion—a sentiment that spurred her series of the same name. Place and aesthetic is highly important to Michelson's work. For her piece Dance 4, performed at the new Whitney Museum, Michelson collaborated with curators Jay Sanders and Greta Hartenstein to create a dance floor made of 220 paintings, inspired by the architecture of the Whitney's previous building on Madison Avenue, now the Met Breuer. In an interview with Michelson, choreographer Ralph Lemon writes for Bomb Magazine, "I don't really know Sarah Michelson, not really. We see each other at shows, occasionally; we had tea together once. She has been a downtown myth to me for a number of years, a dancer and choreographer whom I admire. The few (important) works I've seen of hers have made me tremble, have scared me a little—in a good way. Something about their odd imagination, their severe rigor, and precise stage world. Something about what she does that I don't know, can't know, and don't want to know. I've enjoyed this shaky and indeterminate exchange very much...." Michelson is deliberately unknowable, reveling in what is unpopular and rejected.
Phoebe Berglund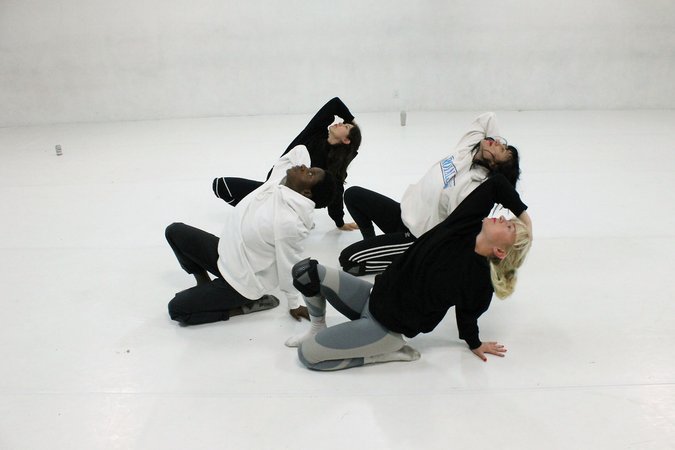 Phoebe Berglund, Image courtesy of the artist
Phoebe Berglund is an emerging artist, ceramacist, and choreographer based in New York City. After studying at both the Martha Graham School, as well as Movement Research in downtown Manhattan, she quit dance for a period because the stage performance environment no longer resonated with her. Her work combines dance with installation and constructed dance spaces incorporating ceramics as "documents" and arranging them in ways that reflects various disciplines including the dancer's stage, the librarian's organization, and the archeologist's arrangement of artifacts and relics. She refers to the body as "a technological tool...(an) instrument that notates the dance. It is important to (Berglund) that the body operate between music made with contemporary machines and clay tablets, the oldest material used for writing." She has performed in a number of spaces and museums including MoMA PS1, where she collaborated with Hannah Levy in the show Night at the Museum: Past Skin, a series of performances, immersive installations and soundscapes.
Brennan Gerard and Ryan Kelly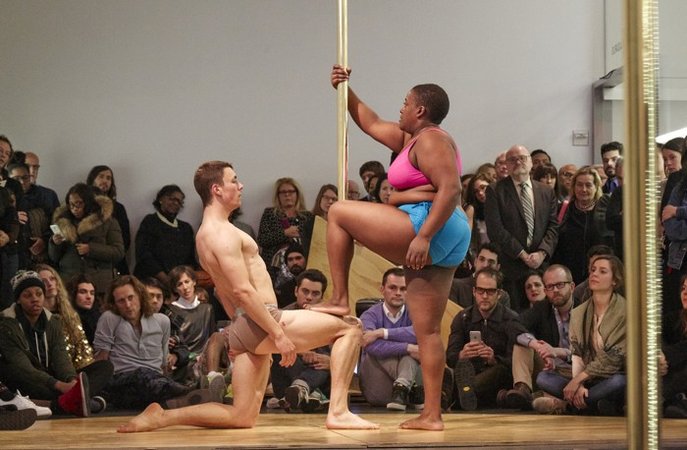 Still from P.O.L.E., exhibited at The New Museum (2015), Image courtesy of the artists's website
Brennan Gerard and Ryan Kelly collaboratively make dance performance installations in museum settings to investigate the relation of a couple, and critically evaluate modes of intimacy. Their choreographed performances use video, language, and sculpture to start a conversation about intamacy, in public, and in the context of contemporary art. Their work incites a "queer consciousness" using sexuality, memory, and habitual action. Their work Modern Living (2016) deals with themes of domestic space, taking place in a modernist home. They ask the question "what would a home have to look and feel like today to protect and produce intimacies and relations that don't fit within dominant narratives of family, marriage, or domesticity?" In their ongoing project P.O.L.E. (People, Objects, Language, Exchange) they incite conversation through a series of performances and public events in gallery spaces. The performers in the piece are New-York based dancers from a variety of backgrounds and disciplines, from street dance to subway pole dancing. The work addresses the Black Lives Matter Movement, including a video of the aftermath of the shooting of Michael Brown in Ferguson, M.O., and offers a way of fostering community and intimacy amongst a community of diverse people.
FlucT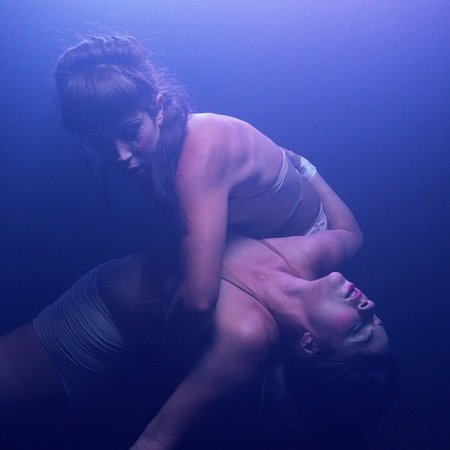 Sigrid Lauren and Monica Mirable of FlucT, Image courtesy of the artists's website
FlucT is a collaborative project of artists Sigrid Lauren and Monica Mirable. Their work is characterized by "violent intimacy" and expresses the psychosis of modern American culture and societal regimes. FlucT's choreographed dances are both intoxicating and unsettling, depicting modes of obedience both societally and self-inflicted. Lauren and Mirable grab at each other desperately between moments of flailing as though possessed by an unseen puppet-master, and call to mind Plato's cave allegory, evaluating what it means to be a body whilst trapped in a virtual world. FlucT has performed at a number of museums and venues including the Queens Museum; MoMA PS1; Secret Project Robot in Brooklyn; and Platform Gallery in Baltimore. They also founded and run a performance space called Otion Front Studio in Bushwick, Brooklyn.
RELATED ARTICLES
Carolee Schneemann on Embodying the "Movement from Interior Thought to External Signification"
"New York Made Me Sick at Heart": Performance Artist Zhang Huan Reflects on How American Made Him More Chinese
[related-works-module]