The young collector and curator Tiffany Zabludowicz is an avid explorer of the contemporary art landscape, particularly at the junctures where the traditional meets the often-digital avant garde. This is the latest installment of her column Watch This Space.

This year a new phrase seems to have fizzled into existence: "Miami Art Week." The first time I heard it, I snobbed it—because it reduces Art Basel Miami Beach to a festival where a few art fairs happen to be. But the phrase has a point. The reality is that Miami at the beginning of December is a place where not only art-worldians flock, but also film, theater, fashion, and music professionals—and it turns out that throwing different cultural producers into one city at the same time results in wild and thrilling experiences. It took me the whole week to understand that the strength of Art Basel's Miami event is not the fairs or the museums, but rather that it's the only art hub that attracts people from every industry to join in the fun. My greatest adventures last week, in fact, took place on the edge of the fairs and the exhibitions and the collections and the parties and the pop-ups.
For instance, I had one incredible virtual reality experience that was more theater than art, but so artful that it has to be mentioned. It was yet another example of reality and virtual reality intertwining seamlessly, with the effect of making both more engaging. Hidden on the second floor of the new Faena Forum, Punchdrunk International—the theater company behind "Sleep No More"—collaborated with Samsung to create a performance known as #believeyoureyes. Here's what happened: 
A friendly actress led me from the ground-floor shopping arena up into a tiny velvet-walled room. There was a chair in the corner and a spinning office chair in the center. I sat in the office chair and she put on my Samsung Gear VR headset. I waited as the room became dark. Suddenly the same woman appeared sitting in the chair opposite me, only dressed differently and more frantic. She began to recount a dream she had—or was it a dream? She shifted from one chair to another, flinging herself desperately around the room. At first I couldn't understand where the words she was saying were coming from. I wasn't wearing headphones. Then I realized there was an actress speaking to me IRL.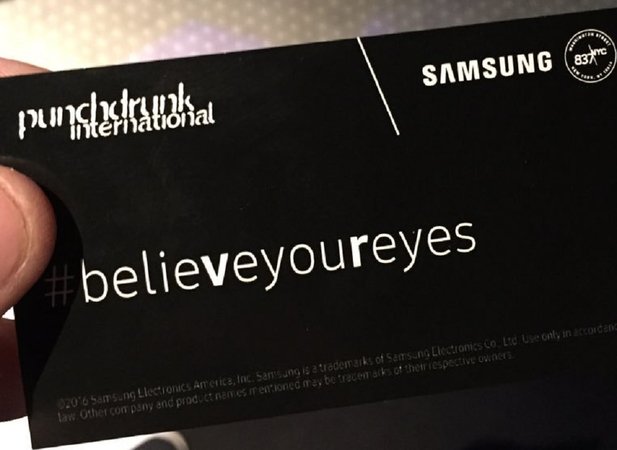 An invite to #believeyoureyes
I tried to keep up with her darting movements around the room, spinning my chair faster and faster. She became increasingly intense and her eye contact was uncomfortable, even though of course she was a virtual projection—or was she? I could practically feel her breath on my neck—or was that real? Eventually it got really terrifying when she reached out to touch me and I felt human hands grabbing my hands and then mysterious hands put a ghostly pressure on my chest. When I removed my headset, there, in front of me in the semi-darkness, stood a hooded figure. The room went black. He was gone. Was he real or a mirage? The experience was over. 
As I was walking out in a daze, a cleaning lady walked past me on the stairs. She turned around to look at me as our paths crossed, "Tiffany?" I hadn't noticed her until then. I nodded without certainty. Did she mean me? She was a total stranger, after all. She mused aloud for a moment about reality and dreaming, and then she was gone. As I walked into the bright Miami street the real world didn't feel very real any more.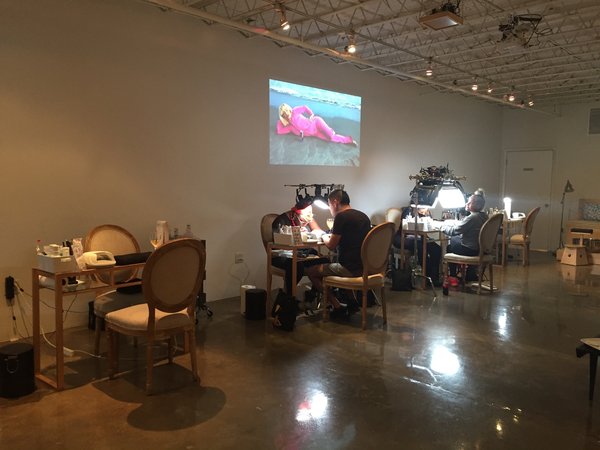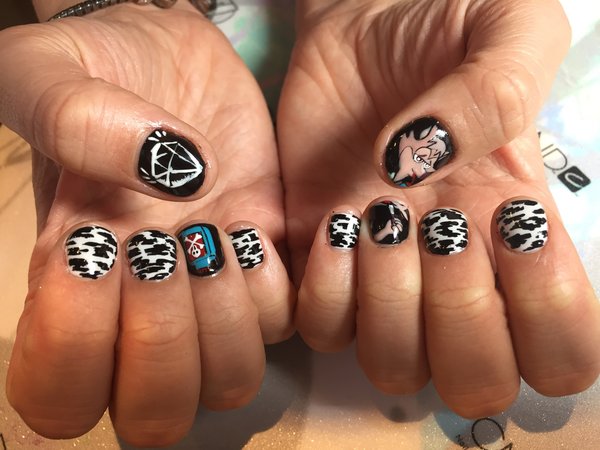 Above, the Vanity Projects nail salon; below, my Ed Fornieles-inspired nails
The next day, I headed to Vanity Projects, where I had curated a show called "Virtually Me" withvideo works from Daata Editions. It was wonderful to get my nails painted while watching videos I had selected because, obviously, I love them all. I relaxed for two hours and drank cocktails and waited as my nails became an artwork. Influenced by the videos, I chose Ed Fornieles-inspired nails, collaborating with my nail artist, Britney Tokyo, to curate how they were painted and displayed. My little sister Olivia chose to have her nails in the style of Yngve Holen's evil-eyed airplane windows, which she got a chance to show him that night when we saw him at MoMA PS1's party at the Delano Hotel with Shayne Oliver's insurgent streetwear label Hood By Air.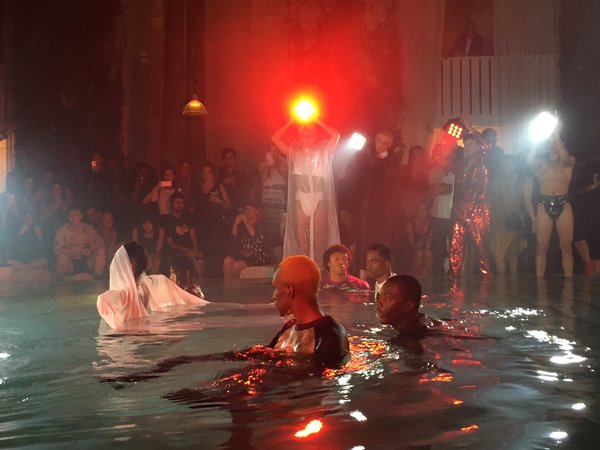 The Hood By Air performance at MoMA PS1's party 
The atmosphere was relaxed and celebratory as we all waited in cabanas surrounding the pool for the lineup of Hood By Air-curated performances to begin. Grace Dunham appeared on stage and began with a strong poetic rant about the state of the world, highlighting our need to share the love. Next Ian Isiah took a seat at a grand piano and began to play as smoke hung thickly above the hotel's swimming pool and tall palms blew rhythmically in the wind. Beautiful boyish male models in oversized t-shirts adorned with Victor Hugo prints began ritualistically sinking into the pool.
Isiah drew the audience's attention to the price of the clothes, "I have a billion dollars on in a hotel pool. I'm wearing billion-dollar HBA clothes in the hotel pool" and then crooning, repeatedly, "Don't you fuck with my energy." Even Shayne Oliver got in the pool, clad in black patent high-heeled boots, and then Princess Nokia performed a set distinguished by her rap celebrating women with "little titties and a fat belly." The night felt cathartic, like an affirmation of an uncowed counterculture and an opportunity for the powerful rebirth of energy, rebellion, freedom, and strength.
The epic PS1 party was on Friday night and I had a flight booked back to New York City early morning Saturday—but then I received an invitation to Chloe Wise's birthday party, and heard about the Satellite Art Show. I decided to extend my trip, fortuitously managing to slip into another flight on Sunday evening. I'm so pleased I made that decision, because it turns out that when the art world's flown away, artists come out to play.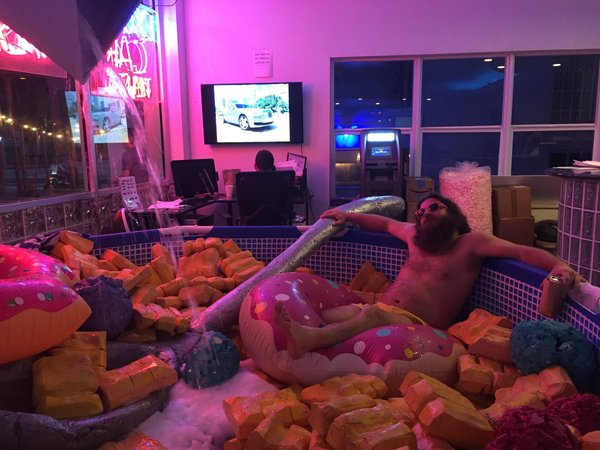 Paul Outlaw in an installation curated by Jen Catron at the Satellite Art Show
In the Parisian Hotel, conveniently located on Collins Avenue, the Satellite Art Show was an explosion of youthful energy and creativity. Suddenly I was in an artists' playground where each room had another experience waiting in store thanks to a constant rotation of performances. It was like running through a funhouse of exciting young art. I couldn't force myself to leave and ended up spending my remaining daytime hours in Miami at that show.
The first artwork upon entering was a mad, cereal-bowl-shaped paddling pool in which Paul Outlaw lounged in swimming trunks, wearing bright pink sunglasses. He could have been on spring break, so relaxed he seemed as water from a giant milk carton splashed onto his body. Moving on, Signe Pierce had created a hotel room that was an "entropical" paradise, where—inspired by everybody's Zika freakout this year—she had created a momentary escape zone complete with a pornographic magazine and a sign saying, "Please Notify Technologist If You Are Pregnant." She lay on the bed and, under the eerie light of her neon artworks adorning the walls, she began to theatrically bite into the half-eaten donuts and cookies that lay around her.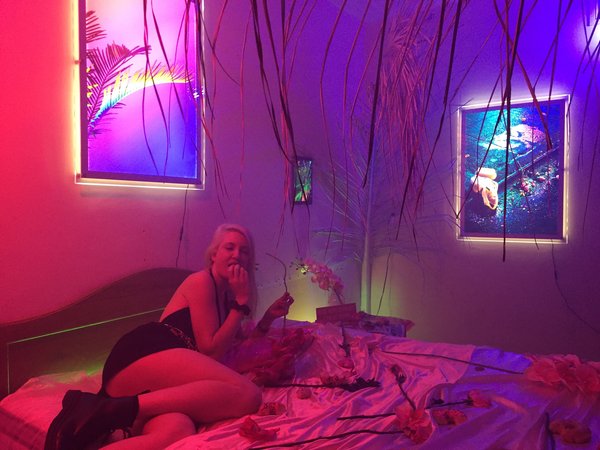 Signe Pierce's performance
In Lounge Corp's room, meanwhile, a beige carpet was spread across the floor and unusual objects occupied every corner, including a cat in a suitcase and a video in the floor. Next, I nearly pole-danced in Dangerous Rose's room, called "le provocateur erotic cabaret," where different performances about sexual freedom were activating the room every time I walked in. Out of the entire show, however, my highlight was DIY Laser Eye Surgery, an optical-illusion trompe-l'oeil work by young RISD graduate Rives Wiley in which you encountered the back of a trippily large head as it watched a fake YouTube tutorial, created by the artist, on how to execute do-it-yourself laser eye surgery. Every moment of the work constituted a smart and playful trick. Afterwards, I needed to chill out and took to The Soothing Center, curated by Jesse Firestone, where I watched a video by The Institute for New Feeling that promised to cleanse the clickbait from my system. I even bought some jewelry, which I wore that night. Youthful and rebellious, the Satellite Art Show was my favorite part of the whole week.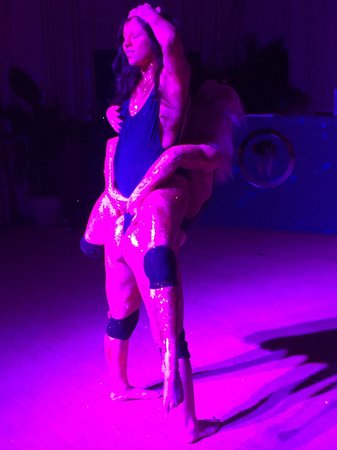 The FlucT performance
Leaving Chloe Wise's wonderful intimate dinner at the Nautilus Hotel later that night, I rushed to Soho House to watch a performance by FlucT, my favorite dancing duo, organized by Performa's Job Piston for a pop-up of L.A.'s psychosexual disco spot A Club Called Rhonda. As glitchy music played they both thrashed around on the floor of the Soho House's beach tent while hundreds of people gathered round to watch. At one point Sigrid Lauren stripped Monica Mirabile naked so that she stood boldly before the audience with nothing but pink paint covering her feminine parts and a one-dollar bill stuck between her legs. Their bodies were covered in gold glitter, which their erratic dancing flung up into the air around them in a shimmering shower. Under the bright lights they looked post-human, like futuristic creatures or Miami party monsters. Perhaps I too was becoming a Miami party monster. It was time to go home.