This week, the third annual Seattle Art Fair opens at the CenturyLink Field Event Center, bringing a host of big-name artists and galleries—along with some newer up-and-comers—to the West Coast. Here, Max Fishko of Art Market Production speaks to Artspace about the challenges and rewards of directing the fair, and about what he's particularly looking forward to when the fair opens this Thursday evening.
I know that Seattle isn't known for having that much of an art market, yet it seems to have the potential to support a thriving art scene. What do you think is preventing this?
Education. Finding new and interesting ways for people to connect and engage with the art scene is a critical. I see a lot of opportunities for that kind of growth in Seattle in particular because it does have a really wonderful art scene and a really open-minded and eager population.
How do you, as a fair, engage potential collectors—people who may not be very educated about the art world but might have the means or the interest to start collecting?
We have a year-long programming series that actually happens when we're not there. One of the things that's truly important to us is that we don't pop up for four days and then disappear like a thief in the night. We want to make sure we have a lasting presence and impact. In order to accomplish that, we have a series of cultural and educational programs that go on throughout the year in Seattle to do just that. We try to bring new eyes and new minds and ideas to the conversation that we've been having for the last three years.
On the other side of that, how do you get really serious collectors—both nationally and internationally—to come to Seattle?
We have a number of ways that we make that happen. One of those is just having a really great fair. If you have great galleries showing great artists then great collectors are going to want to be there. I think that we've accomplished that.
We also have an effort to roll out the best hospitality we can. There are opportunities for people to come and see great collections—collectors in Seattle open their homes and show off some of the greatest collections in the country, in my opinion. We make sure everyone feels welcome and the institutions do the same, so we're able to offer an opportunity to see amazing things, meet amazing people, and really engage with a great art fair.
How big is the Seattle Art Fair in terms of attendance? How many people came last year and how many do you predict this year?
I believe last year we had an attendance somewhere in the 18,000 range. This year, we're looking to build on that. We feel like for a second-year show, 18,000 is a really strong number and it's most importantly been growing ever since we've started. We continue to see increasing interest in what it is we're doing.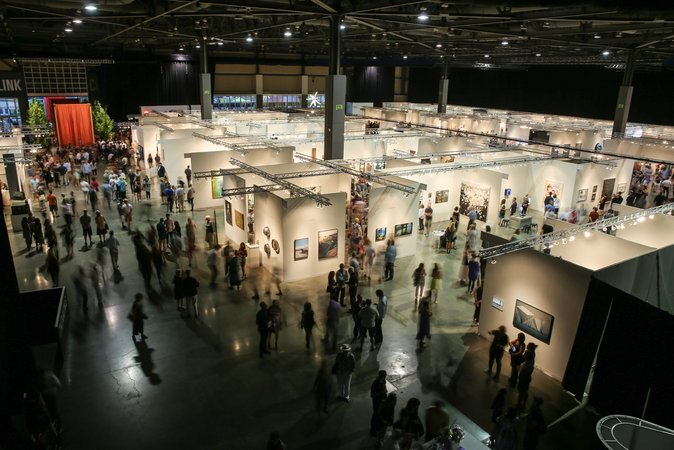 The Seattle Art Fair in 2015

What would you say are your biggest challenges specifically for the Seattle Art Fair?
I think that getting people excited about coming up to Seattle is both easy and hard. A lot of people haven't been to Seattle before; it has a mystery to it. We try to break through a barrier saying, "Hey, maybe this isn't the sort of place you'd think to visit in August but it looks like this—" and just show them a picture of Mt. Rainier. People tend to get excited by that. It's an amazing place to be in the summer time so getting people to recognize that is pretty important for us.
Can you tell me a little bit about Art Market Productions and some of the other things you guys have done in addition to Seattle Art Fair?
We produce six fairs a year and we do some logistical and infrastructure support for a number of others. We started the Art on Paper show in New York and we produced Miami Project five times in Miami. We have a very deep and specific knowledge about large-scale visual art events.
How did you personally get into this? What is your background and how did you end up directing art fairs?
My grandmother started an art gallery in New York City in 1961 called Forum, and my mother and father run that gallery to this day. My father was a big proponent of art fairs when they first started to become popular and he participated in them with his gallery. I was a twelve- or thirteen-year-old kid living in New York City and he knew better than to leave me alone in the apartment so he would bring me with him. I fell in love with the pace and atmosphere of the fair; it was frenetic and full of interesting people and art. I just loved it! It was so exciting. I wanted to be a part of it so I started working for the producers at a pretty young age. I was about fourteen when I worked on my first show and I haven't done anything since. It's just what I do.
What can we expect at the fair this year? Are there certain things in particular that you're really excited about?
I'm really pumped! We have an incredible group of galleries that are coming from Japan—something that I personally worked very hard on. I've been traveling back and forth to that part of the world for the last couple of years trying to solidify this connection with Seattle being the gateway to the rest of the Pacific rim. I think we have about fifteen galleries from that part of the world right now. It's a really special opportunity because they're making a sincere effort to come and engage with Seattle and with the U.S. through the fair and I hope that everyone comes out and takes the opportunity to see what it is that's come over.
What do you recommend to do in Seattle apart from going the the Seattle Art Fair?
Eat all the shellfish humanly possible! The seafood is amazing!