This year at NADA, we've noticed a handful of emerging women artists whose works are feminist in a way you might not expect. Breaking the taboos of the historical "progression" of feminist art, these artists are unabashedly turning back to the body and away from the conceptual. This body-centric trend is surprising for two reasons. First, it's a daunting task for an artist to try to represent the physical human form in our current digital age when the divide between real and virtual bodies is increasingly tenuous. Second, although feminist artists of the '60s reclaimed their own bodies in performance or "body" art, they did so with an unforgiving degree of gender essentialism that was criticized by later feminist artists during a more conceptual and psychoanalytic turn in the '70s. Now it seems that three-dimensional figures are once again ripe forms for feminist critique. Currently on view at NADA, these five young emerging female artists pose new questions about intersectionality in feminist studies and the body's abstraction, obsession, and dissolution in the digital era.
CECILIA SALAMA
No cars and minks, no gucci links, no need for shrinks, just roll the rink (2017)
315 Gallery
$3,500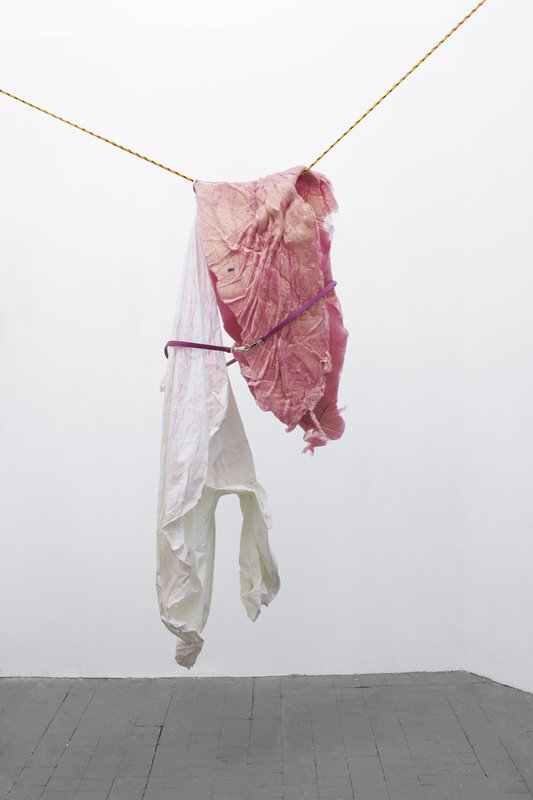 Cecilia Salama might fall somewhere between Mike Kelley and Eva Hesse—combining Kelley's perverse adolescent aesthetic with Hesse's use of inorganic materials (like latex or fiberglass) in natural forms. Whatever appears "cute" in Salama's work is often the darkest element. No cars and minks, no Gucci links, no need for shrinks, just roll the rink is hung from the ceiling like a cotton candy-colored piece of limp flesh, recalling meat hanging in a butcher shop. A Vivien Westwood handbag strap connects pink silicone to stiff white Rag and Bone fabric, which is covered with cursive scribbles that say things like "she said do you trust me and she said no." But despite their seemingly playful, childish aesthetic, these phrases are actually sourced from a rather serious Facebook poll: Salama asked viewers (be they male, female, gay, or straight) to write their experiences of being taken advantage of in abusive relationships—and then she recorded their answers on the designer fabric. The miniature "cute" whale sticker on the pink silicon (a barely visible black dot in the photo above) also becomes an uncannily disturbing element in the work. Obsessed with the treatment of killer whales at SeaWorld, Salama "connects transgressions on the human body with that of the treatment of the caged mammals," her dealer tells Artspace. She not only presents the body-turned-object for sale as a piece of meat or designer handbag, but also connects human bodily harm to larger social issues of animal cruelty. Salama finds new ways of exploring the human body through abstraction and unconventional materials in a digital age where we often forget real flesh exists outside of virtual space. For more abstract anthropomorphic hanging sculptures and Seaworld exposés check out her upcoming show at 315 Gallery in Brooklyn, opening March 17th.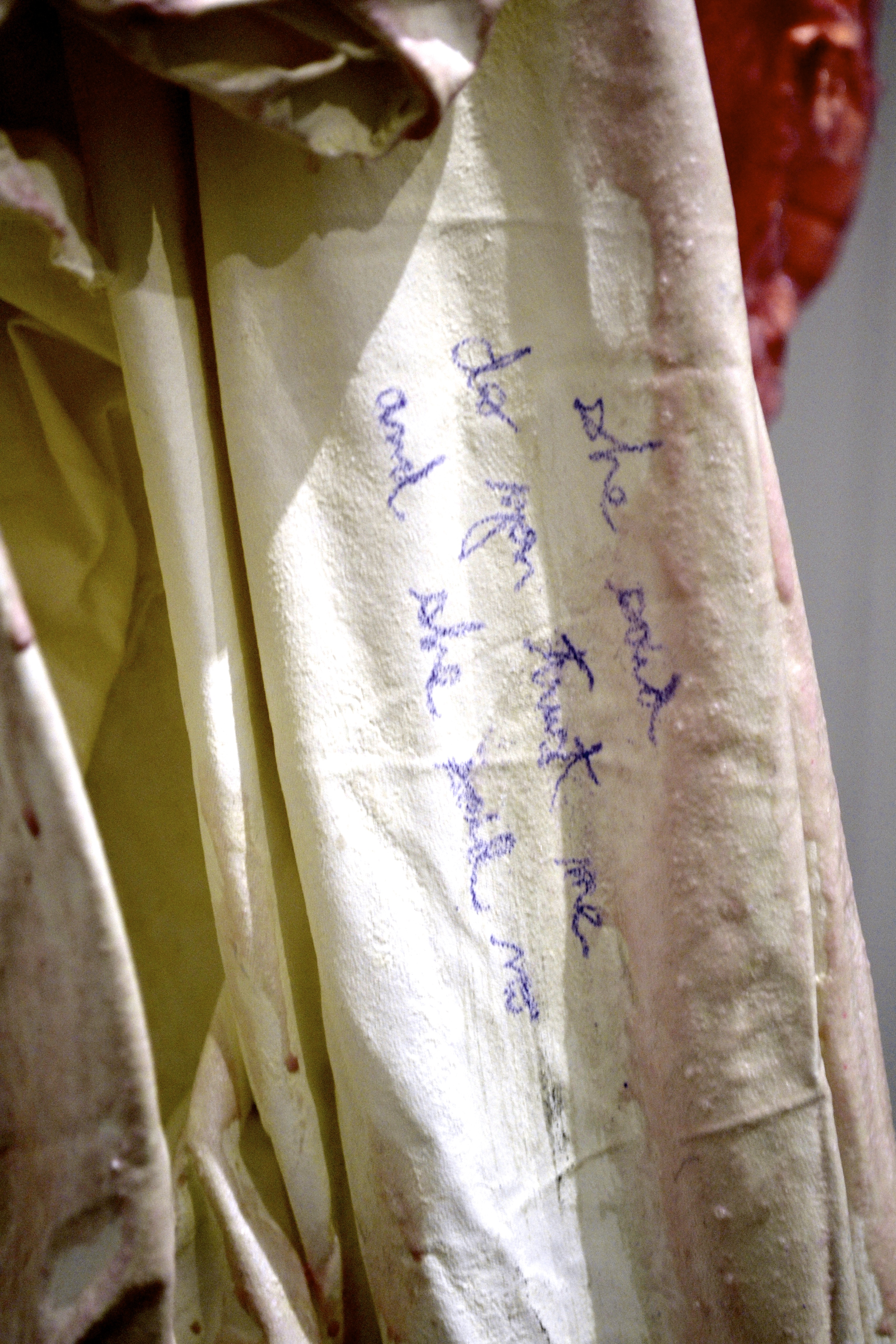 ATHENA PAPADOPOULOS
The Gangrene Godfather , 2016
Shoot the Lobster
$10,000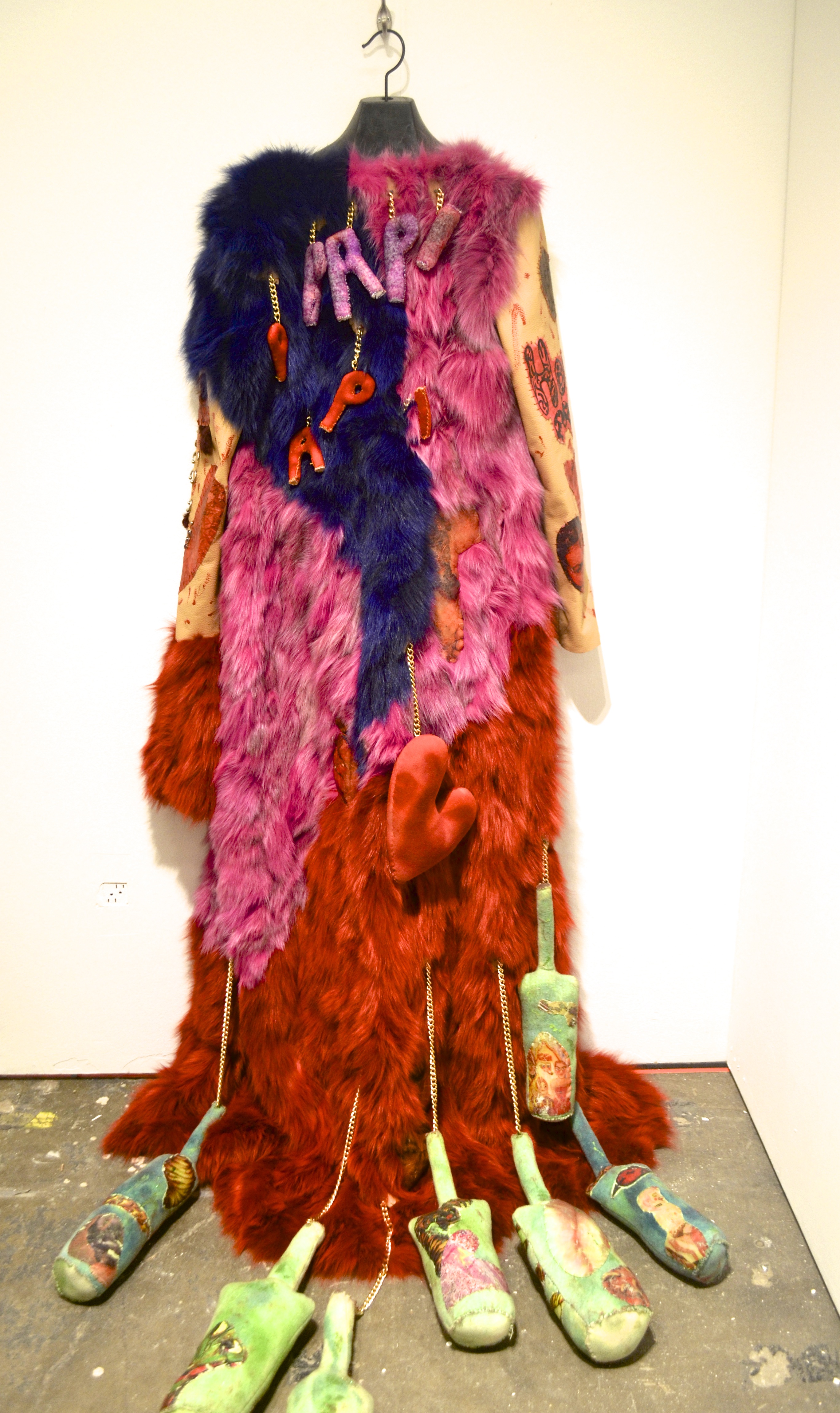 London-based artist Athena Papadopoulos isn't afraid to admit she has daddy problems. Upon entering her booth and seeing the red phallic, heart-shaped punching bags hung from the ceiling, it becomes clear that Papadopoulos is putting up a "fight" with the phallus, and in particular, the symbolic phallus of " The Father." The daughter of an illustrious fur trader, Papadopoulos made The Gangrene Goldfather using the lucrative materials of her own father's industry in collaboration with Monster Coat Club, a design duo that use responsibly sourced furs. A large coat made of dyed fox and Mongolian rabbit hair hangs from the wall with miniature green punching bags strewn below. Cushion pillow letters spell out "PAPI" and simultaneously cover up two children's feet emerging behind them. Recalling all too well David Hammon's purple-paint stained Fur Coat at Mnuchin Gallery last year, Papadopoulos also takes valuable items like fur only to debase them into worthless kitsch. Thematically she takes the masculine fantasy for mastery—embodied in the phallic wrestling bags and victory fur cloak—and in a Freudian critique, puts them into discussion with childhood and excessive feminine materials and bright colors of "the Mother." If you thought Yayoi Kusama was queen of female phallus obsessions, be on the lookout for more of Athena Papadopoulos's pathological Pepto-Bismol sculptures.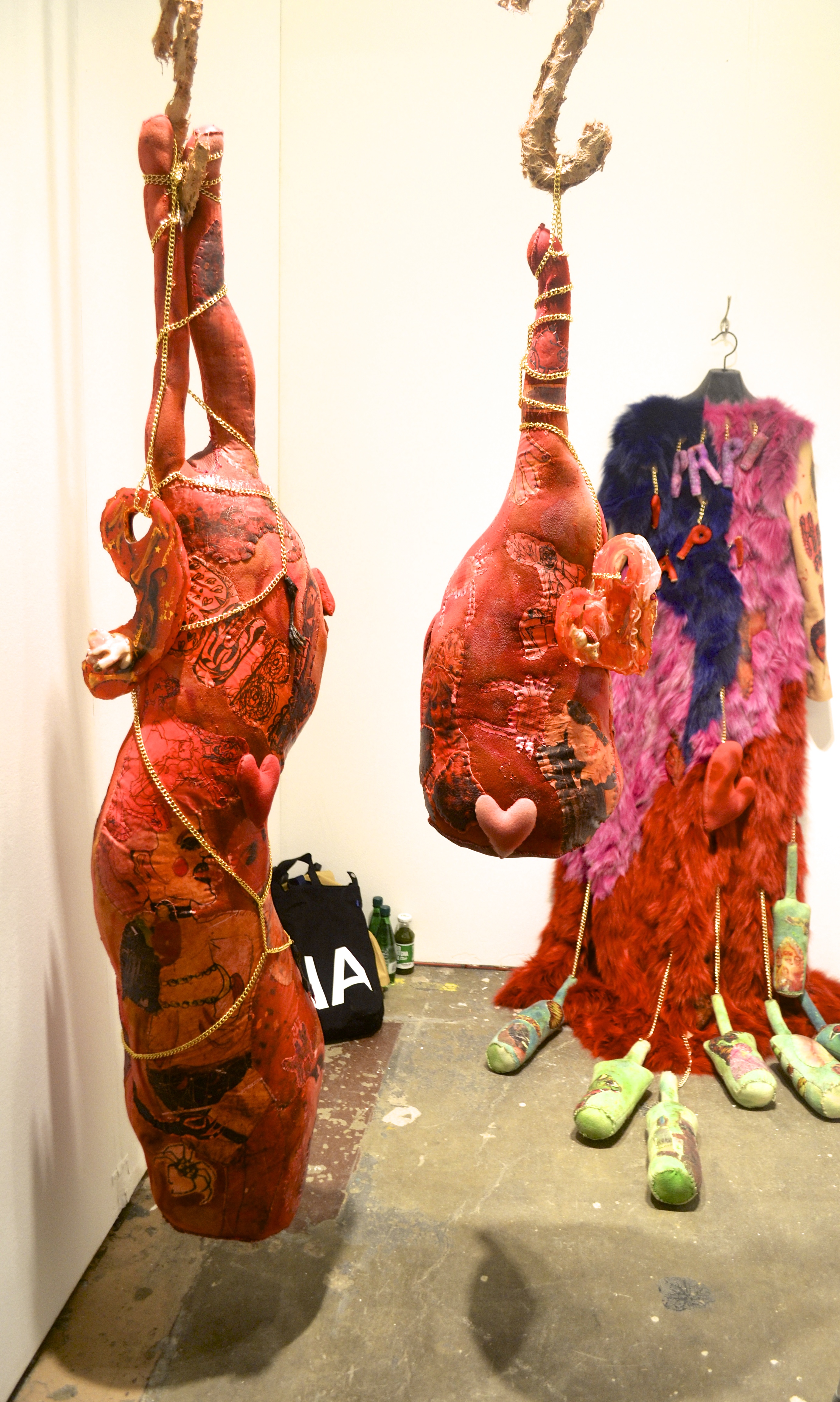 AMY BRENER
Invisibler (breeze) (2017)
315 Gallery
$5,000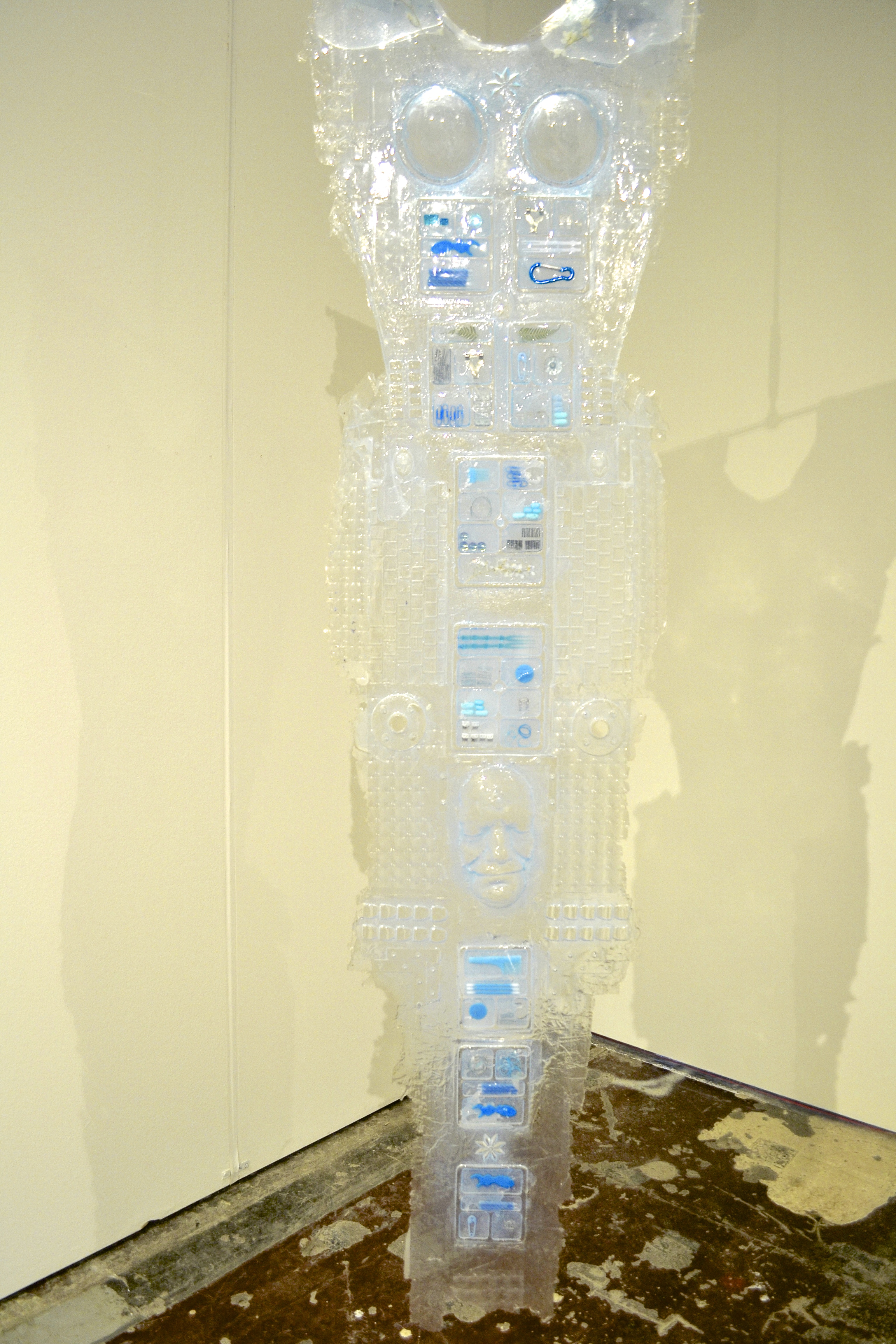 If feminist artists like Carolee Schneeemann and Hannah Wilke used the physical presence of their bodies to perform a critique of masculine objectification, then Amy Brener reminds us how futile the '60s dream of "presentness" is in our current virtual age. In her hanging sculpture entitled Invisibler (breeze) , Brener renders the body not only literally "invisible" in translucent silicone, but also compartmentalizes it into small grid-like pockets filled with mundane objects like pills, paperclips and floss. In doing so she suggests the body is not simply an object of the male gaze today, but merely an invisible container that no longer can hold its form in place in the "breeze" of digital space. Most well-known for her digitally-generated sculptures of ancient crystals, Brener performs another form of "archeology" here, except rather than recuperate the body, she announces its obsolescence.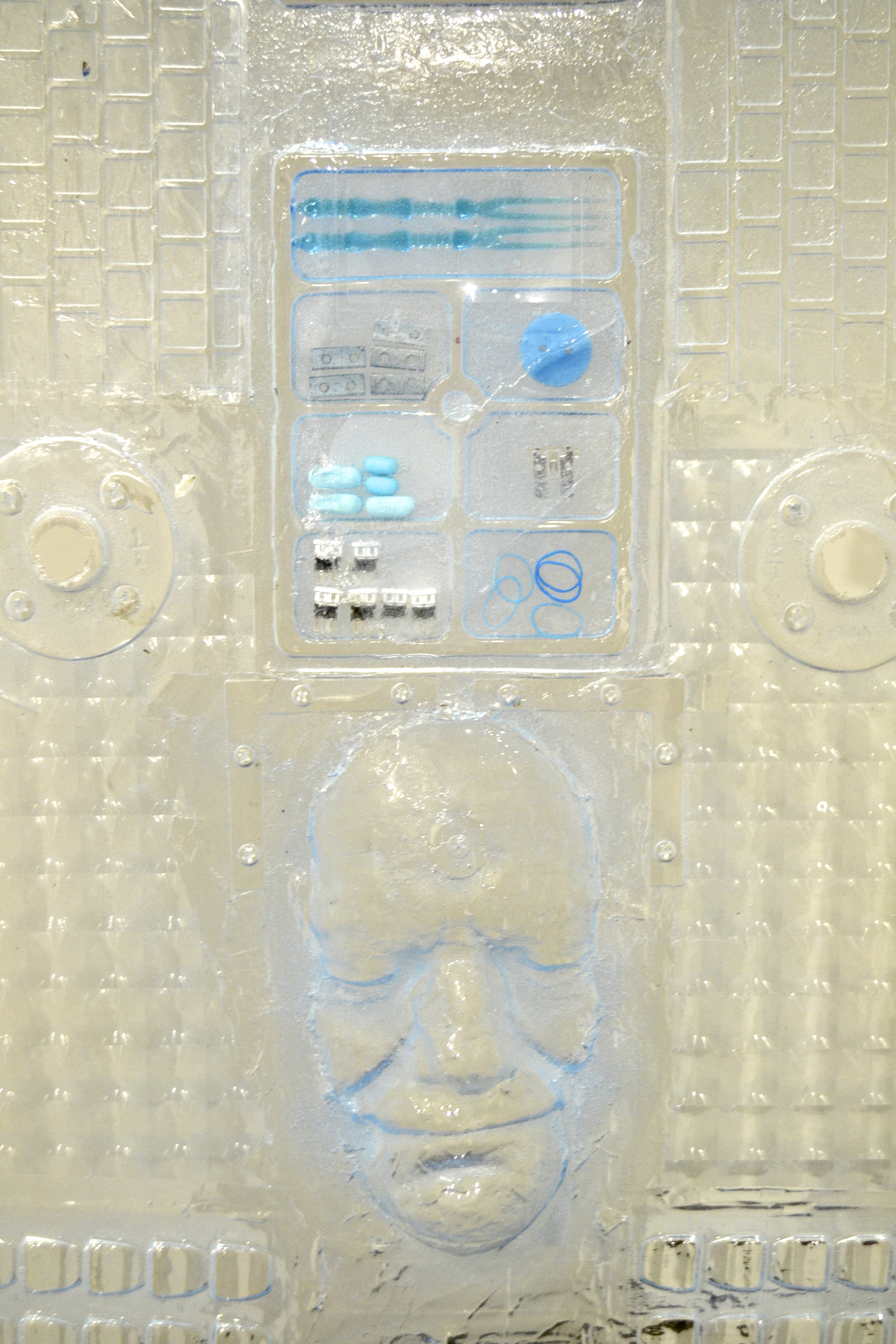 CRISTINA TUFINO
Jacuzzi Muse (2017)
Galería Agustina Ferreyra
Price undisclosed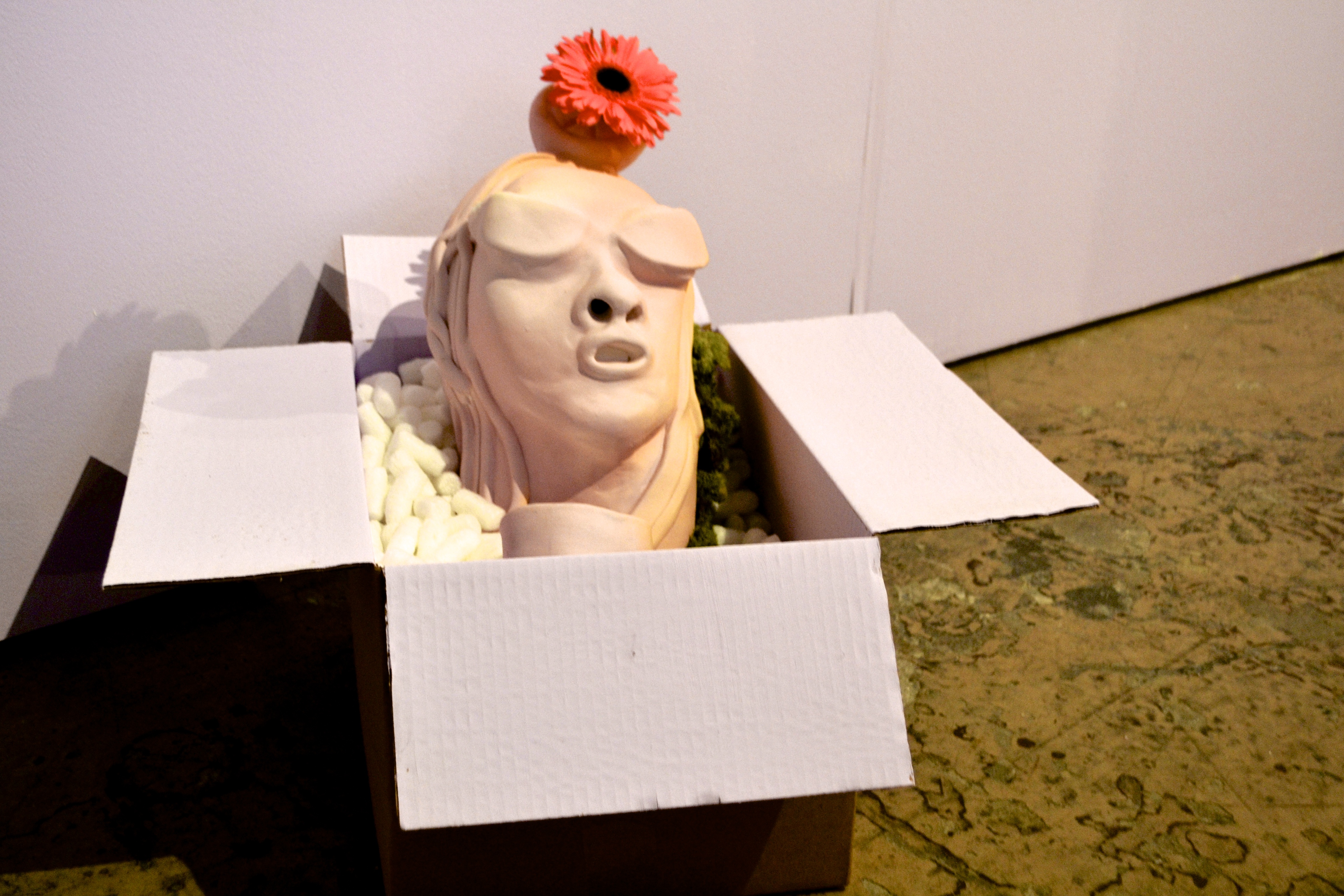 This year Puerto-Rican artist Cristina Tufina turned the Galéria Augustina Ferreyra booth into a kitschy, tropical-themed museum of "ancient" objects. In place of great masterpieces, Tufina installed ironic florescent "primitive" sculptures of thumbs and ancient-looking busts on her pedestals. Known for her works that combine archeology with commodity objects (like stripper's heels),  Tufino, in the case of Jacuzzi Muse in particular, enters into dialogue with a feminist critique of colonialism and ethnographic museological practices of display and collecting (associated with artists such as Fred Wilson ). A light-purple sculptural bust of a woman's head, reminiscent of stereotypical primitive stone art, pops out of a Styrofoam box. Tufnio's box demonstrates how ancient art of Latin America has become inseparable from its shipping container, ready to be transported as tourists' souvenirs. Latin-American identity, embodied in ancient "cultural treasures," is literally pre-packaged and made for export.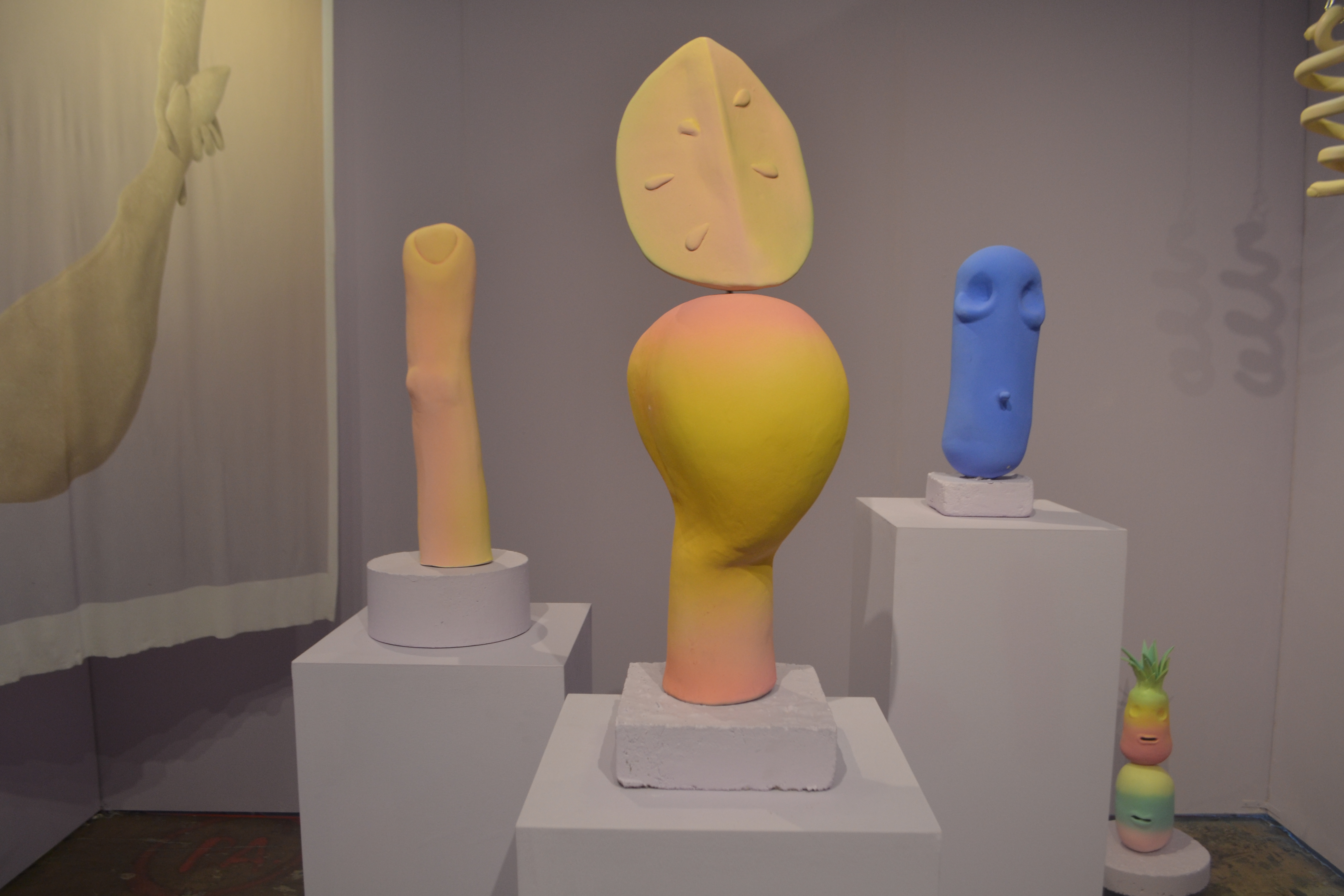 IVANA BASIC
Stay Inside or Perish (2016)
315 Gallery
Price undisclosed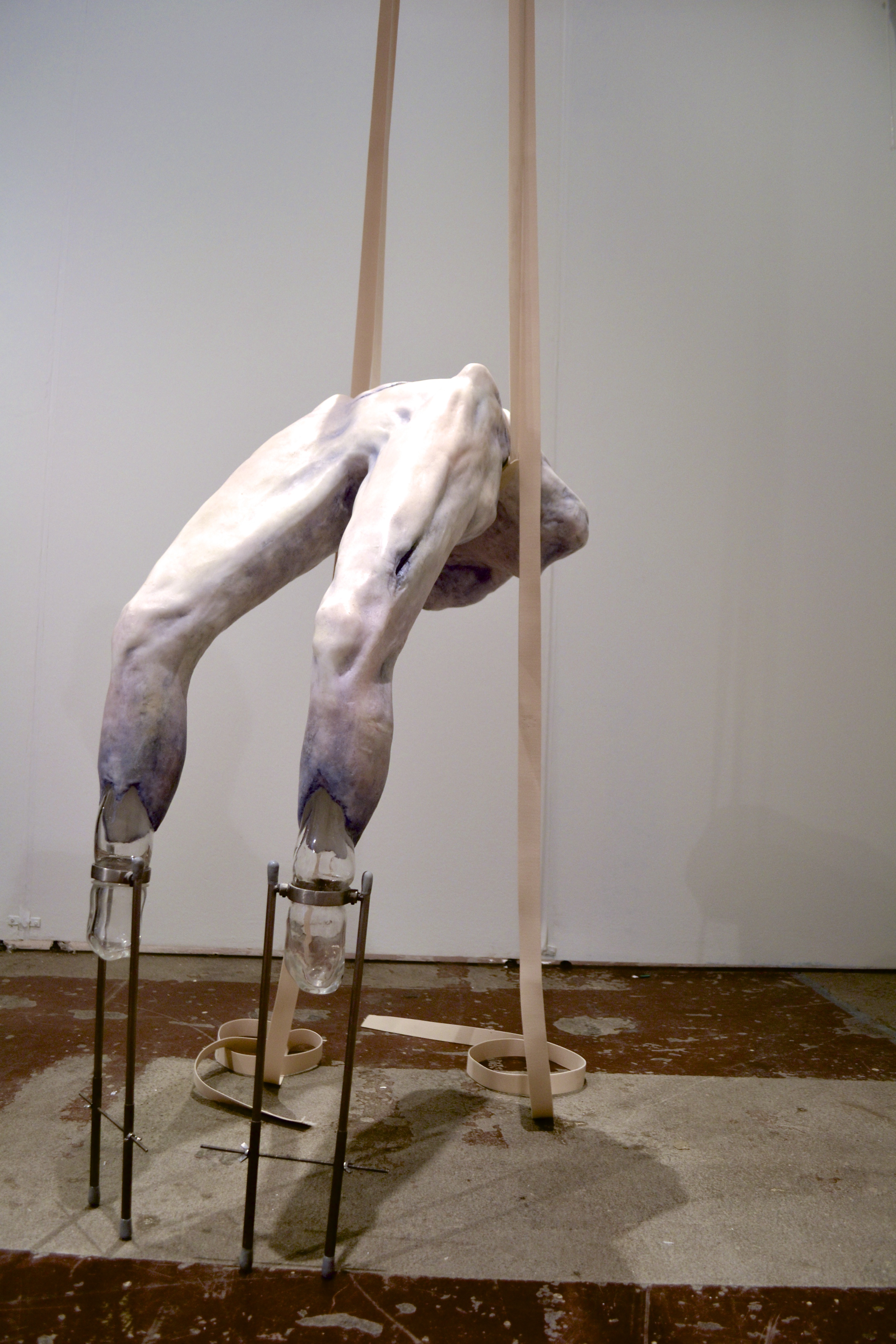 If you missed her work in the Whitney 's "Dreamlands" exhibition this fall, then make sure to check out Serbian-born and New York-based artist Ivana Bašić at NADA this year. The uncanny, distorted, and disfigured humanoid wax and silicone bodies that make up the majority of Basic's oeuvre could be labeled as "Post-Human." Post-Human does not mean we're beyond the body, but rather posits that we are post- Humanism with a capital "H" and its myths of the autonomous Cartesian "whole" subject (the subject that in declaring "I think therefore I am," places the mind above the body). Stay Inside or Perish attacks the very foundations of humanism, like classical Grecian sculpture, to posit the classical figure as a fragmented wax replica of marble that dangles precariously "disabled" in space. Basic's work not only engages in a traditional feminist critique of the canon, but also represents the recent intersectional alliance between queer studies and disability studies that aims to demonstrate how society not only constructs arbitrary perceptions of gender norms, but also our perception of what a "whole," working healthy body is.
Ivana Basic's SOMA (2013) at the Whitney's "Dreamlands"