In 1911, the Association of American Painters and Sculptors organized the first Armory at Madison Gallery in New York. This year, it seems as though the "sculptors's" legacy might have been forgotten—though you can't really blame the Armory for being painting-centric as it began as a modernist project, and although it encompasses "modern and contemporary," the formalist drive of high modernism still runs through its veins. But if you're not so interested in all the Abstract Expressionism revivals and Lucio Fontana remakes, skip ahead to these five sculptural and three-dimensional works from this year's show.
JERÉMIE MABIALA & DJONGA BISMAR (CATPC)
The Art Collector , 2015
Galerie Fons Welters, Amsterdam/ KOW, Berlin
$12,000 Euro (Edition of 5)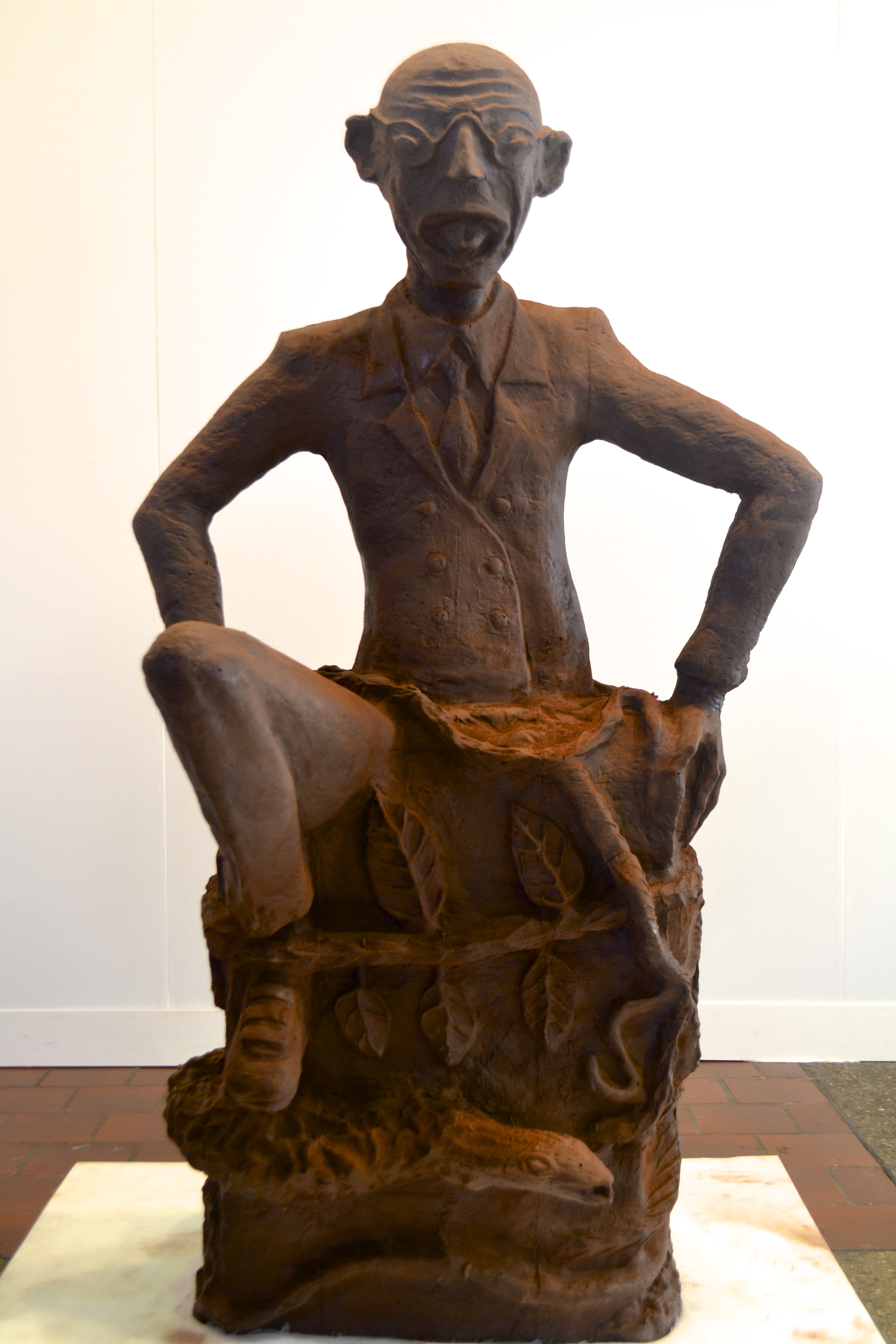 Believe it or not, sculptures made entirely of chocolate are nothing new. Amidst the '90s "body-art-craze," Janine Antoni gnawed away at a 600-pound block of chocolate over the course of a month to create a jagged cube, infusing Minimalism with pathological desire and social issues such as anorexia. But in The Art Collector, the cooperative of plantation workers known as CATPC (Congolese Plantation Workers Art League) are using chocolate as a means to confront not just the sculptural legacy of Minimalism, but the injustices of colonialism and global trade.
Since 2014, the plantation workers have been using chocolate—cocoa being the raw product exported from the Congo—as their primary material to create self-portraits and sculpture. Molded in clay, 3-D printed, and cast in Congolese chocolate, the artworks are made using the system of global trade that once exploited the plantation workers; sold internationally at art fairs and high-end galleries, the sculptures earn profits that are then re-invested directly back into the workers' communal project to buy back and cultivate their own land. Working in collaboration with Dutch artist Renzo Martens's Institute for Human Activities (IHA), the CAPTC is currently building the Lusanga International research Center for Art and Economic Inequality in a former Unilever plantation, which plans to use the white cube in order to bring about social and environmental consciousness. For more of this group's fascinating project, don't miss their show up at the SculptureCenter till March 27 th .
Courtesy of SculptureCenter
MIGUEL ANGEL RIOS
Souvenir Series: Candy Box, 1991 & assorted works
Sicardi Gallery, Houston
Prices vary according to individual work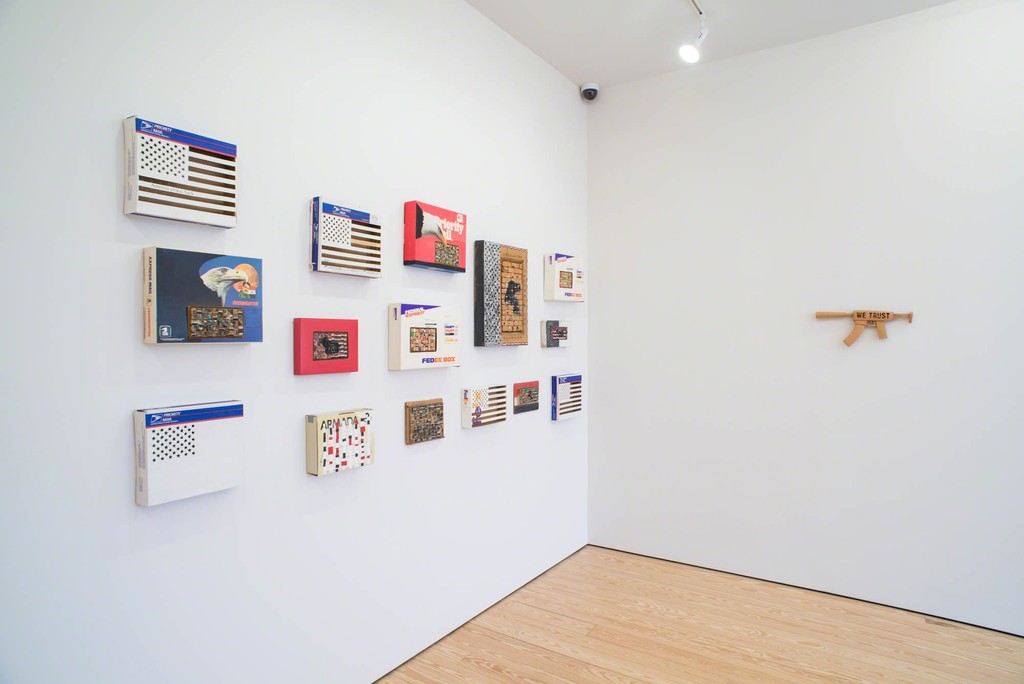 Since the creation of NAFTA (North American Free Trade Agreement) in 1994, "Border Art" has become a genre in itself. Although Argentinian artist Miguel Angel Ríos created his readymade postal box sculptures in the 1990s, his work is all the more relevant in an age where borders might not be as porous as we used to think of them in the heydays of globalization. Arranging Fed Ex boxes in a serial modernist grid, Ríos appropriated these empty containers in order to put them into discussion with the Gulf War and 9-11. Superimposing some with images of Sadam Hussein, annotating others with phrases such as "who made the anthrax?," and creating "candy box" mosaics of Iraqi and U.S Flags, Ríos examines American war and international policy from the perspective of a receiver on the periphery. The work's ironic titles moreover point towards the fetishistic imperialist delight of sampling other cultures' resources (like oil in the Gulf War) as though one were picking from a box of chocolates.
Today Ríos's work remains especially poignant for addressing American wars that are "still being brutally raged" the Middle East, but moreover pose questions about what the fate of Border Art will be in the wake of the current presidential regime. If border artists of the 1990s sought to show the interdependency of the U.S and Mexico, then can Latin American artists ever imagine engaging in such a relational dialogue between cultures in 2017?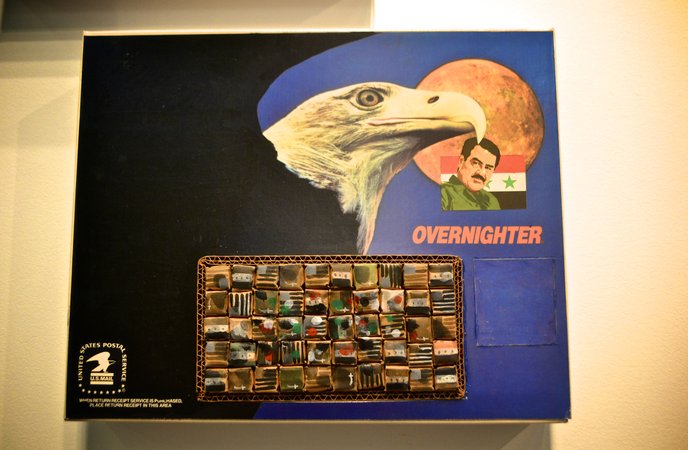 GLENN AKIRA KAINO
REBIS , 2016
Kavi Gupta, Chicago
$150-200,000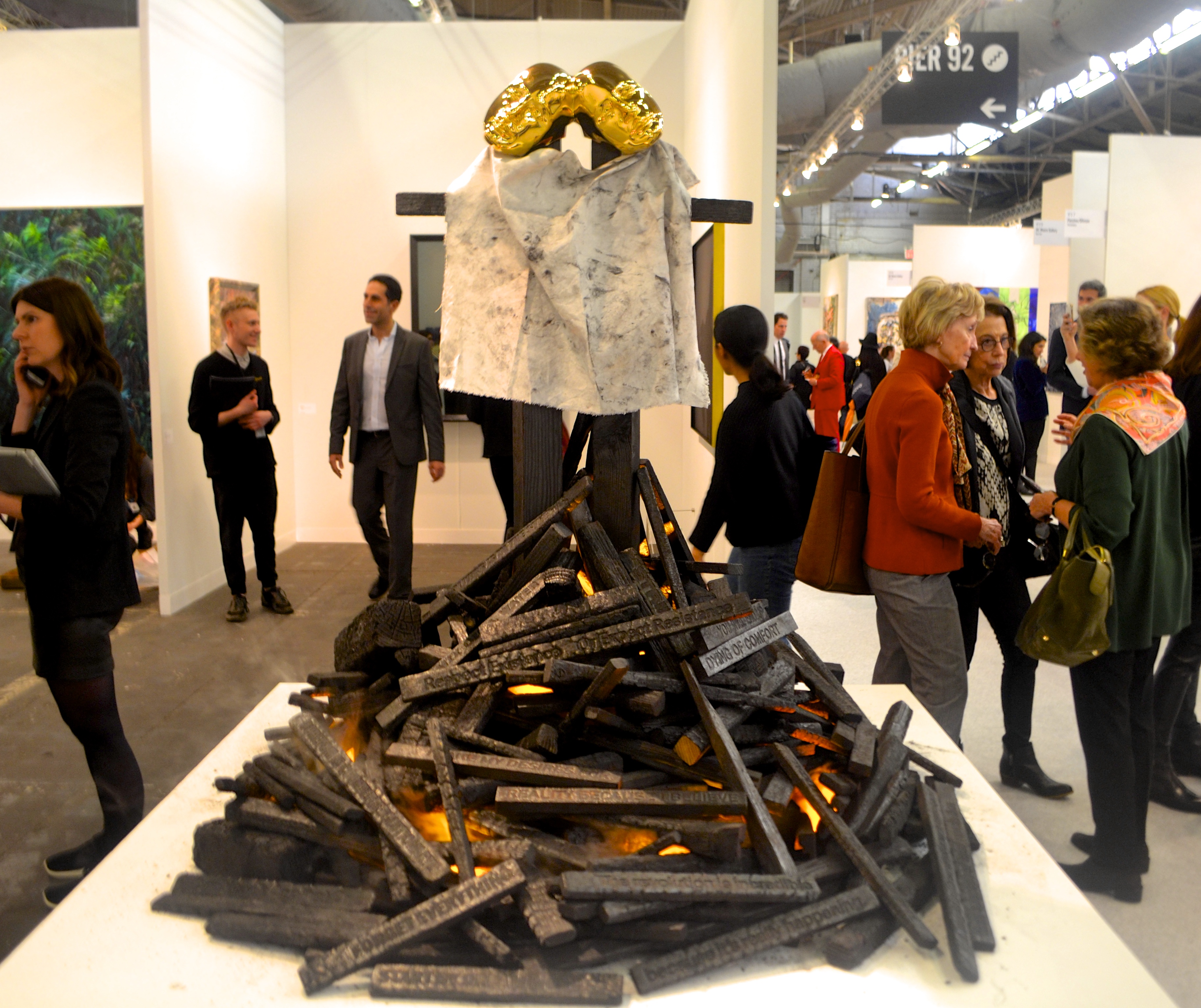 Ever since his 2007 performance The Burning Boards at the Whitney in 2007, Los Angeles-based conceptual artist Glenn Akira Kaino has embraced his pyromaniac side. Known for his explorations into art and technology in immersive installation environments, Kaino captures how very spiritually detached from reality our "advanced" digital world has become in REBIS . Arguably the most spectacular piece at the show (Kusama's sprawling installation aside), REBIS counters spectacle culture with spectacle. Charcoal planks are piled on what appears to be a double cross crucifixion with two gold masks on top, nodding towards the title's double significance. Revolutionary phrases inscribed on the plaque such as "the personal is political" and sardonic condemnations like "you will end up dying of comfort" burn in artificial flames.
In an age of post-truth, REBIS points to how the revolutionary phrases we once relied upon are going up in flames and loosing their meaning. By implicating "revolutionary" slogans of artistic and leftist movements in both ritual and literal violence, Kiano seems to fit Walter Benjamin's own diagnoses that "there is no document of civilization which is not at the same time a document of barbarism." Or perhaps REBIS points towards capitalism's own recuperation of all that opposes it into a new form of currency. Whatever the work's enigmatic message may be, Kiano acknowledges the dying flame of protest culture and calls for a revision of resistance strategies in our coming political age.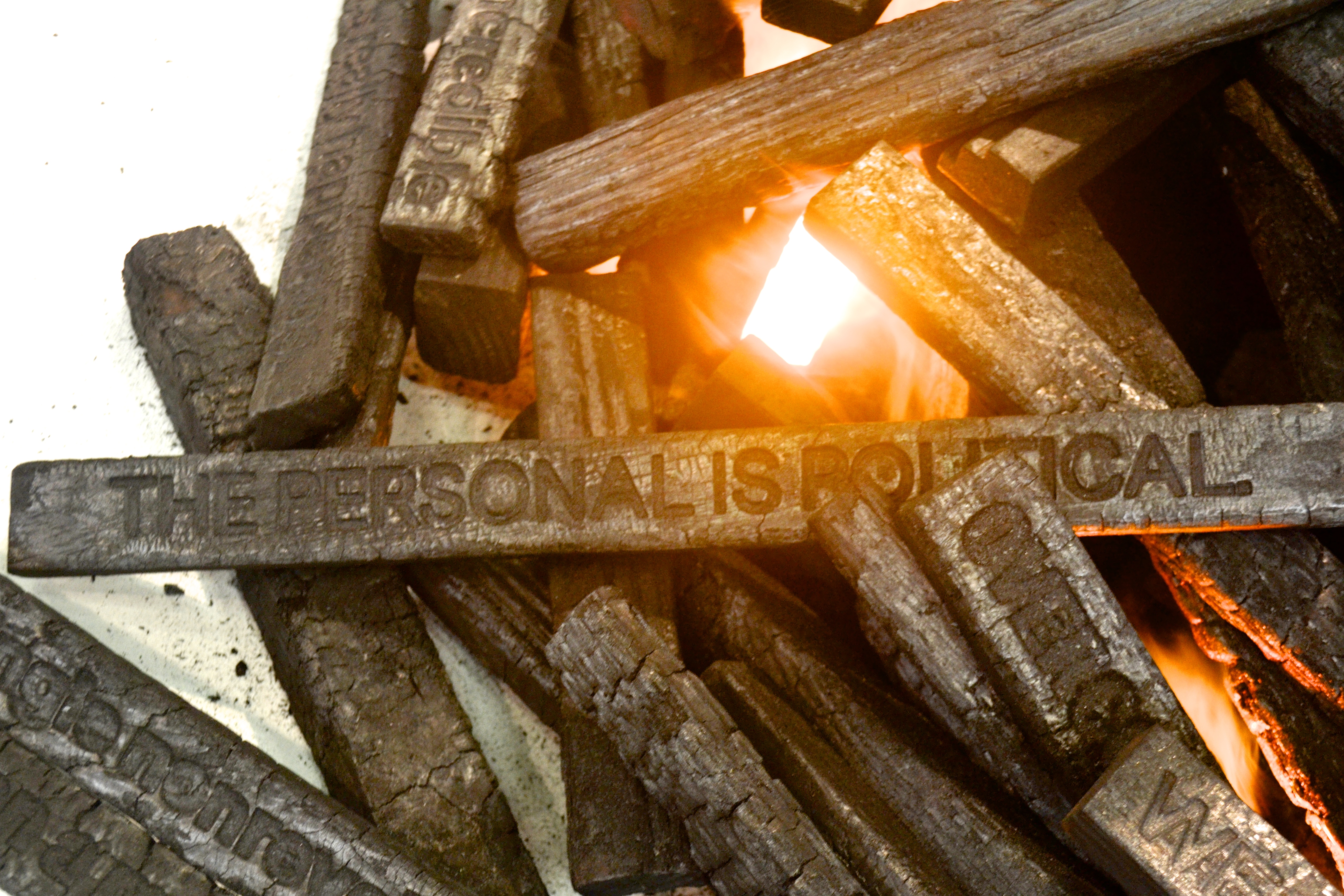 JOSE DÁVILA
Joint Effort, 2016
König Galerie , Berlin
$45,000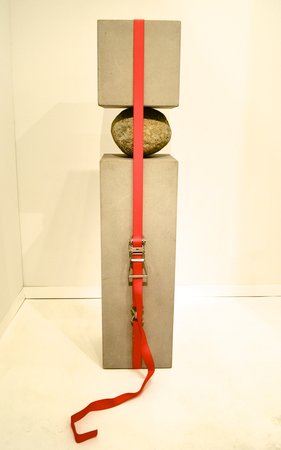 Mexican artist Jose Dávila is most known for his ongoing Joint Effort sculpture series, in which glass, stone, and commercial ratchet straps are combined in precarious structures. Here, two concrete slabs press down upon a central boulder, forced together by a large commercial red strap. Originally trained as an architect, Dávila investigates the failed positivist agenda of modernist architecture by combining rational procedures of design with irrational arrangements of natural materials in space. In Joint Effort, Dávila seems to not only critique architectural legacies of modernism, but also that of AbEx as his red stripe instantly recalls Barnett Newman's infamous monochrome red "zip" paintings. But if Newman sought to instill some sort of unified sublime through his massive bilateral paintings, then Dávila reveals the unstable and commercial nature of his own materials behind an image of pictorial unification. Dávila not only deconstructs modernist myths, but moreover poses questions about the complicated reception of modernism—and especially geometric abstraction, Minimalism, and now AbEx in this 2016 piece—in Latin America.
Barnett Newman, Vir Heroicus Sublimis (1950-1)
SADAHARU HORIO
Art Vending Machine, 2017
Axel Vervoordt, Winegem, Belgium
$1


For a show that largely fetishized the unproblematic return to the patriarchal legacy of AbEx in 2017, Sadaharu Horio's Art Vending Machine: $1 Paintings seemed to be the only critical outlook on the fair's two-dimensional bias. Why pay $80,000 and up when you can get an Amory original painting for a dollar? Composed of discarded materials, Horio's self-made "vending machine" sells paintings on the spot: after paying your dues, a mysterious man behind the "machine" churns out still-wet miniature abstract paintings and slides them under the door, Wizard of OZ- style.
Horio, the youngest member of the Japanese avant-garde action painting group known as Gutai, seems to be the only member to really have understood the commercialization of painting and performance after Pollock . The Art Vending Machine isn't just a fun spectacle, but reflects the art world's imperialist tendencies back onto itself: the Armory's Western elite laughs as a Japanese artist performs his cultural labor in front of us, and a hidden character churns out quick kitschy commodities for us in Western modernist styles just in time. If Gutai painters capitalized on the live action between painter and canvas in their public performances, then here Horio seems to understand that the true "value" of performance no longer lies in the hand but rather the portrayal of one's own exoticism. Horio's self-reflexively comments on painting's commodity character (especially with his ironic selections of niche categories like "instant painting" of action painting and "mocking painting" of figures like Albert Oehlen or Martin Kippenberger ), and the West's own orientalizing desire to see the painter perform "otherness" for a dollar.