This summer, Libyan Princess Alia Al-Senussi, an active patron of the arts in London and the Middle East, and Abdullah AlTurki, an influential collector in Saudi Arabia's contemporary art scene, took a tour of the art on offer in the great American West, beginning with studio visits (and assorted cultural diversions) in Los Angeles and moving on to Donald Judd's compound in Marfa, Texas; Roden Crater, James Turrell's epic site in Arizona; and other towering landmarks. Here, the two friends and frequent collaborators recount their journey in the fourth and final installment of their travelogue for Artspace.
While most people spend more than 12 hours at the luxurious, phenomenally scenic Cibolo Creek Ranch, we were not so lucky as we were on the road again bright and early: we had an eight-hour drive ahead of us to get to Santa Fe. Along the way, we squeezed in a last-minute stopover at Roswell—thanks to a recommendation from Ballroom Marfa founder Fairfax Dorn—pulling over at a gas station that doubled as an alien depot, complete with wooden green alien statues and a bearded banjo player. He somehow sensed the Arabs descending upon him and started strumming "Ya Mustafa," a classic tune. We were shocked and elated, and sat down to sing with him and his stuffed skunk—more new friends to add to our adventure.
Roswell's real aliens, sadly, were nowhere to be seen, so we made do with the saucers and aliens painted on the walls at the local McDonalds and then continued on to Santa Fe, arriving in time to see the city's charming adobe by daylight. Santa Fe's charms were not wasted on us, although it was somewhat disconcerting to see buildings and streets teeming with people after the desolate enchantments of Marfa and the nothingness of the terrain on our long drive. We left Santa Fe far too soon for our liking, but knew that a contemporary art paradise awaited us: Roden Crater, James Turrell's heaven as seen through the mouth of an ancient volcano. We hit the road for another five-hour drive to reach this fabled destination, worrying slightly that yet another driving calamity might derail us. Would our tires hold on the windy roads connecting the highway to this hidden place in the wilderness? We eventually made it, and words nearly fail us here.  
Tom McGrath, Roden Crater's project director, greeted us at the gate, from which we could barely make out a structure of some sort rising up on the other side—the closest view most people can attain, since the site itself is strictly off-limits to all but those who receive personal invitations (the art-world equivalent of Willy Wonka's golden ticket). We followed him through the green checkpoint and up the road seeing little except raw nature, and it began to dawn on us just why James Turrell's giant artwork, now four decades in the making, was such a monumental project: the artist was literally carving out the core of mountain, making a hollow piece of earth.
We came to an impeccable visitor lodge, and Tom gave us a tour of various drawings, memorabilia, and books on display in an attempt to provide us with the architectural vocabulary needed to understand the Crater, which Turrell has cored out to create apertures framing views of the sky above, each rigorously chosen to show show a patch of the heavens notable for either phenomenological or astrological reasons—an infinitely more complex version of one of the artist's signature "skyspaces." 
Again, as at the Chinati Foundation, our curious crew—particularly the up-and-coming architect Tarek Shamma and the mechanical engineer-turned-investment banker Rayan Fayez—peppered our obliging guide with questions. Afterward, Tom led us down a long black corridor into the volcano that is known as the Alpha Tunnel, stopping at an aperture called the Keyhole—which provided one of the singularly most incredible snapshots our eyes had ever seen. Where do you focus your eyes? What are you exactly seeing? There's no way to explain to yourself what is on the other end, other than to recognize its sublimity.
Tom took us through the paths, curves, loops, and rings that led from one skyspace to another, stopping us at each of them for moments of quiet contemplation. We finally emerged at the pinnacle of the center of the crater, and the astounding vista of the Arizona sky and landscape of the breathtaking Painted Desert was revealed, viewable from atop a structure inspired by the Jai Prakash Yantra astrological observatory in Jaipur. Many of us had traveled to India the previous February for another crazy group journey, and we understood the connection between Turrell and the scientist who built that observatory, Maharaja Sawai Jai Singhthese: both were men who wanted to distill and unveil the universe. Our evening ended with sunset spent at the Crater's Eye trading stories and paying homage to the heavens and man's indomitable power to create. 
We departed at dark for our drive to Flagstaff, and all three cars in our caravan fell into silence to contemplate what we had seen over the past few hours and days, counting our blessings to be among the lucky few to visit Roden Crater.
The following day proved no respite for our aesthetic sensibilities, as towering fine art gave way to a far vaster art form created by nature: the Grand Canyon. We had lost three members of the group at this juncture, as they had to run home to their children, but they knew, as we did, that the Grand Canyon is there for all eternity. But for those of us who continued on, the legendary attraction's vast majesty did not fail to impress—we were awestruck by its beauty, and frightened by its enormity. We found one of the empty trekking paths and made our way down to the rim, daring ourselves to get closer and closer for that perfect view unmarred by the hordes of tourists.
Afterward, we made our way to Payson for one of the last remaining highlights of our itinerary, the August Doin's Rodeo, the annual "world's oldest continuous rodeo" in the town where classic Wild West sport began. We took the scenic route through Sedona and found ourselves in a windy wooded forest, coming across a clear spring creek surrounded by red rocks. Spontaneously, we decided to skip our lunch plans in Sedona in favor of flinging ourselves from the car into the cool rushing waters of Slide Rock State Park. An hour later, we were as giddy as schoolchildren and completely exhilarated by our impulsive act. We got dressed in the parking lot—and were completely off schedule, as we needed to reach Payson in time for the rodeo—but of course we couldn't sacrifice the carefully curated outfits we had chosen for the occasion. 
We managed to get to the main event in time for a gluttonous feast of fried Oreos, fried chicken, beef brisket sliders, and other morsels of fat and taste. The rodeo was like a scene from "Friday Night Lights"—we were treated to watching teenagers make eyes at each other in the food stalls, and drew somewhat curious stares from locals taking in our clearly non-local group. We loved every minute of this American pastime, or rather almost every minute: a decided low point was a nasty little aside one of the announcers made about President Obama. The annual dance followed the rodeo, however, providing us ample opportunity to show off our inner Lyla Garrity and Tim Riggins, so we kicked around in our cowboy boots to some serious line dancing courtesy of an amazing band, the Moonshine Mafia. We finished the night at the local saloon with some pretty serious mixes by the DJ of hip hop and "Country Grammar," Nelly.
The next morning, we woke up with our last full day was upon us. The sadness was undeniable. We piled back in to the car—and by now only one car was left from our fleet—and we set off to Las Vegas, transitioning from rustic Americana to glitzy lights in a few short hours. Our last art stop, 30 miles outside of Las Vegas, was a monument to human achievement, a victory of ingenuity and sheer willpower, and an impeccable example of Art Deco: the Hoover Dam. We drove back and forth along its expanse admiring this structure that harnessed earth, wind, and fire—incredibly utilitarian in thought but totally beautiful in execution—and then that was it. We arrived to Las Vegas for one last night of merriment, the perfect finish that allowed us to come crashing back to reality without quite being anything close to actual reality.  
Thanks to the entire cast and crew of this once-in-a-lifetime adventure: 
Sumaya Abu Ghazaleh, Celia Bosch Torres, Dana Farouki, Basma Al Bakree and Rayan Fayez, Kamel Jaber, Tarek Shamma, "Fluffy" aka Sandra Soriano, and Sara, Noura, and Sharifa Al Sudairi.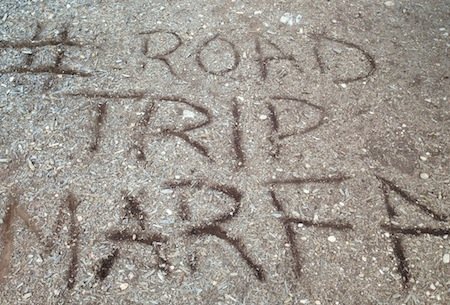 RELATED LINKS
Artful Traveler: Touring The Art Of The American West, Part 1
Artful Traveler: Touring The Art Of The American West, Part 2
Artful Traveler: Touring The Art Of The American West, Part 3