From the perennial minimalist charms of Donad Judd's Marfa compound to SITE Santa Fe's ambitious new "Unsettled Landscapes" biennial, there's plenty to see across the country this summer. Here's our roadmap to a few unmissable destinations in the great American West. 
CHINATI FOUNDATION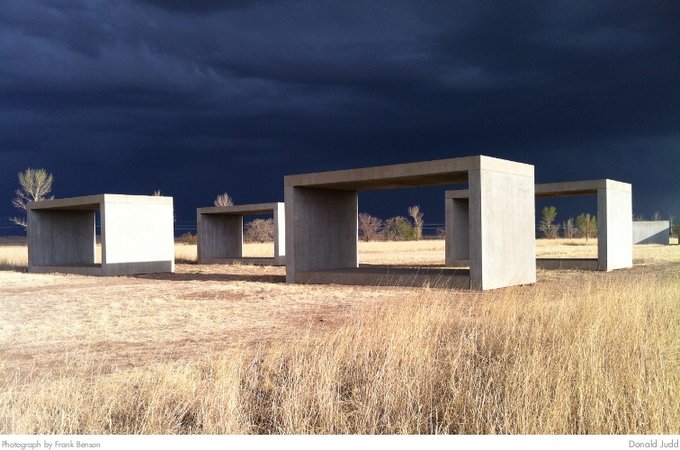 LOCATION: Marfa, Texas
WHAT IS IT?: Created by minimalist artist Donald Judd, this 340-acre site hosts monumental installations scattered across the expanse of a former Army base in the Texas hinterlands. It has since showcased installations, sculptures, paintings, poems, and drawings by artists from masters like Claes Oldenburg and John Chamberlain to artists-of-the-moment like Zoe Leonard, Andy Coolquitt, Nikolas Gambaroff, and even the XX. 
FOUNDING YEAR: 1986
ASSOCIATED ARTIST: The Judd installations here are the main draw—after all, he designed the spaces to perfectly exhibit his own art—but the enormous halls given over to Flavin's light sculptures and Chamberlain's twisted-steel husks are absolutely breathtaking as well.
HIGHLIGHT: A part of Chinati's permanent collection, 100 untitled works in mill aluminum by Judd is the site's must-see centerpiece. Filling up two artillery sheds, this enormous installation plays with light, space, and the relationship between the physical world and viewers' visual perception of it.      
HOW TO PLAN: A guided tour of Chinati's full collection goes from 10 a.m. to 4 p.m. (with a two hour lunch break in between). However, if you're not up to dedicate the day to this museum, you can check out special exhibitions on your own time. Also keep in the mind the museum is only open to the public from Wednesday to Sunday.  

SITELINES AT SITE SANTA FE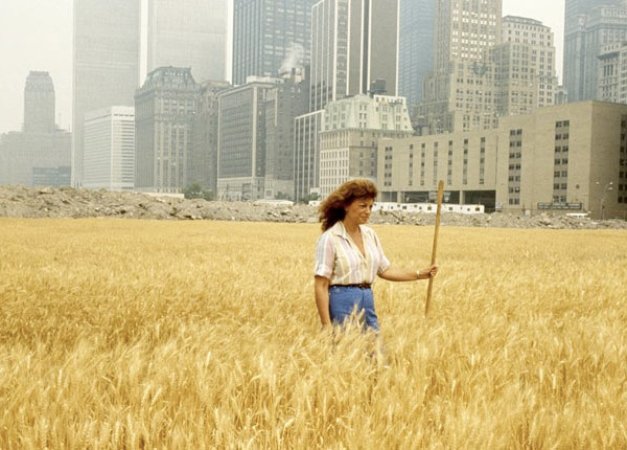 LOCATION: Santa Fe, New Mexico
WHAT IS IT?: The first edition of a new biennial exhibition series, "SITElines" will debut with "Unsettled Landscapes," opening July 17th and up through January 2015. According to SITE's website, "Unsettled Landscapes" aims to express "interconnections" among representations of land, historical migrations, economies, and natural resources.
FOUNDING YEAR: SITE Santa Fe opened in 1995; it closed briefly in 2011 to prepare for the upcoming biennial series.
ASSOCIATED ARTISTS: With the idea of interconnectedness at its core, "Unsettled Landscapes" features a wide-ranging group of 40 artists from 15 countries, using themes of landscape to bring together contemporary artists from every corner of the Americas.
HIGHLIGHT: Can't-miss works include Agnes Denes's famous and now eerie environmental installation Wheatfield—A Confrontation, Allan Sekula's photographic capitalist critique Vietnam Village, a sculptural general store by Jason Middlebrook, and Andrea Bowers's political stills from The United States vs. Tim DeChristopher.
HOW TO PLAN: Although only typically open from Thursday through Sunday, SITElines has added Wednesday to their schedule in honor of "Unsettled Landscapes" opening for July and August. You can attend SITElines for free on Saturdays from 10-12 p.m. Stop by the Georgia O'Keeffe museum, too, while you're in town.
GILMAN CONTEMPORARY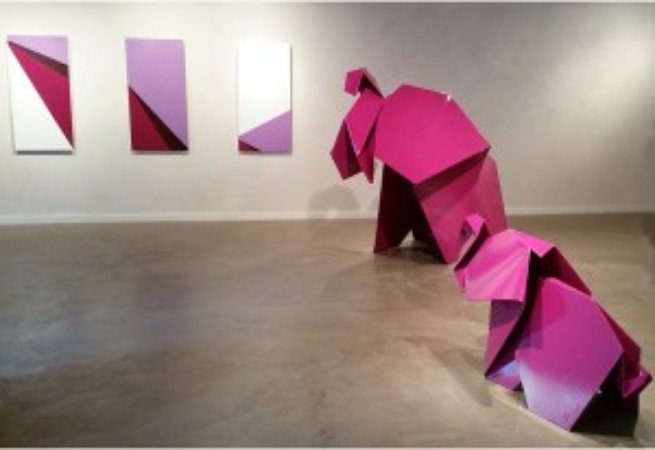 LOCATION: Ketchum, Idaho
WHAT IS IT?: Believing a contemporary niche was missing in Ketchum, owner L'Anne Gilman wanted to represent mid-career and emerging contemporary photographers. While her gallery has is a strong focus on photography, Gilman Contemporary also features paintings and sculptures as well. 
FOUNDING YEAR: 2007
ASSOCIATED ARTIST: With a special emphasis on photography, L'Anne Gilman features a dozen famous national and international esteemed photographers, including Tom Chambers and Nick Brandt.
HIGHLIGHT: Gerardo Hacer's Bixby installation is currently on exhibition at Gilman Contemporary until the end of the month.  His magenta origami-inspired metal sculptures are bound to catch your eye and interest.
HOW TO PLAN: Gilman Contemporary is open to the public Monday through Saturday. On August 8th, Gilman Contemporary will host a Gallery Walk Night for their upcoming exhibit, "New Paintings" by Stephanie Webber (free margaritas included).
ARIZONA STATE MUSEUM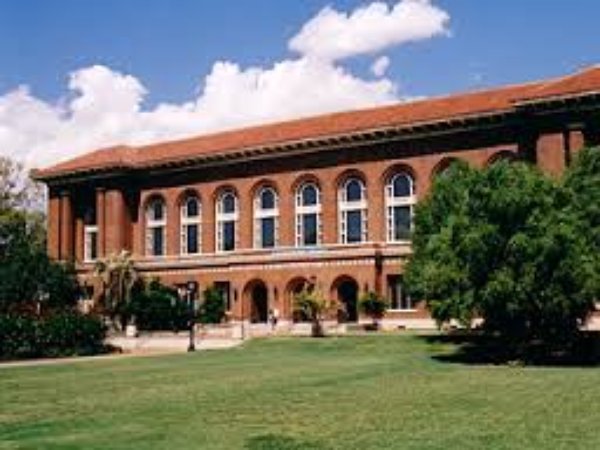 LOCATION: Tucson, Arizona
WHAT IS IT?: A museum closely associated with the American Southwest, ASM is an archeological goldmine, holding over three million objects and artifacts, including rare Mexican folk masks, Casas Grandes pottery, and American Indian basketry.
FOUNDING YEAR: Established in 1893, Arizona State Museum is the oldest and largest anthropology museum in the Southwest.
HIGHLIGHT: ASM has one of the top textile collections in the country, containing more than 3,500 textiles that document life and art from people in the southwestern U.S. and northwestern Mexico.
HOW TO PLAN: The museum is open Monday through Saturday to the public.  Additionally, just as rich as the museum is the ASM library, which holds over 1,500 manuscripts, maps, and sound recordings and is available Monday through Thursday by appointment. Before visiting, check out the list of fun family activities and events the museum offers. 
TOPS GALLERY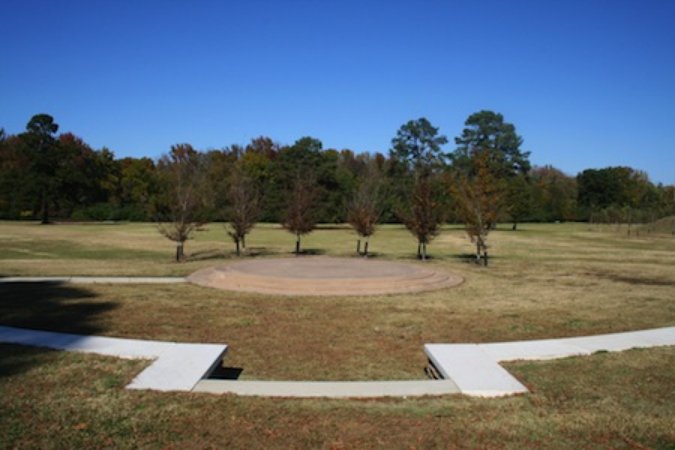 LOCATION: Memphis, Tennessee
SITE: No, this is not the famous Tops Bar BBQ, but we promise Tops Gallery is an equally worthwhile stop on a road trip through the region. An artist-run contemporary art space, Tops was created as a collaborative project between photographer Matt Ducklo and curator John Weedan.
FOUNDING YEAR: Tops Gallery had its inaugural exhibition featuring Victoria Sambunaris in 2012.
ASSOCIATED ARTISTS: Chris Dorland, Walter Robinson, and Seth Kelly are among the many artists who have already showcased their work since the gallery's opening.
HIGHLIGHT: The space is currently presenting New York artist Corrine Jones's "Plain English," an installation of ten paintings, a video, and artist book. 
HOW TO PLAN: Tops is only open on the weekends and in the afternoon, so plan accordingly.
ASPEN ART MUSEUM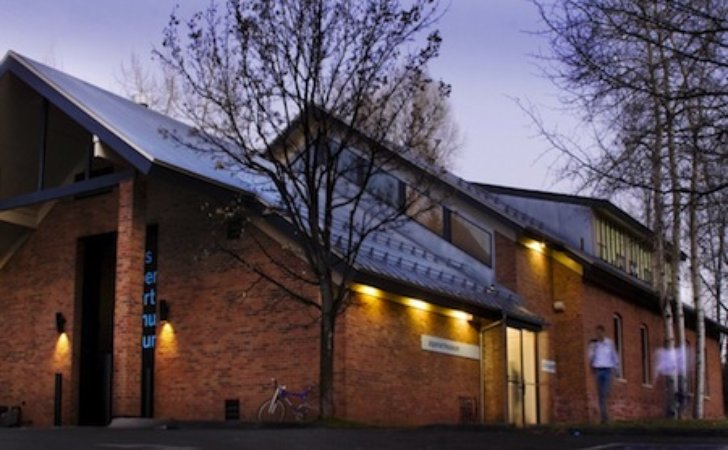 LOCATION: Aspen, Colorado
FOUNDING YEAR: 1979
WHAT IS IT?: Located in a 9,000-square-foot hydroelectric plant, this museum is non-collecting kunsthalle known for exhibiting edgy international contemporary art. This August, the institution is going to have the grand unveiling of its much-anticipated new building, designed by starchitect Shigeru Ban; the original buidling, meanwhile, will be embellished this summer by Ernesto Neto's oozing organic art forms.
HIGHLIGHT: Solo exhibitions solo exhibitions by Mark Bradford, Fred Tomaselli, Aida Ruilova, Karen Kilimnik, and Doug Aitken.
HOW TO PLAN: Free admission. Galleries closed Monday.