The best thing about the São Paulo International Art Fair, popularly known as SP-Arte, is its location, in an iconic pavilion that Oscar Niemeyer built between 1951 and 1954 in commemoration of the city's 400th anniversary. Measuring 750 feet long, with vertical aluminum brise-soleils distinguishing its exterior, the building is renowned for monumental yet gracious, sinuous ramps on its interior that provide easy circulation between the fair's three floors.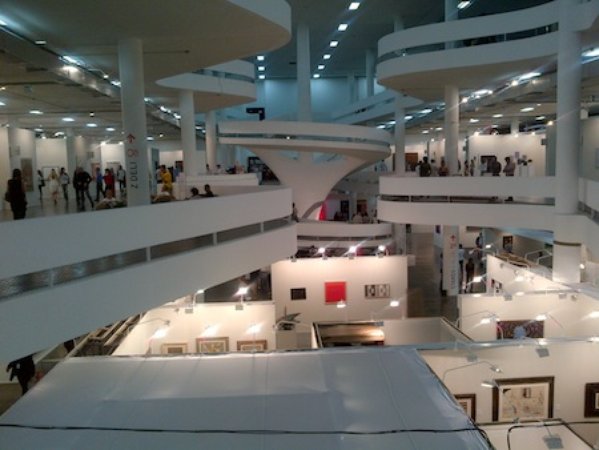 The Niemeyer pavilion's ramps
SP-Arte, the first art fair of its kind in the country and the most important in Latin America, debuted in this pavilion 10 years ago. Of the 136 exhibitors in the recent edition, 78 were Brazilian and 58 were international galleries from 17 countries. Many of the returning exhibitors carried established names like David Zwirner, Gagosian, Lia Rumma, Neugerriemschneider, Pace, Yvon Lambert, Thaddaeus Ropac, White Cube, and Lisson, while the newcomers included Marian Goodman, Stephen Friedman, Cardi, Michael Werner, Mayoral, and a dozen others.
It's an exciting time for the booming metropolis, which can now be counted as one of the most important contemporary art centers of the world, not only for its wide range of galleries branching through the country but for the São Paulo Biennial, the newer RioArt fair, and the annual exhibitions at Inhotim Contemporary Art Center, the fabled art park and museum located in the state of Minas Gerais.

From left, Garth Evans and Sadie Benning at Johannes Vogt
This year's SP-Arte provided some good discoveries. Many exciting works could be found on the first floor: a series of graphite drawings by Lauren Seiden coupled with Steven Day's wax sculptures established a harmonious dialogue of textures and colors at Nosco Gallery, from London. Seiden will be opening an exhibition at Denny Gallery in New York at the beginning of May and is definitely an artist to watch. Meanwhile, Johannes Vogt, a newcomer to the fair, was showing a vibrant group of abstract drawings by Sadie Benning and a series of delicate 1989 sculptures by the British-born artist Garth Evans, made of epoxy, fiberglass, and paint over cardboard.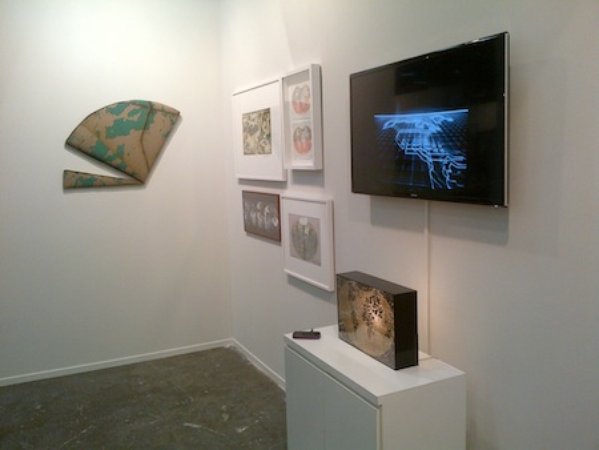 Anna Bella Geiger at Henrique Faria Fine Art
Three outstanding solo booths that were part of a curatorial project organized by Rodrigo Moura were not to be missed. The collection of early works by Brazilian artist Anna Bella Geiger at Henrique Faria Fine Art was of excellent quality and great historical importance. Geiger's oeuvre has been underrated, and it's time for her to gain the recognition she deserves in the context of Brazilian art of the last 50 years. The drawings of Romanian-born Geta Brãtescu at Ivan Gallery were also notable and provided a good opportunity to catch a glimpse at this important artist, who is seldom seen outside her native country. Then, the Spanish gallery Maisterravalbuena was showing an impressive group of drawings by Nestor Sanmiguel Diest in which complex combinations of symbols and geometric designs are repeated systematically on the surface of the paper.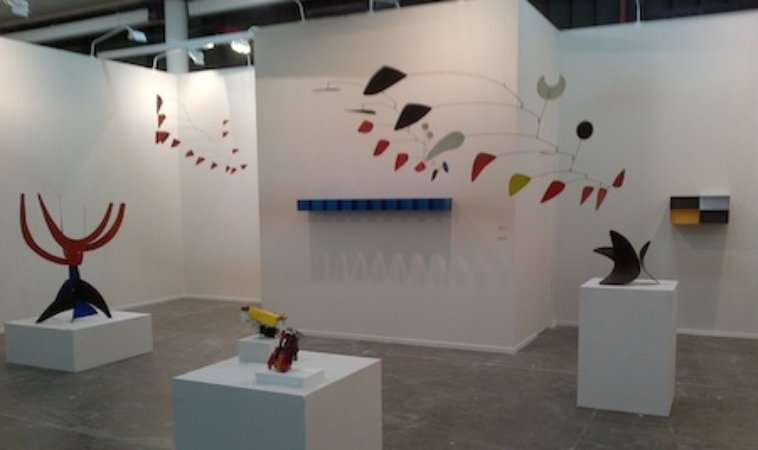 Calder and Judd at Elvira González
Curiously, many galleries were showing modern masters, opting for a rigorous curatorial approach that was highly effective in the case of Elvira González's booth, which presented a series of works by Alexander Calder and a strong group of small Donald Judd sculptures. Calder had widespread presence in the fair, as he has been widely collected in Brazil since the 1950s; as for Judd's work, the gallery felt it was very close to the neo-concrete aesthetic that was dominant in the second half of the 20th century in Brazil.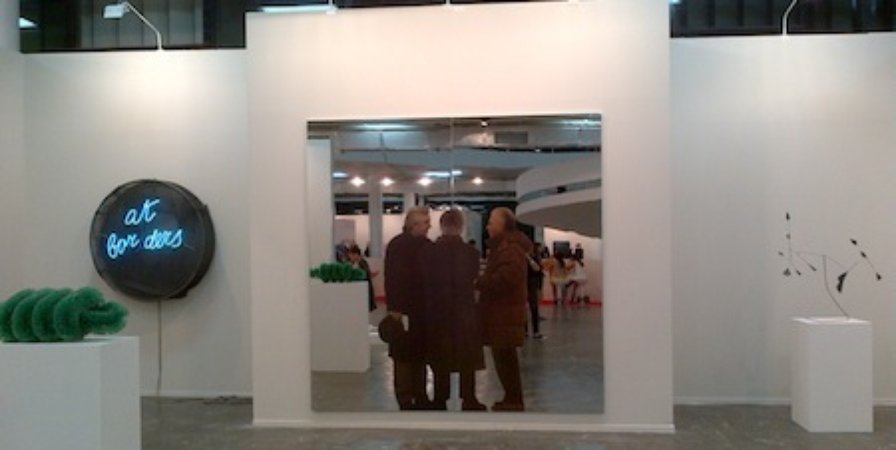 Cardi Gallery's booth
The Cardi Gallery from Milan, on the second floor, had organized a booth with a remarkable collection of 1960s Italian showstoppers: a gorgeous blue Fontana from 1968, an unusual wall piece by Mario Merz, a floor sculpture by Giuseppe Penone, and other works by Pino Pascali, Michelangelo Pistoletto, Pier Paolo Calzolari, Piero Manzoni, and other Italian masters from the decade. Michael Werner's booth was also beautifully curated, with a series of Sigmar Polke's drawings and an extraordinary Hans Arp.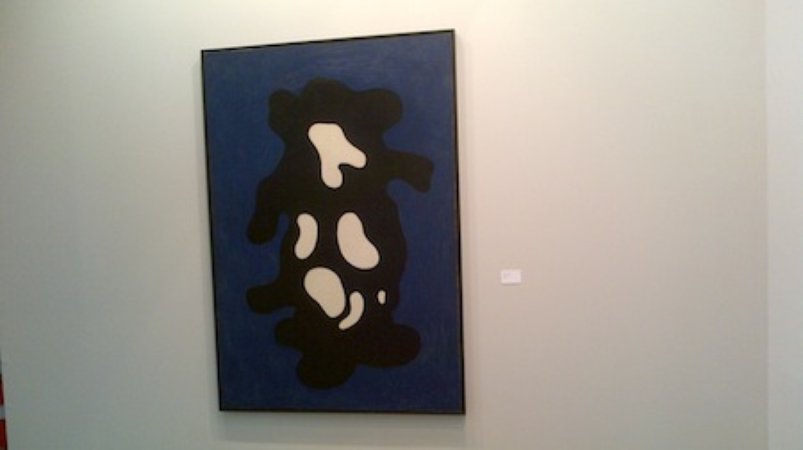 Fernand Léger at Michael Werner
Werner also had a Fernand Léger with an impeccable provenance: the painting was commissioned in 1941 by Gerald and Sarah Murphy, the expat couple that lived in the south of France and inspired both F. Scott Fitzgerald's Tender Is the Night and Calvin Tomkins's Living Well Is the Best Revenge, and who later gave it to MoMA. When it was deaccessioned in the 1960s, the piece was bought by New York art dealer Harold Diamond. Werner was also showing two large handcrafted tapestries by Enrico David that were part of curator Massimiliano Gioni's show for the last Venice Biennale, and which were sold in the first few minutes of the fair's opening.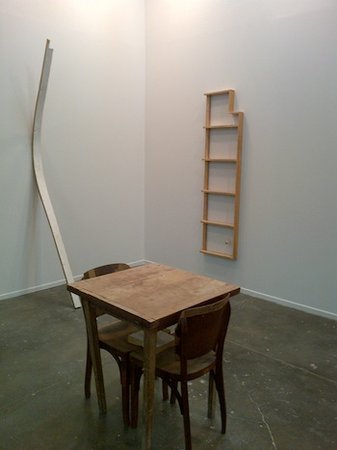 Fernanda Gomes at Luisa Strina
The large and enigmatic sculptures of concrete and steel by basque artist Asier Mendizabal, who had a solo show at the Reina Sofia in 2011, could be found at Bilbao's Carreras Mugica Gallery alongside a group of Richard Serra's drawings. The combination of these two artists was an elegant one, though very macho. A good contrast to this installation were the wooden sculptures by Brazilian artist Fernanda Gomes at Luisa Strina. Gomes's work is based on found objects that she simply transforms through minimal interventions, giving them new meanings and lives. She recently had a widely acclaimed solo booth at the Armory Show art fair.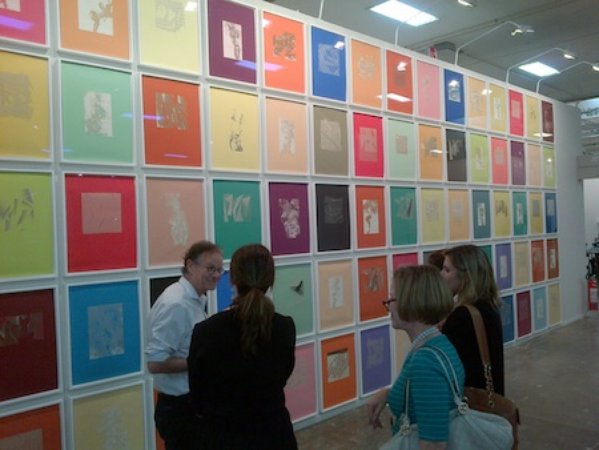 Pae White at Neugerriemschneider
A group of 90 drawings by the Californian artist Pae White, at Neugerriemschneider, was one of the most eye-popping walls of the fair. It was a colorful, large-scale installation, and each drawing dwelt on the subject matter that make up White's vocabulary: nature, materials, the quotidian, the handmade. Nearby, Rirkrit Tiravanija's garden table and benches made of polished stainless steel translated into objects of desire, and a Renata Lucas floor piece that combined concrete and a Persian rug was charged with political meanings that begged for a moment of silence and meditation. Another great wall was at Mendes Wood, with two soft sculptures by Sonia Gomes hanging from the ceiling to the floor, made of fabrics woven and rolled together. They evoked memories and the notion of domesticity, and moved between the vernacular and the erudite, the profane and the sacred, with equal ease.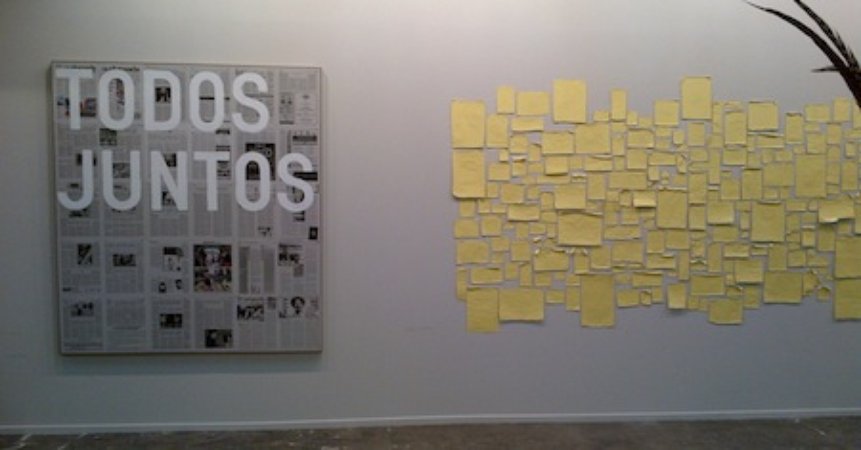 From left, Rirkrit Tiravanija and Abraham Cruzvillegas at kurimanzutto
At kurimanzutto, a large work of painted papers on cardboard by Abraham Cruzvillegas stood out: from afar, the installation looked like a group of yellow Post-it notes, but at close range the rich painted surfaces caught one's imagination, and inspired curiosity about what could be hidden behind them. Four magnificent drawings in graphite, gold paint, and ink by Iran do Espírito Santo, plus a stainless-steel sculpture of an enlarged PAR lightbulb by the same artist, were the high points at Fortes Vilaça's booth. The artist transforms everyday objects into models of perfection through his control of techniques and knowledge of materials.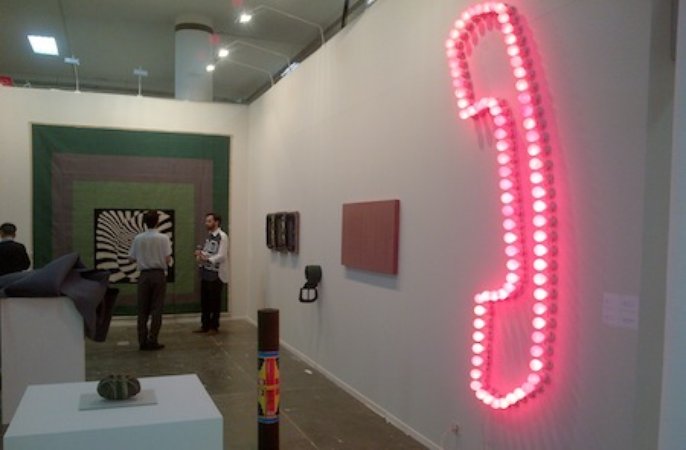 Franco Noero's booth
Waltércio Caldas also works with "hard" materials, and one of his beautiful compositions of geometrical forms could be found at Raquel Arnaudj's booth. A sculpture made of pink light bulbs dominated Franco Noero's space—it was an old-fashioned telephone handle by the British artist Mark Handforth, a post-Pop take on an object that is all but unknown by the younger generation. Handforth plays with the properties of light and shadow through the use of industrial materials, while exploring issues that are central to the contemporary art vocabulary.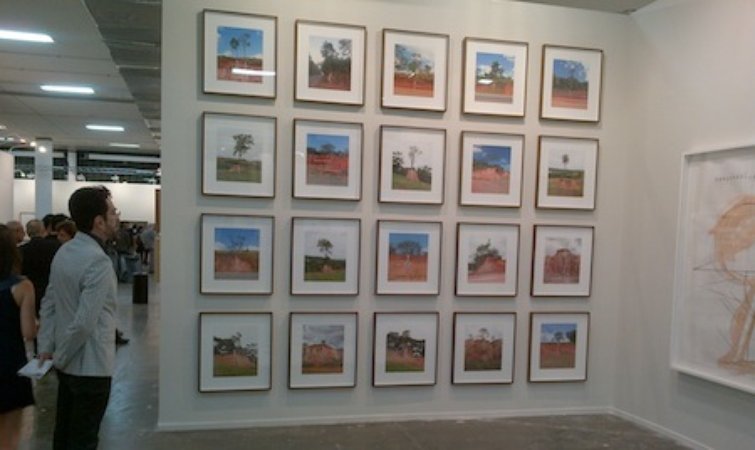 Pedro Motta at Celma Albuquerque
The group of 20 photographs by Pedro Motta at Celma Albuquerque were inspiring; they explored the relationship between real images of trees and their imaginary roots, drawn by the artist. Two graceful abstract paintings by Gabriela Machado made a good counterpoint to the flexible wooden sculptures by José Bento that could collapse and assume different shapes when handled, forming interesting structures.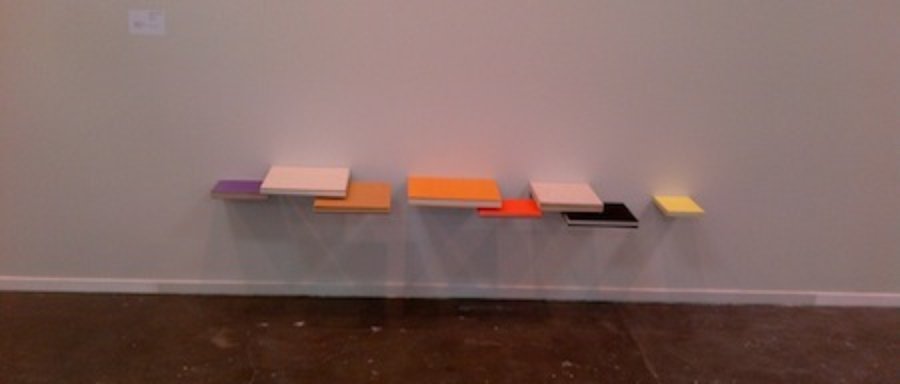 Fernanda Fragateiro at Alba Benitez
A wall piece by the Portuguese artist Fernanda Fragateiro at Alba Benitez, composed of colorful notebooks, was arresting. Her work questions the state of knowledge in the age of Google while dealing with issues of form, space, surface, and volume. A gigantic scaffold by Jonathan Monk at Yvon Lambert reassessed the notion of scale by repurposing the object while lending a new identity to it  A vivid sense of composition could also be found in a multilayered photo-based work by Brazilian artist Marcos Chaves, showing a joyous study of nature and optical illusion, at Nara Roesler Gallery.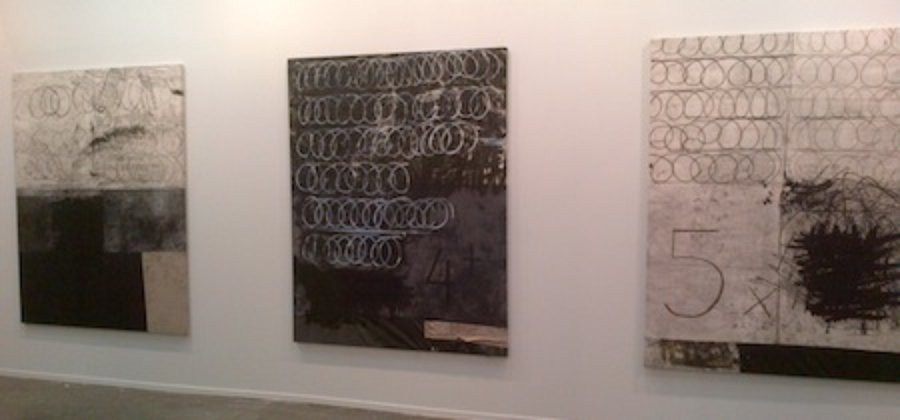 Oscar Murillo at David Zwirner
At David Zwirner's booth, three large and highly accomplished canvases by Oscar Murillo occupied the main space, while three fantastic new works—painted sheets of paper in green, blue, and red from 2014—by Tom Friedman were on display at Stephen Friedman. In that gallery's back room, works on paper from 1970 by the Argentinian concrete artist Manuel Espinosa were among the best discoveries at the fair: their simple lines engaged the eye and revealed a complexity that unfolds slowly, generating a sense of movement and depth that can fool optical perception. They were quite extraordinary, as was an artist book by Mira Schendel, a unique and precious object that she created in 1971. 

Maria Nepomiceno at A Gentil Carioca
Other back-room discoveries were a magnificent canvas depicting nature in muted colors by Anselm Kiefer at Lia Rumma and the intricate cutouts of Rodrigo Torres at A Gentil Carioca. Torres has been working at a larger scale recently, constructing imaginary architectural landscapes that are a true pleasure to the eye. There was also a floor piece by Maria Nepomuceno made of woven ropes inspired by indigenous techniques, and furthermore incorporating mundane materials like pearls and baskets for striking results. 

Alex Katz's solo booth at Luciana Brito
Luciana Brito was one of the few established galleries that brought a solo exhibition to the fair, a group of fabulous paintings by Alex Katz that provided a captivating moment. Sikkema Jenkins also opted for a sparely curated stand with great results, bringing a tableau of Kara Walker's instantly recognizable black paper silhouette cutouts to fill the back wall. They were touching, moving images that revolved around race, gender, and violence, the artist's conceptual touchstones. The sprawling work, from 2013, established a relationship between spatial perception and physical engagement and was charged with powerful symbolic meanings.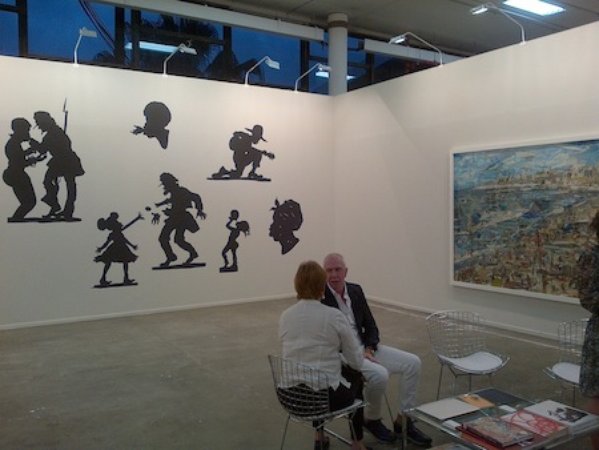 Kara Walker and Vik Muniz at Sikkema Jenkins
The gallery also presented a new Vik Muniz photograph from his "Postcards From Nowhere" series and an installation of 31 bottles by Tony Feher. A superb and very large Robert Longo drawing of the Bellagio in Las Vegas made with charcoal on mounted paper was at Thaddaeus Ropac, and an excellent Franz West papier maché sculpture could be found at Gagosian.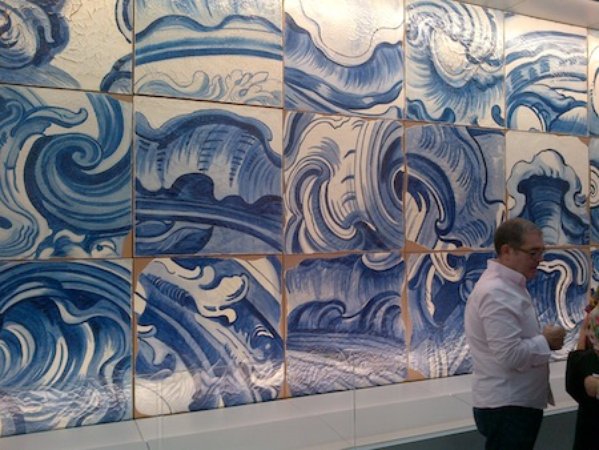 Adriana Varejão in the VIP lounge
Perhaps a testament to the overall high quality of SP-Arte's programming this year: one of the highlights of the fair was a group of seascapes by Adriana Varejão, featured scenically in the VIP Lounge. It's the kind of sophisticated touch that will ensure the galleries, and the collectors, will continue coming back for more.