Los Angeles is a great place to live—just ask all the artists who make it home, from John Baldessari and Ed Ruscha to Mark Bradford and Catherine Opie. But its sprawling uncenteredness can make it a challenging place to visit, and this is no less true for out-of-towners in search of the local art scene. And a good many art lovers are on hand this weekend for the fifth edition of Art Los Angeles Contemporary, located in Santa Monica's Barker Hangar.
Exhibitors include notable locals like Richard Telles and Angles as well as national and international venues like Zach Feuer of New York and Yautepec of Mexico City. Just two miles away—a blink of an eye by L.A. standards—lies Bergamot Station Arts Center, an enclave of commercial and nonprofit spaces, including the photo specialists at the Rose Gallery and Santa Monica Museum of Art.
The bulk of the best places to experience art, however, are farther afield. Here is a list of five not-to-miss locales, whether you find yourself in town for the current fair or are planning a trip later in the year. 
1. DOWNTOWN
In the middle of Janaury, Los Angeles's newest nonprofit space, the Mistake Room, debuted with a major installation by the fast-rising Colombia-born artist Oscar Murillo. The 4,500-square-foot gallery—the brainchild of Cesar Garcia, former senior curator at LA><ART—opened at the distant southeast edge of what is appropriately known as the Warehouse District. Loft conversions and artist studios have been making inroads here for 20 years, but the East side of the area retains its industrial flavor, which is particularly relevant for Murillo's show, "Distribution Center," mixing video of workers in a Mexican factory with his own paintings displayed so as to evoke a production line. 
Due north is the vast Geffen Contemporary outpost of MOCA, which this weekend plays host to the L.A. Art Book Fair, featuring 250 independent publishers, zines, and booksellers. Normally the venue houses the museum's major exhibitions—the Mike Kelley retrospective debuts on March 31. East of it across the L.A. River lies 356 Mission, Laura Owens studio turned exhibition space. On the tonier West side, amid downtown's skyscrapers, sits the so-called MOCA Grand Ave, just across from the still-under-construction museum to be known as the Broad. Within the triangle bounded by these three institutions you will find scores of small galleries specializing in emerging artists—check out the participants in the Downtown Art Walk for a full list.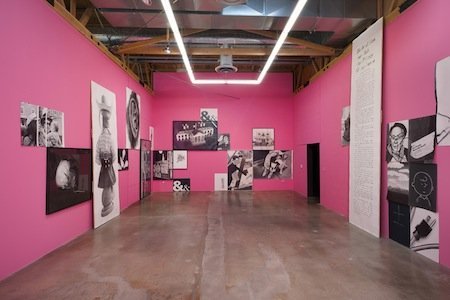 An exhibition of work by Karl Haendel at Suzanne Vielmetter Los Angeles Projects
2. CULVER CITY
In 2003, Blum & Poe moved their gallery to Culver City, a suburb of light industry in decline, notable only for its collection of eccentric buildings by Eric Owen Moss. A decade later, the location halfway between Beverly Hills and LAX airport has become home to the one of the highest concentrations of blue-chip galleries in the Southland as well as perhaps the most walkable art scene, since all the spaces are located near the intersection of La Cienega and Washington Boulevard. Those blocks are also home to such native heavy-hitters as Susanne Vielmetter, Honor Fraser, Cherry & Martin, and David Kordansky. Nye+Brown and Roberts & Tilton, which both have ties to New York, have also flourished there, alongside galleries more focused on emerging artists, such as Anat Ebgi and Walter Maciel. And just down the block is LA><ART, the vital community-based nonprofit that co-produced the "Made in L.A." biennial with the Hammer Museum.
3. HOLLYWOOD
If one location has the potential to challenge Culver City over the long-term it may be Hollywood—the gritty, always on-the-verge-of-rebirth neighborhood rife with peep shows and pawn shops, not the glamorous movie factory of the popular imagination. Recent years have seen vast new spaces opened on or near Highland Avenue by Regen Projects—with 20,000 square feet of exhibition space for such local superstars as Doug Aitken, Raymond Pettibon, Lari Pittman, and James Welling—and Perry Rubenstein, who built a 10,000-square-foot site for work by such artists as Candice Breitz, Zoe Crosher, Georg Herold, and Alex Katz. In the coming months they will be joined by Michael Kohn, who promises another 10,000-square-foot behemoth of a space under 22-foot ceilings to show off the art of Walton Ford, Ryan McGinness, Fred Tomaselli, and many more. Smaller spaces like Overduin & Co. and Hannah Hoffmann are also in the mix, and the fact that many top-rated restaurants are nearby makes the drive to this part of town worthwhile, even if you don't want to stop by Madame Tussauds.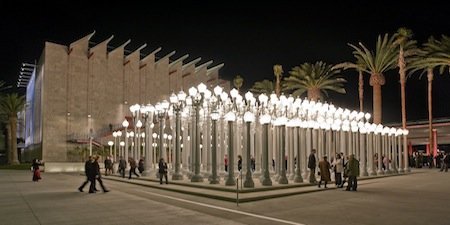 Chris Burden's Urban Light is permanently installed in front of LACMA.
4. MID-WILSHIRE
If you can visit only one museum while in town, LACMA is the place to go. Under the direction of Michael Govan a new contemporary exhibition space has been added, Michael Heizer's Levitated Mass has taken up residence around back, and Chris Burden's Urban Light has become a city icon. As an encyclopedic museum, there are always a variety of exhibitions, but the current offerings are especially rich: The James Turrell retrospective on view through April 6 beats out last year's Guggenheim show for breadth of offerings and the survey "Calder and Abstraction" boasts exhibition design by Frank Gehry that includes curved walls that cast those mobiles and stabiles in a whole new light. After spending half a day at the museum, walk across Wilshire Boulevard to sample fare from some of the food trucks that has become an integral part of the L.A. food culture. To burn off the calories, stroll the block just west of the museum, home to the area's best galleries: 1301PE, ACME, Marc Selwyn, and Marc Foxx.
5. CHINATOWN
The historic Chinatown neighborhood, complete with kitschy, brightly colored gates, is located beside the equally historic and kitschy Olvera Street, just north of Downtown. For a period last decade, it seemed to be the center of the L.A. art scene, with more than two dozen galleries hosting coordinated sights of openings along it pedestrian-only streets. The hype has faded and many galleries have moved on, but it remains a charming place worth a visit. Thomas Solomon and Jancar are the most established venues, while Actual Size, Charlie James, and the other galleries there tend to emphasize emerging artists, making them a good match for artist-run spaces such as Human Resources and Favorite Goods.