Summer is the season to get out of town for a while and explore the world's cultural bounty. And while some people enjoy seeing art during the day and then kicking back in a palatte-cleanser of a minimal hotel room at night, others prefer to go whole hog, desiring places to stay where the setting dazzle the eye as much as sooth their weary bones. Luckily, a number of boutique art hotels have sprung up in recent years to cater to these hard-core aesthetes. Here are five such hotels of note to stay in across the United States.
HOTEL DES ARTS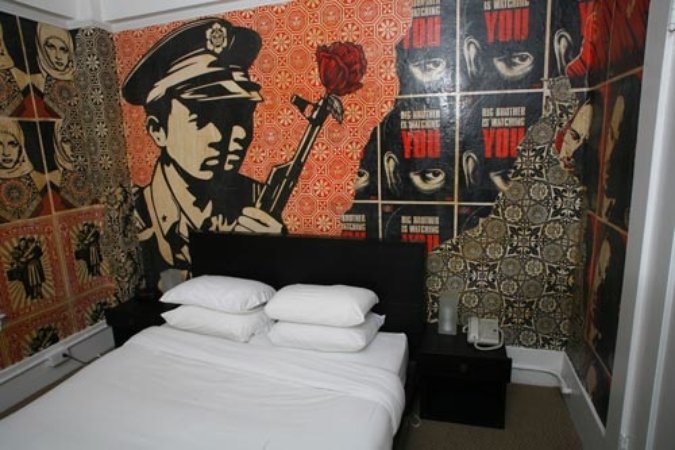 LOCATION: San Francisco, California
TAGLINE: "It's just like staying in a gallery!"
AMENITIES: Established and emerging graffiti artists from around the world have transformed the walls and rooms of Hotel Des Arts into whimsical yet edgy graffiti-inspired installations. The most famous artist to design a room is Shepard Fairey, and others include APEX, Jeremy Fish, Sam Flores, Jet Martinez, MSK, Sugarlux, Tim Gaskin, Buff Monster, and Dave Kinsey. More art hangs in the corridors, curated by the local ensemble Method Makers.
NEARBY ART ATTRACTIONS: Graystone Gallery, Christopher Clark Fine Art, and Xanadu Gallery (also, Chinatown is literally right across the street)
COST PER ROOM: $109-$209 per night
WHAT MAKES IT SPECIAL?: Every room is completely unique at Hotel Des Arts, giving guests a different aesthetic experience every time they stay there. If you've ever wanted to know what it felt like to live inside the head of a committed street artist, this is your chance.
21C MUSEUM HOTEL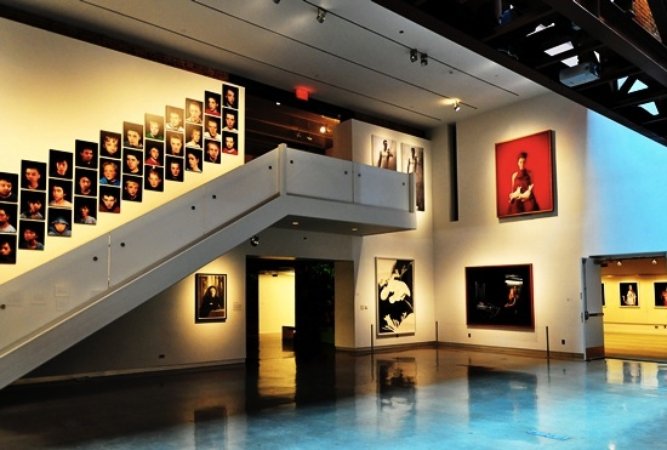 LOCATION: Louisville, Kentucky
TAGLINE: "A museum as alive as its art"
AMENITIES: When it comes to art, the 21c Louiville—one of three 21c hotels in the county—doesn't kid around. For one thing, this is a hotel that contains an actual museum within its walls, offerging rotating exhibitions of work by artists like Ragnar Kjartansson, Erwin Olaf, Cindy Sherman, and Chito Yoshida; the permanent collection includes work by Ivan Navarro and a signature proliferation of colorful penguin sculptures by the Cracking Art Group, which were a commissioned project during the 2005 Venice Biennale. Guests can also sign up for unique activities such as glass blowing classes.
NEARBY ART ATTRACTIONS: The Paul Peletti Gallery, the Mellwood Arts Center, and the Louisville Science Center.
COST PER ROOM: $199-$419 per night
WHAT MAKES IT SPECIAL?: The contemporary art collectors Lee Brown and Steve Wilson teamed up with architect Deborah Berke in 2006 to transform a series of desolate tobacco warehouses into the sprawling, imaginative hotel it is today. The choicest offering? For the right price, guests can also stay and sleep in a site-specific sculptural installation by Jonah Freeman and Justin Lowe, who modeled their room on the 1970s utopian community known as Drop City.  
HOTEL MAX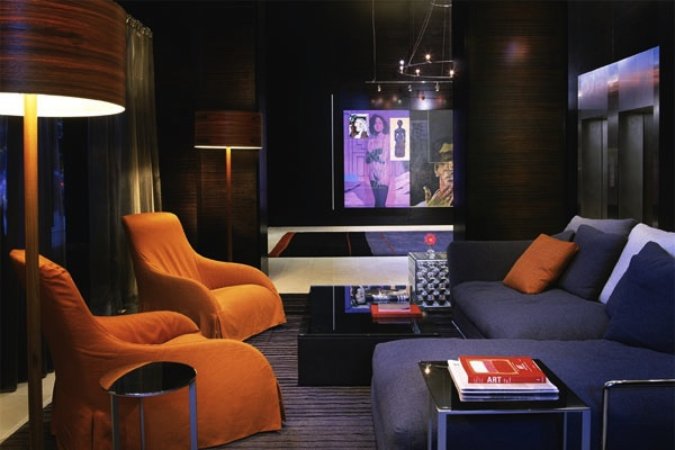 LOCATION: Seattle, Washington
TAGLINE: "Think of it as sleeping in an art gallery. The Gallery of Maximalism."
AMENITIES: Believing that the art on their walls should inspire their guests, the proprietors of Hotel Max decided to feature original work by up-and-coming Seattle artists as well as established photographers throughout the lobby, rooms, and roof of the hotel. Their main floor of attraction however, is the Sub Pop Floor on the fifth floor, which pays tribute to Seattle's legendary punk rock label, Sub Pop Records: black-and-white photography by Charles Peterson is featured on every door, with framed poster art, record players, and vinyl albums displayed in each room.
NEARBY ART ATTRACTIONS: The Seattle Art Museum, the Frye Art Museum, and the Space Needle
COST PER ROOM: $209-$339 per night 
WHAT MAKES IT SPECIAL?: Don't be fooled by the large pink neon sign placed on top of the building—the Max Hotel is more than just a getaway for punk rockers. Displaying over 350 original paintings and photographs, the hotel genuinely cares about art and the local artist community.   
GRAMERCY PARK HOTEL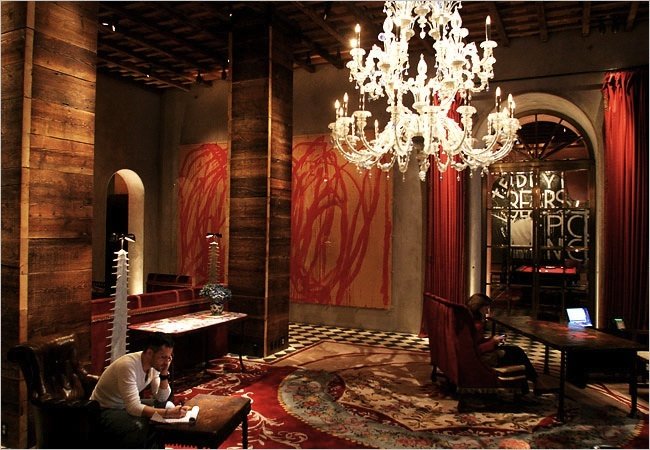 LOCATION: New York, New York
TAGLINE: "Detail & Craft: Style with No Equal"
AMENITIES: The walls of the Gramercy Park Hotel hang with work by some of the most prestigious names in contemporary art, including Jean-Michel Basquiat, David Salle, Cy Twombly, Damien Hirst, and Andy Warhol. Annika Newell and Tom Schultz also created a chandelier installation made of 4,400 bulbs on the hotel's top floor.
NEARBY ART ATTRACTIONS: The Morgan Library & Museum, the Museum of Modern Art, and, across town, the galleries of Chelsea
COST PER ROOM:  $499-$1,650 per night
WHAT MAKES IT SPECIAL?: Every corner, niche, and detail of the Gramercy Park Hotel was designed by none other than the famed artist and filmmaker Julian Schnabel, who was commissioned to completely overhaul the landmark in 2006. As a result, the décor—a juxtaposition of Baroque and modern style featuring antique items, lush materials, and vibrant colors—bears his aesthetic stamp, from the rich red swaddling the rooms to the ornate touches redolent of Venice and Morocco. 
HOTEL BEAUX ARTS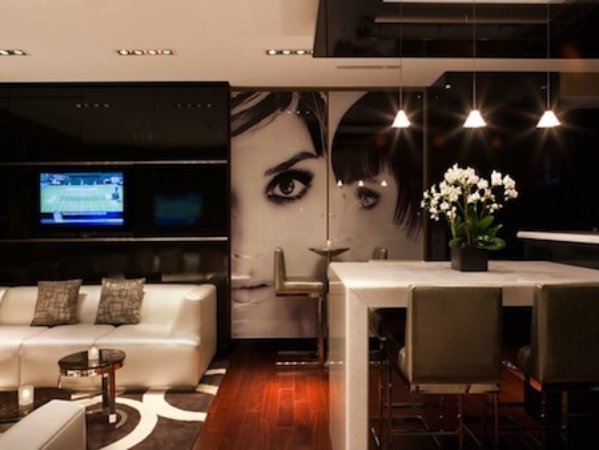 LOCATION: Miami, Florida 
TAGLINE: "A Masterpiece of Contemporary Design and a Cultural Vanguard"
AMENITIES: In a package called the "The Artful Miami," guests can acquire a deluxe room at the hotel in addition to complimentary passes to the nearby Perez Art Museum (formerly the Miami Art Museum) and a 10 percent discount at its gift shop.
NEARBY ART ATTRACTIONS: The Perez Art Musueum, Frank Gehry's New World Symphony building, and the Adrienne Arsht Center for the Performing Arts; also, it's about a 10-minute drive from the Rubell Family Collection, the Margulies Collection, and other fine private contemporary art spaces in the city.
COST PER ROOM: $269-$449 per night
WHAT MAKES IT SPECIAL?: Located atop a JW Marriot Marquis, the Hotel Beaux Arts reflects the spirit of art more through design touches than fine-art curation, but it's a pleasant place to stay in the off-season (i.e. not during Art Basel Miami Beach, when too many events are located inconveniently far away) and sample Miami's strong contemporary art offerings. Named in Condé Nast Traveler's 2011 "Hot List" of the best new hotels, it was also an "official hotel" for Art Miami last December, which is much closer than the main fair.