Replete with artist-run spaces and emerging galleries, some of which just popped up this year, Mexico City's Mateiral Art Fair furnished a youthful, DIY alternative to the more refined Zona Maco, where, for instance, one was not likely to encounter an artist named Puppies Puppies parading around in a Spongebob costume holding a sign depicting Squidward doing strenuously passionate things to the beloved cartoon character. As a result, the fair was a playground for collectors looking to find new talents, many of whom draw as much inspiration from their smartphones as from art history. Here are five to keep an eye on.
K.R.M. MOONEY
Grand Century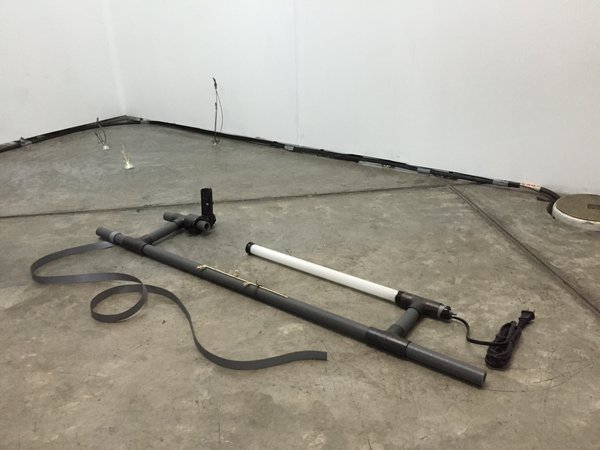 A professional jewelry designer by day, the San Francisco-based K.R.M. Mooney uses the same tools of that craft—like the witchily named liver of sulfur—to make sculptures that jump the rickety fence between the applied and fine arts. At the fair the artist (who declines to accept a definite gender pronoun) had two varieties of work, lovely, delicate casts of foxtail and lavender and a more aggressive-looking industrial piece whose baton-like menace was tempered by a tender cast of a flowering twig. Interested in alchemy and metallurgy—"[the artist] is sort of a Deleuzean alchemist," according to gallery co-director Olivia Erlanger—Mooney has a show coming up at New York's fledgling Hester Gallery in March and then another at the Wattis Center for Contemporary art in San Francisco in June. At the fair, Mooney's larger sculpture carried at $3,000 price tag, while the smaller casts were $800 apiece.
DAVID RAPPENEAU
Queer Thoughts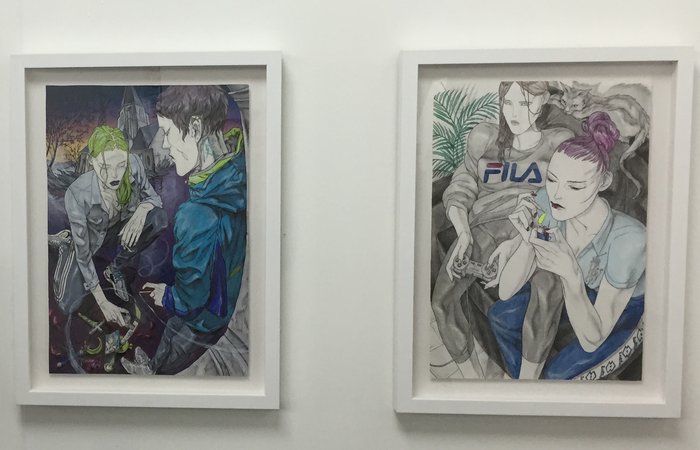 A French artist who also goes by Prince Diamond (after the villain from "Sailor Moon") but reveals little of his biography, David Rappenau makes elegant, tamely erotic drawings that meld the Manga style of such classic '90s animations as "Aeon Flux" and "Ghost in the Shell" with elements of fashion illustration and European Modern art, particularly Die Brucke. The scenes he portrays are typically of bored models lounging around and smoking pot, playing video games, or toying with electronic devices, and they typically contain some kind of grid element, which the artist presents as a pervasive motif of the contemporary moment. Rappeneau—who posts all of his drawings on Tumblr, where they've proven a sensation—has a group show coming up in New York at Tomorrow Gallery; his drawings were $2,300 apiece at the fair.
MARCO KANE BRAUNSCHWEILER
Aran Cravey Gallery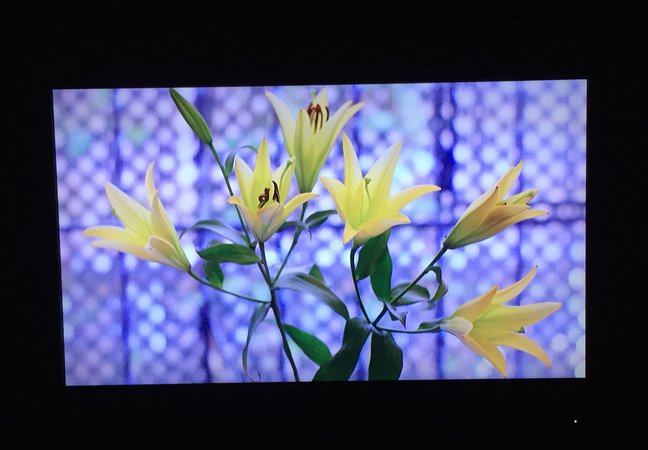 Working out of downtown Los Angeles, Marco Braunschweiler has for a while now gone to a nearby flower market every week and brought bouquets of lilies back to his studio and laid them out on the floor in their newspaper wrappings to photograph them, transforming the newspapers into a timestamp marking the life of the flowers just as in a ransom video. He then transformed the photos into UV-curable prints, which provide a captivating quality of evanescence as they shimmer while th viewer walks around them, and placed the lilies in a vase and shot a time-lapse video to capture the way the flowers expand and contract with the diurnal movement of the sun and then finally expire. A graduate of the Art Institute of Chicago, Braunschweiler has also been running a publishing platform called Golden Age with the artist Martine Syms since 2007, and says that he's moving into more online publishing, releasing singular essays from artists, writers, and thinkers between 5,000 and 30,000 words long. Both his video and photographs were $1,500 each.
JEANETTE HAYES
Regina Rex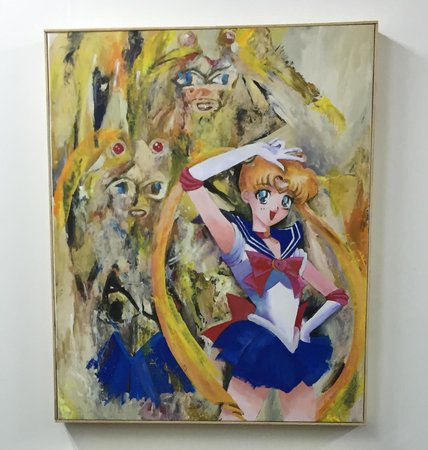 A social-media sensation with an inexhaustible ability to post stylishly now images and videos that tweak memes, allude to her many magazine profiles (and fashion spreads), and provide an inside glimpse into the life of an Internet-age art star, Jeanette Hayes specializes in parlaying the image-selecting creativity of Instagram into the tradition of painting. Her best-known body of work involves photobombing Sailor Moon (there she is again!) into works of high Modernism, like Desmoiselles d'Avignon or, as here, into one of de Kooning's Woman paintings, with the flat, lowbrow, girly pop of the Manga character throwing the careful figure-ground considerations of the male artists into a tizzy. Hayes currently has a show at Brussels's Levy Delvai gallery alongside Michael Manning and Jeff Baij, and she'll be in a group show at Regina Rex in April.
SIEBREN VERSTEEG AND HUGO MONTOYA
Beverly's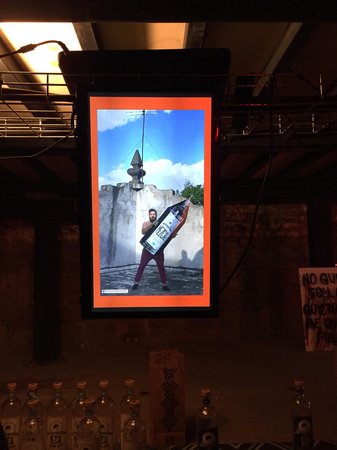 The artist-run Lower East Side bar Beverly's functions both as a watering hole for the art scene and an experiment in how far labor—as in bartending—can be conceptually transmuted into an artistic practice of its own. Selected to curate the fair's downstairs bar area, the drink-slinging artists transplanted a bit of that gambit by showing a video by Siebren Versteeg and Hugo Montoya that shows the latter artist doing some entry-level sign spinning on in a square near the fair with a green-screen sign, which Versteeg then programmed to show whatever Instagram post was hashtagged #youradhere—with the twist being that Gracias a Dios mezcal, which sponsored the bar, had arranged its Instagram account to flood the hashtag, ensuring that its branding remained there for the duration of the fair. That's art, marketing, and bartending all tied up into a neat, economical package.