Nestled in the rolling hills on the outskirts of Los Angeles, the Paramount Ranch art fair is a kind of wrinkle in time, bringing the current indie vanguard of the international art scene into an old Hollywood stage set meant to recreate a frontier town from the even older Wild West, and presenting it to a crowd of gorgeous people who for whatever reason all seemed to either dress like they stepped out of the '70s or from a few years in the future. Founded by the L.A. artists Liz Craft and Pentti Monkkonen in collaboration with the Freedman Fitzpatrick gallery, the fair presented work that was generally small, excellent, livable, and reasonably priced, which contributed to the giddy summer-camp vibe. Here are five of the standout artists featured in the fair. 
ALEKSANDER HARDASHNAKOV
Tomorrow Gallery
$5,000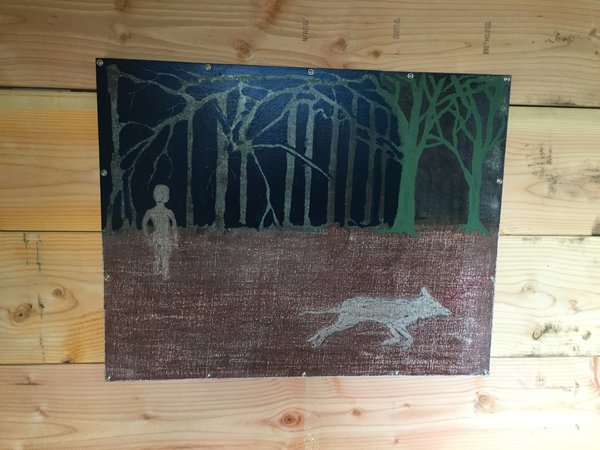 One of the trio of artists who founded the Lower East Side's Tomorrow Gallery—along with Tara Downs and Hugh Scott-Douglas—Aleksander Hardashnakov specializes in spookily atmospheric paintings that he sets down on board and distresses so that the landscape elements come forward and the figures, ghostlike, recede. Embellished with BDSM-style riveting, this one was created especially for Paramount Ranch, and is characterized by the "surreal, necro-pastoral narratives that float through," as Downs put it.  
JAKE CRUZEN
Bed-Stuy Love Affair
$8,000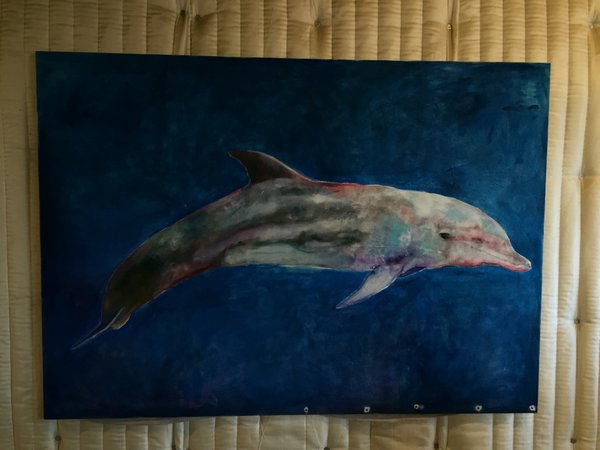 Jake Cruzen moved out to Los Angeles from New York, and the change has both mellowed him out and suited his particular approach to painting, which relies on a meta style of acting. When painting this dolphin, for instance, the artist put himself into the frame of mind of the kind of person who would live in L.A. and paint dolphins—i.e. the kind of patchouli-drenched kitsch schlock you can find on Etsy. The ironic conceit is elevated by the painting's appealing facture, with the quick-drying oil paint soaked directly into the canvas in an homage to "menstrual-blood paintings from the '90s," according to the gallery's Cindy Conrad, and it's bedazzled with metal studs on the bottom for extra je ne sais quois. (Sense a trend?)
SANYA KANTAROVSKY
Tanya Leighton
$4,000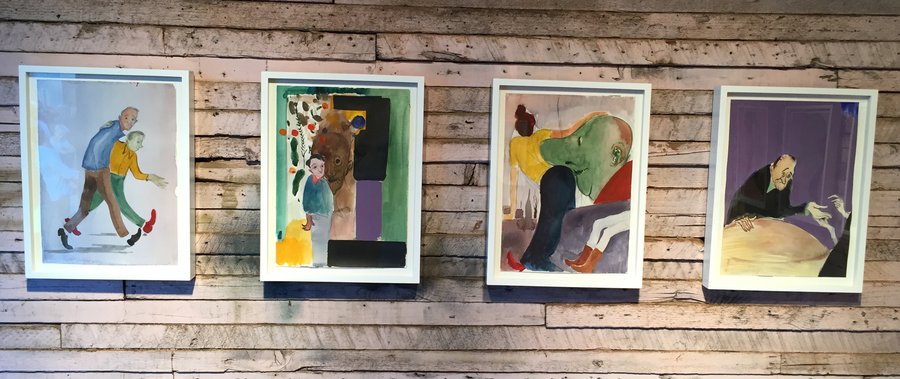 Loose-limbed and cartoonishly elastic, the figures that populate Sanya Kantarovsky's paintings hearken back to an earlier time, somewhere in Europe, when people read in armchairs, wrote letters, smoked pipes, and attended the ballet. Not for him are the boisterous cafe scenes of Nicole Eisenman, who similarly manages to make figuration both communicative and fresh-feeling—his figures are mostly solitary, thoughtful, burdened.
DINGAM
$6,500 apiece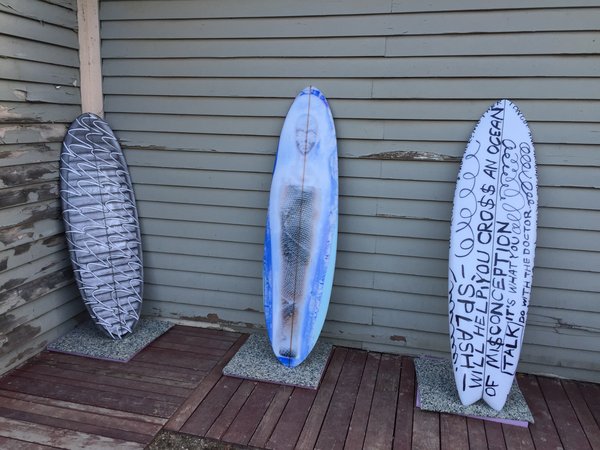 Dingam is not an artist per se but instead a transient Berlin operation run by Dennis Oliver Schroer that pops up somewhere now and then—in a parking garage, say, or a restaurant—and serves up site-specific installations of quasi-functional artworks made in deep collaboration with emerging artists. For the ranch presentation, Schroer had spent a month working with "a bunch of surf guys" to realize a trio of impeccably finished boards designed by Nikolas Gambaroff (an abstract pattern), Lucie Stahl (a blue mummy), and Karl Holmqvist (a text/poetry piece).
MAX HOOPER SCHNEIDER
Jenny's
$7,000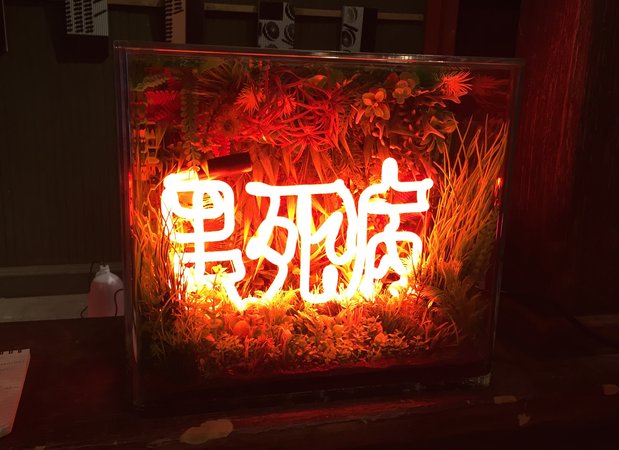 Formerly at Gavin Brown's and then Artists Space in New York, Jenny Borland traded coasts about a year ago and has since built out an excellent gallery program of her own at the eponymous Jenny's, with Max Hooper Schneider being one of her choice discoveries (though her landing the fast ascendent Liz Craft was a coup as well). A former biology student who went to Harvard for grad school in landscape architecture, Schneider has in the past worked for Pierre Hugyhe and a kindred sensibility reveals itself in his works at Paramount Ranch: two vitrines filled with soil, artificial plants, and sinister red neon signs bearing the Chinese characters for diseases, one of them rabies and the other the black plague.