The majority of Lauren Greenfield 's time over the past 25 years has not been spent photographing the rich. This may come as a surprise. Her acclaimed monograph, published by Phaidon last year, is entitled Generation Wealth , and between its gilded covers lies almost 500 pages filled with glossy, technicolor photos of Birkins and Louis Vuittons, boob jobs and Botox, mansions and private jets, models and baby beauty queens. Look closer, however, and the cracks start to show. There is the teenager who splurged on a Gucci sweater despite his family's low income, the quinceañera ball gowns financed through years of saving, and, of course, the aftermath of the 2008 housing crash. More than true wealth, Generation Wealth documents the desperation of those who don't have but wish they did.
Generation Wealth is the culmination of Greenfield's life's work, bringing together many of her previous projects, including explorations of female body image ( THIN , 2006; Beauty CULTure , 2011), precocious LA kids ( Fast Forward , 1997), and the attempt by David and Jackie Siegel to build a 90,000-square-foot dream home amid the financial crisis ( The Queen of Versailles , 2012). It is a vital roadmap for the United States in the age of the Kardashians and President Donald Trump. According to Greenfield, the physical manifestation of the American Dream is no longer a home with a white picket fence but a mansion as lavish as Versailles—and we should be paying attention to that.
Her documentary film of the same name (in select theaters this Friday, July 20th) goes farther, turning the camera on herself to search for the source of her obsession with the idea of wealth and fame. In honor of the release of Greenfield's movie, we have excerpted a few sections from her book, which is available here .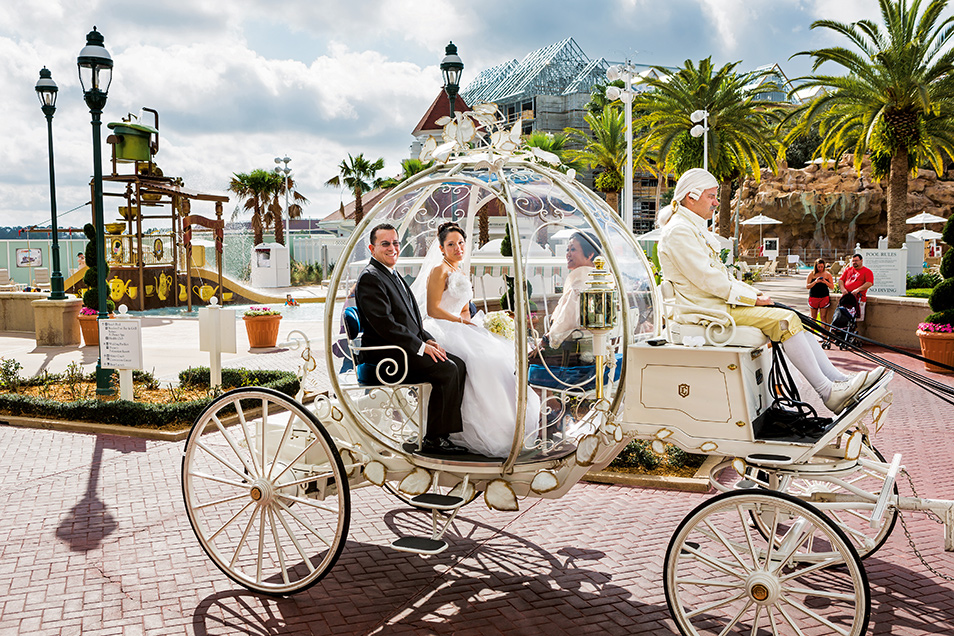 Christina, 21, a Walmart pharmacy technician, en route to her wedding in Cinderella's glass coach, drawn by six miniature white ponies and with bewigged coachman, Walt Disney World, Orlando, Florida, 2013. Photograph and text © 2017 Lauren Greenfield In her second book, Girl Culture (2002), Greenfield examined the standards set for girls in the race to buy and be recognized. While young people in general struggle to keep up in an image-saturated consumer society, Greenfield noted that the roles women and girls must play have an especially damaging fantastical dimension. Little girls are spoon-fed Barbies and Disney princesses, before graduating to fashion and tabloid magazines that offer templates of reed-thin models and Photoshopped pop stars. Playing dress-up becomes a lifelong pursuit of unattainable ideals of beauty and romance portrayed in ads and entertainment as real possibilities. As Greenfield found, traditional rites of passage have become consumer opportunities, from debutante balls to senior proms, quinceañeras to high-school graduation ceremonies. A girl's family, even one with limited means, must finance the dress she "arrives" in, often a white bridal gown. The fairy-tale bill of goods sold to girls is the dream come true of Cinderella moment, when a physical transformation can win them their prince.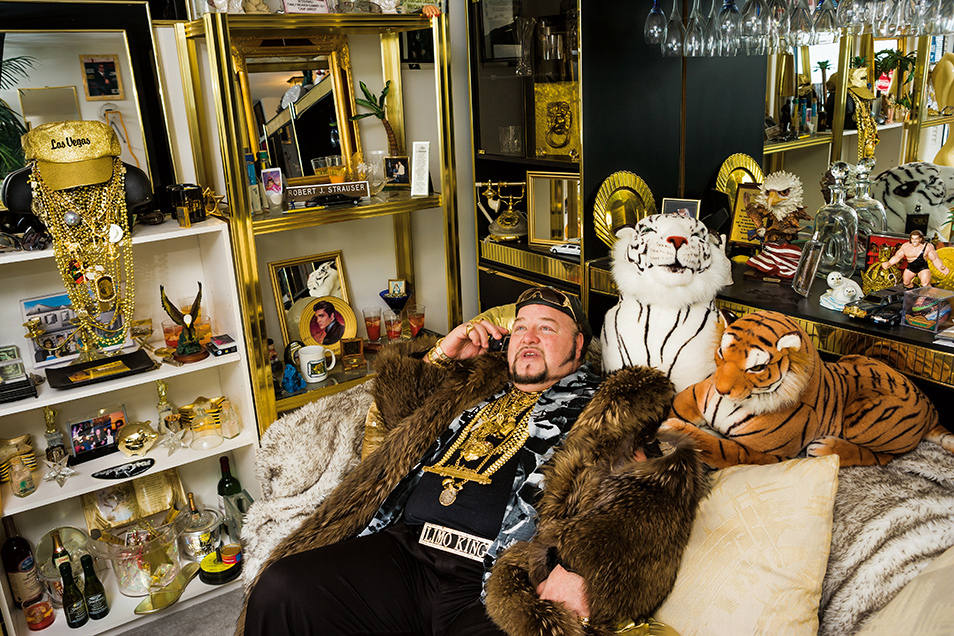 Limo Bob in his office, Chicago, 2008. Bob owns a 100-foot limo that made the Guinness Book of World Records for being the world's longest limousine. Photograph and text © 2017 Lauren Greenfield
Greenfield photographed the rapper Tupac Shakur in 1995, the year before he was murdered in a drive-by shooting in Las Vegas. The chorus of Tupac's posthumously released song "Fame" seems to foreshadow his fate: "One thing we all adore / Something worth dying for / Nothing but pain / Stuck in this game / Searching for fortune and fame." In Greenfield's conception, celebrities are the human face of society's addiction to the fantasy of a life of unlimited material possibility. In image form, they themselves become a material possibility. In image form, they themselves become a commodity that we buy in order to emulate, and tales of celebrities' lives, whether true or not, are both opiate and obsession. The near-divine status of stars encourages the rest of us not to settle for ordinary life.
How fame is attained becomes unimportant—whether through acting talent, sports prowess, criminal exploits, supermodel looks, political power, or the "leaking" of a sex tape. Today's celebrities are often known as much for the public's fascination with the intimate details of their privileged lifestyles as for the substance of their accomplishments. It seems that the stars who are famous for being famous are the ones we follow most eagerly. It's as if there is less to remind us of any actual superiority on their part, less to stand in the way of our projecting ourselves into their charmed lives and imagining ourselves in their shoes.
[related-works-module]
Photography plays a significant role in the commodification of celebrity, because the process hinges on image. From studio portraits and paparazzi shots to the more recent rise of the artfully lit naked selfie, the famous and their handlers carefully orchestrate the personality brands they build, manage, and sell. On assignment for magazines, Greenfield has access to this sphere. She has always chosen to operate in it with a critical eye, often taking the opportunity to mine the disconnections between observed reality and a system that parlays famous people into cash. Not only are the famous selling themselves, but also often they are engaged in selling something else, too: whatever they drive or drink or wear is sought after—fueling an engine of imitative consumption that is an industry in itself.
Andy Warhol did not live long enough to see his theory of celebrity—"In the future, everyone will be famous for fifteen minutes"—virtually realized in the age of the Internet. Now anyone can go viral and global overnight. Meanwhile, among those who've "made it," celebrities' values rise and fall: there are affairs and divorces, DUIs and stints in prison, red-carpet outfits and gender transitions. Little escapes the voracious public, and much is flaunted before it for potential profit. We are willing collaborators in enslaving both the famous and ourselves in a feedback loop of endless, hopeless aspiration.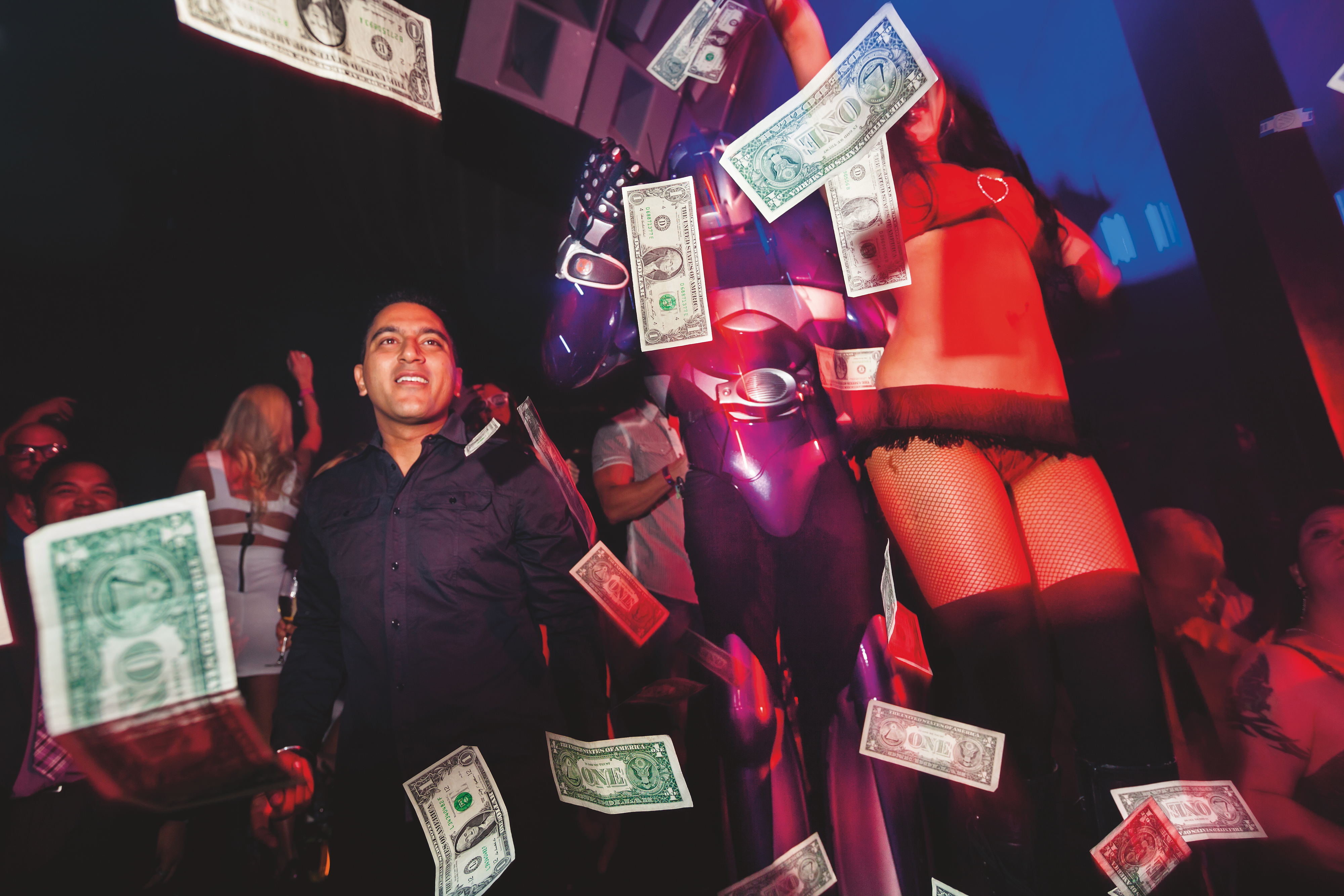 A VIP guest "makes it rain" with hundreds of dollar bills on a sold-out Saturday night at Marquee, routinely ranked as one of the top-grossing nightclubs in the United States, Las Vegas, 2012. Hip-hop artist Fat Joe brought the practice into mainstream clubs with his hit song of the same name. Photograph and text © 2017 Lauren Greenfield In Las Vegas, illusion is the trademark of a city that exists to profit from vice. An adult theme park that brings the world's landmarks to the American desert in counterfeit and invites visitors to live out illicit fantasies, the city drew Greenfield's attention early in her career, when she photographed strippers and showgirls during the mid-nineties. The paradoxical pairing she found there of glamour and desperation boded the demise of American middle-class values of moderation. Commercially packaged hedonism is now an everyday item. The kind of good times Las Vegas peddles—pitched as a necessary opportunity to blow off steam, unmoored  from consequence—are a bellwether of what American culture most prizes.
Las Vegas has always been about self-indulgence, but Greenfield found that after the 2008 crash, the city's visitors seemed more than ever eager to blow it all in a last-ditch bid to live large. Her 2012 short film The Best Night Ever shows us patrons who push their credit limits to party at Marquee, one of the nation's highest-grossing nightclubs, with annual revenues topping $80 million. There, you-only-live-once evenings begin with bottles of French champagne priced higher than many people's mortgage payments and climax when the lucky few "make it rain," showering cash on a crowd that, for this moment, adores only them. The adrenalin rush of being a star for one night echoes the Hollywood values whose influence Greenfield probed years earlier.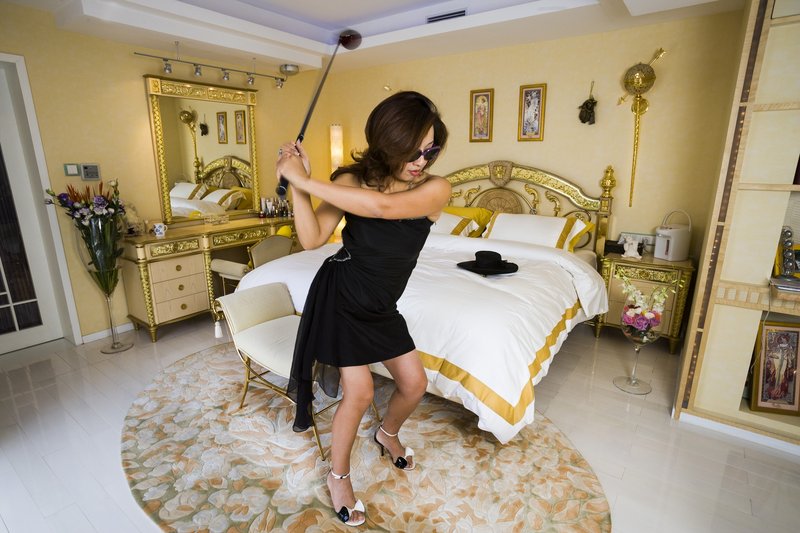 Xue Qiwen, 43, in her Shanghai apartment, decorated with furniture from her favorite brand, Versace, 2005. In 1994 Xue started a company that sells industrial cable and has since run four more. She is a member of three golf clubs, each costing approximately $100,000 to join. Photograph and text © 2017 Lauren Greenfield
The ambitious socioeconomic agendas of the People's Republic of China and the USSR once stood in stark contrast to the American Dream, with its capitalist engine. In both countries, the long-oppressed citizens ousted autocratic rulers in favor of enforce  collectivism designed to cleanse their societies of class privilege. In recent decades, though, communism ahs bowed to more open markets and the wealth incentives they offer. Greenfield arrived in China in 2000, eight years after "paramount leader" Deng Xiaoping ushered in sweeping economic reforms summed up by his blessing: "Let some people get rich first." His vision came to fruition on a scale only the world's most populous country could realize, raising a half-billion people out of poverty, according to the World Bank, and, by some estimates, minting forty thousand new millionaires in 2013 alone.
Greenfield entered a scene akin to a gold rush, as a new elite struggled to establish its prerogatives with showy expressions of wealth: a replica White House complete with a backyard Mount Rushmore; homes decorated entirely in Versace; a solid-gold toilet; and a mania for exclusive pursuits, such as polo and yachting. China's one-child policy, meanwhile, has created a breed of "little emperors," the overindulged offspring of the newly affluent Chinese, who get real race cars for their birthdays and whose lives stand as an affront to the industrious, selfless ethos of the Communist state. Today China's rich are shifting their sights to the West, educating their children in prestigious American universities and investing in property beyond the reach of the Communist Party.
RELATED ARTICLES:
Lauren Greenfield on the Influence of Affluence, and Our Endless Addiction to the Pursuit of Wealth
"The Portrait is Always Dependent on the Moment": Read What Annie Leibovitz Wrote About Becoming a Photography Icon
Seven Magnum Photobooks That Changed Photography by Making Art Out of Life