For over 50 years, notorious Japanese photographer Noboyushi Araki has sought to challenge the role of intimacy in photography. Known primarily for his erotically charged photographs of women in a variety of compromising positions (many include the traditional Japanese practice of kinbaku-bi, or rope bondage), the artist's work has garnered equal parts praise and controversy over the years, both in Japan and in the West.
In the wake of the #Metoo movement, New York's Museum of Sex presents the artist's first United States retrospective, in a show titled The Incomplete Araki: Sex, Life, and Death in the Works of Nobuyoshi Araki. The exhibition, curated by Maggie Mustard and Mark Snyder, is well-aware of the controversies that the work is wont to bring up in today's social climate—and their intention is to confront these issues head on. Rather than shocking viewers, the aim of the show is to incite a conversation.
The exhibition, on view until August 31, includes a number of artifacts and documents which contextualize the photographs within post-war Japan; along with perspectives from critics, artists, curators, and fans which elucidate Araki's thought-process behind his work. Of his practice, Araki states, "I want to make photographs that maintain their incompleteness.... I don't want them to lose their reality, presence, speed, heat, or humidity.... Therefore, I stop and shoot before they become refined or sophisticated."
Just in time for the show, we've selected excerpts from Phaidon's 2005 monograph, Nobuyoshi Araki: Self, Life, Death, in which the famed photographer talks about his process, and how he seeks to capture a genuine photographic image; the ways in which taking a photograph is similar to conducting an interview; and how historical context and place is deeply ingrained in an artist's work.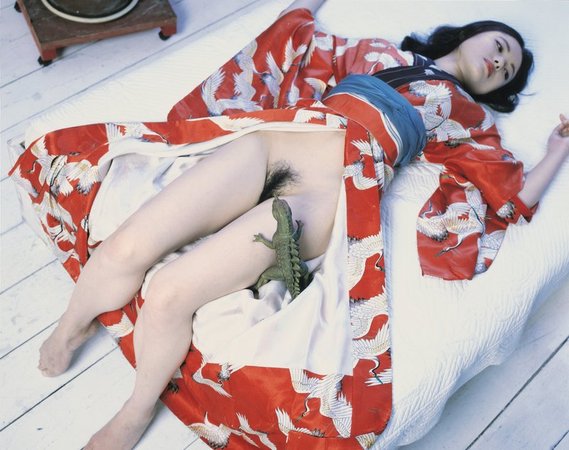 Untitled (Kaori), 2004, Available for purchase on Artspace
---
TAKING PHOTOGRAPHS WITH THE MIND'S LENS
This is a form of communication, but it has some bearing on the fact that I don't change lenses. It's the same when you're shooting in the city: you come up close or you distance yourself. Although if I say this kind of thing, the market for replaceable lenses is going to collapse!
Zooming really isn't a good idea. It's a brazenfaced way of taking photographs. You impose yourself too much. Zooming has had the effect of breaking the relationship between the photographer and the subject. This kind of pushiness isn't right.
It may seem like a good idea to take a single camera with zoom lens when you go traveling, but it's too simplistic. It means that you can't decide on the lens you need for the subject. It means you haven't got your ideas in order. Once you know what you're about, all you need is a single Leica 35 mm camera. This is how it should be done. If you can't do it like this it means that you're still not up to being a photographer!
Looking back into the past, during the 1980s I used a compact camera, the Big Mini that shows the date. I then used a Minolta that also included the date. Compact cameras with zoom lenses began to appear at the beginning of the 1990s. The Pentax was one of them. I like chatting up a woman I've just met, and, similarly, I'll have a go at anything I come across for the first time.
Whenever I try my hand at something new, I always find it sensationally interesting. But I really didn't feel this way when it came to seeing close-ups like that.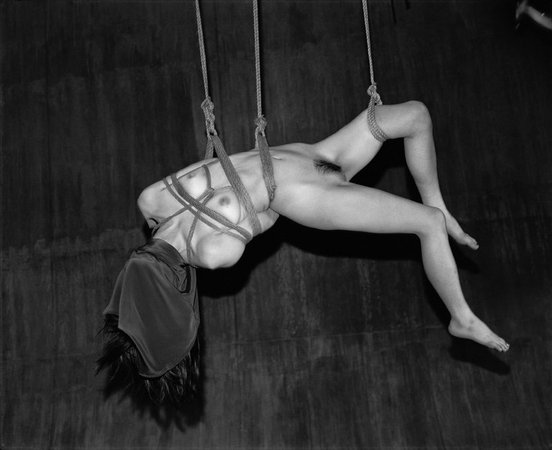 Untitled (From Self, Life, and Death), 1997/2005, Available for purchase on Artspace $6000
As far as cameras with dates are concerned, I've been consistently using the Hexar 35 mm camera, which doesn't have a zoom lens. It's something to do with the physical sensation, the feeling of presence, but it takes much better pictures than cameras with a zoom lens. It's great fun too.
There was a phase when I used to zoom lenses. But I don't use them today. It depends on where you are, your age, and how you're feeling at the time, but at present I'm devoted to 35 mm cameras.
The lens you use depends on a whole range of factors such as the era and how old you are. If you want to feel really close to someone's face, if you want to feel you're in direct contact with their good qualities, it's best to use a 50 mm camera at a distance of around 50 cm or a meter. I don't like taking people with skew-whiff expressions I guess I just don't like using the lens for expressive purposes. Photographs aren't about expression with a lens. Absolutely not!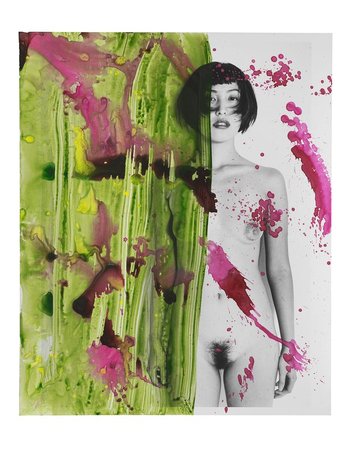 Alluring Hell, 2014, Available for purchase on Artspace $12,500
Everybody has different eyeballs, so it's quite possible that there may be people with 28 mm eyeballs. I don't know. Maybe I think I'm the only person with 35 mm eyeballs, but I really don't know about other people. Everyone has their own height nad the size of your prick differs from one man to the next! People's eyes come in different sizes too. There are people for whom 28 mm is standard and there may be others for whom 50 mm is standard.
We're all products, active or passive, of the era through we've actually lived. That's why we're all different. Young people are going to have different sensibilities depending on whether they were brought up in a city or in the country. For example, when I was shooting Yanaka for Hitomachi, I came across a really beautiful girl who was still only a primary school pupil. I really fell for her!
I followed her around for a bit like a stalker and she went into a temple. She smiled at me nervously beneath a tree in the temple precincts. She realized I wasn't up to any mischief and she let me take her photo. Her father was looking on at a distance, smiling.
I shot her on another occasion where she'd put on makeup and the kimono I bought for her. I suppose it's inevitable, but great places are associated with great faces; it's in places like this that children with wonderful smiles are raised. Conversely, it's smiling faces like these that give a place its interest. A town has its own face of course, formed by its buildings...the buildings and the alleyways seem to reflect people's smiles. That's why, when you look at a photograph, you can usually tell if someone is ill-natured or if a woman has a nasty streak. Photographs tell you everything, even someone's intelligence and IQ.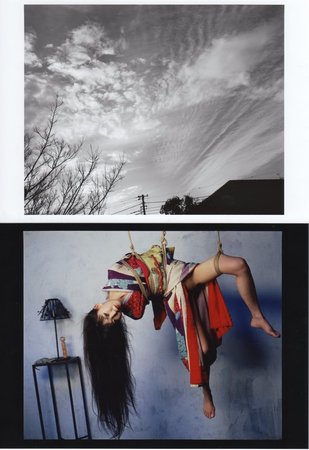 It Was Once A Paradise, 2011, Available for purchase on Artspace $8,613
The important thing is to shoot with an open frame of mind. You mustn't let yourself step back. You mustn't make things too complicated. You mustn't change lenses. You need to take photograph with the lens in your mind!

PHOTOGRAPHY IS ALL ABOUT COLLABORATION
Photography is a ménage à trois!
A photograph is a kind of interview; perhaps you could say that it's the same as an interview. The idea is to draw something out of the subject. This is the point of an interview. In other words it's not about expression so much as appearance. The aim isn't to express something to do with the subject but to draw something out of him.
I take the approach that people are essentially good by nature, and so I do whatever I can to draw forth the positive characteristics of my subject. I don't focus on their negative features. Photographing someone isn't like painting a picture when the artist depicts the face of his subject as he imagines it. That kind of approach is no good for a photographer. You have at least to pretend to be modest and self-effacing!
Having a photograph taken isn't about adapting; you need to feel you're actually being violated. It's a kind of buffoonery. Perhaps you might describe it as a type of catabolism between two people. The photographer and his subject work together to come up with something that neither of them have noticed before. It isn't a question of the photographer merely taking a photograph: it's a collaboration between the photographer and the person being photographed. If you want to use words like invention and creation, they need to include these kinds of ideas. Photography is a joint enterprise. If you include the camera, there are three partners in crime. That's why I think of it as a ménage à trois!
Photography is life itself. It's the starting point for life. You can't live entirely by yourself. To be by yourself is a lonely business. No one finds life interesting in the absence of other people. That's the way people are. More or less has nothing to do with it. We all need someone.
That's what it's all about!
[related-works-module]