How would you define the difference between sculpture and painting? It seems a simple enough question, but when one considers the work of artist Sarah Sze, the answer soon becomes rather more complex.
Since her earliest installations, the internationally renowned artist Sarah Sze, who represented the US at the Venice Biennale in 2013, has examined the relationship between two- and three-dimensional space, as well as invisible natural forces, such as speed, air, and gravity. She once said: "I set out to work with the things that it seemed a painting couldn't: real time and space."

Since the late 1990s, she's developed a signature visual language that challenges the static nature of art with a dynamic body of work spanning sculpture, painting, drawing, printmaking, video and installation. But in recent years, Sze has returned to painting, the medium in which she began her career.
Comprising constellations of painted and collaged elements, the expansive abstract landscapes that she's created explore a visual world that's constantly evolving, degrading, and generating new ways of seeing. Interestingly, Sze has constructed works in which acrylic paint is the main material but has called these works sculptures.

Commenting on her 2015 piece, Single Chain Hanging Sze has said, "There was this question of, How do you make a sculpture out of a painting? How do you take all the structure out of a painting and let the paint itself be structural?"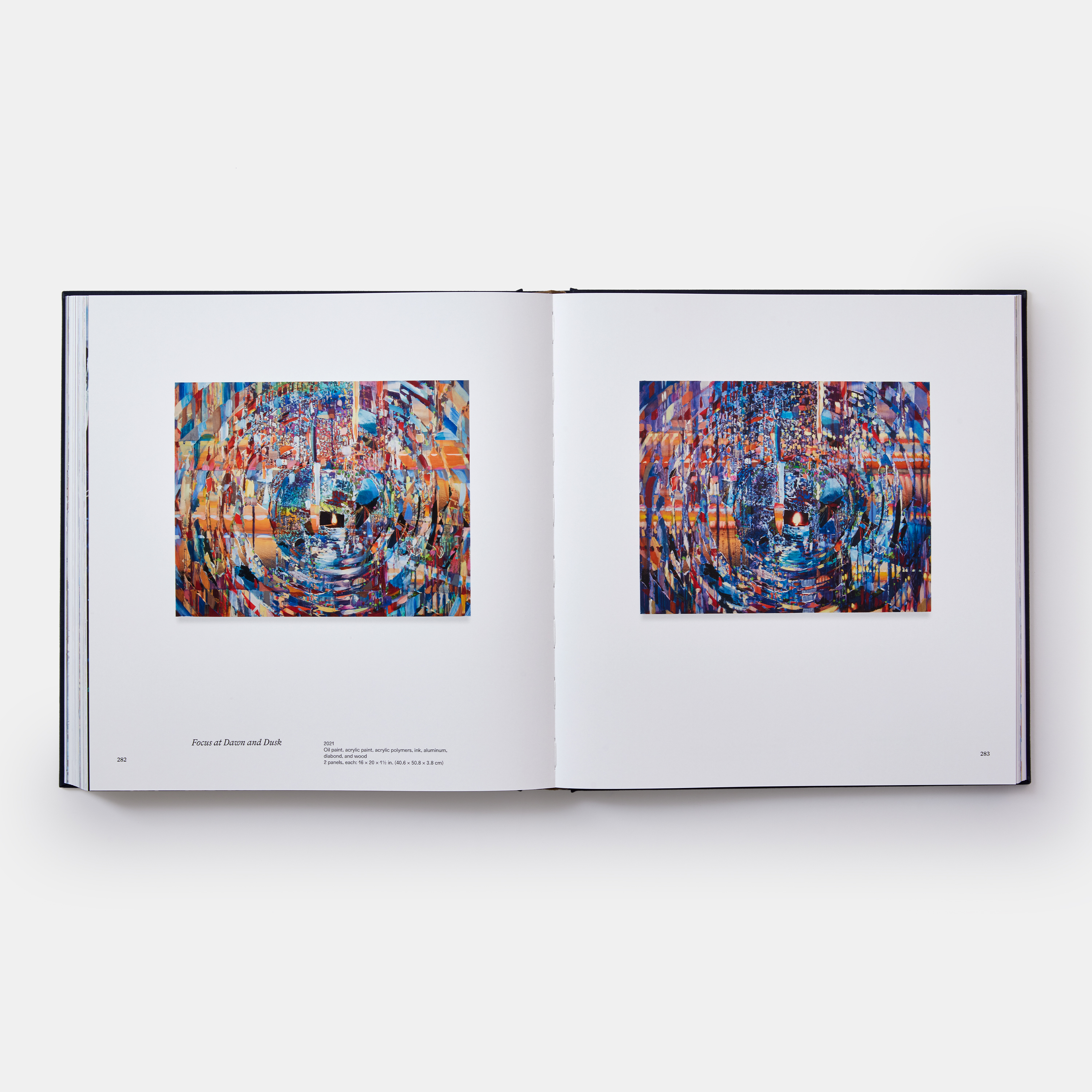 A spread from Sarah Sze: Paintings


Now, a major new Phaidon book, Sarah Sze: Paintings, takes an in depth look at over 100 paintings made since 2018, taking in brush painting, drippings and splatterings, screenprinting, collage, and bas-relief. The book is strictly limited to 2,000 copies, each signed by Sarah Sze, and features insightful essays by London-based curator and designer Mark Godfrey, Hong Kong-based curator Tina Pang and an artist interview conducted with Pritzker Director of the Museum of Contemporary Art Chicago, Madeleine Grynsztejn.
Godfrey's text opens the book, and features a number of noteworthy insights into Sze's work, including the very definition of painting as applied to her output and those of other artists.

"To call a work a painting—or to choose not to call it a painting—is a strategic distinction that American artists have been making for some decades," Godfrey writes. "Lynda Benglis, for example, referred to her floorbound polyurethane pours of 1969 as "fallen paintings" because she wished to connect them to Jackson Pollock and Helen Frankenthaler, he goes on.

"Sam Gilliam's drapes shared much with Robert Morris's felts, but Gilliam saw his works as paintings, whereas Morris defined his felts as sculpture. Judy Pfaff, whose environmental work Dragonfly, shown in the 1981 Whitney Biennial, rhymes with several of Sze's sculptures, wanted her work to be known as 'painting in space.'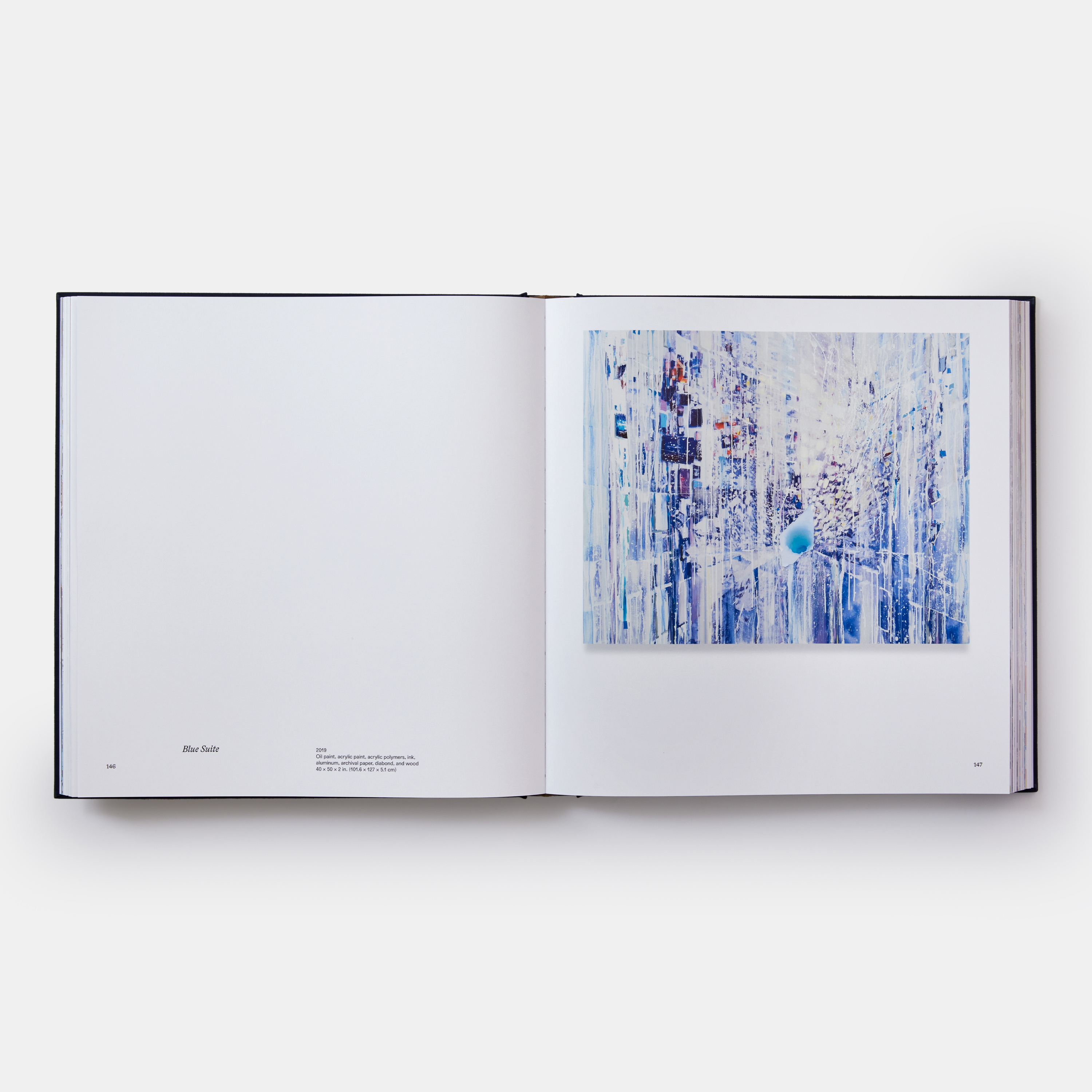 A spread from Sarah Sze: Paintings

"Conversely, Roni Horn has made huge wall-bound works with hundreds of pieces of paper and with pigment but resolutely calls them "drawings" and not paintings. Wade Guyton sent sheets of canvas through Epson printers but has often been resistant to calling them paintings, even though they have been included in countless surveys of contemporary painting."

Citing Sze's 2022 work Floaters Apparition as example, Godfrey wonder whether it actually even matters if we consider Sze's paintings as wall objects, collages, or expanded photographs.
"Sze has said that she understands the distinction of sculpture and painting to reside in their fundamentally different relationship to the idea of publicness and interiority.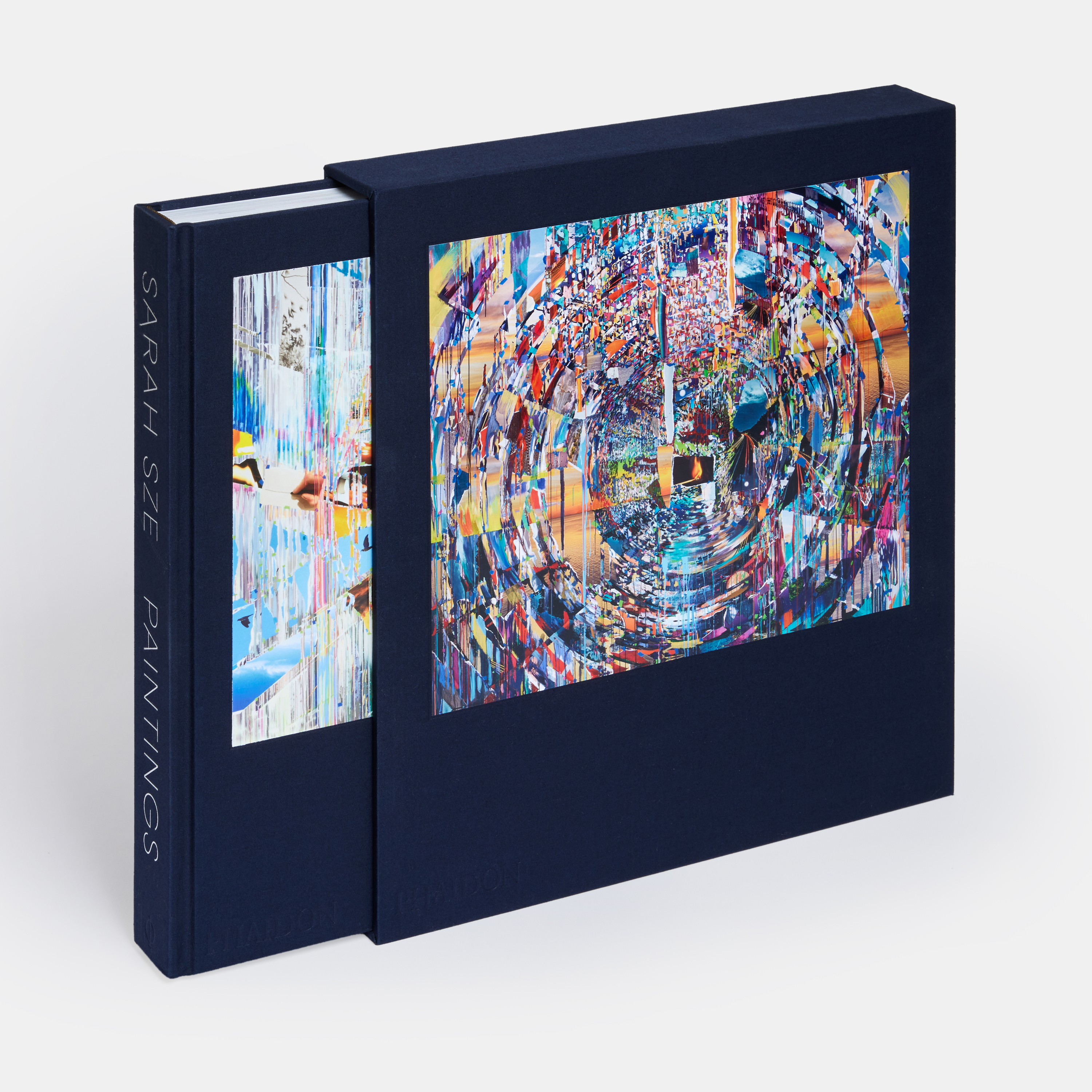 Sarah Sze: Paintings
"A sculpture offers itself up in public space; it is resolutely public in character. That is why her sculptures always integrate objects whose scale and function her viewers recognize immediately (a Q-tip or toothpick, for example), so that they can understand themselves to be on shared ground, so to speak, with the artist.

"By contrast, paintings, for Sze, can be records of artists' interior thoughts. 'A painting has the potential to put you in the mind's eye of the artist,' she has said. Just as she has felt privileged to discern what Velázquez or Vermeer may have thought long ago when looking at one of their paintings, so too a painting of hers provides viewers a window into her thinking at the moment of its making.

"For Sze, the urgency of painting now, as opposed to twenty or thirty years ago, has to do with the increasing need to claim a space for interiority at a time when interiority is threatened by digital experiences and the compulsion to perform feelings and publicize our every action on social media platforms. This is certainly a fascinating argument for painting now, but to my mind, at least, Sze's paintings are compelling for other reasons. I see them neither as portals to the artist's mind, nor as expressions of interiority, nor as private images, but as works whose surfaces and images are convincing because they respond to technologies and textures and experiences known to, and shared by, their maker and their viewers." Take a look at Sarah Sze: Paintings here and visit her artist page on Artspace here.