Running through this weekend, the ADAA's Art Show is renowned for its deftly curated mix of artworks from the past and present, offering a feast of exceptional wares for the sophisticated collector. We toured the fair to spotlight ten of the most compelling works on view.
MONA HATOUM'S DORMIETE (2008) AT ALEXANDER & BONIN GALLERY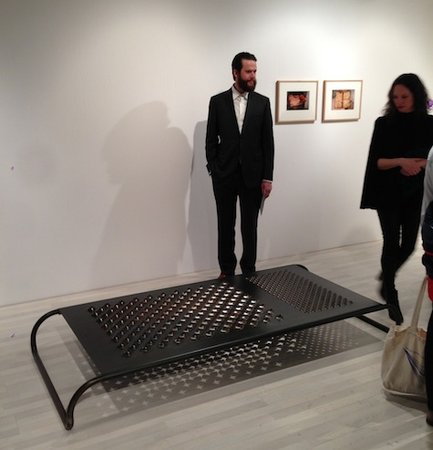 A surrealist twist on the classic daybed, this piece—made from "mild steel"—offers a less-than-comfortable place of repose for the adventurous collector. Hatoum is well known for her sculptures that unsettle our perceptions of domestic objects by playing with their scale, and that's what she does here: it's a cheese grater.
MARY CORSE'S UNTITLED (2012) AT LEHMANN MAUPIN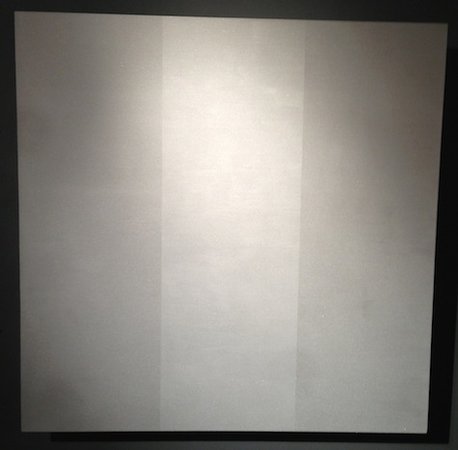 Since the 1960s Mary Corse has specialized in creating luminously minimal paintings from variously textured powders of shattered glass, forging an instantly recognizable personal style that has influenced younger artists, notably the sculptor Liza Lou. These elegant works, made from pulverized glass beads, are displayed on a custom frame that projects the canvas away from the wall and toward the viewer, presenting themselves as sculpture as well as painting. 
BRIE RUAIS'S MAPPING THE STUDIO (2012) AT NICOLE KLAGSBRUN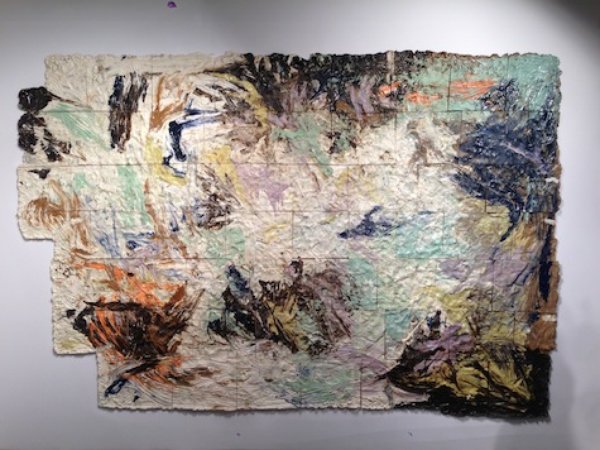 Employing a performative approach to making art that transforms her studio into a stage for dramatic confrontations, the artist—who at 30 just received her MFA from Columbia University, and currently has a residency at the Abrons Art Center—created this work by taking a hunk of clay that weighed as much as her own diminutive body and laboriously flattened it across her studio floor. She then painted the work in the palette of Jackson Pollock, sliced the composition into tiles, and fired them for this finished wall piece that resembles a personalized map of the United States.
MILTON AVERY'S DANCING GIRLS (C.1910) AT DAVID ZWIRNER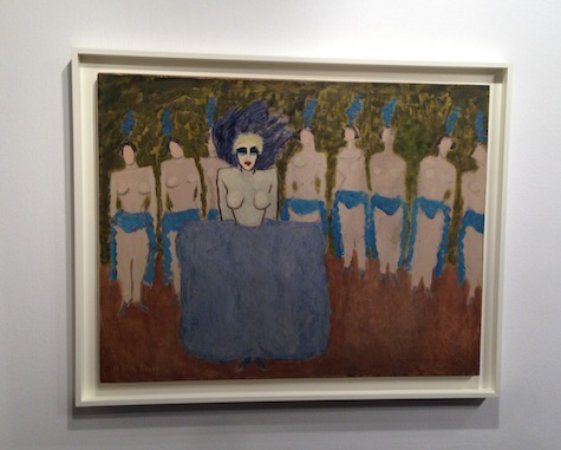 Art-historically attuned visitors to this exquisite one-artist booth have had a common response to the darkly atmospheric works on view: "That's Milton Avery??" Showing dancehall scenes and other views of the demimonde, these very early paintings seem more akin to the work of a German Expressionist like Ernst Ludwig Kirchner—in both style and subject matter—than the placid, lushly colored, nearly abstract landscapes we have come to expect from this classic American painter.
LOUISE LAWLER'S HOMAGE TO DEGAS AT METRO PICTURES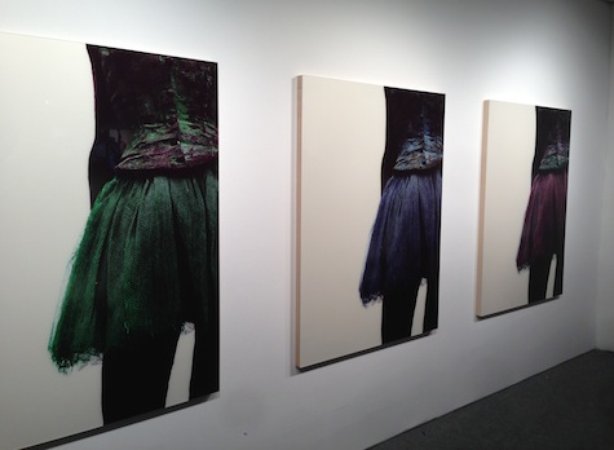 This triptych of large-scale works finds Louise Lawler up to her old tricks, photographing a work of art—in this case Degas's beloved c. 1881 sculpture La Petite Danseuse de Quatorze Ans—to isolate a particularly telling detail or juxtaposition. Here, however, she adds an unexpected dimension, splitting the photo into three compositions via the RGB color model.
MARTIN WONG'S SGT. RICHARD DE CIARA (1988) AT P.P.O.W.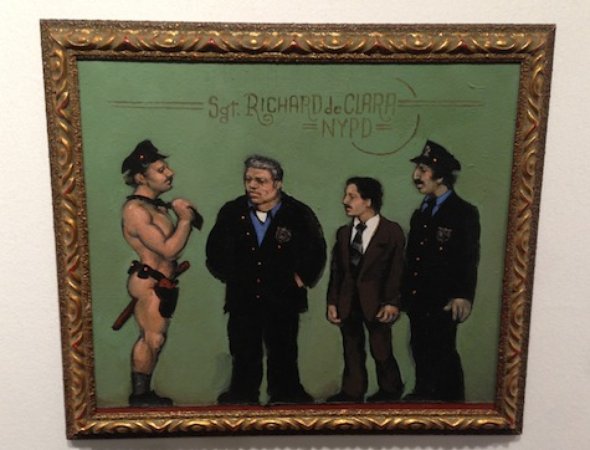 The late East Village artist Martin Wong is experiencing a renaissance of sorts lately, with a new generation of artists, curators, and collectors paying very close attention to his extraordinary paintings, which employ Old Master techniques (you might expect this green monochrome background from a Holbein, for instance) to relate the gritty, often tabloid-fodder realities of New York City in the 1980s. This piece depicts a real incident that made headlines, the arrest of Sgt. Richard de Ciara by his fellow cops after he ran naked through Grand Central Station in the wee hours of the night. Expect to hear much more about Wong soon: for his upcoming Hugo Boss Prize show at the Guggeneheim, Danh Vo used his $100,000 prize money to buy all of the possessions from the artist's estate—a gesture that enabled Wong's 95-year-old mother, Florence, to set herself up in a nice assisted living facility. 
TAM VAN TRAN'S SOLDIER 1-6 (2012-13) AT AMERINGER MCENERY YOHE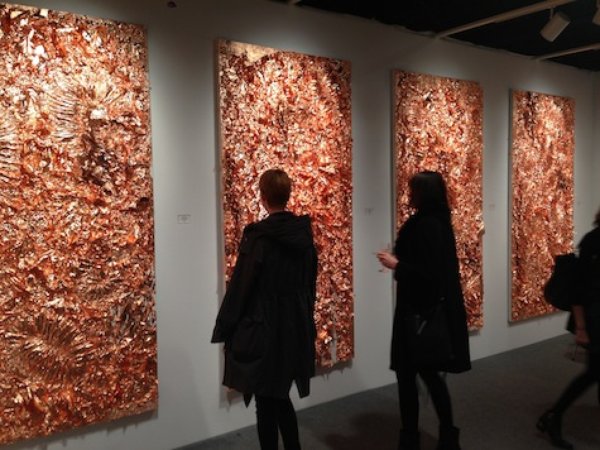 Glittering from the walls of Ameringer McEnery Yohe's booth, these refulgent paintings by the Los Angeles-based, Vietnam-born artist Tam Van Tran incorporate palm fronds—a reference to both his home country and his adoptive city—and wispy, paper-thin sheets of bronze that flutter in the breeze. The result is a strangly alive-seeming body of work that recalls the gilded wall sculptures of John Miller.
KAREN KILIMNIK'S THE POOR LITTLE BEGGARS (2008) AT 303 GALLERY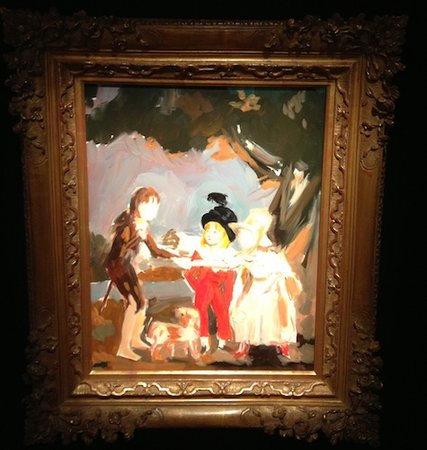 Presented in ornate molded frames, Karen Kilimnik's paintings at the art show are less pointed than some of her earlier forrays into pop culture—such as famously depicting Paris Hilton as Marie Antoinette—but none the less impactful, eerily marrying a style of genre painting that would be familiar to 18th-century members of Britain's Royal Academy with a brand of brushy abstraction that's all-American. Note that two of the children's faces are whited out, a ghostly detail.
FRED TOMASELLI'S JULY 5, 2012 (Study) (2012) AT JAMES COHAN GALLERY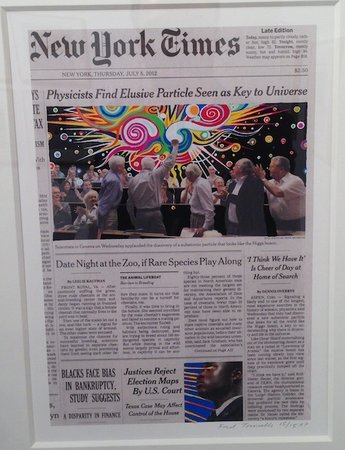 Twenty-five of Fred Tomaselli's front page collages of the New York Times (out of an entire series of 65) fill James Cohan Gallery's booth, offering a rich view of a unique corner of the artist's body of work. Lighter and fleeter than his epic paintings, which are feasts of pattern and color, these engaging pieces show the artist at his wittiest.
ISCA GREENFIELD-SANDERS'S SAILBOAT (2012) AT JOHN BERGGRUEN GALLERY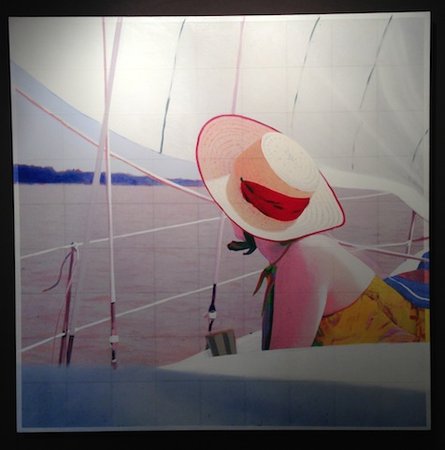 The artist Isca Greenfield-Sanders works from photographs to make her delicate paintings, which hover between extreme realism and the graphic stylicization of Alex Katz's paintings. Her predeliction for photographic subject matter might be owed to her upbringing: her father is the celebrated photographer Timothy Greenfield-Sanders.