The internationally acclaimed architect Peter Marino has spent his career building show-stopping spaces for blue-chip art galleries, luxury titans like Chanel and Louis Vuitton, and an elite circle of private clients, all the while drawing on an intimate understanding of the cutting-edge art of his time. Now, Marino, a onetime intimate of Warhol's circle, has turned to making art himself—sculptural bronze boxes, to be precise. 
Fired in the same French foundry used by Rodin, these gleaming objects d'art are suffused with references to the ancient architecture, Modern art, and Marino's own signature aesthetic. To follow up on an interview we did with Marino earlier this year about his exceptional architectural career—to mark the release of Phaidon's definitive monograph, Peter Marino: Art Architecture—Artspace editor-in-chief Andrew M. Goldstein sat down with the maverick builder to discuss his lesser-known identity as an artist.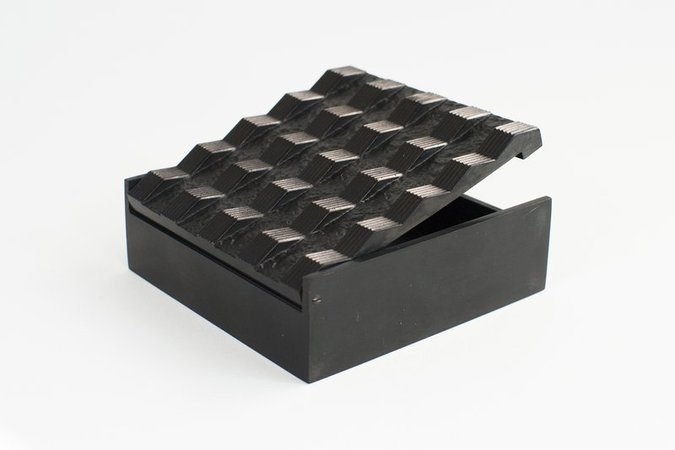 Peter Marino's Bronze Mini Club Box (2011-16), available on Artspace
You are renowned as an builder of luxurious edifices and a collector of contemporary art. Now, you are revealing yourself to be a builder of artworks as well. How did you come to start making these bronze sculptures?
Around 10 years ago, they discovered a boat that sank in 350 BC as it was on its way to Italy from a Greek city on the Turkish coast, and they recovered all these wonderful bronzes in their original state. Now, I love anything bronze, and I had collected Renaissance bronzes since the 1980s, so this was a very exciting thing for me. At the same time, there was a private home I had built for a client that I thought was the most beautiful project I'd ever done in my life, and they had sold it, and the new owner had just moved in and was making changes.
I thought: nothing an architect creates really lasts. There are landmarks and everything, of course, but in today's world I do a lot of commercial work, all these boutiques. Nothing lasts. I did the original Barney's and, 20 years later, they ripped everything out. What does remain is the façade that I did, so I'm happy about that, but I'm sure that'll change in my lifetime, too. 
It's frustrating. If you're a painter and you do a painting, people will pretty much leave it alone. If a painting from 1300 is in bad shape it's because it aged badly, but it's not like anyone grabbed the painting and just changed it. Architecture is very plastic, and very few structures are treated with respect over time. When they tore out the 10 floors of interiors in Barney's in New York, it just devastated me. I had really put my heart and soul into that building, and I made marble mosaic floors that I thought would be like Liberty of London and last 100 years. They barely even lasted 20—I was so naïve.  
So, when I heard that all these bronze sculptures were pulled up from the bottom of the sea in perfect condition 2500 years later, I thought, "Ok, it's bronze for me." It's a material I know I love. Nothing is better than going to foundries. Have you ever been to a foundry where they pour bronze?
No.
You really owe yourself a trip. It's done in completely the same way they did it in 500 BC, when they were making the first bronze shields and helmets. Working with bronze is just like making wine—it hasn't changed. Melting the ingots in the pot, allowing eight hours for them to melt, pouring it in the molds. It's one of those ancient arts that I've always related to. I love things that haven't changed. My theory is that in a thousand years, the only thing that will remain of Peter Marino are these boxes.
Why did you choose to make boxes in particular?
Because I have a deep background in art history, I had always wanted to make something that could go as well in Versailles as in a loft in SoHo, so that's how this concept of bronze boxes started. I began making bronze boxes in all different sizes and different shapes and different everything, and I was very fortunate that people liked them. I had a show in Switzerland for their first exhibition, which sold out, and then I showed them at the Biennale des Antiquaires in Paris twice and sold out there too. The biggest thrill for me is seeing how people use them, and what sort of rooms they put them in. They're in modern homes, they're in 18th-century French homes. They go everywhere. 
Some of the boxes you make are the size of a bureau, others are the size of a snuffbox. What's amazing is that, no matter what the size, they have a truly imposing weight. 
I'm not a light guy.
Where do you make them?
Turn over one of the bronze boxes and on the back you'll see they say: Peter Marino, Atelier Saint Jacques, and their number. Atelier Saint Jacques is the same foundry that had made beautiful bronzes for Bourdelle and Rodin in France. It's very hard to get that foundry to work with you. Luckily, I'm Peter Marino. [Laughs.]
They have an ageless quality.
That's what I tried to do, and I think that's the hardest thing to do. But people who know my architecture see I've done everything from historic renovations to super cutting-edge modern, and they go, "Gee, Peter, how can you do all that? I don't understand. Every architect has one style." And I say, "I'm a piano player who can play Mozart and Wagner, ok? You've got it?" I'm not limited to Beethoven—I have a really broad range. I want to be able to go into any part of this broad range, and that's why I made these boxes.
How many have you made so far?
I'm working on my third series. The first series sold out, all eight of them. We only sell them to private clients.  
I assume your architectural clients must have first dibs.
They do. I like it when a banker says, "Well, I want one—what do I do?" And I say, "Hmm, let me see. Maybe I can get you one." I think it's very funny. But they're a lot of work. They can take two years. 
What distinguishes the different series?
One of them I call "Stone Wood"—I took pieces of wood and had them cast in bronze. Another series was based on the bark of an Oregon pine from my house in Colorado. For the series I'm working on now, the first one I've done is called "Deep Water," and it's all silver bronze, covered with my thumbprint. I just put my thumb in the original wax and made the cast and it looks like water—it's amazing.
Do you envision ever working in a more figurative style?
Not at all. I really like abstract things. I'm not a figurative kind of guy at all. I've got enough to handle working on my own look. 
Are there any notable collectors who have acquired your boxes?
The answer is yes. Big names. There are two in the living room of Larry Gagosian's townhouse. Bernard Arnaud owns two. They're in major collections. 
Are they always functional?
Yes, they are functional—they can store things. But they're really just there to be beautiful.
As an architect who is known for incorporating art into your buildings, and as someone who also works as an artist on the side, how do you see art and architecture relating in the modern era?
Unfortunately, the post-World War II era is the age of what I call split personalities. Everybody has a specialty. You can't even be a general doctor anymore—you have to be a knee specialist, or a shoulder surgeon, or a heart-valve expert. It's the same in my field. It is really not accepted by the world at large that the same person can actually make both architecture and art. It's just not done. They say, "Are you really an architect or are you an artist?" And I say, "You know, labels are not my thing."
It's very strange, if you think how clever they were in the Renaissance to ask [the sculptor] Sansovino, "Would you please redesign the Marciana library?" You know, how brilliant—and how silly it would have been not to, because he was someone who had a great eye and a great sense of aesthetics. Today's world of specialization is so splintered. But look, I do architecture, interiors, industrial design, gardens, and sculpture. On our planet of 7 billion people, I like to be one of the few that criss-cross.
[related-works-module]